JONES CROSSING
The map below, taken from the PDF on the official website, has a bit of "future development" added to it, this is what it looks like as of this writing.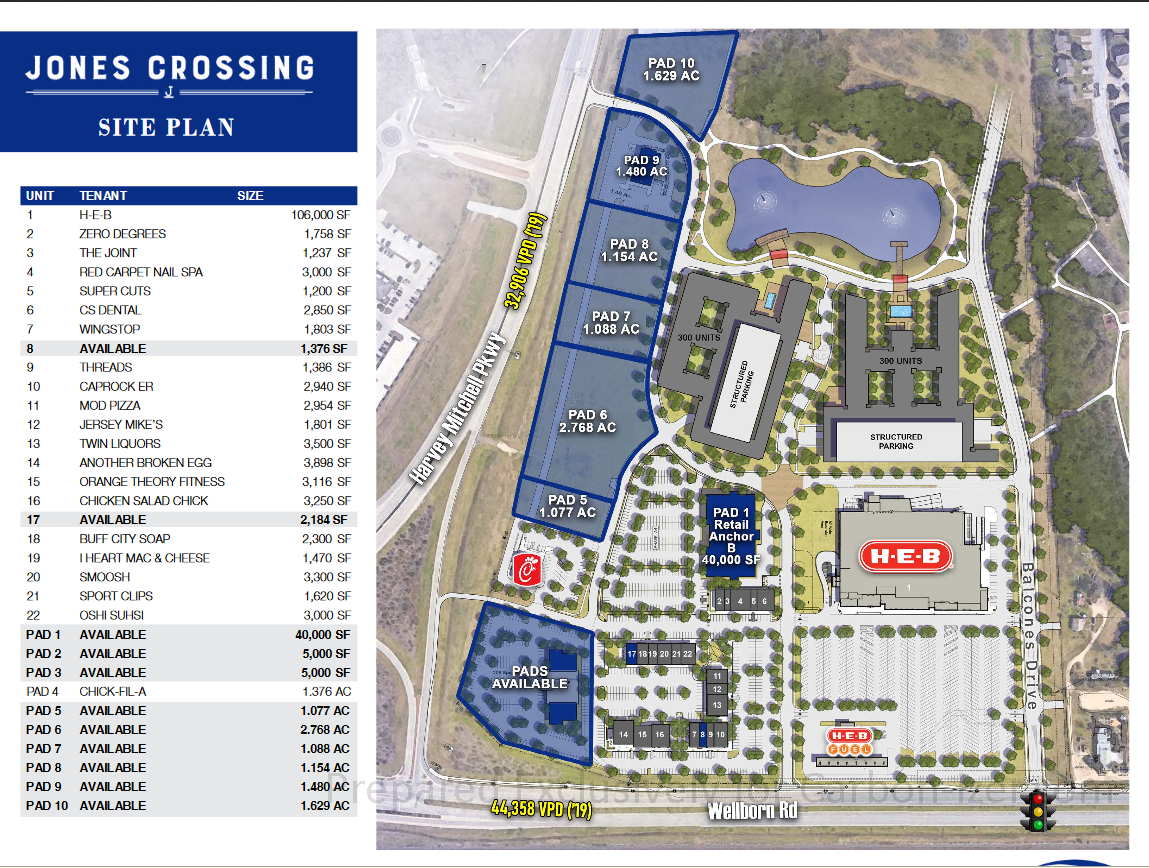 In-depth, H-E-B (#1, 11675 FM 2154) was the first store in the space at 106,000 square feet with room for an additional 20,000 and opened in September 2018. The store closes at midnight (formerly 24 hours, before COVID) and is perhaps a bit more upscale than the Holleman store but not as robust in the international foods the other store offers. Other than that, it's a fine supermarket and has features no other H-E-B had (a pizza restaurant, soups, the "Texas Backyard" garden center). It also had (before the pandemic) some nicer pastries, like one with fresh fruit and custard or a homemade strawberry Pop-Tart-like pastry with icing and colorful sprinkles (which resembled aquarium gravel).
2-6 is 11655 FM 2154. Zero Degrees is an Asian-Hispanic fusion snack bar (suite 100), The Joint Chiropractic is a chiropractic studio (ste. 150), Red Carpet Nail Spa is a Vietnamese nail salon (ste. 200), SuperCuts is Suite 300, College Station Dental & Orthodontics is suite 400.
7-10 is 11659 FM 2154. Suite 100 is Wingstop (opened sometime in 2020), space #8 (suite 150?) is Crumbl Cookies (yet to open), suite 200 is Threads Boutique, a locally-owned women's clothing store that opened in May 2019, and suite 300 is Integrity Urgent Care (formerly CapRock Urgent Care before they sold the facility in spring 2021). I believe it opened sometime in 2019 as well.
11-13 is 11663 FM 2154. Twin Liquors (suite 100) was one of the first stores to open at Jones Crossing after H-E-B, opening in fall 2018. Jersey Mike's Subs (ste. 200) opened in late 2020 (sometime in October or November), and I believe MOD Pizza opened in 2019.
14-16 is 11655 FM 2154. Suite 100 is Another Broken Egg Cafe (opened March 2020), OrangeTheory Fitness opened pre-pandemic (suite 200, around October 2019), and Chicken Salad Chick (Suite 400) opened in June 2019.
17-22 is 11667 FM 2154. Buff City Soap opened June 2021 (suite 600). I Heart Mac & Cheese (stylized as I ♥ Mac & Cheese) opened in February 2020 (suite 400), Smoosh (suite 300, homemade ice cream sandwiches) opened shortly afterward. SportClips opened in early 2019, Oishi Sushi Asian Fusion (suite 100) opened in fall 2018.
The pad sites (currently on Chick-fil-A as of this writing) will be/are covered on the Harvey Mitchell Parkway page.
Click here to return to the FM 2154 page.
---
Return to the Bryan-College Station page
|
Email
---
Copyright 2020-2021 Carbon-izer.com, this site is not affiliated with any businesses listed here.