FM 2818
This was originally posted on my old blog as "Stories of the West Loop" before it was eventually removed in site updates. I had hoped to just expand and update it in the process of bringing it to Carbon-izer but most of the content was what I would consider poor quality (not to mention outdated), so everything ended up being rewritten. The "West Loop" as this road was informally known originally, was built in the early 1970s, about the time of the "East Loop". Unlike the East Loop, the West Loop was two lanes, and didn't even connect to the East Loop, each went around what was the Highway 6. The West Loop converted into a (mostly) four lane road (with turn lane) sometime in the late 1980s (I think) and was rebranded as Harvey Mitchell Parkway in 1999.
Version 2.0 of this page adds A&M Consolidated High School, 2818 Apartments, Parkway Apartments, and Chevron/Denny's. It updates Glo by TFO (the former NAPA), Grace Bible Church Southwood, Exxon (at Welsh), Moore Supply Company (formatting), Citgo (fixed picture), and HASA Inc. - Bryan (reformatted as part of adding Chevron).
EARL RUDDER FREEWAY to WELLBORN ROAD
NAPA Auto Parts / 2417 Harvey Mitchell Pkwy. S.
Part of a new wave of development on the stretch of 2818 between Highway 6 and Texas Avenue, this new NAPA Auto Parts location opened in 2021 and relocated from an older location at 2144 Harvey Mitchell Parkway (listed below).
Encino Trace Apartment Homes / 2338 Harvey Mitchell Pkwy. S.
These apartments opened at the tail-end of 2020 (and if not, early 2021); the website is located here. It is at the new extension of Dartmouth and Harvey Mitchell and the southwest corner. Originally, Dartmouth did not extend to Harvey Mitchell Parkway, it was a "dotted line" road for years that I still remember dead-ended just south of Southwest Parkway. A red barricade at the north side of FM 2818 marked where it would come in, and before it actually did build in the late 2000s, it required a lot of dirt to be built up due to the natural low spot north of FM 2818. Not long before plans were finalized, it was envisioned as a "city center", complete with a roundabout and numerous new buildings. That never happened, though additional government buildings were built along Krenek Tap Road, including a new police station.
2205 Longmire Drive The Walmart next to this is covered at the Texas Avenue page linked above, but this was an Albertsons from 1991 to 2008. Construction of Walmart's expansion wiped out a net of about 7,000 square feet (but added some space in the back) but Walmart occupied the back half of the space. In August 2017, Altitude Trampoline Park opened but it was a victim of the COVID-19 closures. To see more about Albertsons/Altitude, check out the blog post on it!
Texaco / 2201 Longmire Drive
This gas station, built as a Circle K, originally had the address of 1600 FM 2818. The blog post is at this link.
The College Station Business Center / 2151 Harvey Mitchell Pkwy. S.
The name "College Station Business Center" invokes something grandiose, like a small cluster of mid-1990s office buildings, all mid-rise, looking fairly nice with fairly high rent. Not so much here. CSBC has some memories for me and some more recent memories (like a good homebrew shop). Read more about it here.
Glo by TFO / 2144 Harvey Mitchell Parkway South
This operated as NAPA Auto Parts from 1997 to 2021 when it relocated down the street. In late 2021, it reopened as window-tinting company "Glo by TFO", first mentioned in the the corresponding blog post.
Flats on 12 / 2101 Harvey Mitchell Pkwy. S. The blogpost on this was based after the original "Stories of the West Loop" page based on its history, and at the time it was written, it had never changed its original name (that all changed in 2015). More importantly, it featured (originally) an upscale supper club on the upper level of what is now the clubhouse (it is an exercise room now but retains a large upper patio).

It's a bit outdated, but here's the blogpost
Southwood Valley Animal Hospital / 2035 Harvey Mitchell Parkway South
This building was originally tan colored with a brown roof before a mid-2000s update changed it to white with a gray roof, and was during the time when we still went there regularly as it was the family cat's clinic. The poor cat never enjoyed going there, especially as it involved her carrying kennel. When her health took a major downturn, she was able to go to the vet's office without a kennel, but it was her last trip...
Friends Congregational Church / 2200 Southwood Drive
This church, part of the United Church of Christ denomination, was built in 1979. Of note was a large structure outside of the building, a large white wooden-framed steeple that was originally supposed to be on top of the building but blocked by zoning rules. This "skeleton church" as my siblings and I called it, was unfortunately toppled in a late-2000s thunderstorm. I can't find any pictures of it.
Grace Bible Church Southwood / 1901 Harvey Mitchell Pkwy. S.
One of the many "one church, two locations" churches in town (well, it was two locations, now it's four). It was built as A&M Church of Christ in 1978 and moved out in the early 2000s (to the bypass) and in the mid-2000s was "rebranded" as "Community Service Center" before an extensive renovation by Grace Bible Church to become the current location. This renovation didn't actually change the floorplan of the church, but it did replace most of the ceilings, floors, several changes to the main sanctuary to simplify the stage and add better acoustics, and a new coat of paint. They also extruded out the doors slightly. They used to have a video available that showed the "before" and "after" of the renovation on their website but I can't find it anymore. (Good thing someone saved a copy).

There isn't access to the church from the road. You have to use Nueces or Guadalupe Drive.
A&M Consolidated High School / 1801 Harvey Mitchell Pkwy. S.
Until the early 2010s, this was the city's only high school, relocated here in the early 1970s with a variety of expansions and renovations done on it over the years. The blog used to have some pictures and information on it, but these were removed later. Still, a better look on it will come some day. This also has no direct access off of Harvey Mitchell Parkway (there is another frontage road location), but that doesn't stop there from being school speed limit signs on FM 2818 anyway.
Exxon / 1800 Harvey Mitchell Pkwy. S.
This was built in 1997 (before my brother entered high school) as a modern building with a convenience store, white awnings, Popeyes (with a drive-through window), and Zuka Juice (a smoothie shop). Within a few years, Zuka Juice was rebranded as Jamba Juice, which had acquired it in 1999. However, the rebranded store shut down in the early 2000s (2001-2002), never to be seen again in College Station (it once had another store near Barnes & Noble) until the University Town Center opened in 2005. I once believed them to be totally extinct until a visit to Houston in 2003 (remember--this was before Wikipedia). In the mid-2000s, Popeyes shut down (it was small and dirty) and the withered awnings were replaced with blue awnings. It wasn't until maybe 2009 that it started to come back to life, with a new bank rebuilding the Popeyes drive-through (Commerce National Bank, rebranded to ANB in 2020, turns out it's just the same bank, and Donald's Donuts replacing the Jamba Juice space.

As of 2021 the car wash in the back is boarded up. This must have happened in the last year or two.
Chick-fil-A / 1700 Harvey Mitchell Pkwy. South
This Chick-fil-A is part of the Jones Crossing development and opened in September 2019. Like Chick-fil-A restaurants built or remodeled in the last year it features a wooden table from A Better Way Ministries, and like all Chick-fil-A restaurants, is closed on Sunday.
WELLBORN ROAD to RAYMOND STOTZER PARKWAY
A full page is in the works to describe the changes of Wellborn Road and Harvey Mitchell Parkway road over the years...even now, the overpass built 10 years ago is partially closed and torn up again. You can see the Wellborn Road/FM 2154 page here.
Moore Supply Company / 1530 Harvey Mitchell Parkway South
Originally built as part of the Wickes Lumber complex, this building has been mostly stable since 2003. The building has a 2818 address, but it has always been only accessed off of North Dowling.
Holiday RV Park / 1518 Harvey Mitchell Parkway South
I'm not sure when it "officially" converted but this used to be Holiday Mobile Home Park, but in the early 2000s it began removing the trailer homes for RV sites, with the conversion complete by 2005. In the early 2010s, a site plan was filed to build a second phase at the southeast corner of Dowling and FM 2818, but this never ended up happening. Construction on the overpass made the RV park difficult to access.

It should be noted that as early as 1999 a tour guide refers to it as the current name but the area was primarily permanent trailer homes, and the pads and hookups were not built like they are today.
Exxon / 2111 Holleman Drive West
This Exxon was built in 2014 with two smaller vacant suites and a convenience store called "A&M Xpress"...but it never actually opened as such, even though the interior was largely finished out and the sign fully lit up (with no actual gas prices). It wasn't until summer of 2015 when Stripes finished construction, added a Laredo Taco Company inside, and hung the new sign in late July 2015 before opening less than a month later (I was the first customer there at soft opening, little known fact). In March 2021, the store became a 7-Eleven after a long, slow conversion process. This ended up being expanded into a full post.
2818 Apartments / 1300 Harvey Mitchell Parkway S.
Stylized as "28//18 Apartments", this sprawling apartment complex was known as 2818 Place until around late 2020/early 2021. Built in 2009, it connects to Parkway Place and Holleman Place (though in the case of the latter, the gate is always locked).
Parkway Apartments / 1350 Harvey Mitchell Parkway S.
Formerly Parkway Place Apartments until around the same time 2818 Place changed its name, these apartments connect to 2818 Apartments (the address is out of order, I know).
RAYMOND STOTZER PARKWAY to VILLA MARIA ROAD WEST
Easy Shop / 1910 La Brias Drive
I realize I'm skipping several miles of road (not that FM 2818 has a lot of driveway outlets) but this gas station used to be an Exxon, though even by the early 2010s the large sign that towered over FM 2818 was in disrepair. This was one of my favorite parts of traveling on FM 2818, as there would rarely be a time when we went that direction that wasn't part of a longer trip. The large sign was in conjunction with a hillside toward the Villa Maria stoplight (where the speed limit dropped from 60MPH to 50). The stoplights hung on wires (as they did until the overpass construction began).
Shell / McDonald's / 451-461 N. Harvey Mitchell Pkwy.
The three businesses here are a McDonald's (451), Texan Market (457), and Space Liquor (461), with the first two connecting to each other. These opened in summer 2005. From previous comments on Brazos Buildings & Businesses, Space Liquor opened afterward despite signage being up (must have been some TABC hiccup).
Citgo / 1439 West Villa Maria Road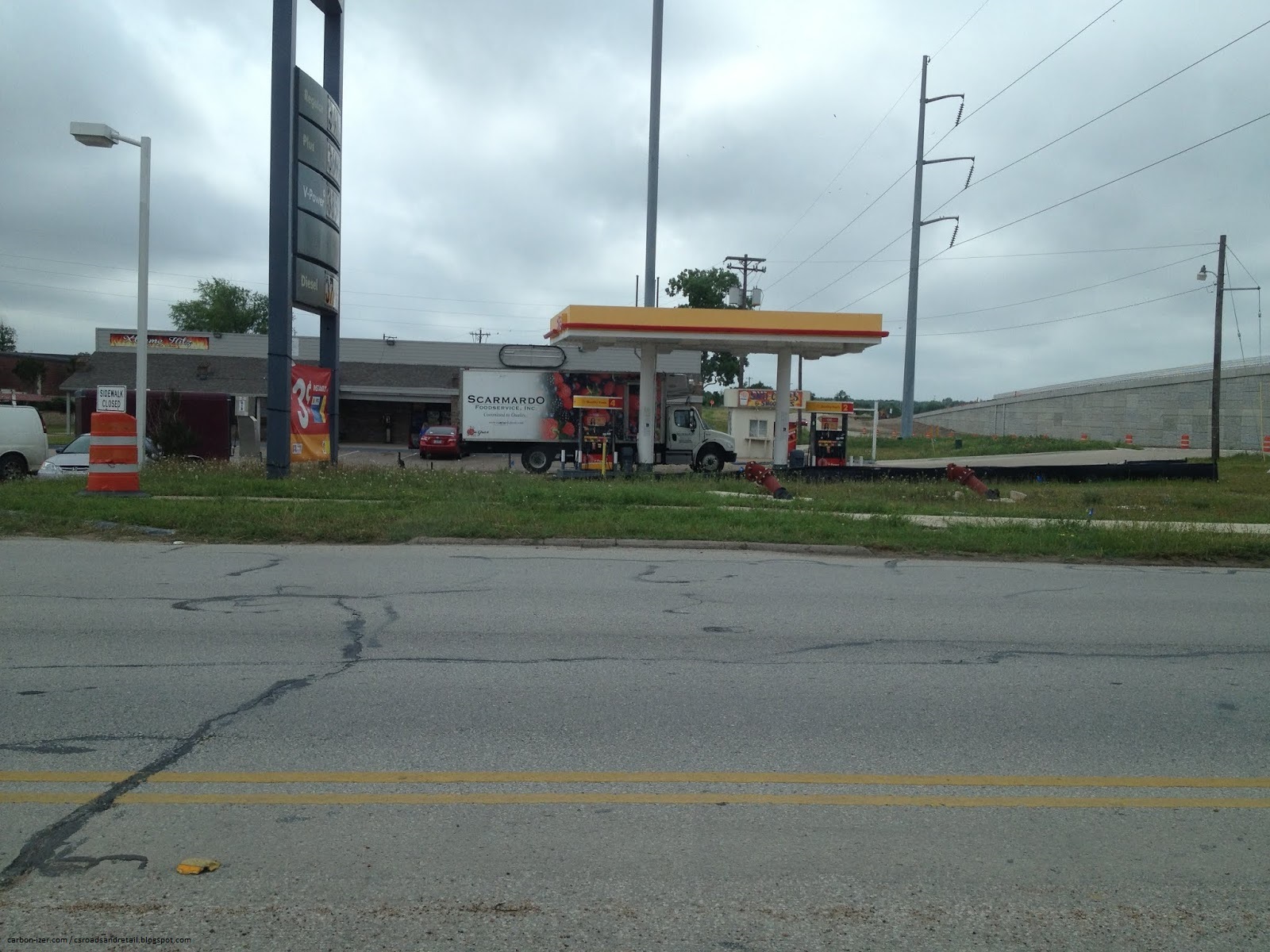 Only after the overpass of Villa Maria was access from 2818 granted to this older station from the early 1980s. It's a Citgo today following reopening in 2019 (with the convenience store "Pit Stop") though my 2013 blogpost shows how the station changed in the early 2010s, ditching the old "red, yellow, and gray" color scheme of how Shell stations often were prior to the very early 2000s.
VILLA MARIA ROAD WEST to LEONARD ROAD
Rudder's Landing / 631 N. Harvey Mitchell Pkwy.
The full history of this center, built on the Texas Hall of Fame site, will be saved for another time. Otherwise, it's a somewhat underbuilt shopping center with a large Walmart Supercenter (opened in 2014), a Panda Express, a new Chick-fil-A, and several smaller stores.
Foxhole Lounge / 794 N. Harvey Mitchell Pkwy.
I probably might not have even mentioned this if seeing it wasn't part of my "FM 2818" nostalgia. Check out the blogpost for photos and information.
LEONARD ROAD to STATE HIGHWAY 21
Jane Long Intermediate School / 1106 N. Harvey Mitchell Pkwy.
Jane Long Middle School opened 1990 (based on a 25th anniversary page) for grades 6 through 8. In fall 2017 it became Jane Long Intermediate School as part of a realignment in the Bryan ISD to have grades 5 and 6.

Jane Long Intermediate School doesn't roll off the tongue in the same way.
1296 N. Harvey Mitchell Pkwy.
This former 7-Eleven/Citgo was stranded by itself with only the apartments behind it to keep company, and was originally #1665-18183, first built back in 1976. It became E-Z Mart in the early 1990s when 7-Eleven left the area, adopted its current name in 2003, and in 2014 dropped the Citgo branding when it stopped selling gas.

It originally had the address of 220 N. FM 2818. Sometime around 2020 it closed entirely.
B-Way Corporation / 1591 N. Harvey Mitchell Pkwy.
All I know about this facility is it manufactures plastic buckets (the big five-gallon type) and is owned by Mauser Packaging Locations today.
Exxon / 2909 Hwy. 21 W.
The "Get-N-Go" convenience store as part of this Exxon gas station existed for years, going back to 1989, and briefly it became a Diamond Shamrock (I vaguely remember this and thought I was confusing with it with the Highway 6/21 location but the taxpayer site seems to confirm this) in the mid-2000s. In 2016 it was torn down and rebuilt (still an Exxon) and features Aurora, a new local convenience store chain with a second location later built closer to Blinn.
STATE HIGHWAY 21 to HIGHWAY 6
After Highway 21, FM 2818 goes to two lanes.
HASA Inc. - Bryan / 2780 N. Harvey Mitchell Parkway
Part of a California-based company that manufactures swimming pool chemicals (I can't determine if this facility makes anything or just a distribution/storage facility, though the tanks in the back suggest differently). The building was built in 2000...prior to that, the railroad spur (which I'm not sure if HASA uses or not) just went...nowhere and extended out almost to 2818. This was quite interesting as a child as I really liked railroads at the time, and here was a spur that just went almost the road before dead-ending.

Not long after this, a bridge goes over the railroad mainline and FM 2818 comes to an end at the north side of Highway 6 with some stoplights (which were only built in 2019, though prior to around 2007 there were some yellow blinkers here).
Chevron/Denny's / 2890 N. Harvey Mitchell Parkway
A Chevron truck stop was built here in 2010 at the southwest corner of FM 2818 and Highway 6, opening in 2010. The name of the convenience store is "Big Gas" (geez...) and is attached to Denny's. To the north is Highway 6 in Calvert and Hearne. To the south is Earl Rudder Freeway.
---
Return to the Main Page | Email
---
Copyright 2021 Carbon-izer.com, this site is not affiliated with any businesses listed here.