FM 1179 (Villa Maria Road and Briarcrest Drive)
I'd like to continue to tie the College Station/Bryan corridors together with another major corridor, FM 1179, covering West Villa Maria Road, East Villa Maria Road, and Briarcrest Drive. It was a mess during rush hour with cars packed in both directions. Version 2.1 makes a few more additions and changes with some unfinished parts patched up and some proper QoL updates. Dollar General, Quesadilla Peke's, 1710 Briacrest Drive, and Murphy USA have been updated. West of FM 2818 won't be covered toward Highway 47 won't be covered (at least in this version).
---
HARVEY MITCHELL PARKWAY to WELLBORN ROAD
The FM 2818 page is right
here
.
Citgo / 1439 West Villa Maria Road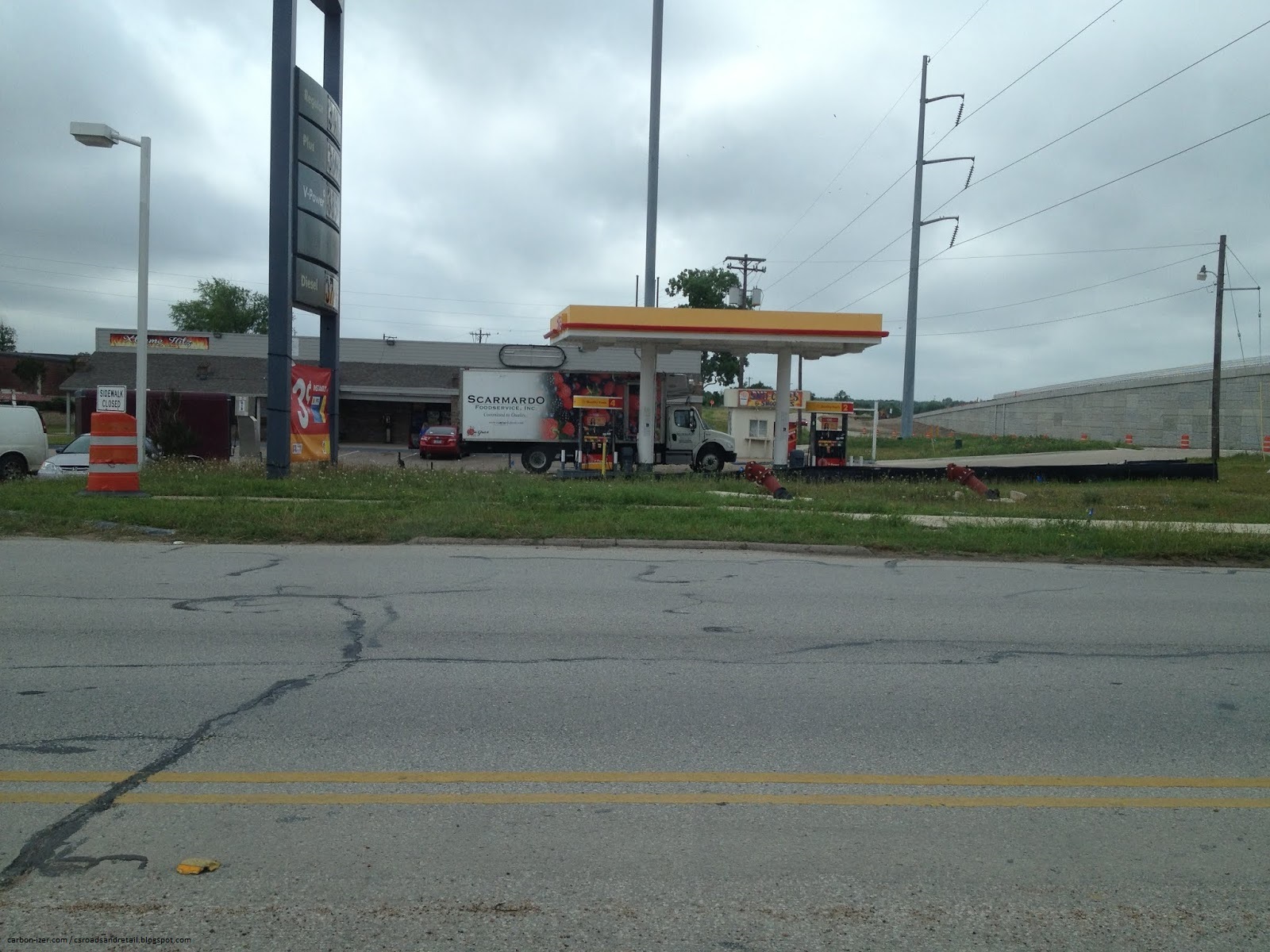 Only after the overpass of Villa Maria was access from 2818 granted to this older station from the early 1980s. It's a Citgo today following reopening in 2019 (with the convenience store "Pit Stop") though my 2013 blogpost shows how the station changed in the early 2010s, ditching the old "red, yellow, and gray" color scheme of how Shell stations often were prior to the very early 2000s.
Dollar General / 1314 W. Villa Maria Road
This Dollar General opened in January 2005. There are also two smaller retail spaces that remained vacant for years. One of them, Pro Cleaners & Alterations, in Suite 600, finally opened in 2018. This is to the left of the store. The other suite, 200, still remains vacant.
Enercon / 1312 W. Villa Maria Rd.
Also known as Enercon Windows and Hardware, LLC, this has been here since 2006. The location was formerly Doug's Hardware, which was called "Doug's Ace Hardware". They had to remove the "Ace" because it wasn't really an Ace Hardware store, at least by the very end.
Oaks of Villa Maria / 1305 W. Villa Maria Road
This condominium complex (website here) was built in 1983. True to its name, it is surrounded by trees on both sides (at least for now, future development will likely change that). There's a clearing just east of the condominium at the intersection of Forestwood Drive. This was the site of 1001 W. Villa Maria Road, a bank built in 1985. From what I can find, it was Western National Bank until it seized by the FDIC in 1988, then became part of First State Bank of Caldwell in 1989, then sold to First American Bank in 1996, which in turn was sold to Citibank in 2004, then BB&T in 2014 when Citibank sold its banks here. It closed sometime in 2018 and in May 2019 suffered a significant fire that showed damage on the outside. The building and its parking lot were completely demolished a few years later.
West University Gardens / 999 W. Villa Maria Road
This detached apartment complex (b. 1994) fronts Villa Maria Road and has a signaled intersection with Willis Vanhook Drive (named as such in 2013, though had been extant since the completion of the overpass in 2007).
---
WELLBORN ROAD to SOUTH TEXAS AVENUE
On the north side of the road When I was growing up, this was the Bryan Municipal Golf Course (located at 206 W. Villa Maria Road, renaming to Travis B. Bryan Municipal Golf Course in 2010). It had been a country club originally (dating back to the 1920s) but the City of Bryan decided to close the course after 2017, choosing to redevelop as a sports park instead. That involved blasting a road through (Midtown Park Boulevard) with a new stoplight to connect to Bomber Drive and Williamson Drive. BigShots Golf, originally planned to open in College Station on General Parkway (between Cain Road and Holleman Drive South), opened in January 2022.
---
BigShots Golf / 400 West Villa Maria Road
See the paragraph above.
Zip'N / 3201 S. College Avenue
I would love to do a South College Avenue page at some point in time, there's a lot of interesting stuff to cover. The blog has a few of these features, including Humpty Dumpty Children's Center and The Texan, but it barely scratches the surface.

This was a Citgo paired with a 7-Eleven back in the day (later E-Z Mart and still later a Zip'N). In 2022, the gas pumps were removed.
Amico Nave Ristorante / 203 East Villa Maria Road
From 1979 to 1984, this was a restaurant called "Pizza Planet" (many years before Toy Story, of course). It later served (briefly) as Kelly-Moore Paint Company (according to taxpayer records) and a restaurant called Buffalo Joe's as late as 1994, but has been a beauty salon from 1996 to the very early 2010s (Shapers Hair Productions, though might've gone under a different name in the late 1990s). In spring 2013, it reopened as Amico Nave, an Italian restaurant by the owners of Shipwreck Grill. It did very well from the start: in summer 2013, when restaurants usually have slow business, the parking lot was packed out nightly.
Shipwreck Grill / 206 East Villa Maria Road
From 1985 to 2002 this was The Captain's Half Shell Oyster Bar (which is still in existence in Houston today, now known as Captain Benny's). From 2002 to 2006 it was a similar seafood restaurant called "The Boat". The restaurant changed hands and BCAD still lists "Melting Pot African-Caribbean Cuisine" as an owner, but this never opened. Instead, it was sold again. Shipwreck Grill opened in August 2009 with an expanded menu that goes beyond seafood, and has been successful ever since.
Shipley Do-Nuts / 210 E. Villa Maria Road
Shipley Do-Nuts has been here since it opened in late 1988. The big cube-like sign originally rotated but it hasn't done so in years; even the panels were replaced after an early-2010s storm that destroyed the older (brown and white) logo.
Valero / 300 East Villa Maria Road
This store (built in 1985) had a "sister" in College Station that started out as a Circle K, then became Conoco, then Diamond Shamrock (with Handi Stop) before becoming a Texaco. It split ways when the convenience store became Apple Stop before becoming a Valero. At some point, however (2002-2004) it did become a Speedy Stop, possibly in the latter Conoco days.
DQ / 413 East Villa Maria Road
"Dairy Queen #3" (based on the local Dairy Queen franchise's numbering, not the system's) moved here in 1983 in a new store.
---
SOUTH TEXAS AVENUE TO Sul-Mar Center
At the southeast corner of this intersection is the Tejas Center shopping center, redeveloped out of the old Manor East Mall and anchored by an H-E-B supermarket. This will be covered in more detail at another time.
---
601 East Villa Maria Road
While we won't cover the Tejas Center (former Manor East Mall) in this update--I've got a full page on that coming soon, there is a building at the direct corner of Texas Avenue and Villa Maria Road that I'd like to cover that contains a bank and a Starbucks. The Starbucks opened in November 2006 according to Starbucks Everywhere. The bank was originally a First Victoria Bank, but following their merger with Prosperity Bank in 2013, was shuttered. It later became Commerce National Bank (part of Amarillo National Bank) and was eventually rebranded as a full "ANB".
China Wok Express / 612 East Villa Maria Road
China Wok Express has been here since around the mid-2000s. It was a Golden Chick previously, and started out as fried chicken restaurant (Tinsley's) but it wasn't always a fried chicken restaurant over the years. Read more here.
Fred Loya Insurance / 614 East Villa Maria Road
This building goes back over 40 years. In June 1977, the building first opened as a Taco Villa restaurant and over the years, has been a photo studio, RadioShack, and possibly others.
Tejas Market / 1101 E. Villa Maria Road
According to Brazos CAD, this gas station dates back to 1969. The relative recent history of this gas station was it was a Texaco in the 1990s and very early 2000s. In 2003, it converted to Shell and remained as such for years, even upgrading to electronic signage in 2011. In 2017 it dropped the brand for what could be described as "Circle P" for the gas and store alike but by 2018 adopted the "Tejas Market" name.
Quesadilla Peke's / 1124 East Villa Maria Road
This used to be a Shell station, though at some point in the 1990s, the Shell closed and the lot was redeveloped as a Bahama Buck's. Unfortunately, the poor access doomed the snow cone shop (some years later, a new Bahama Buck's opened off of Holleman Drive East, which was successful). It stayed open for no more than 18 months. It later became Texas Car Title & Payday Loan. In the late 2010s there were a few restaurants that tried to make a go of the spot but all failed, including La Iguana Loka and Pappas Kolaches Cafe (no, not that Pappas). Quesadilla Peke's opened in 2021.

One of the only remaining elements of the old Shell that was kept was its curving road sign.
Sul-Mar Center to NORTH EARL RUDDER FREEWAY
At this point, the road splits. The "main" FM 1179 continues as Briarcrest Drive while two left hand turn lanes continue towards Villa Maria Road East. This page only covers Briarcrest. Visible but not very accessible from this area is a restaurant currently doing business as Sweet Relish, but my earliest memories involve it being
Brazos Blue Ribbon Bakery
(1136 East Villa Maria Road).
Valero / 1401 Briarcrest Drive
Formerly Chevron, by December 2021 this became a Valero.
TRAVIS LANDING
This shopping center is anchored by a Planet Fitness, and originally, Ardan Catalog Showroom, which took up most of the space in the center. but I remember it best as
Gattiland
. Sadly, I don't have many good pictures or archives regarding it, but I have some memories in that link to share, plus what the space was during other times in the center's lifespan.
Charles & Sue's School of Hair Design / 1711 Briarcrest Drive
This cosmetology school has been here since around 1980 (it was founded in 1971, but located at 308 North Main downtown).
1710 Briarcrest Drive
There used to be a restaurant here, further explored on Brazos Buildings & Businesses. It opened in 1982 as a Steak and Ale restaurant before selling out to local ownership which ran it as a Steak and Ale for a few months before rebranding it as "Oxford Street", which stayed open for more than twenty years before closing in 2008. In 2012, the restaurant that was occupying the space at the time, "Seafood Mama's", burned down and the building was torn down, remaining vacant even as the Seafood Mama's sign stood for nearly a decade afterward. It was rebuilt in 2021 it became a Frost Bank with an adjacent retail space. Burger Mojo was set to co-occupy the building before the end of 2022 but by the end of November with no tenant in site, the owners announced that they had cancelled the location due to substantially higher construction costs than previously anticipated.
Urban Air Trampoline Park / 1758 Briarcrest Drive
This trampoline park, located in the former Village Foods supermarket (see the next entry), opened in January 2018. Urban Air occupies two-thirds of the former store and keeps more of the original infrastructure, even though it does not keep the address. One example of the recycled infrastructure is the staircase to the immediate right to the entrance. Under the supermarket, it had once held a break room and a bigger restroom than the one that was nominally for customers to use, has been gutted, with an even larger staircase being built where the restrooms once were.
ALDI / 1760 Briarcrest Drive
This opened in 1988 as a Safeway (possibly after the spin-off after the Houston division, and technically disconnected from the parent Safeway Stores Inc.) and renamed to AppleTree in 1989. In 2008, the store was sold again to its landlord, who rebranded the store again in 2009 as "Village Foods". Village Foods tried to make a go of it by remerchandising to focus on more natural and local food items, but in 2015, he announced that after years of declining sales (and heavily subsidized rent), the store would be shut down, closing around February 2016. After extensive renovations, ALDI opened in the spot on December 1, 2016, in the left third hand of the store. Almost nothing of the old store remained except the columns (even the foundation was completely dug out). I have previously wrote about the store here (and check out the accompanying article with even more pictures!)
Walgreens / 3312 E. 29th Street
One of the first Walgreens stores in the Bryan-College Station area (returning after closing the Post Oak Mall store many years ago) opened in early 2001 at this corner.
Walmart / 2200 Briarcrest Drive
This Walmart (opened as Wal-Mart Supercenter), #322, opened in October 1993. It served as the direct replacement for the store at 3113 South Texas Avenue and shares the store number. In summer 2011, it officially received the "Walmart" logo (although the "Supercenter" was removed and it was repainted in 2010).

The street to the west of Walmart, Oak Ridge Drive, is signal-controlled. It also serves as an outlet for Bryan High School, and works back to Barak Lane. I should mention that Oak Ridge has the Bryan Aquatic Center (3101 Oak Ridge)...it serves as Bryan High School's natatorium and also is arguably the best municipal swimming pool in town nowadays in terms of amenities, with a waterslide AND a diving board. There's also the Westminster Presbyterian Church (3333 Oak Ridge) as well.
Raising Cane's Chicken Fingers / 2204 Briarcrest Drive
With the closure of the Post Oak Mall store in 2020, Raising Cane's now once again has two stores in the area with the September 2021 opening of the Briarcrest location. Before Raising Cane's was here, this was part of the Walmart parking lot that had been converted to a drive-through recycling center in operation from 1996 to January 2020.
Murphy USA / 2208 Briarcrest Drive
Murphy USA, the Walmart-affiliated (but not owned) gas station originally opened a station in the parking lot in 2000. It was rebuilt around the same time as Chick-fil-A.
Chick-fil-A / 2210 Briarcrest Drive
This Chick-fil-A originally opened in 1996 and was the first stand-alone Chick-fil-A restaurant in the area (besides the ones in the mall and on campus). In 2020 the building was demolished and rebuilt. The space where Chick-fil-A built was originally part of the Wal-Mart parking lot.
Sonic Drive-In / 2400 Briarcrest Drive
This Sonic restaurant began operations in May 1994.
Taco Cabana / 2410 Briarcrest Drive
Taco Cabana opened a location here in 1994. It was originally 24 hours like the rest of the chain, though that is no longer the case. Following the closure of the College Station Taco Cabana, it became the only Taco Cabana restaurant in the area.
Casa Olé / 3201 Freedom Blvd.
Let's take a quick jaunt down Freedom Boulevard, which ends at First Baptist Church (see Highway 6 page) but contains a few commercial businesses, most notably Lowe's. Freedom Boulevard is also a major access point of Walmart's parking lot. In any case, Casa Olé sits behind the Sonic and Taco Cabana lots, and opened in June 1997, more than a decade after the College Station location at Post Oak Mall.
Freedom Center / 2303 Freedom Boulevard
I won't go over the full history of this small plaza off of Freedom (it is part of the same parking lot complex from Briarcrest-accessible and Briarcrest-addressed sites) but I will go over some highlights. According to tax records, in suite 100, "Cigarettes Cheaper" was here from 2000 to 2004, which morphed into "Mattresses Cheaper" (2004-2005). Quiznos (reopening from the other side of the plaza after a brief absence) took over from 2006 to 2012. Flip & Peel Burgers & Ritas (a second location of Flip & Peel) opened in late 2014 in the still-born "The Fish Place" location, but lasted only a matter of months. Baked or Fried (a spin-off of Potato Shack) was here from 2016 to 2018, In 2019, it became "Krab Kingz" which went until the end of 2020 (later they tried to take over the foodservice at Southerns in Post Oak Mall, but that also failed). RadioShack (later rebranded as RadioShack/Sprint after 2015) operated in suite 200 from 1999 to 2017. Suite 600 has been GameStop #2344 since 2003. Jumping over to suite 700, the businesses here have largely (but not exclusively) been small Chinese cafés. It was originally Quizno's (1999 to 2004), then It was J&J Asian Bistro for years (back in 2004, looks like), then Guo's China Diner (late 2011-early 2012), then finally Dragon One. Dragon One actually had some good reviews for the time, but following an incident where domestic abuse occurred inside the restaurant, patronage dropped off and it closed. Kluay Kluay Thai Restaurant began operations in the spot in summer 2015, continuing the Asian food theme.
Lowe's / 3225 Freedom Blvd.
Lowe's faces Briarcrest (even though it's set back a good 300 yards, even from the edge of the parking lot) and opened in May 1996. At the end of Freedom Boulevard is a church (covered in the Earl Rudder Freeway page).
3000 Briarcrest Drive
Getting back to Briarcrest, this office building (five stories, relatively large for Bryan-College Station standards) was known as Wells Fargo Plaza until the late 2010s. Tenants still include Wells Fargo as well as Capital Farm Credit, Morgan Stanley, an FBI branch, and several local politicians. [source / archive]

Plaza Club was an upscale restaurant located on the sixth floor, operating from 1985 to 1994.
---
EARL RUDDER FREEWAY to BOONVILLE ROAD
This is where the Briarcrest crosses Earl Rudder Freeway. This part of the road is usually congested. At the northeast corner of the intersection is Stripes (see the
Earl Rudder Freeway
page).
---
Douglass Mazda Volkswagen / 3100 Briarcrest Drive
This was Garlyn Shelton Bryan (dealership for new BMW, Volkswagen, Hyundai, Mazda, as well as pre-owned cars) from 1983 until an ownership change in 2015 when it became Brazos Valley Imports. After it moved around 2019, Douglass Mazda Volkswagen moved in.
Cracker Barrel Old Country Store / 3110 Briarcrest Drive
Cracker Barrel, a chain of restaurants primarily located near freeways, opened a Bryan location in February 2010. It seems strange that as recent as 2010, Cracker Barrel was a restaurant to get excited over, and at the time, arguably the best breakfast restaurant in town.
Hyatt House / 3062 Wildflower Drive
Located behind the Cracker Barrel, this hotel (officially Hyatt House Bryan/College Station), was built in 2017 and features 320 rooms.
CapRock Hospital / 3134 Briarcrest Drive
This privately-owned hospital (the size of a clinic, but stated to be "an accredited and fully licensed hospital with emergency room, inpatient, and imaging suites" opened in either very late 2017 or early 2018 and was one of the two CapRock facilities to survive the sale that divested the Jones Crossing and Century Square urgent care facilities.
Brazos Center / 3232 Briarcrest Drive
There's basically two halves of the Brazos Center. One of them is where the Brazos Valley Museum of Natural History is, the other half is an events hall. The center also has an outdoor wooded area with a pond.

Bryan Towne Center being built up right behind it spoils some of the natural area that surrounds it (the parking lots are even connected) but the other half is protected.
FM 1179 continues eastward almost eight miles to FM 2038 in Kurten as a two-way road.
---
Return to the Main Page
|
Email
---
Copyright 2022 Carbon-izer.com, this site is not affiliated with any businesses listed here.