CARBON-IZER PRESENTS HIGHWAY 6 IN HEARNE AND CALVERT
Continuing from Highway 6 in Falls County, this section covers Hearne and Calvert in Robertson County. Seeing how this is only Version 1.0 of this page, this will be a VERY abbreviated version of this section of Highway 6, and a number of things I'd like to cover are either skipped or only briefly mentioned.
STATE HIGHWAY 14 to BURNETT STREET
Highway 14 has only had blinkers installed in the late 2010s (2019 I believe) but Burnett Street has had a stoplight for years. In the interest of time, Calvert won't be covered in this section at this time.
BURNETT STREET to FM 485
Holiday Inn Express Hotel & Suites / 1645 North Market Street
Holiday Inn Express Hotel & Suites - Hearne opened in October 2008. The three-story, 64-room hotel is perhaps the first hotel proper in Hearne.
FM 485 to WEST 5TH STREET/MOSS AVENUE
Love's Travel Stop / 1423 N. Market Street
Opened in early 2011 (with FM 485 changing from a stop sign and two long yield lanes to an ordinary stoplight), Love's Travel Stop #375 features a McDonald's restaurant inside (giving Hearne two McDonald's stores, not just one). It appears to have replaced two older motels. My previous research has shown that it was the "Executive Inn" and the "Brazos Valley Inn".
Stoney's Liquor / 879 N. Market Street
The Stoney's name was seen further up on Highway 6 in Riesel, but this Stoney's Liquor store (same company) opened in 2011 in a new building.
Hearne Railroad Museum Depot / 139 West 9th Street
Originally, this former train station was at the south end of where the train tracks intersect. In 2000, it was relocated across the street where it was to be restored as a railroad museum; however, it was over a decade before it actually opened as such. When the museum opened in 2011, parking was on a former cotton mill to the south (the ground foundation, the other part was on a foundation about four feet above ground level) but eventually this was demolished and replaced with a conventional parking lot.
Sonic Drive-In / 207 North Market Street
As traffic often slowed down around the railroad crossing, I remember better remembering this intersection, and before Sonic Drive-In moved here in 2002 (relocated from 801 Brown Street), the Magnolia street sign was this old-fashioned, almost ornate style sign that I've never seen anything like it. Definitely part of one of my memories of going up to Waco.
CEFCO / 100 N. Market Street
I believe this CEFCO is self-branded as of 2021 (but still an Exxon as of 2018). It has a Subway inside and has been CEFCO since 2003. Previous name of convenience store was "Big Gas" at least back to 1996. It is the last CEFCO seen on Highway 6 heading south, as Brazos County and by extent the entire Houston area lack the stores. CEFCO #51 is the number.
WEST 5TH STREET/MOSS AVENUE to US-79 WEST/US-190 WEST
Valero / 102 S. Market Street
Previously a Chevron (prior to around the mid-2010s), this was originally a garage-based gas station at one time.
Flo-Mart Express / 410 South Market Street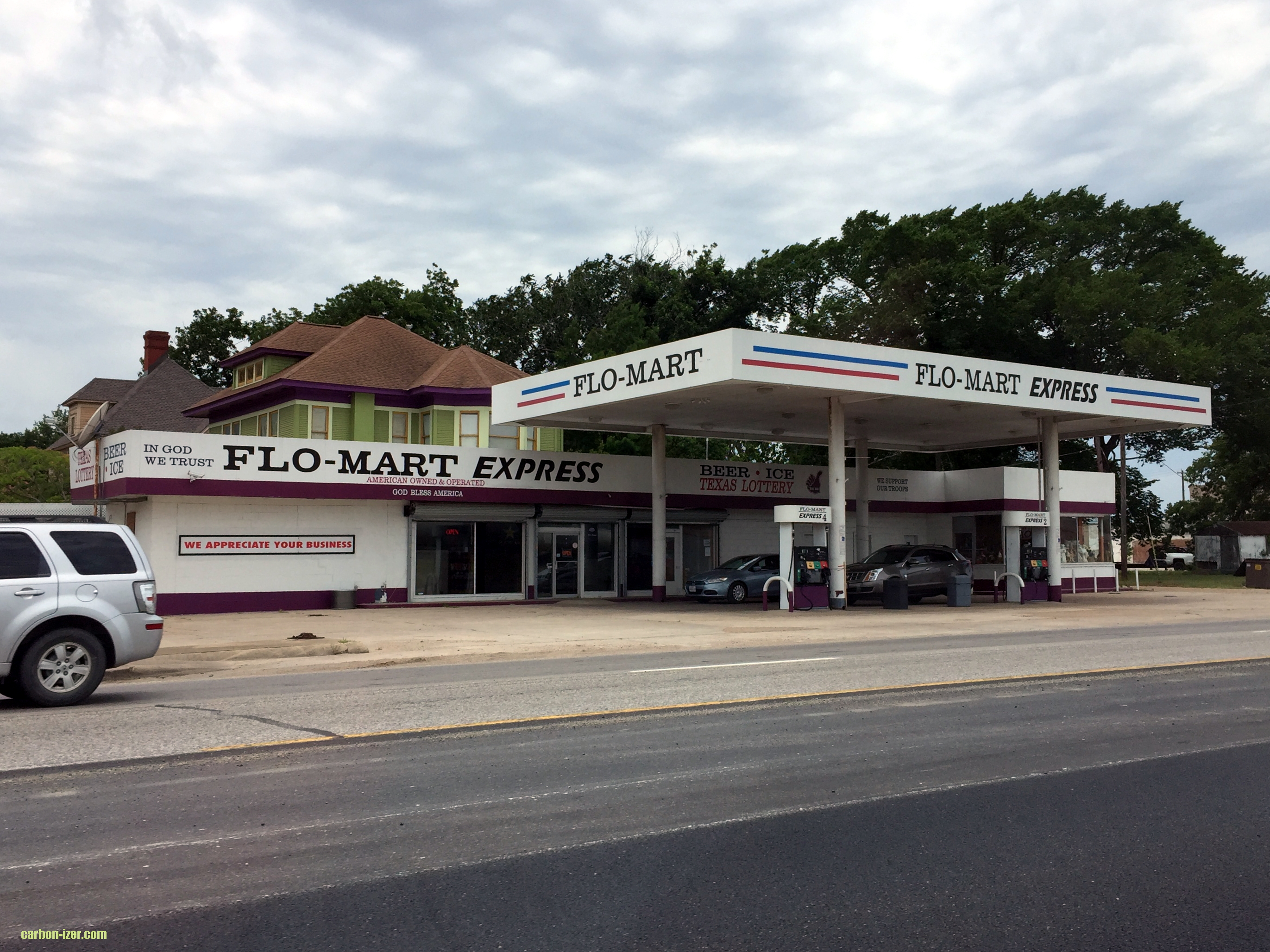 Also known as Flo Market, this former Shell (Texaco before around 2003) was originally a garage of some sort (with the abandoned office to the right of the store). At that is what it appears to be.
US-79 WEST/US-190 WEST to FM 2818
McDonald's / 906 S. Market Street
This McDonald's closes at 11pm (unlike the all-night one at Love's). According to the taxpayer site, there was no McDonald's restaurant here prior to the year 2000, and a phone book has confirmed that.
Pizza Hut / 1002 S. Market Street
Small towns like Hearne can only really support one pizza place, for Hearne, it's Pizza Hut (no Domino's). This was been here since 1986 (replacing a short-lived location at 907 Brown).
Abco Auto Parts 5752 Texas State Highway 6
From 2003 to 2007 this was Horseshoe Club, then Gem's Gentlemen Club (one of the area's only topless bars) from 2007 until a fire in November 2008. Abco Auto Parts opened in this location in 2010.
RV Source10212 Texas State Highway 6
This was Country RV Center from 1993 to around 2010/2011. As the economy started to come back to life, it reopened under a new name and ownership. It took a few years for RV Source to use all of Country's space, though.
Eventually, Highway 6 crosses into Brazos County where it becomes the full Earl Rudder Freeway.
---
Return to the Main Page
|
Email
---
Copyright 2021 Carbon-izer.com, this site is not affiliated with any businesses listed here.