CARBON-IZER PRESENTS HIGHWAY 6 IN HEARNE AND CALVERT
Continuing from Highway 6 in Falls County, this section covers Hearne and Calvert in Robertson County. Version 3.0 continues to add more entries, particularly Ama's Mexican Restaurant, Chicken Express, and Amigos y Familia Mexican Restaurant. It also changes the color of the document to match new site styles.
STATE HIGHWAY 14 to BURNETT STREET
Highway 14 has only had blinkers installed in the late 2010s (2019 I believe) but Burnett Street has had a stoplight for years. In the late 2009s or early 2010s, the stoplight was upgraded from its
decades-old single stoplight
to a more modern stoplight with pedestrian improvements.
DQ / 208 Main Street
The only fast food restaurant in Calvert and here since 1979. Around 2013 it did a very minor exterior renovation (interior likely updated too) and became DQ (from Dairy Queen). The numbering shouldn't be even here, it's on the "odd" side of the road, and also a block up from the entry below.
Mike's Country Store / 209 Main Street
This used to be an Exxon until the late 2010s, and an older sign mentioning "SuperClean" gasoline dates it as a Philips 66. The defunct station across the street was a Shell based on signage.
ZZ Old General Store / 518 Main Street
Operating from 2008 to around 2018 and even featured on Restaurant Impossible before it moved to Waco, this former bank space was an upscale restaurant and chocolate shop called Cocoamoda before it moved to Waco. Part of the problem of the original restaurant was its extremely isolated location from the potential diner base in College Station/Bryan (most of the nicer restaurants favor the south part of town, anyway), and it's a surprise it lasted this long.
BURNETT STREET to FM 485
Family Dollar / 802 S. Main Street
Family Dollar (#10614) opened in March 2014 less than a few months before the announced sale to Dollar Tree.
Ama's Mexican Restaurant / 1647 North Market Street
The Market Street name starts around here (Hearne's name for Highway 6). This was opened in 2009 as a new-build, replacing a building closer to the main core of Hearne.
Holiday Inn Express Hotel & Suites / 1645 North Market Street
Holiday Inn Express Hotel & Suites - Hearne opened in October 2008. The three-story, 64-room hotel is perhaps the first hotel proper in Hearne.
FM 485 to WEST 5TH STREET/MOSS AVENUE
Love's Travel Stop / 1423 N. Market Street
Opened in early 2011 (with FM 485 changing from a stop sign and two long yield lanes to an ordinary stoplight), Love's Travel Stop #375 features a McDonald's restaurant inside (giving Hearne two McDonald's stores, not just one). It appears to have replaced two older motels. My previous research has shown that it was the "Executive Inn" and the "Brazos Valley Inn".
Stoney's Liquor / 879 N. Market Street
The Stoney's name was seen further up on Highway 6 in Riesel, but this Stoney's Liquor store (same company) opened in 2011 in a new building.
Hearne Railroad Museum Depot / 139 West 9th Street
Originally, this former train station was at the south end of where the train tracks intersect. In 2000, it was relocated across the street where it was to be restored as a railroad museum; however, it was over a decade before it actually opened as such. When the museum opened in 2011, parking was on a former cotton mill to the south (the ground foundation, the other part was on a foundation about four feet above ground level) but eventually this was demolished and replaced with a conventional parking lot.
Sonic Drive-In / 207 North Market Street
As traffic often slowed down around the railroad crossing, I remember better remembering this intersection, and before Sonic Drive-In moved here in 2002 (relocated from 801 Brown Street), the Magnolia street sign was this old-fashioned, almost ornate style sign that I've never seen anything like it. Definitely part of one of my memories of going up to Waco.
CEFCO / 100 N. Market Street
I believe this CEFCO is self-branded as of 2021 (but still an Exxon as of 2018). It has a Subway inside and has been CEFCO since 2003. Previous name of convenience store was "Big Gas" at least back to 1996. It is the last CEFCO seen on Highway 6 heading south, as Brazos County and by extent the entire Houston area lack the stores. CEFCO #51 is the number.
WEST 5TH STREET/MOSS AVENUE to US-79 WEST/US-190 WEST
Valero / 102 S. Market Street
Previously a Chevron (prior to around the mid-2010s), this was originally a garage-based gas station at one time.
Chicken Express / 106 West 2nd Street
Opened in March 2017 (one of the first new stand-alone fast food builds in over a decade), Chicken Express has a 2nd Street address but has signage off of Market Street, and can be accessed from the alley just north of the store.
Flo-Mart Express / 410 South Market Street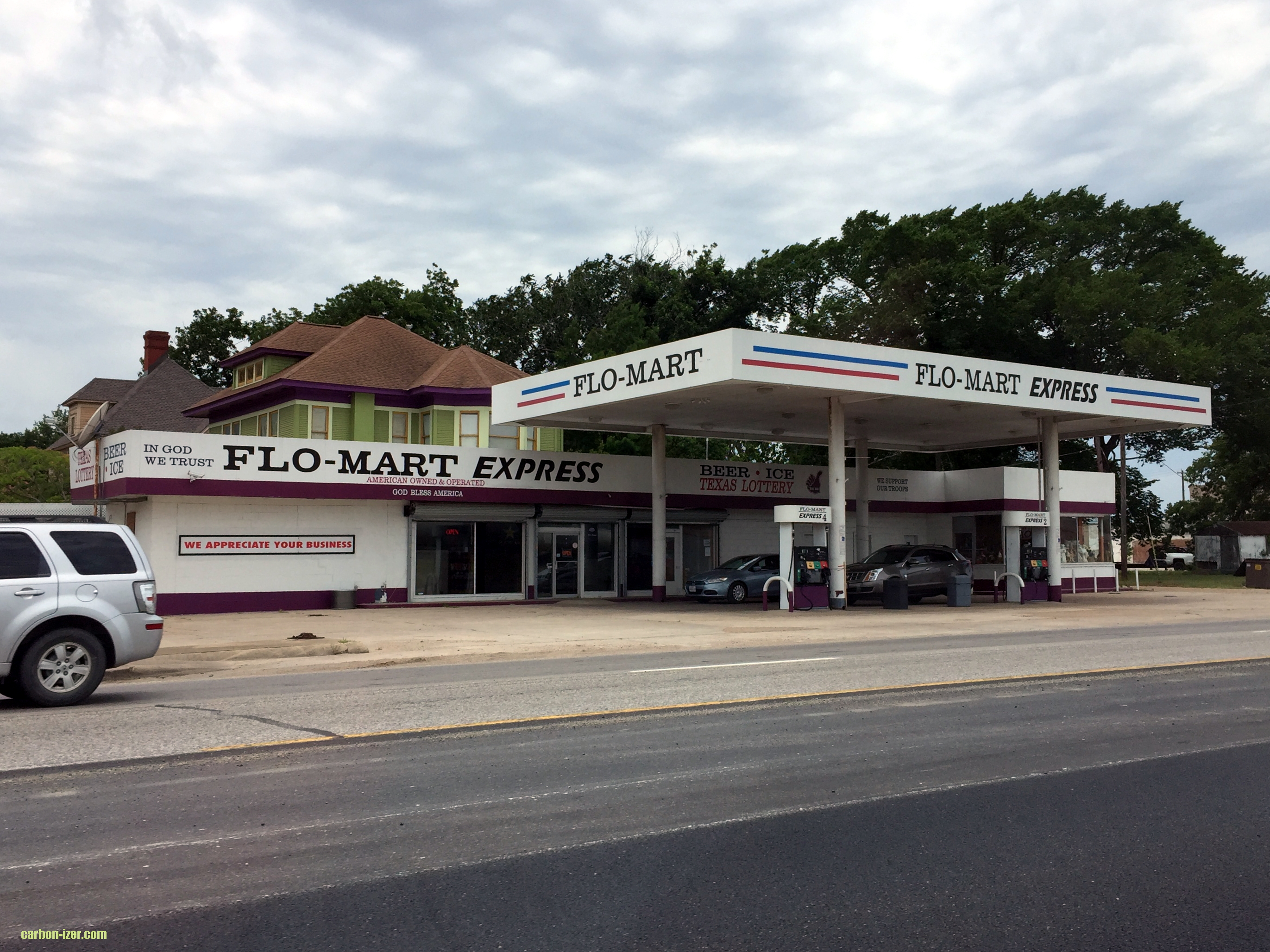 Also known as Flo Market, this former Shell (Texaco before around 2003) was originally a garage of some sort (with the abandoned office to the right of the store). At that is what it appears to be.
Amigos y Familia Mexican Restaurant / 702 S. Market Street
This restaurant (which as this writing, someone has marked, likely deliberately as an "adult day care center" on Google Maps) opened in 2011. It used to be Ama's Mexican Restaurant from 2001 to 2009 (Ama's moved closer to the Holiday Inn Express). Before that, it was Texas Burger of Hearne (unknown if related to the Madisonville Texas Burger/TX Burger) from 1997 to 2000 and Calahan Fried Chicken from 1995 to 1996. (That's all what can be found at the moment).
US-79 WEST/US-190 WEST to HARVEY MITCHELL PARKWAY NORTH (FM 2818)
McDonald's / 906 S. Market Street
This McDonald's closes at 11pm (unlike the all-night one at Love's). According to the taxpayer site, there was no McDonald's restaurant here prior to the year 2000, and a phone book has confirmed that.
Pizza Hut / 1002 S. Market Street
Small towns like Hearne can only really support one pizza place, for Hearne, it's Pizza Hut (no Domino's). This was been here since 1986 (replacing a short-lived location at 907 Brown).
Abco Auto Parts / 752 Texas State Highway 6
From 2003 to 2007 this was Horseshoe Club, then Gem's Gentlemen Club (one of the area's only topless bars) from 2007 until a fire in November 2008. Abco Auto Parts opened in this location in 2010.
RV Source / 10212 Texas State Highway 6
This was Country RV Center from 1993 to around 2010/2011. As the economy started to come back to life, it reopened under a new name and ownership. It took a few years for RV Source to use all of Country's space, though.

Eventually, Highway 6 crosses into Brazos County where it becomes the full Earl Rudder Freeway.
---
Return to the Main Page | Email
---
Copyright 2021 Carbon-izer.com, this site is not affiliated with any businesses listed here.