TEXAS AVENUE IN BRYAN
This page, "Texas Avenue in Bryan", covers the other half of the main avenue in Brazos County, once the main Highway 6 from around the 1940s to the early 1970s. Version 2.0 continues to improve what Version 1.0 did. * Some of the sections are recut, including fixing where the actual dividing line is between North Texas Avenue and South Texas Avenue.
* Some minor grammar/spelling errors have been fixed.
* This update adds H-E-B (at Old Hearne Road), 1601 N. Texas Avenue (the sad story of a Papa John's), Church's Chicken (at E. 21st Street), Kesco Food Service Equipment, Dollar General (near Wayside Drive), Fat Burger, Casa Loma Motel, Treviño-Smith Funeral Home (former Pizza Hut), KFC, Mr. Hamburger, and Frittella Italian Cafe.
* This update restores (from City Directories version) McDonald's and Townshire (1901 S. Texas Avenue and 1915 S. Texas Avenue on the old page).
* Additionally, 1520 N. Texas Avenue (former Weiner's/Best Pawn) and BB&T have been updated, with Chicken Express also getting a picture.
NORTH EARL RUDDER FREEWAY to SAN JACINTO LANE (TEXAS STATE HIGHWAY 21)
Producers Cooperative Association / 1800 North Texas Avenue
This grain mill is a major agricultural supply center and sells other products too (check their website). Across the street is a dusty lot with equipment that was once the home of Cattlemen's Inn and its adjacent 24-hour restaurant.
H-E-B / 1609 N. Texas Avenue
For a period of over 7 years, this H-E-B (about 80,000 square feet, though feels much smaller) was the "newest" store in town (opened mid-2011) but also smaller and downscale. It replaced an H-E-B Pantry store that operated since 1991 just right next to it (the H-E-B gas station is on the spot), which had the address of 1905 Old Hearne Road.

The store features the "Flaming Bird" (flame-broiled chicken H-E-B concept and the only area H-E-B to do so) and a pharmacy.
1601 N. Texas Avenue
These smaller stores are directly adjacent to H-E-B. In 2011, the stores here included Safari Dental (still there) and a Papa John's Pizza. The Papa John's did not have the traditional logo of the chain and ended up closing after two robberies in a single day (the employees all quit), closing in early 2014. A few years later, it reopened but never gained any traction and closed for good.
SAN JACINTO LANE (TEXAS STATE HIGHWAY 21) to EAST 26TH STREET
1520 N. Texas Avenue
Houston-based clothing store Weiner's was here from 1972 to 2001 when the chain closed. Best Pawn opened here in 2002 and operated until September 1, 2021. Surprisingly, Google Maps once listed Weiner's as being here in the early 2010s, despite Weiner's gone for over a decade.

As of this writing, the building will be renovated into a Poco Loco. It may even have a fuel station component, and hopefully will be covered in a future edition of this page.
Mariscos Perla del Mar / 720 N. Texas Avenue
Lit. "Pearl of the Sea Seafood", this restaurant has been here since 2017. From 2013 to early 2017, this was Fargo's BBQ (since moved), before that, Gath's Wholesale Electric Company (1993 to 2006, but sat vacant into the early 2010s), Gath's Chicken-N-More (1989-1993, see article here), and John's Katfish Kitchen (1988-1989). It did not appear to replace a chain restaurant.
Church's Chicken / 507 N. Texas Avenue
This Church's Chicken was established as a Tinsley's fried chicken restaurant back in 1977. When the chain sold to Church's in 1985, this was the only of the three local stores that continued to be a Church's past 1989.
Shell / 208 N. Texas Avenue
This Shell gas station features a Zip'N and a taqueria, the latter of which was originally a Krispy Krunchy. Additional photos are at Brazos Buildings & Businesses.
DQ / 205 N. Texas Avenue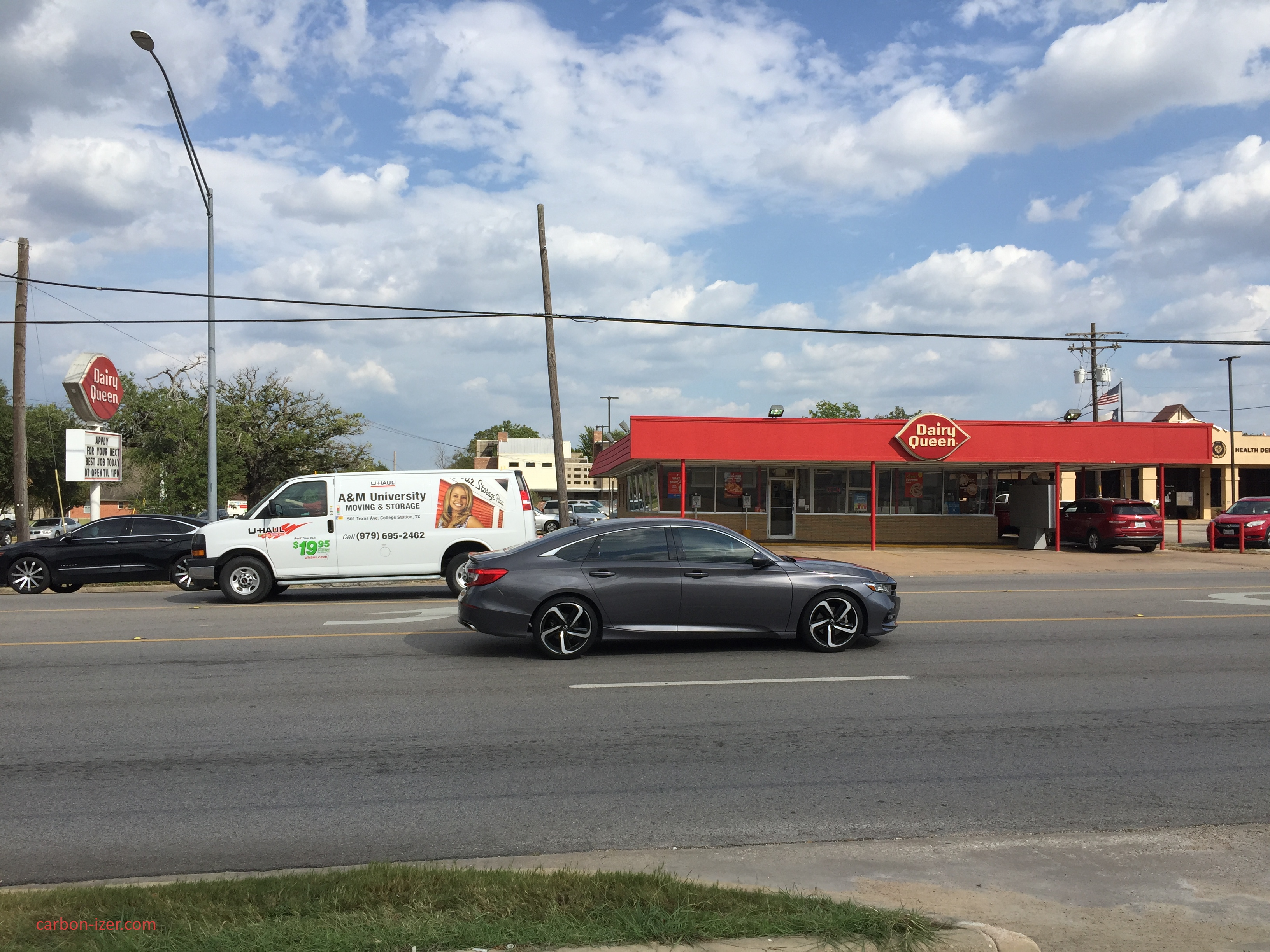 This Dairy Queen has been here since c. 1976 and still branded as a Dairy Queen.
Brazos County Health Department / 201 N. Texas Avenue
This building was built in the mid-1960s as a Safeway (replacing a smaller Safeway at the corner), but it closed in 1986 in favor of a new store at Highway 21. It has been the County Health Department for a number of years now.
The 101 / 101 S. Texas Avenue
Bar that opened in late 2020 in a converted gas station. From 2011 to 2016 it was "Superior Granite & Marble by Vivaldi", from 2009 to 2010 it was JR Auto Sales (d/b/a "South Texas Auto") and in 2007 it was Advantage Rent-a-Car. From 1982 to 1993 it was an Exxon. Other than that, I have no other ready information on it.
BB&T / 201 S. Texas Avenue
This was Bogard Motors as of 1968 and from sometime around 1971 to 1989 it was Barnett Motors, and by 1992 it was operating as First American Bank, which was acquired by Citibank in 2005, then sold to BB&T in 2014.

Officially, BB&T has rebranded to Truist following their merger with SunTrust Bank, though it isn't known if this branch has rebranded yet.
Chicken Express / 401 S. Texas Avenue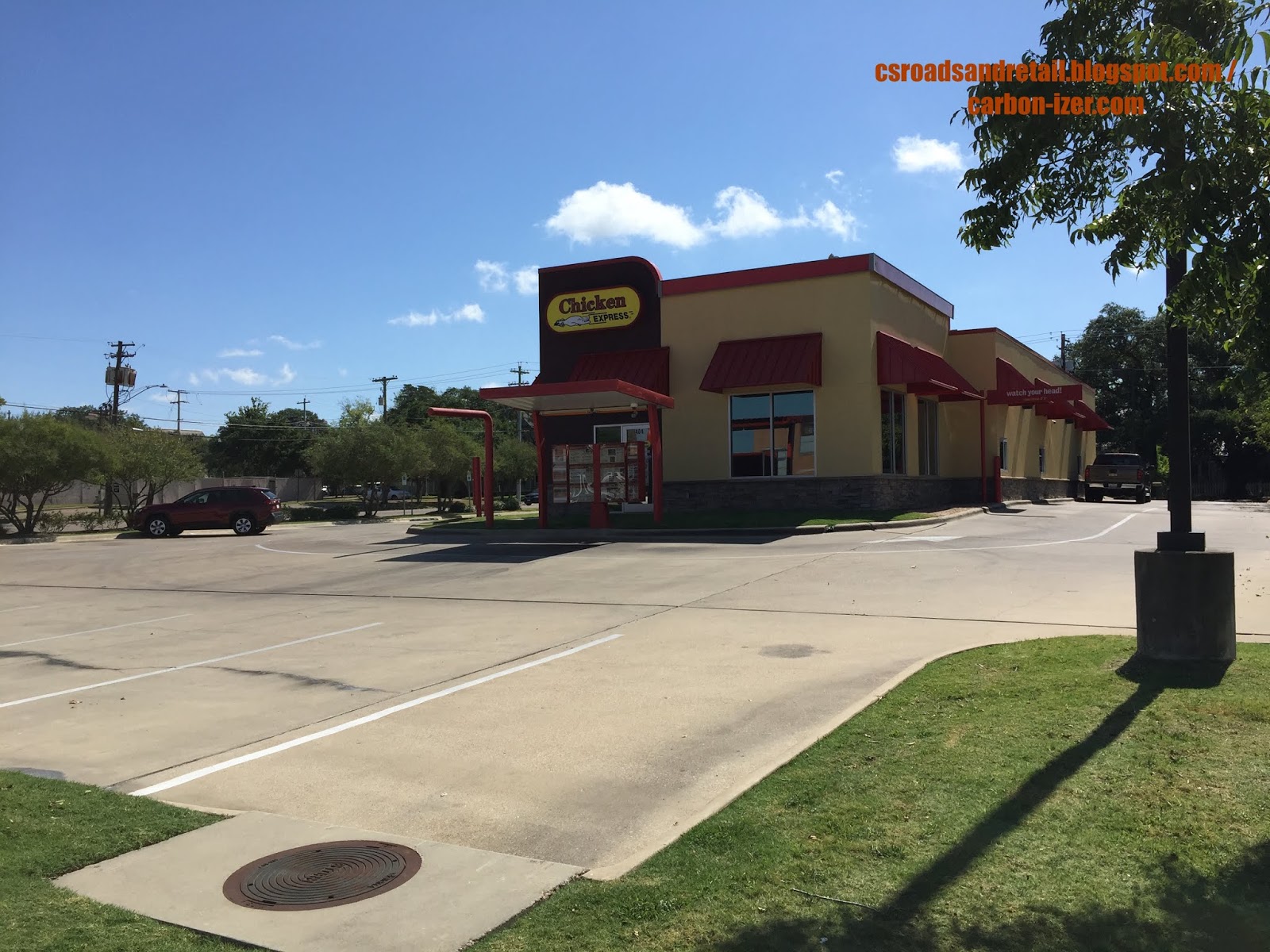 This used to be the Greyhound bus station, which had a 29th Street address. When it was demolished and replaced with a Burger King, the new restaurant had a Texas Avenue address, but ironically, no access from Texas Avenue. The Burger King only existed for a few years before it closed and Chicken Express opened. See the blog post for more.
Wienerschnitzel / 501 S. Texas Avenue
This Wienerschnitzel restaurant (originally "Der Wienerschnitzel") opened around 1969 and rebuilt in the early 1990s after a fire (though still to the classic A-frame design). It does not have any interior seating. See the blog post.
McDonald's / 700 S. Texas Avenue
This McDonald's opened in 1996 with a Playplace, and received an exterior renovation in 2011-2012.
Kesco Food Service Equipment / 1411 S. Texas Avenue
Also known as Kesco Supply, this relocated here in 2001 from 1418 N. Texas Avenue. Many years ago, it was the home to Halsell Motor Co. Inc.
Dollar General / 1709 S. Texas Avenue
Dollar General opened here around December 2009 as a new-build structure.
Fat Burger / 1801 S. Texas Avenue
Fat Burger has been here since 1988 as a spin-off of the now-defunct Northgate location.
EAST COULTER DRIVE to EAST VILLA MARIA ROAD
Townshire / 1901-2027 S. Texas Avenue
This shopping center was built in the mid-1950s and anchored by a Sears store and began struggling after Sears moved to Post Oak Mall in 1982. A full renovation of the center in 2002 brought in an Albertsons supermarket, but it closed after four years, and has been vacant since (short for a brief stint as a Walmart Neighborhood Market from summer 2013 to January 2016). The center has a stoplight into it, doubling as the East Carson Street stoplight.

A full blog post has been written about the shopping center here.
Casa Loma Motel / 2000 S. Texas Avenue
This motel has been here since 1950. It isn't known if the Casa Loma name is original or not, but the name has been there since the late 1970s.
Harmony Science Academy / 2031 S. Texas Avenue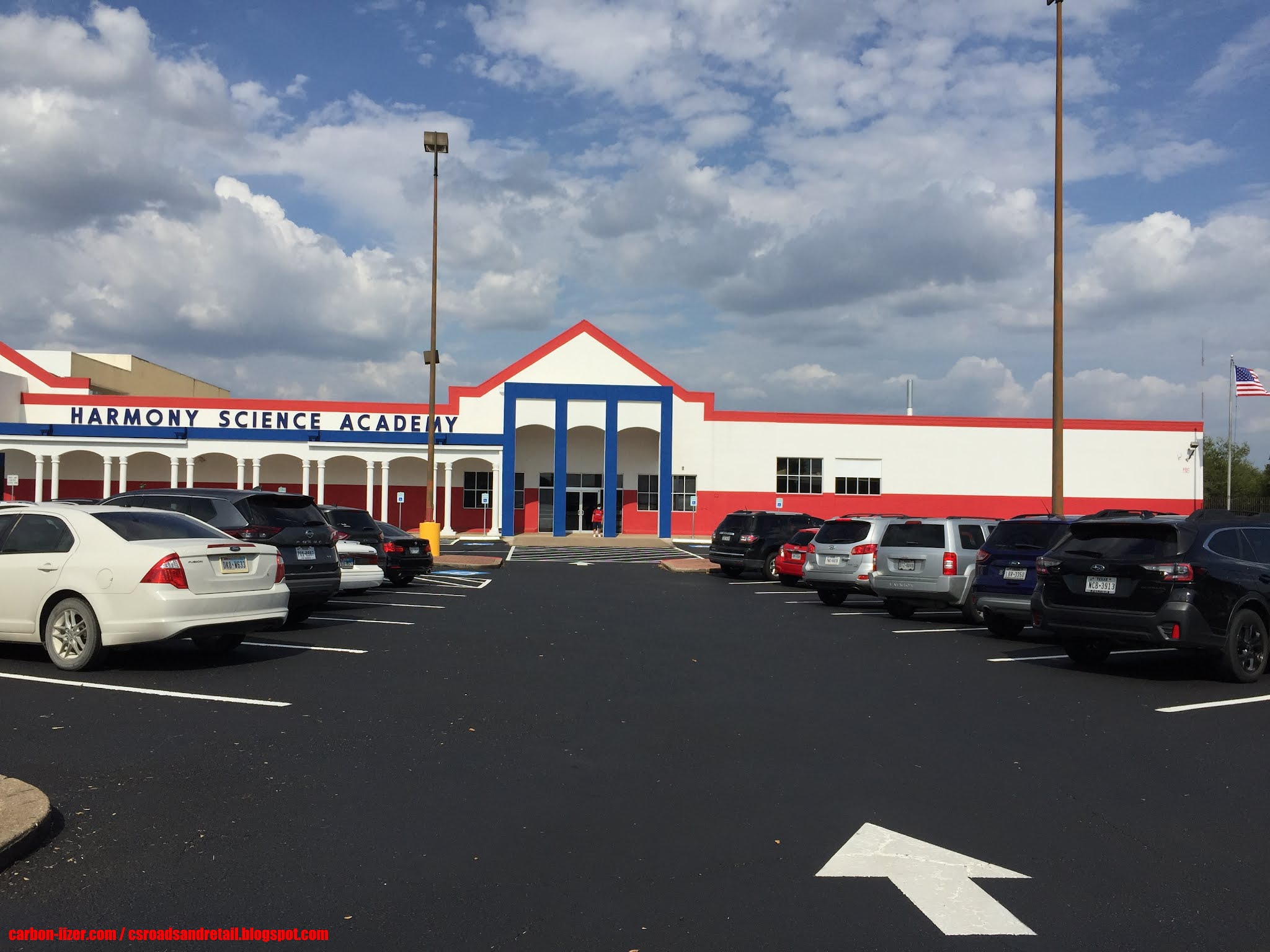 This opened in fall 2007 in a former H-E-B Pantry store, which operated from 1991 to 2004.
University Inn / 2300 S. Texas Avenue
Bryan's first Holiday Inn was built here in the mid-1960s (one of their classic motel layouts) and became "The Bryan Inn" in the late 1980s. During the 1990s and early 2000s, it became an apartment building known as "The Forum" and in the late 2000s reopened as a hotel again (under the Travelodge name). A few years after that it assumed its current name after it changed hands again. (See the blog post).
Treviño-Smith Funeral Home / 2610 S. Texas Avenue
This opened in 1977 as a Pizza Hut and closed sometime around 1998. Later, it was converted into a funeral home, but the building still retains its distinctive Pizza Hut architecture.
First Financial Bank / 2900 S. Texas Avenue
This has a bank in some form or another since the late 1970s but was built in the late 1950s as Clayton's Restaurant. Another restaurant, Captain's Table, operated from 1973 to 1977 before it closed. In 1979 it became a bank and has been banks since. See the blog page for more information.
Jack in the Box / 2906 S. Texas Avenue
Jack in the Box restaurant (#675) built in 1977 originally but has since had a substantial rebuild.
EAST VILLA MARIA ROAD to NORTH ROSEMARY DRIVE
This section features several off-set intersections shared by a single stoplight.
CVS/pharmacy / 3000 S. Texas Avenue
This CVS was built as an Eckerd in the late 1990s on the site of an Exxon station that dated back to the 1960s (as an Enco).
KFC / 3321 S. Texas Ave.
A Kentucky Fried Chicken restaurant has been here since at least 1971, though the current building dates back to around 1994 (with renovations made). I seem to recall that this had a large "bucket" display even into the early 2000s, but it's been gone prior to the first Google Maps Street View image in 2007.
Mr. Hamburger / 3706 S. Texas Ave.
Mr. Hamburger (#2), an outgrowth of a Huntsville-based hamburger restaurant, opened August 2018. The building was originally built as a Bush's Chicken, opened in August 2016 on a long-vacant plot of land but closed by October 2017.
Jose's / 3724 South Texas Avenue
Previously covered by Brazos Buildings & Businesses, Jose's has been here since 1993 when its old location at 4004 Harvey Road burned down. From 1964 to 1991, Randy Sims Bar-B-Cue was located here, closing in December 1991 when Sims retired.
Frittella Italian Cafe / 3901 S. Texas Ave.
This was a Taco Bell (#1261) from 1982 to 1996, colloquially known as Archie's Taco Bell. For whatever reason, the drive-through window was on the passenger side. The 1996 closure date lines up with the opening of the Taco Bell at 3501 East 29th Street, so it might have moved at that point. In 2003, the building was expanded and heavily modified to be Frittela Italian Cafe.

Not too far from here is North Rosemary Drive, where the other page corresponding to College Station's Texas Avenue section, begins. Click here to continue to that page.
---
Return to the Main Page | Email
---
Copyright 2021 Carbon-izer.com, this site is not affiliated with any businesses listed here.