Based on the now-defunct City Directory page and heavily referencing Brazos Buildings & Businesses, this page covers Texas Avenue South in College Station (and a bit of South Texas Avenue in Bryan), following from this page. Due to the way the road is configured, this also covers the southbound frontage road of Texas State Highway 6 to Rock Prairie Road.

Version 9.1 follows on from Version 9.0 (which added most of the things that weren't on previous updates, though there are a few tiny gaps still) mostly makes minor "fix" updates: 4401 S. Texas Avenue (new tenant), University Flowers (fixed picture link), 3002 Texas Avenue South (malformed URL), 3125 Texas Avenue South (retitled from "So-Fly Chicken Sandwiches"), Wingate by Wyndham, and Americas Best Value Inn & Suites. It also adds Washington Chapel Baptist Church.
---
NORTH ROSEMARY DRIVE to UNIVERSITY DRIVE / UNIVERSITY DRIVE EAST
This section is technically in Bryan for most of it, though has a few College Station addresses before hitting University Drive.
---
4401 South Texas Avenue
From February 1977 to April 2014, this was Luby's Cafeteria (later just known as "Luby's"). In August 2014 it reopened as Cafe Eccell following renovations (the restaurant had previously been evicted from its old location at 101 Church Avenue). Following the COVID-related closure in spring of 2020, it reopened as "Public & Main" (with an updated menu) in July 2020 before closing in April 2022. More information on the former Luby's and some of the restaurants that followed can be seen at Brazos Buildings & Businesses.

Currently, it is under renovation to become the College Station location of Sushi Masa.
PARK CENTRAL
This shopping center has been here since the late 1970s. A Loopnet listing can be seen
here
. A further look at more of the former tenants will be coming in a future update.
4403 - Upscale Resale (though tax records were incorrectly filed as "Unscale Resale") moved here in spring 2001 from their old location on East 29th Street. It closed in 2002, and I do remember the signage for this one was in Comics Sans MS. Today this is Edward Jones Investments.
4405 - Foot Massage
4407 - Truman Chocolates
4409 - Classy Nails
4411 - Vapor Maven
4413 - Absolute Nutrition & Energy
4413b - Jazzy's Hair Studio
4415 - Allstate Insurance
4421 - Yesterday's has been here since 1979. The address was originally 4423, probably expanded into an adjacent space.
First Watch / 4501 South Texas Avenue
For many years, this was the spot of Fajita Rita's, a popular Tex-Mex eatery. After it closed, it served as a few more Mexican restaurants and eventually burnt down during a period of vacancy. The current building (built 2014, though the restaurants did not open until 2016) initially was split beween First Watch and Hungry Howie's Pizza, but First Watch eventually expanded into the old Hungry Howie's space.

You can read more about the story of this restaurant (Fajita Rita's, before and after--among others) here.
4600 South Texas Avenue
Abandoned building. It was "Aggieland Realty" as of 1998 but no other activity has been here for years.
Econo Lodge / 104 Texas Avenue South
This motel opened in 1984 as the Texian Inn, but within five years was rebranded as Comfort Inn. It switched names in the early 2000s to "Kiva Inn" before Knights Inn by 2007, and by early 2015 became Econo Lodge, which it is today.

Originally, this was the home of "Turf Green Miniature Golf Course", which by the early 1980s briefly assumed the 120 Texas Avenue South address. It also had (for about a year), an obscure "theme park" called Jubilee Junction. More on this (and the hotel) can be seen on Brazos Buildings & Businesses.
200 Texas Avenue South
This former Applebee's opened in 1994. While it and others shut down temporarily in the COVID-19 pandemic, the College Station Applebee's did not reopen and closed permanently.
Fairfield Inn & Suites by Marriott / 4613 Texas Avenue South
In this section of Texas Avenue, the west side is College Station's but the east side is not, with this Fairfield Inn being in Bryan. The hotel was built on the site of A&W Drive-In and Barbecue Barn, which would eventually evolve into Tom's BBQ. You can see the corresponding blog post here.
Home2 Suites by Hilton / 300 Texas Avenue South
Home2 Suites by Hilton College Station opened late 2014. For many years, this used to be some run-down apartment 4-plexes (on the Meadowland side of the property), and an abandoned concrete pad that turned out to be a self-serve car wash demolished some years before. The parking lot connects to both Meadowland and the (former) Applebee's.
Super 8 / 301 Texas Avenue South
Super 8 College Station opened in the early 1990s. More information on what was on the land is coming soon.
Sonic Drive-In / 401 Texas Avenue South
This Sonic opened a few years after the Sonic near University and Texas closed, opening in either late 2005 or early 2006.
Hampton Inn by Hilton / 320 Texas Avenue South
This hotel was built in the late 1980s on the site of the Sands Motel, which dated back to the 1950s.
Coldwell Banker / 411 S. Texas Avenue
This has been a Coldwell Banker (though not always associated with Cherry Ruffino) and in the 1980s was Tokyo Steak House. Check out more information here.
Legacy Tattoo Lounge / 413 Texas Avenue South
This tattoo parlor opened by January 2018 and served as a variety of tenants over the years, most recently Rodney D. Young Insurance (as it was for over a decade). The store itself is recognizable as a 1960s-era Pizza Inn, which opened in 1966 and closed in the 1980s. The corresponding blogpost for this entry can be found here.
Exxon / 425 Texas Avenue South
This Exxon gas station was built in the early 1990s (replacing an older Shell station) and was briefly a Rattlers (for maybe a year). The current convenience store is "A&H Food Mart" legally. It sits at the northeast corner of University Drive East and Texas Avenue and can be seen here.
---
UNIVERSITY DRIVE / UNIVERSITY DRIVE EAST to GEORGE BUSH DRIVE / GEORGE BUSH DRIVE EAST
University Drive is to the west and University Drive East is to the east, but both are FM 60. Check them out
here
. At this point, Texas Avenue is six lanes with a median since the late 1990s.
---
U-Haul Moving & Storage / 501 Texas Avenue South
Originally the home of Mais Super Market (see the blog post for the complete history, this was a Diamond Shamrock from circa 1989 to 1998, and replaced by U-Haul, moving from next door (though retaining its old land).
Fuego Tortilla Grill / 108 Poplar Street
This popular 24/7 taco restaurant (except on Mondays) opened in 2010. More on the former address here (603 Texas Avenue South) can be researched at the blog post for this address.
607 Texas Avenue South
This lot does double duty as a Denny's restaurant (at Live Oak Street and Texas Avenue), with a La Quinta behind it. This La Quinta is the oldest in town (built 1979) and for a long time was the only La Quinta until two more were built near the freeway in the last 10 years (as of this writing, January 2021). The blog post describing these two buildings is here, including Denny's past as Bombay Bicycle Club and Julie's Place. Nearby are two more restaurant sites that have Live Oak addresses and aren't visible from Texas Avenue (neither one is currently operational): 102 Live Oak and 201 Live Oak Street.
Las Palapas / 701 Texas Avenue South
This opened in March 2021 with an eventual goal to be open 24 hours a day (a few nights a week they are open 24 hours). It replaced a Taco Cabana, which operated from around 1989 to January 2020. From 1957 to 1982, it was the home of Saber Inn, a small motel and restaurant. Read about both here.
707-709 Texas Avenue South
I've decided to cover both of these in one entry: 707 Texas is a retail/office complex built in the 1970s. Around 1997, three buildings of the complex were knocked down (including one that held exclusively the women's boutique Charli) for an On the Border restaurant at 709 Texas Avenue South. This happened around the time the "original" On the Border restaurants closed in Houston and Brinker International downscaled the restaurant to blander, chain-friendly appeal.
Lone Star Pavilion / 711-805 Texas Avenue South
Strip center built in 1997 with Barnes & Noble, Best Buy, and Office Depot, more info here.
Lupe Tortilla / 813 Texas Avenue South
Opened as Red Lobster in 1983 as part of a rapid expansion of the chain under the ownership of General Mills, this has been Lupe Tortilla since 2012 after Red Lobster moved to University Drive East (or see the University Drive East page) in 2008. The parking lot of the original Red Lobster was salvaged into parking integrated with Lone Star Pavilion, with with new medians added and the parking spots repainted.
815 Texas Avenue South
This gas station was hard to get a picture of for the site, but it was a Texaco for years (at least since 1994, when it was Andy's Food Mart #2, though it was MC Food Mart in its last two years of life). When all the local Texaco stations switched to Shell in 2003, some signage got changed out (particularly near the convenience store part), but it never was completed and sat abandoned for over a decade afterward. 1Up Repairs (repair for consumer electronics, like phones and computers) opened in 2017 (finally getting rid of the defunct Texaco/Shell changeover) but closed down a few years later. Prior to this it was an Exxon from 1979 to 1994.

W.N. "Flop" Colson opened a "Humble" gas station here in 1939.

In the early 1940s, it was sold to L.E. McCall and transitioned to Enco by the early 1960s. By that time, an addition had been built for full auto service. Later on, the original Humble structure was torn down and replaced with something in-line with the 1950s addition.

Unlike Lupe Tortilla, it is not connected to other parking.
817 Texas Avenue South
The Squire Shop has been here since 2019 but closed before the end of 2020. From 1999 to the mid-2010s it was Aggieland Cycling (which relocated to 1705 Valley View in the mid-2010s). In 1985-1986 it was Ben Bailey's (local liquor store, had a few other locations), Scooter Brown's (1987-1989), and Jones Pharmacy possibly even into the early 1980s.
Valero / 901 Texas Avenue South
At the southeast corner of Lincoln Avenue and Texas Avenue is a 1950s-era gas station that is still pumping gas (though has not consistently been operational).

It was formerly a Mobil until around 2004, spent some time as Stratta Auto Repair, and eventually reopened as an independent gas station before becoming a branded gas station (Valero) in 2015. You can see the post I wrote a while back here but it is plagued with dead links and others that need fixing.

Lincoln Avenue borders Eastgate and eventually connects with University Drive East (see that page) but with the exception of a few duplexes and apartment buildings, most of the buildings (especially on the south side of the road) face away from it.

Directly behind the Valero is a closed business that used to be Mechanics Unlimited (at 102 Lincoln, see the blog post). There's two businesses a block away with Raven Homes currently at 110 Lincoln Avenue, and K&L Advertising Specialties at 902 Foster Avenue.

Further down from that, there's a few apartment complexes--University Square (313 Lincoln Avenue), not to be confused with University Square Shopping Center and formerly known as Lincoln Square Apartments. Nearby is the Eastgate Apartments (401 Lincoln Avenue) and seems to have two distinct building types, possibly combined from two developments.
Strategic Realty Advisors LLC / 903 Texas Avenue South
This former Century 21 office moved out in the late 2010s. SRA was formerly at 3007 Earl Rudder Fwy. until around 2022, when it moved here.
Layne's of College Station / 106 Walton Drive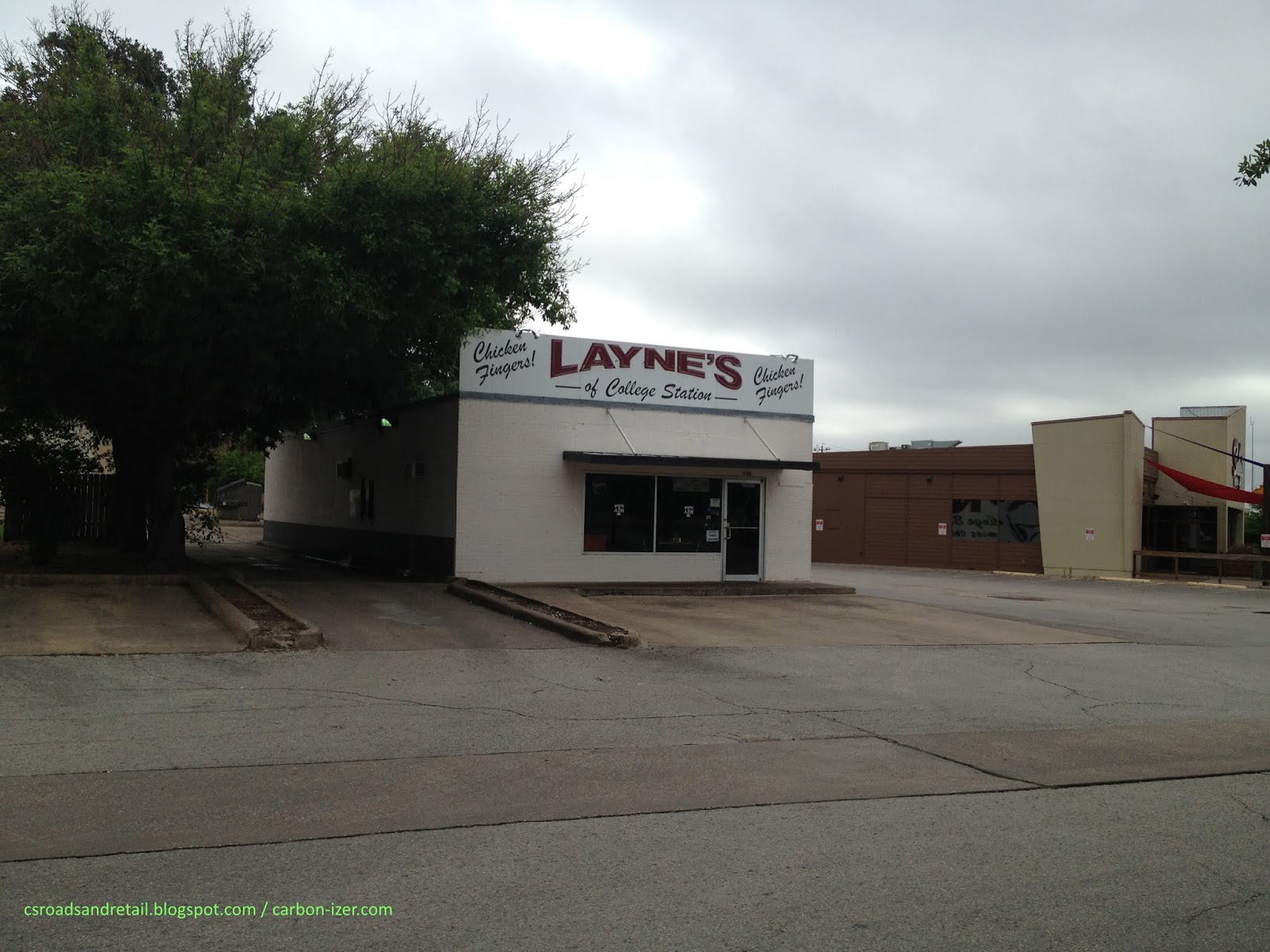 A small chicken finger restaurant and one of the "Aggie" restaurants in the area, Layne's has been serving up chicken fingers since 1994. The blog post for this entry mentions how it was previously home to Wilson Plumbing Co. for years.
Torchy's Tacos / 1037 Texas Avenue South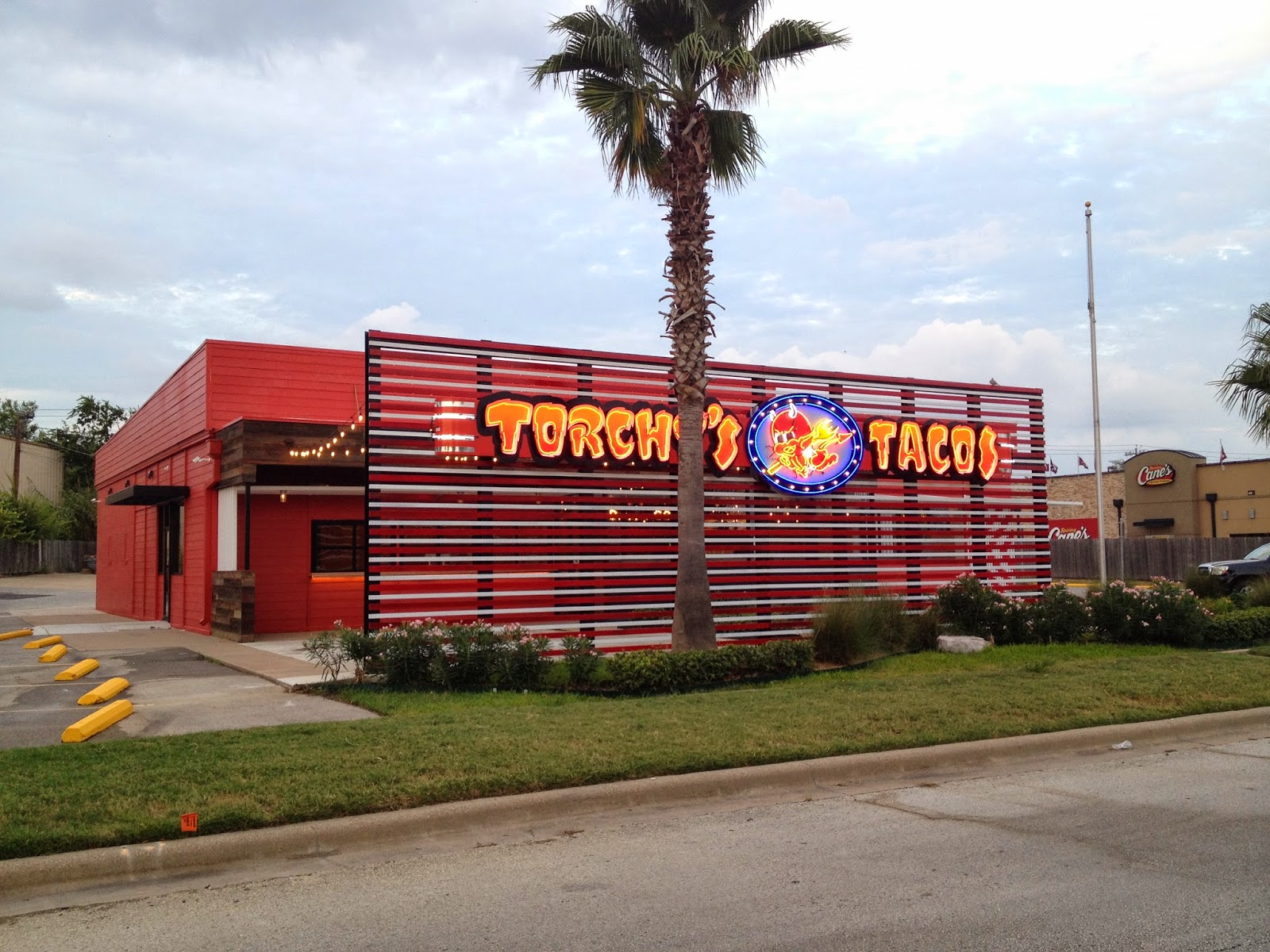 I was here when Torchy's Tacos opened here in October 2014, hanging around for two hours in a line and getting free food and drinks (all while the line wrapped around the building at least twice). It wasn't always Torchy's, it opened in 1962 as Coach Norton's Pancake House and served as a variety of restaurants since, with the last restaurant that was there being the much-hyped but ultimately disappointing "Fowl Digits" restaurant (it was very obvious they wanted it to be a chain), which later became "Sully's Sports Bar & Grill" before going out of business.
Raising Cane's / 1045 Texas Avenue South
This Raising Cane's opened in June 2006 in a new building. The original building from the mid-1970s was built as a branch of Sambo's and later served as a location of Wings-N-More for many years.
University Flowers / 1049 Texas Avenue South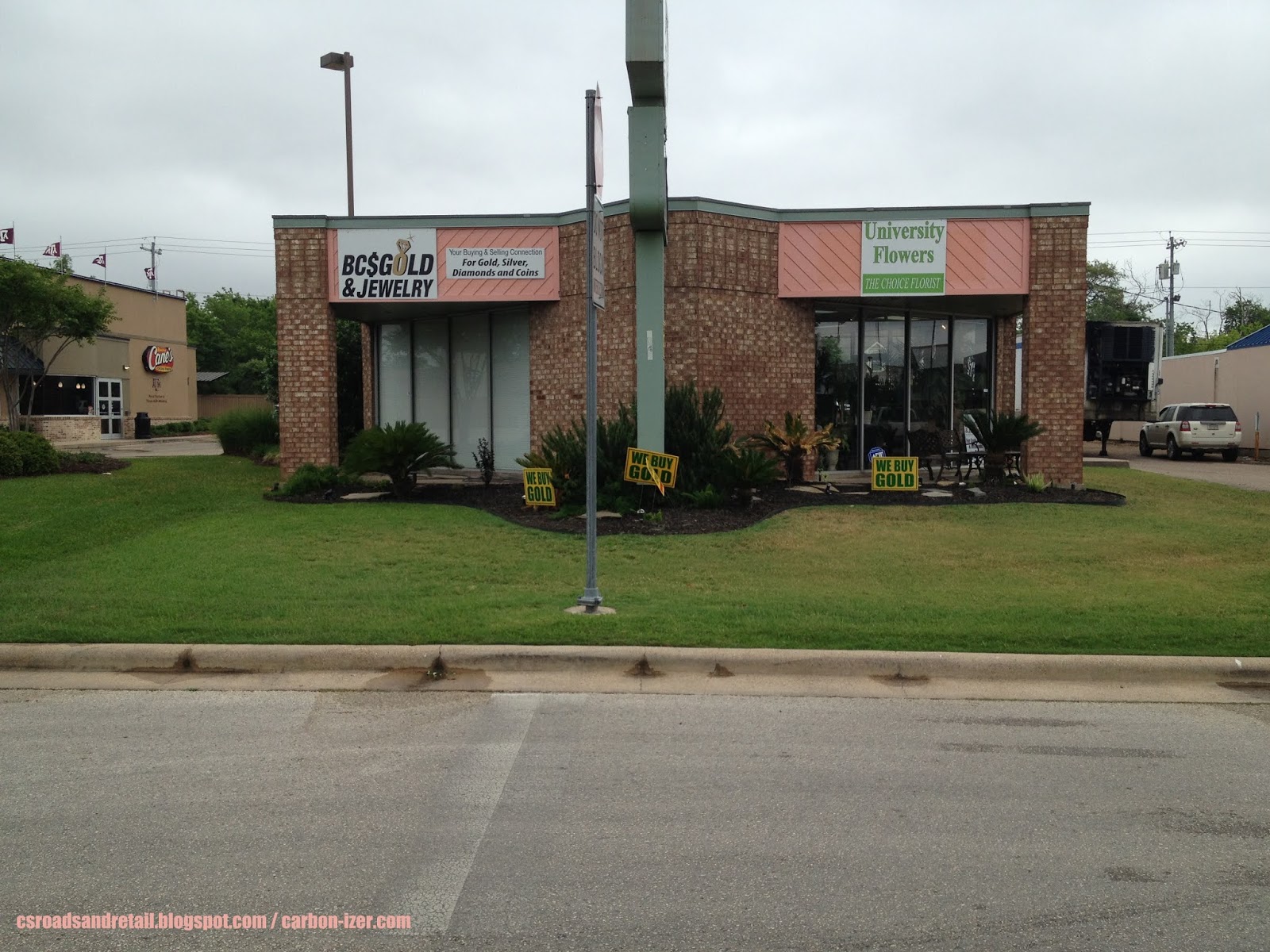 This flower shop was added to the blog back in 2020 using a photo from six years prior.
Chili's / 1063 Texas Avenue South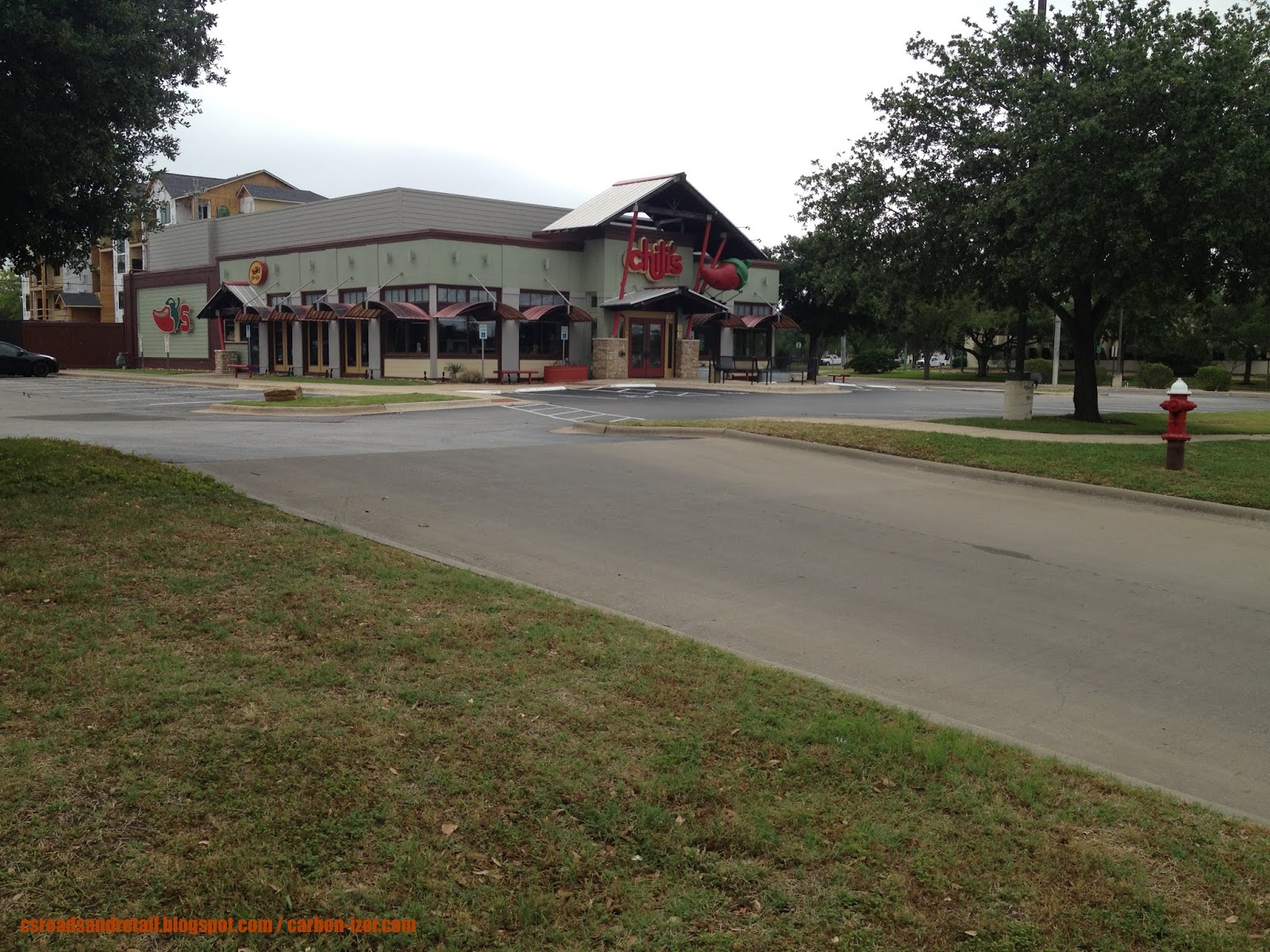 This chain restaurant was built in 1991. The blog post has a few 2014 photos before the logo was updated.
---
GEORGE BUSH DRIVE / GEORGE BUSH DRIVE EAST to HOLLEMAN DRIVE / HOLLEMAN DRIVE EAST
Until around the mid-2000s Texas Avenue reverted to four lanes at this point.
---
Texas Avenue Crossing / 1400-1460 Texas Avenue South
Strip mall anchored by Total Wine & More and Bed Bath & Beyond (at least for now, the company's on the ropes). It features a rooftop parking deck and was redeveloped from a shopping center built in the 1960s. More info here at Brazos Buildings & Businesses.
Whataburger / 105 Dominik Drive
A Whataburger has been at this site since 1971 yet the building only dates back to 1996. A rebuild of the store is planned to go underway at some point, incorporating the paved lot (formerly a Shell gas station) that the restaurant can be accessed from via Texas Avenue. See the blog link above.
1501 Texas Avenue South
This office building from 1980 is being used by Texas A&M, with its parking lot being Lot 120, officially. Some information can be seen here.
1503 Texas Avenue South
This (currently closed) hotel opened as a Holiday Inn in the early 1970s and became a Clarion by 2005. After less than half a decade of Clarion, it became "College Station Inn" for a few years before closing for remodeling.

Despite reopening after an extensive renovation as Four Points by Sheraton in 2011, the hotel closed in 2020. You can read about many of the restaurants Holiday Inn had over the years here on the old blog. (It's a bit out of date; it will be updated when the other shoe drops).
Jack in the Box / 1504 Texas Avenue South
Jack in the Box #683 originally opened in the late 1970s but has recently been rebuilt. The blog post has a picture.
Aggieland Boutique Hotel / 1508 Texas Avenue South
This hotel was built in 1974 as Aggieland Inn (named after a historic on-campus hotel) with the address of 1502 Texas Avenue South and eventually became a Ramada before reverting to its old name and closing in 2011. A redevelopment in the mid-2010s converted the old lobby area into a strip center and reopened the hotel as TRYP by Wyndham, but it has since changed names again. (Blog link with more information here). The strip center has the address of 1512 Texas Avenue South and has a few restaurants, including a Chinese buffet and Dave's Hot Chicken. (Again, the blog link has more information).
Redtex Center / 1530 Texas Avenue South
Strip center with Sleep Number by Select Comfort, Aspen Dental, and Shawarma Factory. Previously this was the site of a Summit gas station and self-serve car wash. See blog post above.
Central Station / 1505-1729 Texas Avenue South
Major shopping center anchored by Kohl's, HomeGoods, and Spec's, built in the mid-1970s and redeveloped around 2006. Please see the Brazos Buildings & Businesses post for more information.
Exxon / 1721 Texas Avenue South
This Exxon was rebuilt in 2000 and featured a Speedy Stop convenience store. In 2013, the Speedy Stop was sold with 142 others to 7-Eleven, which soon rebranded it to TETCO. By fall 2014, it was a 7-Eleven in all but name. After carrying the TETCO name for years, it was rebranded as 7-Eleven officially sometime by late 2021 or early 2022. The gas station also sits on the direct corner where Texas State Highway 30 begins, known as Harvey Road in College Station.

In the 1990s, this intersection was configured so southbound traffic didn't actually have to stop, and the third lane created from the turn became the new "inner lane" of Texas Avenue, with the old outer third lane turning right into the Target parking lot (Manuel). What this meant, essentially, is you could not continue down the outer lane of Texas Avenue in Bryan into College Station the whole way without changing lanes. It appears that at some point, a stoplight was added in on the southbound side to allow for pedestrian crossings, but otherwise untouched until around the widening.

For the actual Harvey Road section of this site, see here.
Washington Chapel Baptist Church / 1801 Texas Avenue South
This church has been here for a very long time, dating back to at least 1957 for the building alone; unfortunately, there's not a lot of information on it I can easily find.
Harvey Washbangers / 1802 Texas Avenue South
For whatever reason, Harvey Washbangers never got covered on the blog, but this unique laundro-pub has been here since 1998 (the logo, however, is much more recent). The building was previously Mazzio's Pizza from 1986 to 1997.
1808 Texas Avenue South
A small strip center located where a Long John Silver's used to be.
H-E-B / 1900 Texas Avenue South
A popular H-E-B supermarket (at one point, allegedly one of the most profitable stores in the chain) opened here in 2002, moving from the Pantry location on the other side of Holleman. Its only major remodel was in 2015. View the blog post for this building.
---
HOLLEMAN DRIVE / HOLLEMAN DRIVE EAST to SOUTHWEST PARKWAY
The awkward intersection at Holleman and Texas connects Holleman Drive with Holleman Drive East, an extension built in the early 1980s out to Wolf Pen Creek Park and Post Oak Mall. It was here prior to the Texas Avenue widening that a third northbound lane sprouted that went until the Harvey Road stoplight, at least after the reconfiguration of the Harvey light (see above).
---
Chase / 2000 Texas Avenue South
This Chase bank at the southwest corner of Holleman and Texas Avenue replaced an Olive Garden restaurant from the early 1990s. It burned down in 2004.


2001 Texas Avenue South
This strip center built in the mid-2000s and anchored by Mattress Firm (originally home to Blockbuster) was once home to the College Station location of Tom's Barbecue & Steakhouse.
2002 Texas Avenue South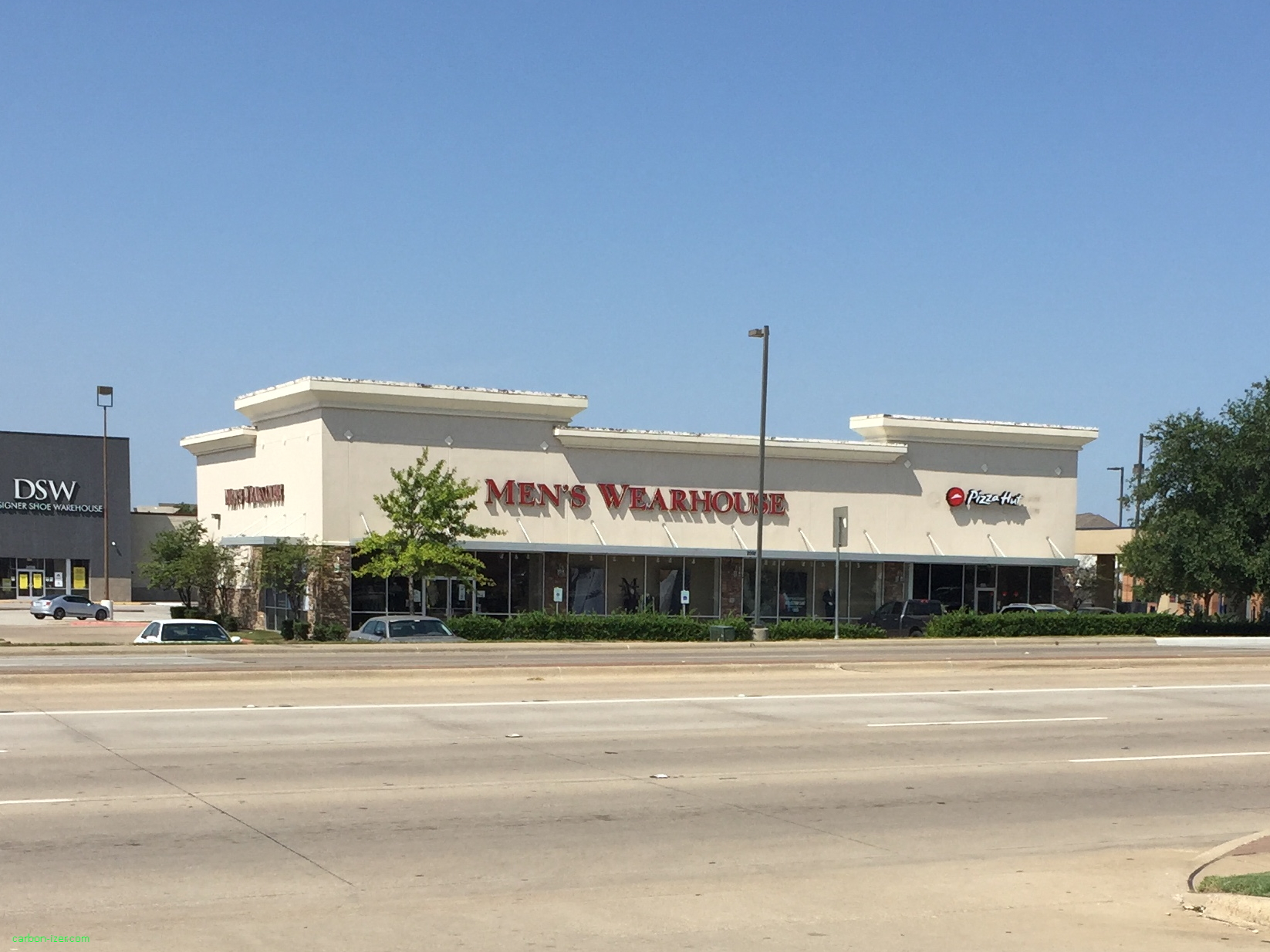 Jimmy John's opened its first area in spring 2006 in suite 100 (Men's Wearhouse opened earlier in 2006 in suite 200) but closed in 2019. In fall 2020 Pizza Hut opened at the former Jimmy John's site at suite 100. The Pizza Hut isn't open nearly as late as Domino's down the street; Domino's closes at 2 am, Pizza Hut closes at 10 pm (both are open an extra hour on Friday and Saturday).
Havertys Furniture / 2004 Texas Avenue
Havertys Furniture since August 2016. Hastings was built here in the late 1990s and closed in 2015 a few years before the chain under. (See the blogpost).
E-Z Travel Inn / 2007 Texas Avenue South
This motel has been here since 1973 (originally under the name "E-Z Travel Motor Hotel"). It is fairly simple and has a swimming pool but not much else in the ways of amenities. It has seen better days, to put it nicely.
2006-2050 Texas Avenue South
Strip center built by H-E-B Pantry Foods (where it served as anchor from 1991 to 2002) and anchored today by DSW and Old Navy. Read the full history of the building here.
Target / 2100 Texas Avenue South
The most recent to this Target (T-800, opened July 1992) has painted the facade red with the new lowercase logo. It has seen two significant renovations over the last twenty years. See the blog entry here.
Outback Steakhouse / 2102 Texas Avenue South
This chain restaurant opened in the early 1990s. Read all about it on the blog.
United Rentals / 2301 Texas Avenue South
Located at the northeast corner of Manuel & Texas Avenue (directly across from Outback Steakhouse), this was formerly known as RSC Equipment Rental (rebranded around 2013 after United bought the parent company), this United Rentals location has been here for years. Behind it on Manuel Drive is CubeSmart Self Storage (219 Manuel Drive), which has additional units on the other side of Manuel Drive.
First Financial Bank / 2305 Texas Avenue South
This bank opened around 2009 as The Bank & Trust and was acquired by First Financial in 2019. The building here before served as College Station Pawn from the demolition of 2316 Texas Avenue South in the early 2000s to 2008 when it moved back to right next to its old site, but I cannot remember what was here before that.
2307 Texas Avenue South
Commercial building with three tenants, currently Kolache Rolf's, Copy Corner, and Bike Barn. Unusually, they feature interior entrances to each other.
Big O Tires / 2319 Texas Avenue South
This was originally a restaurant, first opened around 1984-1985 as a short-lived Luther's Bar-B-Q. Later it was Pop's Barbecue until the mid-1990s, when it became Epicures Catering. In 2011, it became Tiremax after an extensive renovation. In 2012, it renamed to BCS Tires & Lifts following the failure of the Tiremax chain, and in 2022 became "Big O Tires" either through a buyout or otherwise. (A longer version of this can be seen on Brazos Buildings & Businesses)
Walgreens / 2306 Texas Avenue South
Since around 2002, this has been a Walgreens. Previously it was Confucius Chinese Cuisine (with a different address, 2322 Texas Avenue South). This Chinese restaurant was one of my favorite places growing up.

Dairy Queen / 2323 Texas Ave. South
The original 1975 Dairy Queen received some updates over the years (including DQ signage) but around 2014, it was gutted to a shell and rebuilt. It is the only Dairy Queen restaurant in College Station proper.
Motel 6 / 2327 Texas Avenue South
Motel 6 (#362) has been here since 1980 and other than some interior updates and new signage hasn't seen many changes over the years.
Drew's Car Wash / 2401 Texas Avenue South
This car wash has been here since the early 2000s (though not always as this name). It was built on the site of a Red Line Burgers.
Compass Bank Building / 2405 Texas Avenue South
Three story office building built in 1984. Originally, it had Compass Bank on the outside until the late 2000s (BBVA Compass), then just BBVA, and in October 2021 became PNC Bank.
Parkway Square / 2400-2420 Texas Avenue South
Shopping center that sits behind Firestone, Dutch Bros Coffee, Popeyes, and McDonald's. Although it's in need of an update, you can see the blog post here. Its largest store is Tru Fit, which used to be a Kroger for over 30 years before it was closed.
Popeyes Louisiana Kitchen / 2408 Texas Avenue South
In the early 2000s, Kroger built a fuel center on this site (old parking lot, no convenience store) but it went with the store when the supermarket closed in August 2016. In November, the gas station was demolished and it returned to parking lot. In 2020, the concrete was torn out and a Popeyes opened in January 2021.
CVS/pharmacy / 2411 Texas Avenue South
This drugstore was built in 2000 (replacing a small two-tenant building that included a Care Plus) as an Eckerd and converted to CVS in 2004.


---
SOUTHWEST PARKWAY to HARVEY MITCHELL PARKWAY
At this point,
Southwest Parkway
crosses the road and becomes Southwest Parkway East east of Texas Avenue, similar to how University Drive does. It is a relatively fast way out to the freeway. Before Texas Avenue was widened, Southwest Parkway's stoplight was a somewhat non-standard design with curved poles and dark green-bordered lights.
---
NailSpa / 2500 Texas Avenue South
This nail salon spot was originally occupied by Pelican's Wharf from 1977 to around the mid-1990s, a defunct chain of restaurants in Texas (and Arizona) that I should get to covering one of these days. Perhaps next update, maybe. After Pelican's Wharf, it was two more restaurants, Pasghetti's and Royers', neither of which lasted too long. See the blog post for this building, which goes into a bit more detail.
Park Place Plaza / 2501 Texas Avenue South
Shopping center anchored by Planet Fitness and Ace Hardware (originally, the home to a Winn-Dixie). A KFC sits at the corner. More info at Brazos Buildings & Businesses.
Red Roof Inn / 2504 Texas Avenue South
Known as Manor House Motor Inn until the late 2000s and Manor Inn until 2022, more information about this motel can be found here.
Days Inn / 2514 Texas Avenue South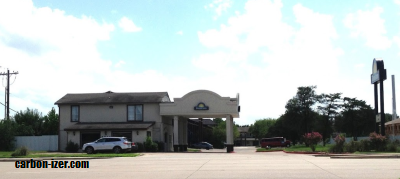 This has been Days Inn since the early 1990s. Originally it was Shiloh Inn upon opening in the early 1980s before becoming Quality Inn for most of the 1980s. See the view blog post for this building.
2502 Texas Avenue South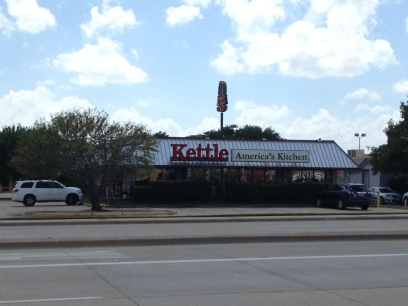 Home to Kettle (#138) from 1982 to November 2022, closing long after the rest of the chain (a few semi-independent restaurants still operate, namely the Bryan location). When I wrote the blog post on this restaurant it was before COVID-19 and it was open 24 hours. The post-COVID closed at around 11pm until it was announced it would close for good. Based on filings, the restaurant will be replaced with a new-build Salad and Go location.
Homestead Place / 2551-2553 Texas Avenue South
Small strip center with three buildings. The first of which, 2551, had the city's public library until 1998 (yes, it was in a strip mall). The second of which, 2553, has had Brown's Shoe Fit Co. since the early 2000s. A third building (also with 2551 addresses) is invisible from the street and has a dance studio as well as Kindermusik.
College Station Baptist Church / 2555 Texas Avenue South
This church (around since likely the 1970s) connects to the Homestead Place parking lot. The church website is a bit broken and nothing appears under the "About Us" page.
2611 Texas Avenue South
This building was the city police station for years (and at some point until the early 2000s also served as the courthouse).

In May 2020, the city leased the space to International Leadership of Texas for use as temporary school space (holding high schoolers) until the Longmire school is expanded. The current building was built in 1978 with a two-level addition completed about a decade later. In front of the former police station is Cy Miller Park, officially at 2615 Texas Avenue.
Domino's / 1801 Valley View Drive
Accessible from Valley View Drive (the sign can be seen from Texas Avenue, but it's a bit set back from the road), Domino's moved here from their old location closer to Deacon. The modern Domino's restaurant has a drive-through (pickup only) and an eat-in area. The Domino's was built on Putt-Putt Golf's remaining space (namely the batting cages). Behind it is Aggieland Cycling (1705 Valley View) which takes up Putt-Putt's space proper.
Midas Auto Systems Experts / 2715 Texas Avenue South
Brazos CAD indicates this car repair shop was built in 1997.
Truist / 2717 Texas Avenue South
First American Bank opened at the northeast corner of FM 2818 (yes, that was the official name at the time) and Texas Avenue on January 31, 1994. It was converted to Citibank in 2005. In June 2014, the bank was rebranded (again) to BB&T following a sale of some Citibank properties affecting the local stores. In early 2022, it was rebranded once more to Truist following BB&T's merger with SunTrust Bank.

Check out this opening advertisement for this building.
HARVEY MITCHELL PARKWAY SOUTH to BROTHERS BOULEVARD / DARTMOUTH STREET
For Harvey Mitchell Parkway (FM 2818), see
this link
.
Walmart / 1815 Brothers Boulevard
College Station's only Walmart (Bryan has two) opened as a regular Wal-Mart in 1988 (store #1150) with a modest 78,000 square feet (not quite as small as others like in Caldwell and Navasota) and expanded in 1995 to 130,000 square feet, adding a McDonald's (which eventually became Subway, and while the space was later demolished for expansion, it is still Subway today—see Brazos Buildings & Businesses for more). In 2009-2010, it went through another expansion to bring it up to a Supercenter (going from "Wal-Mart" to "Walmart", no "Supercenter" ever appeared on the building). This would give it 200,000 square feet (some official numbers quote 254,000 square feet, probably including the back of the former Albertsons used for storage space and the outdoor garden center). It remodeled once more in 2017 but did not expand.
Exxon / 2801 Texas Avenue South
Opened in 1983 as a second Jimmy Jackson's Exxon location, this store was sold in 2001, when the convenience store became "Franky's". See more at blog post for this building.
U-Haul Moving & Storage / 2813 Texas Avenue South
This U-Haul facility has been here since 1997. It was the first climate-controlled, multi-story storage unit in the College Station area. As of 2022, a second building is being constructed behind it (closer to FM 2818).
Wyndham Garden / 2829 Texas Avenue South
College Station's newest hotel opened in late December 2020 behind O'Reilly Auto Parts.
O'Reilly Auto Parts / 2831 Texas Avenue South
Here since 2001, see the blog post for a picture of the store before the Wyndham Garden hotel was built behind it.
Sonic Drive-In / 2900 Texas Avenue South
Accessible from the Walmart parking lot, the Sonic here was built in 1990 (originally) and closed in September 2018 for a total rebuild, which opened in 2019.
Memorial Funeral Chapel / 2901 Texas Avenue South
Memorial Funeral Chapel has done business in College Station for decades but this opened as Southwood Funeral Home in 1997. By the early 2000s both were under common ownership.
---
BROTHERS BOULEVARD / DARTMOUTH STREET to DEACON DRIVE
The latest stoplight (2019), this only actually connects to Brothers (Dartmouth extension pending). For years there were two run-down trailer parks at 3001 Texas Avenue South (unnamed, but some old directories refer to "Canino Trailer Park") and at 3031 Texas Avenue (Woodway Mobile Home Park, though the name wasn't visible). Both of these operated since the mid-1970s and were cleared in late summer 2022.
---
3002 Texas Avenue South
This three-suite office building has Edward Jones Investments, Swearingen Law Firm, and Kluck, Lamb, & Rovinelli, LLP, an accounting firm. Behind it is an alleyway that leads to a few duplexes and the back of the vacant lot next to it, Sunset Gardens (3020 Texas Avenue South).
Brazos Spine / 3106 Texas Avenue South
Opened 2021 (though main exterior signage wasn't installed until in 2022) and moved from 3526 Longmire. This building formerly held a Domino's Pizza carryout location (3104 Texas Avenue South) from the late 1990s until it moved in April 2017 (now at Valley View and Texas Avenue) and MAC Pizza Management (at 3106 Texas Avenue South), the territorial franchise of the area stores. MAC Pizza Management moved out around the same time to a new dedicated building on Highway 30.

The diamond-shaped signage that Brazos Spine uses is leftover from Domino's.
Brazos Valley Pool & Spas / 3114 Texas Avenue South
This has been operating since the late 2000s at was once Barry Pool Company before they sold out. (Link goes to blog. Check it out!)
Ashley & Company / 3122 Texas Avenue South
At the end of the Texas Avenue frontage road (which once continued into the Highway 6 South frontage road, all the way to Greens Prairie and beyond) is Ashley & Company, an event planner and rental company. Prior to Ashley & Company (launched in 2013 but it looks like the sign was up in December 2012) was a location of Petal Patch Florist (2004-2011), a long-standing business that existed in the area since the 1970s and has jumped around to several locations. It was Valley Cyclery for a while as well (since 1990, later moving to the Eastgate area) with the original tenant being Veggie Garden (by all indication, it appeared to be a garden center, not a salad restaurant).
3125 Texas Avenue South
Occupying the leftover space from Diamond Shamrock that wasn't used by Burger King (see next entry), this originally housed Boomtown BBQ Company (out of Beaumont) from August 2020 to February 2022 and later So-Fly Chicken Sandwiches (part of the Eccell/Burger Mojo group), which opened in July 2022 but closed March 15, 2023 (not for lack of business, it's that the owners received a great offer on the building that they couldn't turn down).
Burger King / 3129 Texas Avenue South
This Burger King opened in 2007, replacing a Diamond Shamrock. See the blog entry.
Wings 'N More / 3230 South Texas Avenue
This chicken wing restaurant (owned by Mark Dennard, not a franchised location, therefore, the "alternate" name is Mark Dennard's Original Wings 'N More) opened in the mid-1990s out of a converted office building. Their separate party room is at 1803 Deacon Drive. Around 2012, a covered patio was turned into a restaurant expansion.
---
DEACON DRIVE to ROCK PRAIRIE ROAD
At this point, the northbound lanes start from an exit but the southbound lanes continue as a frontage road. Due to this, coverage will continue on the west side of the freeway (for the other side, see the upcoming Earl Rudder Freeway page) until the Rock Prairie stoplight. Addresses continue south.
---
Texas Avenue Baptist Church / 3400 Highway 6 South
This doesn't connect to Texas Avenue per se, and even when it was built in 1991, had no direct connection to Texas Avenue. Even though the frontage road has been one way since around 2006, the parking lot is shared with a series of apartment buildings that has access to Deacon and Longmire.
Wingate by Wyndham / 3610 Highway 6 South
This hotel opened as Quality Suites in 2005 but closed less than 15 years later (better write-up on my blog here). In early 2023 it reopened as a Wingate.
Americas Best Value Inn & Suites / 3702 Highway 6 South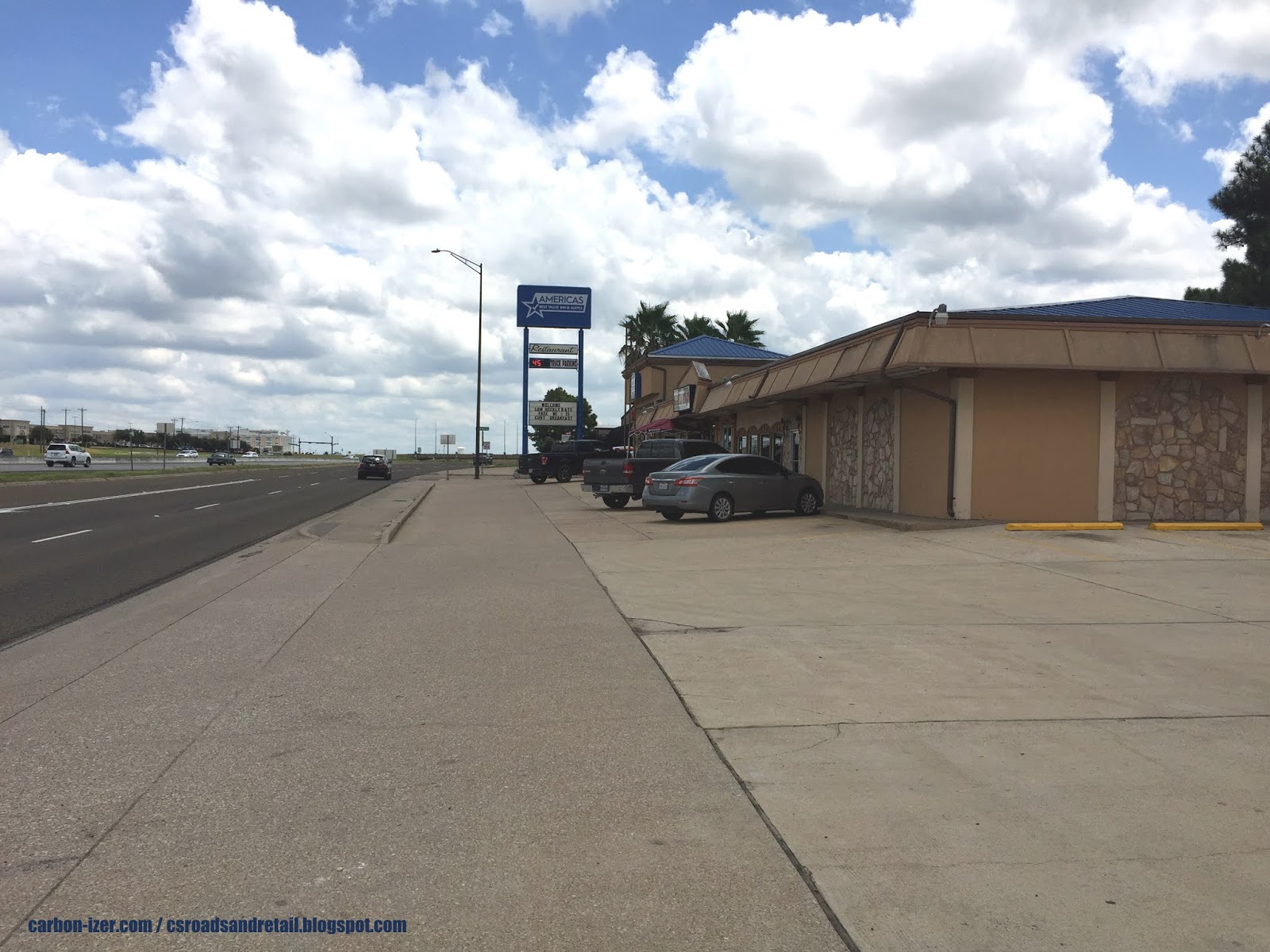 The furthest south hotel in College Station for decades, now going under the name Americas Best Value Inn & Suites College Station was originally built in 1971 as Ponderosa Motor Inn. A mid-2010s redevelopment removed an additional building for a Microtel hotel behind the motel (1820 Ponderosa Drive, I believe it opened 2018). Currently a plan to remodel and rename Americas Best Value Inn & Suites as "Hotel McCoy" is underway.

The hotel's restaurant is leased to an independent restaurant called Mi Familia Coco Loco.
Highway 6 continues south toward the Grimes County line. The coverage continues at this link.
---
Return to the Main Page | Email
---
Copyright 2020-2022 Carbon-izer.com, this site is not affiliated with any businesses listed here.