Texas Avenue South in College Station
Based on the now-defunct City Directory page and heavily referencing Brazos Buildings & Businesses. These entries have additional photos and more in-depth former tenant information. Unlike the original version, the list starts in Bryan at the Rosemary Drive stoplight, shortly before it goes from Bryan's "South Texas Avenue" (North Texas Avenue in Bryan is largely north of downtown and contains few non-residential structures). Due to the way the road is configured, this also covers the southbound frontage road of Texas State Highway 6 to Rock Prairie Road.
Version 3.1 updates 401 Jane Street (Mad Melt closed), fixing formatting, and integrates FM 2818.
NORTH ROSEMARY DRIVE to UNIVERSITY DRIVE / UNIVERSITY DRIVE EAST
Public & Main
/ 4401 South Texas Avenue
From February 1977 to April 2014, this was Luby's Cafeteria (later just known as "Luby's"). In August 2014 it reopened as Cafe Eccell following renovations (the restaurant had previously been evicted from its old location at 101 Church Avenue). Following the COVID-related closure in spring of 2020, it reopened with a new name and updated menu in July 2020. The
blog post for this entry
has photos and more information.
Econo Lodge / 104 Texas Avenue South
This motel opened in 1984 as the Texian Inn, but within five years was rebranded as Comfort Inn. It switched names in the early 2000s to "Kiva Inn" before Knights Inn by 2007, and by early 2015 became Econo Lodge, which it is today.

Originally, this was the home of "Turf Green Miniature Golf Course", which by the early 1980s briefly assumed the 120 Texas Avenue South address. It also had (for about a year), an obscure "theme park" called Jubilee Junction. More on this (and the hotel) can be seen on Brazos Buildings & Businesses.
200 Texas Avenue South
This former Applebee's opened in 1994. When it and others shut down temporarily in the COVID-19 pandemic, the Applebee's did not reopen and closed permanently.
Home2 Suites by Hilton / 300 Texas Avenue South
Home2 Suites by Hilton College Station opened late 2014. For many years, this used to be some run-down apartment 4-plexes (on the Meadowland side of the property), and an abandoned concrete pad that turned out to be a self-serve car wash demolished some years before. The parking lot connects to both Meadowland and the (former) Applebee's.
Sonic Drive-In / 401 Texas Avenue South
This Sonic opened a few years after the Sonic near University and Texas closed, opening in either late 2005 or early 2006.
404 Jane Street
This building (built 2015) has three tenants. The first of these was Mad Taco, which opened in May 2015 and closed in 2020 (during the COVID pandemic) both as part of the main student market being gutted and to create a new concept, Mad Melt, which opened late 2020 but closed around May 1, 2021. The Caprock Crossing location (of Mad Taco), opened in 2016, remains open. There's also "Tune Up: The Manly Salon" (opened January 2017), and a vacant space, which used to be HUB Collaborative. This "co-working space" has since closed, probably as part of the pandemic.
Legacy Tattoo Lounge / 413 Texas Avenue South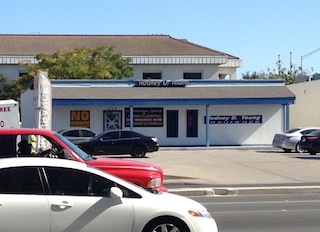 This tattoo parlor opened by January 2018 and served as a variety of tenants over the years, most recently Rodney D. Young Insurance (as it was for over a decade). The store itself is recognizable as a 1960s-era Pizza Inn, which opened in 1966 and closed in the 1980s. The corresponding blogpost for this entry can be found here.
Exxon / 425 Texas Avenue South
This Exxon gas station was built in the early 1990s (replacing an older Shell station) and was briefly a Rattlers (for maybe a year). The current convenience store is "A&H Food Mart" legally. It sits at the northeast corner of University Drive East and Texas Avenue. The University Drive East portion is, of course, covered here.
---
UNIVERSITY DRIVE / UNIVERSITY DRIVE EAST to GEORGE BUSH DRIVE / GEORGE BUSH DRIVE EAST
The University Drive page can be found
here
and the University Drive East page can be found
here
.
Fuego Tortilla Grill / 108 Poplar Street
This popular 24/7 taco restaurant (except on Mondays) opened in 2010. More on the former address here (603 Texas Avenue South) can be researched at the blog post for this address.
607 Texas Avenue South
This lot does double duty as a Denny's restaurant (at Live Oak Street and Texas Avenue), with a La Quinta behind it. This La Quinta is the oldest in town (built 1979) and for a long time was the only La Quinta until two more were built near the freeway in the last 10 years (as of this writing, January 2021). The blog post describing these two buildings is here, including Denny's past as Bombay Bicycle Club and Julie's Place.
Las Palapas / 701 Texas Avenue South
Since around 1989, this has been a Taco Cabana, until it closed in January 2020. From 1957 to 1982, it was the home of Saber Inn, a small motel and restaurant. Read about both here. Las Palapas opened in March 2021 with an eventual goal to be open 24 hours a day (it currently closes at midnight).
Layne's of College Station / 106 Walton Drive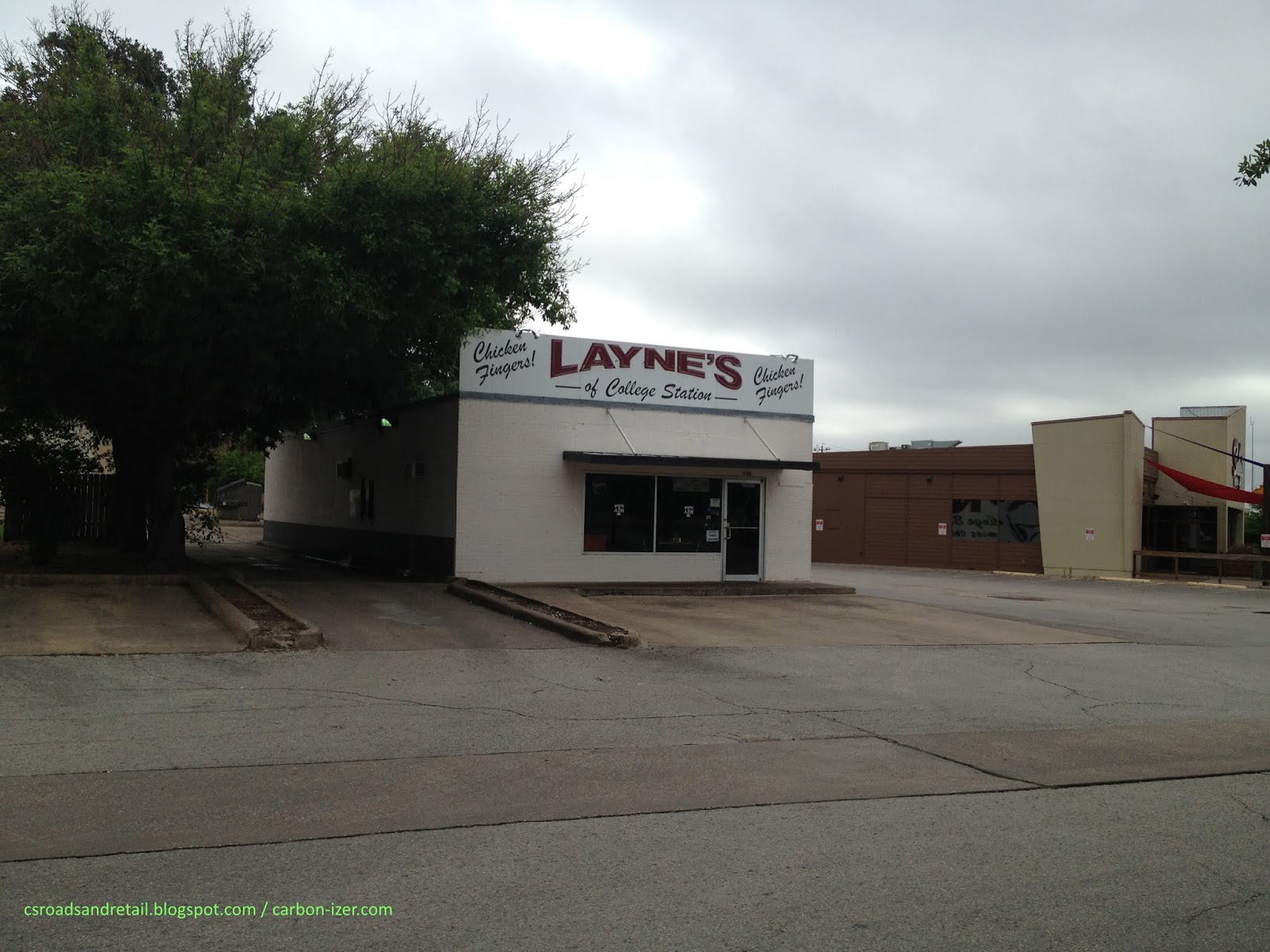 A small chicken finger restaurant and one of the "Aggie" restaurants in the area, Layne's has been serving up chicken fingers since 1994. The blog post for this entry mentions how it was previously home to Wilson Plumbing Co. for years.
Torchy's Tacos / 1037 Texas Avenue South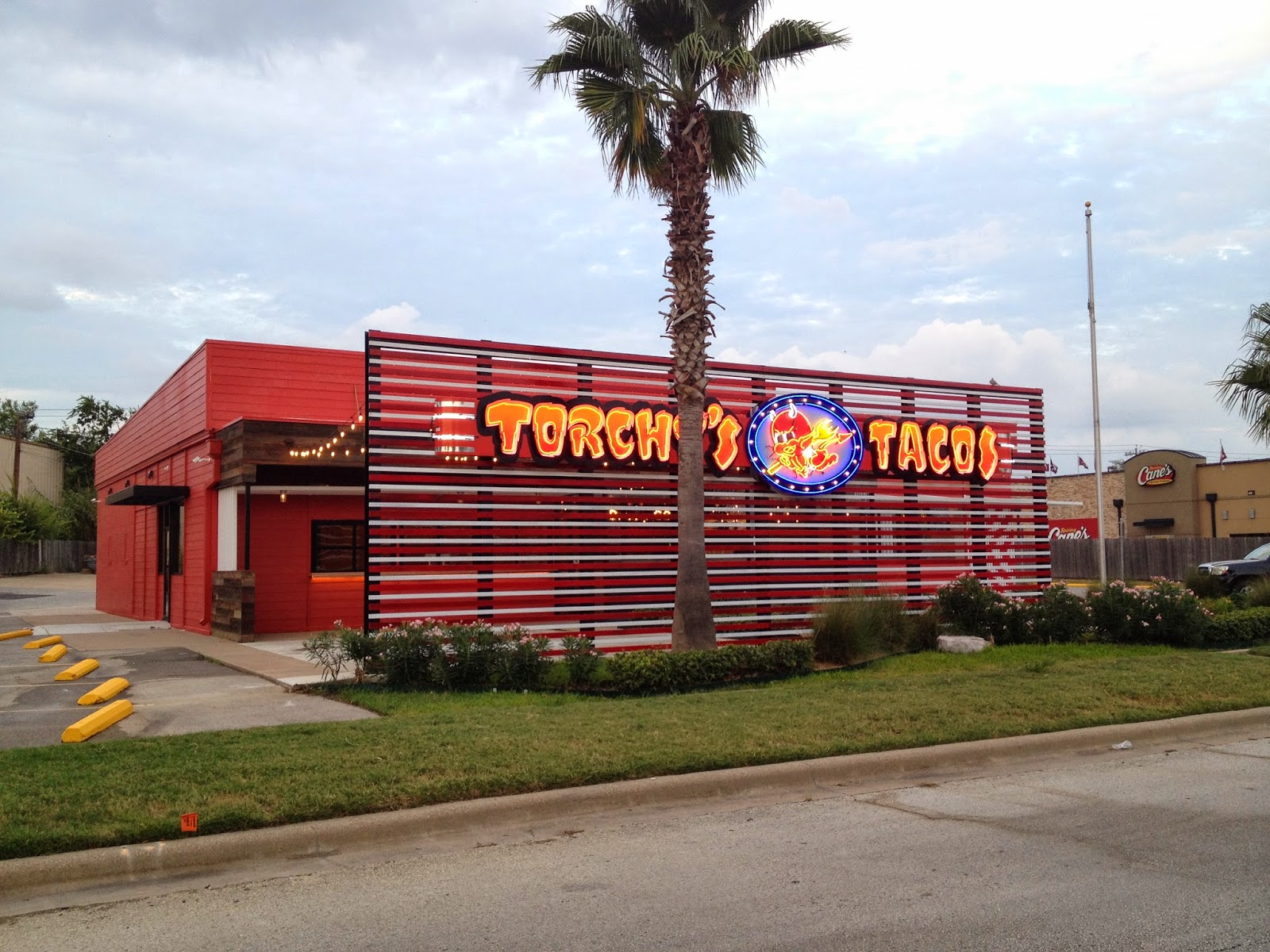 I was here when Torchy's Tacos opened here in October 2014, hanging around for two hours in a line and getting free food and drinks (all while the line wrapped around the building at least twice). It wasn't always Torchy's, it opened in 1962 as Coach Norton's Pancake House and served as a variety of restaurants since, with the last restaurant that was there being the much-hyped but ultimately disappointing "Fowl Digits" restaurant (it was very obvious they wanted it to be a chain), which later became "Sully's Sports Bar & Grill" before going out of business.
Raising Cane's / 1045 Texas Avenue South
This Raising Cane's opened in June 2006 in a new building. The original building from the mid-1970s was built as a branch of Sambo's and later served as a location of Wings-N-More for many years.
Chili's / 1063 Texas Avenue South
This chain restaurant was built in 1991. The blog post has a few 2014 photos before the logo was updated.
GEORGE BUSH DRIVE / GEORGE BUSH DRIVE EAST to HOLLEMAN DRIVE / HOLLEMAN DRIVE EAST
Whataburger / 105 Dominik Drive
A Whataburger has been at this site since 1971 yet the building only dates back to 1996. A rebuild of the store is planned to go underway at some point.
1503 Texas Avenue South
This (currently closed) hotel opened as a Holiday Inn in the early 1970s and became a Clarion by 2005. After less than half a decade of Clarion, it became "College Station Inn" for a few years before closing for remodeling.

Despite reopening after an extensive renovation as Four Points by Sheraton in 2011, the hotel closed in 2020. You can read about many of the restaurants Holiday Inn had over the years here on the old blog.
Jack in the Box / 1504 Texas Avenue South
Jack in the Box #683 originally opened in the late 1970s but has recently been rebuilt. The blog post has a picture.
Central Station / 1505-1729 Texas Avenue South
Major shopping center anchored by Kohl's, HomeGoods, and Spec's, built in the mid-1970s and redeveloped around 2006. Please see the Brazos Buildings & Businesses post for more information.
Exxon / 1721 Texas Avenue South
This Exxon was rebuilt in 2000 and featured a Speedy Stop convenience store. In 2013, the Speedy Stop was sold with 142 others to 7-Eleven, which soon rebranded it to TETCO. By fall 2014, it was a 7-Eleven in all but name, and to this day, even with other 7-Eleven stores operational in the area with that name, still carries the TETCO name. The gas station also sits on the direct corner where Texas State Highway 30 begins, known as Harvey Road in College Station.

In the 1990s, this intersection was configured so southbound traffic didn't actually have to stop, and the third lane created from the turn became the new "inner lane" of Texas Avenue, with the old outer third lane turning right into the Target parking lot (Manuel). What this meant, essentially, is you could not continue down the outer lane of Texas Avenue in Bryan into College Station the whole way without changing lanes. It appears that at some point, a stoplight was added in on the southbound side to allow for pedestrian crossings, but otherwise untouched until around the widening.

For the actual Harvey Road section of this site, see here.
---
1808 Texas Avenue South
A small strip center located where a Long John Silver's used to be.
H-E-B / 1900 Texas Avenue South
A popular H-E-B supermarket (at one point, allegedly one of the most profitable stores in the chain) opened here in 2002, moving from the Pantry location on the other side of Holleman. Its only major remodel was in 2015. View the blog post for this building.
HOLLEMAN DRIVE / HOLLEMAN DRIVE EAST to HARVEY MITCHELL PARKWAY
The awkward intersection at Holleman and Texas connects Holleman Drive with Holleman Drive East, an extension built in the early 1980s out to Wolf Pen Creek Park and Post Oak Mall. It was here prior to the Texas Avenue widening that a third northbound lane sprouted that went until the Harvey Road stoplight, at least after the reconfiguration of the Harvey light (see above).
Chase / 2000 Texas Avenue South
This Chase bank at the southwest corner of Holleman and Texas Avenue replaced an Olive Garden restaurant from the early 1990s. It burned down in 2004.


Havertys Furniture / 2004 Texas Avenue
Havertys Furniture since August 2016. Hastings was built here in the late 1990s and closed in 2015 a few years before the chain under. (See the blogpost).
DSW / 2026 Texas Avenue South
This DSW shoe store opened in 2013. It originally opened as H-E-B Pantry Foods back in 1991 and later spent time as Gattitown. Read the full history of the building here.
Target / 2100 Texas Avenue South
Target (T-800) opened July 1992. It has been renovated since at least once, with its classic colorful neon gone for many years at this point. See the blog entry here.
Outback Steakhouse / 2102 Texas Avenue South
This chain restaurant opened in the early 1990s. Read all about it on the blog.
2307 Texas Avenue South
Commercial building with three tenants, Kolache Rolf's, Copy Corner, and Bike Barn.
BCS Tires & Lifts / 2319 Texas Avenue South
This was originally a restaurant, first opened around 1984-1985 as a short-lived Luther's Bar-B-Q. Later it was Pop's Barbecue until the mid-1990s, when it became Epicures Catering. In 2011, it became Tiremax after an extensive renovation. In 2012, it renamed to BCS Tires & Lifts following the failure of the Tiremax chain. (A longer version of this can be seen on Brazos Buildings & Businesses)
Walgreens / 2306 Texas Avenue South
Since around 2003, this has been a Walgreens. Previously it was Confucius Chinese Cuisine (with a different address, 2322 Texas Avenue South). This Chinese restaurant was one of my favorite places growing up.

Drew's Car Wash / 2401 Texas Avenue South
This car wash has been here since the early 2000s. It was built on the site of a Red Line Burgers.
Parkway Square / 2400-2420 Texas Avenue South
Shopping center that is now anchored by Tru Fit (but it was Kroger for many years). On the Texas Avenue side is Firestone, McDonald's, and a new Popeyes.
NailSpa / 2500 Texas Avenue South
This nail salon spot was originally occupied by Pelican's Wharf from 1977 to around the mid-1990s, a defunct chain of restaurants in Texas (and Arizona) that I should get to covering one of these days. Perhaps next update, maybe. After Pelican's Wharf, it was two more restaurants, Pasghetti's and Royers', neither of which lasted too long. See the blog post for this building, which goes into a bit more detail.
Park Place Plaza / 2501 Texas Avenue South
Shopping center anchored by Planet Fitness and Ace Hardware (originally, the home to a Winn-Dixie). A KFC sits at the corner. More info at Brazos Buildings & Businesses.
Days Inn / 2514 Texas Avenue South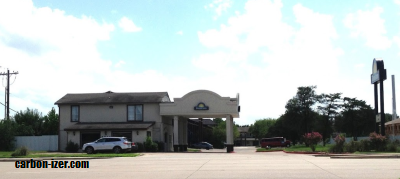 This has been Days Inn since the early 1990s. Originally it was Shiloh Inn upon opening in the early 1980s before becoming Quality Inn for most of the 1980s. See the view blog post for this building.
Kettle Restaurant / 2502 Texas Avenue South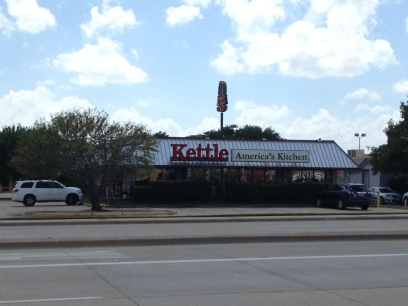 Part of a mostly-defunct chain, Kettle #138 has been here since the early 1980s. The blog post was written before COVID-19, so it is no longer open 24 hours, closing at around 11pm. (What a pity).
2611 Texas Avenue South
This building was the city police station for years (and at some point until the early 2000s also served as the courthouse). In May 2020, the city leased the space to International Leadership of Texas for use as temporary school space (holding high schoolers) until the Longmire school is expanded. The current building was built in 1978 with a two-level addition completed about a decade later. In front of the former police station is Cy Miller Park, officially at 2615 Texas Avenue.
Domino's / 1801 Valley View Drive
Accessible from Valley View Drive (the sign can be seen from Texas Avenue, but it's a bit set back from the road), Domino's moved here from their old location closer to Deacon. The modern Domino's restaurant has a drive-through (pickup only) and an eat-in area, though the latter has been closed off since around March 2020. As of this writing, you can once again enter the store to make an order, but you can't sit down. The Domino's was built on Putt-Putt Golf's remaining space (namely the batting cages).
Midas Auto Systems Experts / 2715 Texas Avenue South
Brazos CAD indicates this car repair shop was built in 1997.
BB&T / 2717 Texas Avenue South
This opened as the locally-owned "First American Bank" back in January 1994. After spending its second decade as a Citibank, it is now a BB&T. See the blog post for this building.
HARVEY MITCHELL PARKWAY SOUTH to DEACON DRIVE
For Harvey Mitchell Parkway (FM 2818), see
this link
.
Walmart / 1815 Brothers Boulevard
College Station's only Walmart (Bryan has two) opened as a regular Wal-Mart in 1988 (store #1150) with a modest 78,000 square feet (not quite as small as others like in Caldwell and Navasota) and expanded in 1995 to 130,000 square feet, adding a McDonald's (which eventually became Subway, and while the space was later demolished for expansion, it is still Subway today—see Brazos Buildings & Businesses for more). In 2009-2010, it went through another expansion to bring it up to a Supercenter (going from "Wal-Mart" to "Walmart", no "Supercenter" ever appeared on the building). This would give it 200,000 square feet (some official numbers quote 254,000 square feet, probably including the back of the former Albertsons used for storage space and the outdoor garden center). It remodeled once more in 2017 but did not expand.
Exxon / 2801 Texas Avenue South
Opened in 1983 as a second Jimmy Jackson's Exxon location, this store was sold in 2001, when the convenience store became "Franky's". See more at blog post for this building.
Wyndham Garden / 2829 Texas Avenue South
College Station's newest hotel opened in late December 2020 behind O'Reilly Auto Parts.
O'Reilly Auto Parts / 2831 Texas Avenue South
Here since 2001, see the blog post for a picture of the store before the Wyndham Garden hotel was built behind it.
Sonic Drive-In / 2900 Texas Avenue South
Accessible from the Walmart parking lot, the Sonic here was built in 1990 (originally) and closed in September 2018 for a total rebuild, which opened in 2019.
Boomtown BBQ Company / 3125 Texas Avenue South
Occupying the leftover space from Diamond Shamrock that wasn't used by Burger King (see next entry), Boomtown BBQ Company (out of Beaumont) opened in August 2020.
Burger King / 3129 Texas Avenue South
This Burger King opened in 2007, replacing a Diamond Shamrock. See the blog entry.
Wings 'N More / 3230 South Texas Avenue
This chicken wing restaurant (owned by Mark Dennard, not a franchised location, therefore, the "alternate" name is Mark Dennard's Original Wings 'N More) opened in the mid-1990s out of a converted office building. Their separate party room is at 1803 Deacon Drive. Around 2012, a covered patio was used as a restaurant expansion.
---
DEACON DRIVE to ROCK PRAIRIE ROAD
At this point, the northbound lanes start from an exit but the southbound lanes continue as a frontage road. Due to this, coverage will continue on the west side of the freeway (for the other side, see the upcoming Earl Rudder Freeway page) until the Rock Prairie stoplight. Addresses continue south.
---
3610 Highway 6 South
Abandoned Quality Suites hotel that opened in 2005 but closed less than 15 years later. There's a better write-up on my blog here.
Americas Best Value Inn & Suites / 3702 Highway 6 South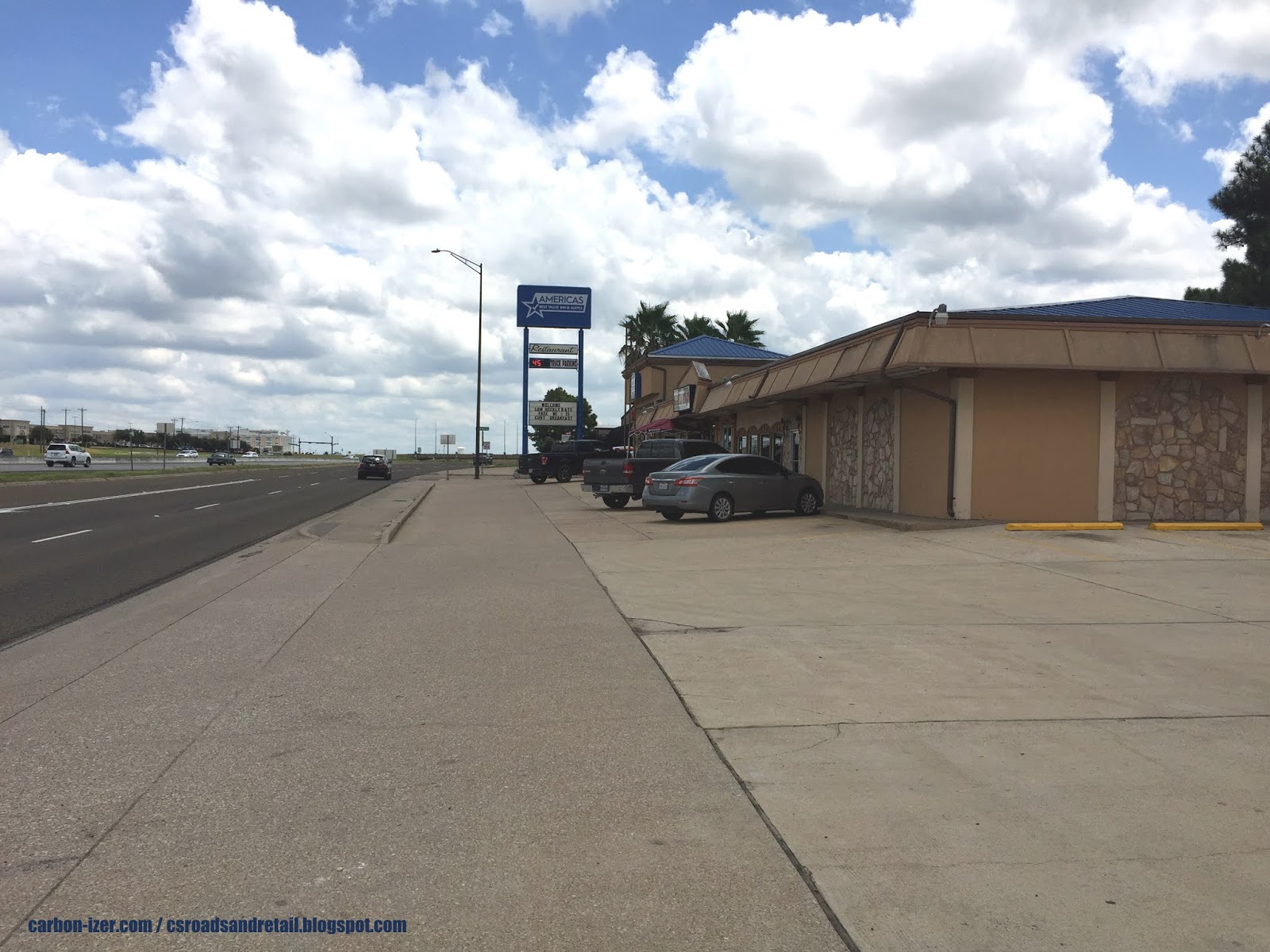 The furthest south hotel in College Station for decades, now going under the name Americas Best Value Inn & Suites College Station was originally built in 1971 as Ponderosa Motor Inn. A mid-2010s redevelopment removed an additional building for a Microtel hotel behind the motel.

The hotel's restaurant is leased to an independent restaurant called Mi Familia Coco Loco.
Highway 6 continues south toward the Grimes County line. The coverage continues at this link. Return to the Main Page | Email
---
Copyright 2020 Carbon-izer.com, this site is not affiliated with any businesses listed here.