SOUTH HIGHWAY 6
South Highway 6 is the part of the highway beyond Earl Rudder Freeway which Texas Avenue which merges into it. Most of this highway pretty empty into the mid-2000s. The highway is two lanes in each direction with frontage roads. Version 3.0 of this page adds Aggieland Credit Union, 4400 Highway 6, McDonald's, and Walgreens. It also updates 4344 Highway 6 (wrong place).
ROCK PRAIRIE ROAD to BARRON ROAD
Valero / 2160 Rock Prairie Road
Corner Store #1906 opened around late 2015 with a Valero and was later rebranded as Circle K (#2741906) in January 2019, along with an update of the Valero station itself a few months later. Most of Corner Store's features are still intact, such as 8 flavors of ICEE (now "Froster", but for months, there's only 7 flavors) and a donut counter.
Rock Prairie Crossing / 3501 Longmire Road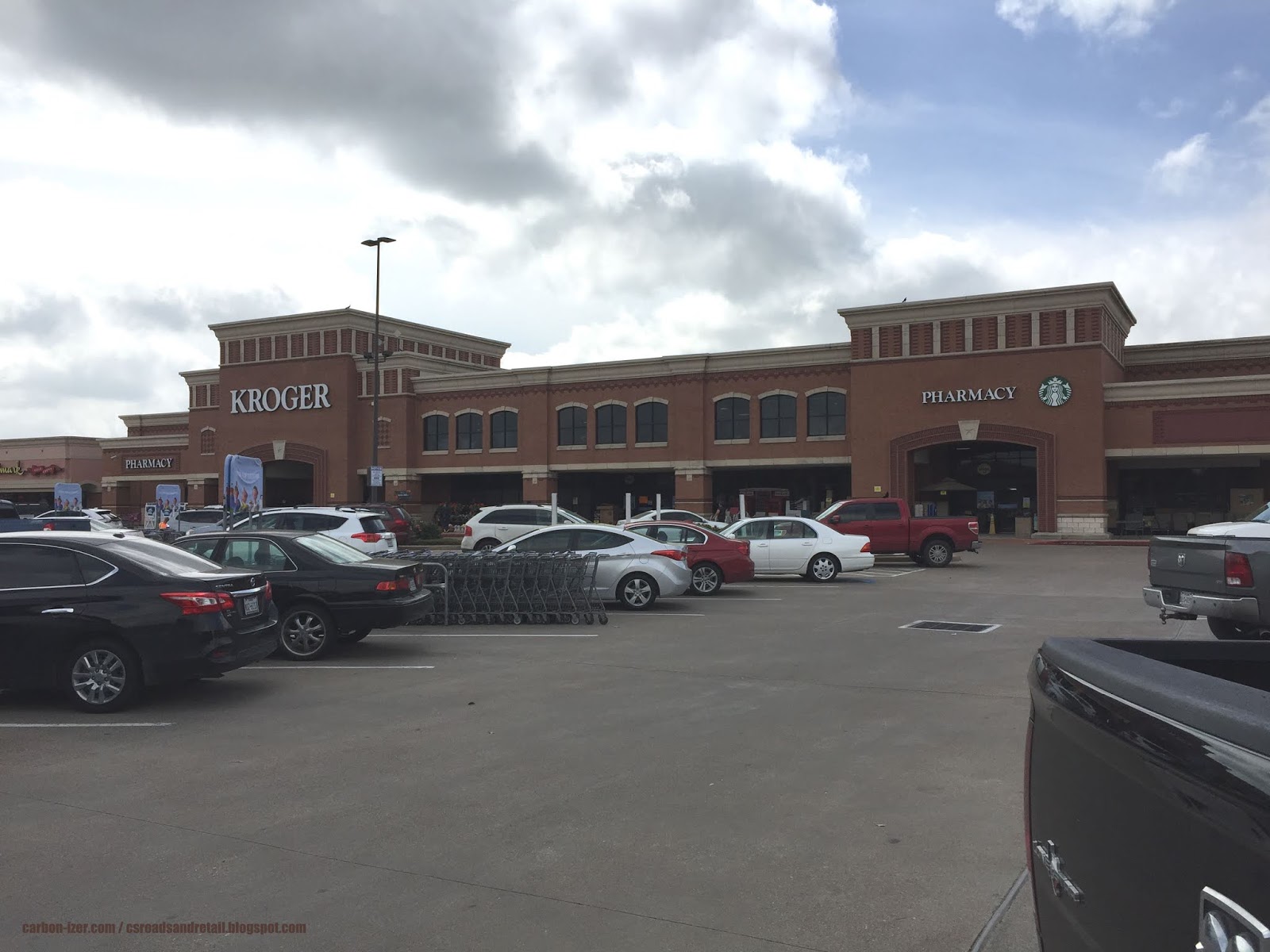 Rock Prairie Crossing is a shopping center anchored by a Kroger with several shops and restaurants around it. Click the picture for the accompanying blog post.
Baylor Scott & White Medical Center - College Station / 700 Scott & White Drive
This part of land was supposed to be a much larger shopping center anchored by a Wal-Mart Supercenter originally, but ultimately things changed and Scott & White hospital broke ground here. It included a redevelopment of the original routing of Rock Prairie Road (renamed Old Rock Prairie Road, and cut off from the rest of Rock Prairie Road) to Scott & White Drive (rerouting it slightly, adding a traffic circle, and adding an entrance back to Rock Prairie Road).

The hospital opened in August 2013 as Scott & White Hospital College Station with an adjacent clinic and medical office building (these are all connected) but got rebranded as Baylor Scott & White Medical Center in early 2016.

The old Rock Prairie Baptist Church site (consisting of two buildings) was relocated in 2008 before redevelopment began; the traffic circle is now at the approximate site.
Christland Church / 4050 Texas 6 South
This former gym opened in January 2004 and expanded around six years later. I seem to recall that the expansion was marketed as something like "more than a gym in 2010" or something along those lines. Unfortunately, around late 2016/early 2017, I can't remember when, Gold's Gym, which had announced a location at Tower Point, bought the gym, and while it didn't change names, it would close when the new location opened. As a result, it closed permanently after May 31, 2017. In 2018, Christland Church moved into the former gym as a permanent tenant.
BARRON ROAD to WILLIAM D. FITCH PARKWAY (TEXAS STATE HIGHWAY 40)
At the northwest corner of Highway 40 and Highway 6 is Tower Point, a mixed-use development that was built in 2010 with new development continually building.
Walk-On's / 4320 Highway 6 South
Despite opening at exactly the wrong time (March 2020), Walk-On's is the furthest north development of "Tower Point", a large mixed-use area anchored by H-E-B opened a decade ago. The restaurant, despite threats of COVID-19 looming, remained open and popular until it was forced to close its dine-in area by government orders within a month.
Saltgrass Steak House / 4330 Highway 6 South
Until this restaurant opened in August 2014, there were no Landry's-owned restaurants in the College Station area. Despite being a bit pricey, it was a huge draw for the next few years. It also didn't hurt that it was the first true sit-down restaurant in the area (not counting fast food) and the first real exclusive draw to Tower Point.
Aggieland Credit Union / 4340 State Hwy. 6 South
This had been promised with "future" signage since 2012, but it eventually opened in June 2016. Aggieland Credit Union, 4344 Highway 6 South, and American Lube Center & Car Wash are all accessed through a driveway connected to Arrington—not to the highway.
4344 Highway 6 South
This was built and opened as Bush's Chicken in January 2016, part of the Central Texas-based chain, but for some reason, either cultural or operational, or perhaps just the wrong locations, Bush's Chicken never took off in the area. It closed in October 2017 (a Texas Avenue location in Bryan closed around this time as well, but the Highway 21 location limped on for a few more years).

In July 2019, Conroe-based Pie in the Sky Pie Co. opened in the spot (a second location) but the diner was one of the victims of COVID-19 in the area, closing permanently in October 2020.
4400 Highway 6 South On the other side of the drainage pond and accessed through a different part of the shopping center sits this shopping center. This was built around 2017. Suite 100, Generator Superstore, is the only non-original tenant (it was originally Mattress One). FabricCare Cleaners (ste. 200) moved from the aforementioned Rock Prairie Crossing center, Smiles N' More Dental is suite 300, T-Mobile is suite 400. Domino's (suite 500, #9273) opened in May 2017, which functionally replaced an older location at Texas Avenue to better capitalize on the neighborhoods to the south.
McDonald's / 4440 Texas Highway 6
Originally, McDonald's was part of the Exxon across the freeway (opened 2002). In March 2012, it moved to this location.
WILLIAM D. FITCH PARKWAY to PEACH CREEK ROAD / FM 159
Like Tower Point, Caprock Crossing is a sprawling mixed-use development, though most of the buildings face Greens Prairie Road and Highway 40.
Walgreens / 998 William D. Fitch Parkway
The very first development in Caprock Crossing (a bank was there before closer to Arrington and integrated into development). Walgreens opened here in March 2014 (and curiously, a rival CVS is nowhere to be seen).
HOMEFIELD College Station / 16345 Hwy. 6 S.
Rainbow Play Systems is a modular, proprietary playground manufacturer with independently owned showrooms, and while the College Station location is new (link), it brings back memories of passing similar establishments on road trips. I know I've seen the (now-closed) Baton Rouge location off of Airline Drive in my travels but I've also seen one of their distinctive playsets (which may have been an actual installation!) elsewhere along the route.
Living Earth / 17750 State Hwy. 6 South
Soil/mulch yard with several Houston locations. This site opened in 2017.
Santa's Wonderland / 18898 Hwy. 6 South
Opened in 1998 as a drive-through Christmas light display that charged by the car, today it's an elaborate seasonal amusement park that brings in cars backed up for miles on the frontage road. Speaking of which, back in 2005 (since around a decade prior) the frontage roads were two way on both sides (from Rock Prairie on), but terminated just south of Santa's Wonderland. To access it, you exited on the Texas World Speedway exit, and moved over to the southbound frontage road, getting out the same way. When the frontage roads were expanded and converted to one way later, an additional turnaround lane and overpass was built just south of Santa's Wonderland to avoid going all the way down to Peach Creek Road (and saving Peach Creek Road from needing turnaround lanes).
Museum of the American GI / 19124 Highway 6 South
Museum with a building and occasional WWI/WWII battle re-enactments. The new Millican Reserve neighborhood is just south of it. Hopefully the neighbors are okay with living next to a (simulated) war zone (sometimes).
PEACH CREEK ROAD / FM 159 to FM 2154
This area was completely redeveloped in the late 2000s with frontage roads and separate mainlanes instead of just a four lane highway with shoulders and just a double yellow stripe in the center.
TopDog Fireworks / 23510 Hwy. 6 S.
Opened around 2011 and relocating from up the highway, this fireworks warehouse is open seasonally.

At the very end of this section is the FM 2154 overpass. Check out FM 2154 and Highway 6 in Navasota, where Highway 6 continues south.
---
Return to the Main Page | Email
---
Copyright 2021 Carbon-izer.com, this site is not affiliated with any businesses listed here.