CARBON-IZER IN NAVASOTA (HIGHWAY 6)
I don't think there's any historical coverage of Navasota, Texas on the Internet, and while this is hardly historical, it is designed to both "link" existing pages and tell a bit of a story. I like to use Carbon-izer to record my travels as well as telling a history of the area, with this page covering Highway 6 (the loop portion). Due to revamping of the Bryan-College Station page, the color here is still black and white.
Version 2.1 makes an emergency update that patches in the new Hempstead page and makes a minor formatting fix to Martha's Bloomers.
FM 2154 to FM 3090
To the north is
FM 2154
and
Highway 6 South
in College Station.
The frontage roads aren't continuous from Brazos County to Grimes County, and when they were installed in the late 2000s, it came with two railroad crossing closures, Robert Road (which I seem to remember actually had full lights and gates) and Old Texas 6 (which did not, but also included a crossover to allow for left turns in and out). A bit more south was the Business 6 split of Navasota. As a kid, this was really exciting, because if we made it that far south in College Station, it was almost certainly as part of a bigger trip (these "borders" are described back at
this Brazos Buildings & Businesses post
), as the highway would veer left under a bridge. When I was doing fairly constant trips to Houston years later, I grew quite accustomed to the signage, appreciating the lighting (probably why it was so memorable on road trips), but around 2020 it was changed (replaced, the signs were old) so instead of pointing to Navasota vs. Houston/Hempstead, the wording changed (to LaSalle Street) as well as the font. Oh well.
Maldonado's Auto Salvage / 27090 Highway 6 South
There aren't many junk yards in Brazos County, but this is one of them with its large red fence on the outside.
Brazos Valley Equine Hospital / 6999 Highway 6
The address numbers reset in Grimes County. There's a crossover here to access this business from both sides of the highway.
MidSouth Electric Co-op / 7625 Hwy. 6
Also known as Mid-South Synergy, this is at the corner of FM 3090 and Highway 6. A driveway parallels the frontage road here to provide access to a ranch (it was not needed when the frontage roads were two-way).
FM 3090 to SPUR-515 / TX-105 - East
This is where the bulk of Navasota is and includes the TX-105 - West / TX-90 overpass. FM 3090 is a somewhat sleepy road that doesn't directly connect to any other towns. TX-90, on the other hand (next exit) goes to Madisonville (to the east) and to the west (as TX-105 West) goes to Brenham.
AGÁPĒ Furniture / 7908 N. Hwy 6 Loop
This relatively new addition opened around 2018 after a long construction period on the southbound side.
Martha's Bloomers / 8101 Hwy. 6
After FM 3090, there's (a garden center/home décor store/tea room), which is prominent especially on the way back with its billboard and large tea/watering pot sculpture out front. Opened in 2000, it used to have direct access to the highway, and when the frontage road was built around 2015 (they were converted to one way and also the southbound one extended from LaSalle Street around this time), they had upside-down billboards advertising something along the lines of "Our world turned upside-down!" and advising travelers to take the 105E exit instead.
Baylor Scott & White Clinic - Navasota / 8264 Highway 6
This BS&W-operated medical clinic opened in September 2018. Not much to say about it, but this is the official website.
Las Fuentes Steak and Grill / 8731 Highway 6
This restaurant was formerly Wrangler Steak House. Indications are it just changed names between November 2016 and June 2017, and started business in 2002.
McDonald's / 8737 N. Hwy. 6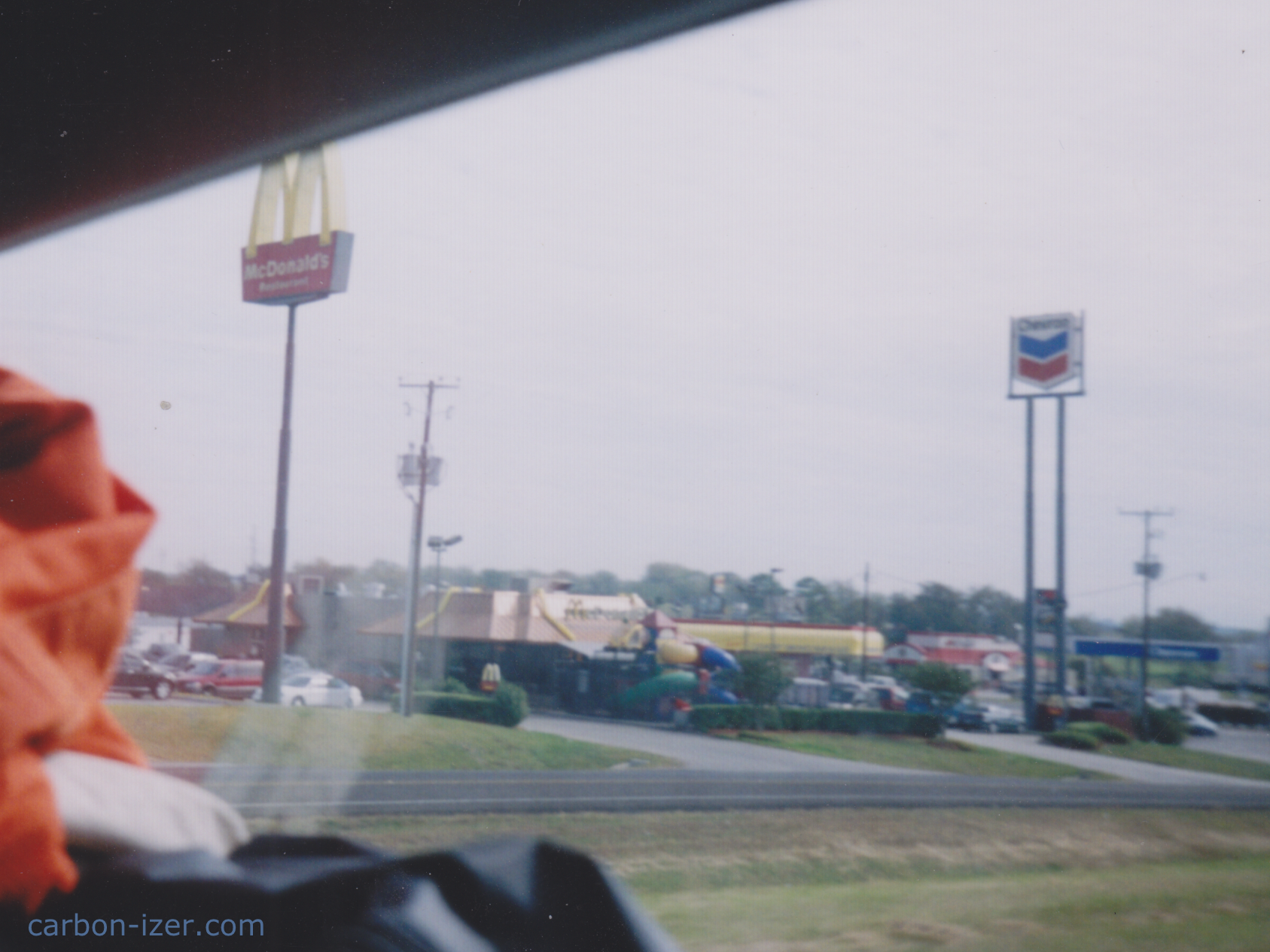 McDonald's was built here in 1993. It has since received a late-2000s/early 2010s remodel. The picture above, taken from me in 2006 (moving car, cheap camera, it's not a great photo), shows how the McDonald's looked just prior to the re-do. Note the original Chevron sign colors.
Chevron / 8755 Highway 6 Loop
Opened around 1988 with Annie's Country Store as the store. A facade update was done in late 2020.
Shell / 9323 TX-90
Built here with a Domino's Pizza (inside) and a Popeyes adjacent (branded as Popeyes Louisiana Kitchen these days, address of 9319 TX-90) around 1999 (may have been branded originally as a Texaco), the Domino's here closed in the summer of 2012 (apparently, both being located in the back of a gas station and in direct competition with a Pizza Hut in a small market was not good for business). It has since been replaced with (relatively recently) Sum Yum Chinese Food. Both Domino's and Popeyes have been removed from the roadside signage.
Walmart / 1712 East Washington Avenue
Walmart #293 (still a "Division One" store) opened here in May 1980. For years, it kept its "WAL-MART" lettering (no star!) even as it switched to brown paint in the early 2010s. The store finally became a true "Walmart" by the late 2010s with lighter blue paint (it was to be replaced with a Supercenter but plans have stalled).

West of here is the downtown Navasota area. Some years ago, I visited Sgt. Pepperoni's, which I'd like to revisit in this page (as well as others in the corridor, like Arlan's Market, in which I'll show some pictures).
9310 Hwy 6 Loop
Opened late 2007, Aaron's closed around 2020, according to what I can find.
SPUR-515 / TX-105 - East to CR-317
Sunoco / 1930 TX-105
Stripes #2492 opened here in April 2016 with Laredo Taco Company and a Sunoco gas station. Due to the current situation with Stripes, this may have been reflagged as a 7-Eleven since.
Schulte Roofing Company / 10842 Hwy. 6 Bypass South
Roofing company that covers a large trade area. This is their main location and built a permanent location here in 2006.
Trinity Heads Inc. / 11765 Hwy. 6 South
This facility manufactures pressure vessel heads and, according to their website, was first built in the late 1950s as "Tru-Weld Co." with the current name being assumed in 2001 after expanding over the years.

Just north of here is a large highway bridge that goes over two railroad tracks. They are different lines, the one on the north side parallels 105 for a while before dipping down and paralleling FM 1774 (which links up to TX-249) and eventually ends in a junction in Spring. This is the track that the Bush 4141 train took while carrying the body of Former President George H.W. Bush in December 2018 to College Station. The other line goes all the way east to Buna.

In 2014, a train derailed here, spilling some sort of caustic material on the ground that was quickly cleaned up, but more significantly, the derailment smashed a few columns of the northbound side of the bridge. The bridge quickly reopened but for some weeks (or even months) barrels blocked off the outer lane over capacity concerns before it was completely repaired.
J5 Tractors / 12476 Highway 6
The southern-most business of the Highway 6 bypass. When heading north, the southside split of Highway 6 is a welcome sight after long distances of driving out in the countryside back north (hello dual signs proclaiming Business 6 is to the left, hello large clump of cactus growing in the highway shoulder), this is where the "true rural" part of Highway 6 begins, with rolling hills and not much to see. Going south, there's a narrow bridge ahead. A crossover road used to be just north of the Navasota River but it closed in the late 2010s.
CR-317 to Grimes County/Waller County Line
With only a few buildings built in the last 20 years, this part of the highway hasn't changed TOO much in recent years, save for a tornado in May 2016, which did visible damage to the area.
A number of trees were simply destroyed. Tree-lined front yards and driveways were decimated. A house used as S&K Drilling Co. Inc. had an upper room destroyed and exposed to the elements. Nearby, an abandoned but largely intact metal barn had collapsed fully.
Global Vacuum Systems Inc. / 15431 State Highway 6
This facility manufactures vacuum tanks for trucks. It was built in 2008 but the 2016 tornado did major damage to the facility, destroying a 2011 building (the paint shop) and causing major damage to the roof of the main building.
Shell / 17694 Hwy. 6
As I have done before, the next paragraph is the version I used for Wikimapia, copied verbatim.

A small but modern Shell station along Highway 6 originally completed around January 2012. The sign mentions it having a "Taco Corner" at the convenience store Navasota Express (even though it is far south of Navasota), but the sign was always designed to be co-branded with a fast food option. In late 2017, Navasota Express became Fuel Maxx and Checkers signage went up on the unused space, with the second "prong" on the sign being rebranded with Checkers by late February.

In 2014, the intersection was improved with some blinkers (yellow on 290, red on FM 2) but it seems 70% of the time I drive on this segment, there's always some truck trying to pull out onto the road anyway.
While it has less detail and will be fixed when this site returns, check out the next section of Highway 6 here as it continues south toward Hempstead.
---
Return to the Main Page
|
Email
---
Copyright 2021 Carbon-izer.com, this site is not affiliated with any businesses listed here.