Built out of the old directory page for Harvey Road, this page is "Version 5.0" of the page. In this update, Joe's Italian has been reverted back to 1704 George Bush East (it closed), Taco Bell has been updated, Johnny Carino's has closed (so it reverted to 620 Harvey Road), and a spacing error fixed near Post Oak Mall. Additionally, Post Oak Village, Plantation Oaks Center, and Shell (at Earl Rudder Freeway) have been added, the 1501 Harvey apartments have been restored as two entries, and pictures were added to Rudy's BBQ.
The buildings with even numbers are on the south side, odd numbers on north side.
---
SOUTH TEXAS AVENUE (BUS-6) to DARTMOUTH STREET
Highway 30 (Harvey Road) starts here with a
large shopping center
anchored by Kohl's.
Advance Auto Parts / 204 Harvey Road
This was Western Auto Parts until around 1998, then Advance Auto Parts after it rebranded the chain. It also has an "CarDoc" auto shop.
1704 George Bush Drive East
This used to be a Fuddruckers for almost the last two decades (but not built as one, it was originally a J.J. Mugg's). The Fuddruckers closed in spring 2020, with Joe's Italian Restaurant operating in the spot from August 2021 to July 2022.
Wolf Creek Car Wash / 300 Harvey Road
Named after Wolf Pen Creek that runs behind the facility, this also does oil changes. It features a Chevron sign above the main road sign (changed sometime around 2019 to current colors), despite not being a gas station.
Taco Bell / 310 Harvey Road
This Taco Bell (from 1981) did a major remodel/expansion in the early 2000s. I believe it was temporarily closed during that time.
Fazoli's / 400 Harvey Road
Here since around 2001, this is one of the few remaining Fazoli's restaurants in Texas.
Connecting Point Church / 410 Harvey Road
This church (since at least 2014) was originally an OfficeMax. Around the time of OfficeMax's construction in the late 1990s, the road was extended out to Wolf Pen Creek (but dead-ended), the stoplight may have been installed around that time. Around 2003, the road was extended to Holleman.
Pearl Apartments / 505 Harvey Road
This apartment complex, Pearl Apartments (since around 2018-2019) is made out of three older apartment complexes, and has had some problems in recent years.
Rudy's Country Store and Bar-B-Q / 504 Harvey Road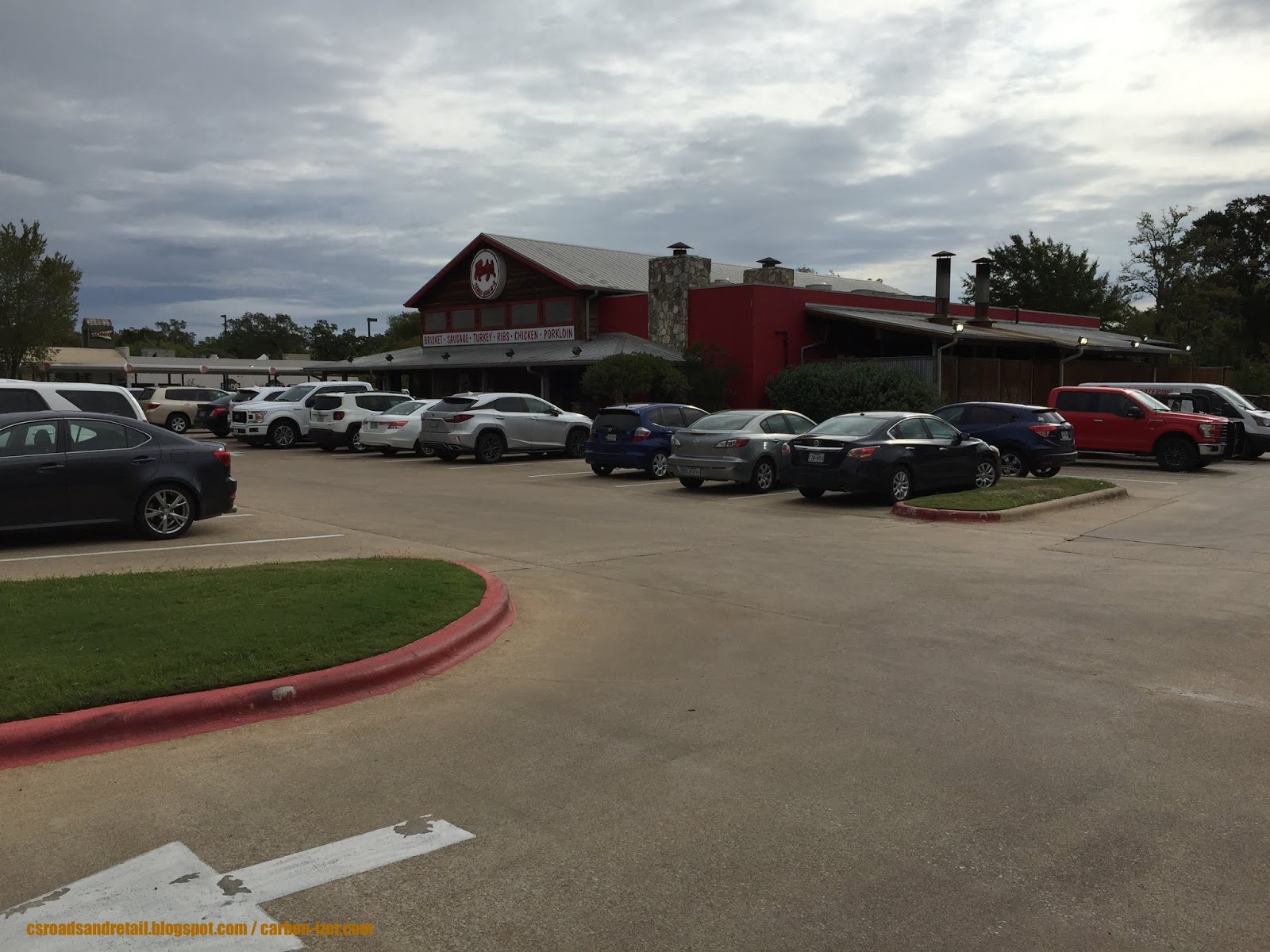 Chain barbecue restaurant. Maybe not so much "Country Store" (see the link for more), but a few places before Rudy's (though the building was rebuilt for Rudy's).
Sonic Drive-In / 512 Harvey Road
This Sonic (built '99) has an unusual color scheme and some seating near the Wolf Pen Creek trail.
Ozona Grill and Bar / 520 Harvey Road
This has been Ozona Grill since 2003, but before that, it was Kona Ranch Steakhouse, a concept by the owners of Johnny Carino's for the first four years or so of the restaurant building's construction.
Pro-Tec Auto Repair / 601 Harvey Road
This auto repair shop has been here for years, though probably not always under that name.
Valero / 603 Harvey Road
Former Diamond Shamrock, check my page for more. One of the area's smallest Circle K stores.
Brazos Star Credit Union / 701 Harvey Road
This opened as First State Bank (of Caldwell) in 1986 and merged with First American Bank in 1996, and later became Citibank in 2004 when they bought FAB. Citibank closed this branch around 2009, and FedStar Credit Union opened this branch in 2010.

Between 2018 and 2021, FedStar Credit Union changed the name of its branch here (they had changed the name officially in 2016) to its current name.
620 Harvey Road
This opened in 1999 as Johnny Carino's, part of a fast-growing Italian restaurant chain. After a long, slow decline of the chain (by the time the restaurant closed, only about 14 existed in Texas of around 40 nationally) with the restaurant chain changing names to Carino's Italian before reverting back, the restaurant closed in June 2022. This is placed past the other entries as it's located down the street from even 701 Harvey Road.
Sundance Apartments / 811 Harvey Road
Carried over from the old "Directory" page, these apartments have been known as Sundance Apartments since at least 1993 and have been there before that.
---
DARTMOUTH DRIVE to EARL RUDDER FREEWAY
This stoplight has barriers to prevent access from Dartmouth to the shopping center. The next light, Munson, has the same thing. I wish that they blasted through some property to make Dartmouth and Munson one road, but the residents of Munson fought tooth and nail for years to prevent Munson from being a useful north-south corridor.
---
WOODSTONE CENTER
Woodstone Center is a strip center with some "interior" stores, a bit like a small open-air mall. You can see an overview of the place here (I got it from Loopnet, which got it from an old city document).
The Tap, as it has been known since 1999 (815 Harvey) is housed in a rehabilitated train station that was relocated here as part of development. It wasn't always The Tap, it served as other bar/restaurants like Beef & Brew.
903 Harvey marked on the map includes Clockwork Games & Events (a card and board game store) and Engage Calvary, a church.
Coffee Station (since 1997) sold out and became Mugwalls in 2009, a similar coffee shop for a while. I remember that the coffeeshop had an upper level "loft" seating area. The coffeeshop, at 907-A Harvey Road, closed for good in 2016.
The latest restaurant of 915 Harvey Road is Tacos La Perlita. My oldest records indicate this was Burgers by Gourmet originally, and a chronology by The Eagle (archived here since the usual archiving tools were down at the time). They mention it was "Archie's Burgers" before DoubleDave's but may have also served as "Hamburgers by Gourmet" for a while (at least from what my resources seem to imply). From 1990 to 2005 it was DoubleDave's Pizzaworks (at least as far as the lease goes), and then from that point, the tenants served as a revolving door of tenants. There was Shivers Gourmet Shaved Ice from 2006 to 2009, and I believe they even served ice cream (previously it was in the shopping center at George Bush East and Dominik, and began as a shack outside of Manor East Mall not long before it was torn down).

A second location of a Navasota stand-by, Carroll's Giant Burger operated from 2009 to early 2011, and in August 2011, "How Do You Roll?" opened, a sushi bar where you picked the ingredients a la Subway. Unfortunately, I never made it over there before it closed in February 2015. Eskimo Hut, a drive-through daiquiri store, opened late 2015 and closed permanently January 2019, and in January 2020, the spot reopened as Tacos La Perlita.
The second Subway restaurant in town to open was at Woodstone way back in 1983. The restaurant is still at 913-C Harvey Road as it has been for years.
A branch of TechnipFMC (formerly FMC Technologies before the parent company merged in 2017) is located at 907-C Harvey Road. For many years from 1999 to 2012 it was Rother's Bookstore (known as Traditions Bookstore in its later days), and from 1988 to 1989 it was Dirty Juan's Saloon.
Post Oak Village / 900 Harvey Road
This shopping center at the corner of Dartmouth and Harvey Road (a stoplight leads directly into the shopping center at Munson, though you can't go straight at the light) has several tenants and was built in 1982, probably soon after the mall opened. Until 2012, the east end of the shopping center had a larger footprint to accommodate a larger end anchor. This was later reconfigured to be the same profile as the others in the strip. Originally, the center had about 17 suites numbered 1 (on the Dartmouth side) to 17 (on the mall side) but over the years the spaces have been reconfigured, so it's difficult to gauge the timeline over the years. This is the current layout of the center, archived from this page at press time. There's unfortunately no tenants listed.


| Suite # | Current Tenant | Notes |
| --- | --- | --- |
| 1 | Giddy Up Glamour Boutique | Open since 2015. After Catherine's moved out in 2007 (it was here since '96!), it was replaced by The Greek Boutique, which moved into the space, with store-within-a-store Old Army Spirit Co. opening soon after. One of the first tenants here was Color Tile. |
| 2 | vacant | Most recently the home of 2014-2017's "Kie Men's Shop". |
| 3A | Mong Chon Grill | This used to just have a sign with some Korean characters and a red sign that said "Korean Takeout" (Mong Chon Korean Takeout), now it's known as "Mong Chon Grill" above a larger "Taste of Korea" sign. It has been here since 2009. |
| 3B | vacant | Formerly home to Cupcakes Couture until around 2017, but it is possible (haven't confirmed) Mong Chon Grill moved into the space. |
| 4A | Fashion Nails & Spa | Despite the leasing plan using 4B, Fashion Nails & Spa uses "4A". |
| 5A | U Paint-It | U Paint-It has been here since 2004. |
| 5B | vacant | former ScentChips |
| 6 | Domino's | Domino's (a new store, requiring redistricting from other stores) opened in early 2020 in what used to be Perrine Winery, which moved to Dowling Road in the mid-2010s. |
| 7 | Edible Arrangements | Edible Arrangements moved from 1505 University Drive East, suite 420, as seen in this page. |
| 8 | Pro Cleaners | |
| 9c | Eye Candy Salon | 9c is the tenant closest to 8, not the other way around. |
| 9b | ProActive Chiropractic | Formerly Names & Numbers, and Aggieland Depot from 2004 to 2009. |
| 9a | Farmers Insurance | Kathy Giese is the agent at this Farmers Insurance. It was last home to "World Finance Loans & Taxes". This was "Fantasy Lingerie" in the latter half of the 2000s, though wasn't related to an earlier Fantasy Lingerie in Westgate Center (on Wellborn). |
| 10 | vacant | There's no "suite 11" as some of the numbers have been reconfigured but it's likely this was the original Suite 11. This served as Tiki Tan from 2007 to 2019. |
| 12 | Post Oak Florist | This has been here since 1986. Their website is here. |
| 13 | Board & Brush Creative Studio | The "DIY Wood Sign Workshop" chain has been here since August 2018. Before that, it was Tres Chic Boutique (store number two), whereever the first one was, roughly from 2012 to January 2018. |
| 14 | Yummi Yummi Mongolian Grill & Sushi | Last tenant before suite 17. Has been here since 2015. From 2006-2009 it was "Let's Go Dreamin", a baby furniture store. It was nothing in the early 2010s except a temporary "Wicked Wally's" Halloween store. |
| 17 | Leslie's Pool Supplies | Opened in March 2012 after redevelopment of the plaza. Before redevelopment, the last tenant in 17 (though I've also seen 16) was The Exchange, a clothing reseller. Throughout the late 1990s and before its move to Lone Star Pavilion, this was Card & Party Factory. |
Post Oak Square / 1000-1100 Harvey Road
This large shopping center on the south section has seen a number of tenants come and go over the years including Hobby Lobby, Weingarten, and Toys R Us. It currently has a Krispy Kreme in the parking lot, its first parking-lot restaurant since Grandy's closed many years prior.
Guitar Center / 1003 Harvey Road
From 1995 to 2007 this was a Circuit City, with the store moving to University Drive East. In 2012 it reopened as Guitar Center.
The Ivy / 1201 Harvey Road


For many years, the apartments were actually two complexes, Plantation Oaks Apartments (the original at 1501 Harvey), and Briarwood Apartments (1201 Harvey), a property split off from the original. Briarwood even featured its own nightclub on the premises, Zacharias' Green House. While Zacharias' Green House closed in the early 1980s, both apartments remained stable and separate for nearly forty years. in 2018 it was folded back into Plantation Oaks and the whole thing was briefly renamed as Castlerock Apartments before its current name, The Grand 1501. A few years later, the Briarwood section split off as The Ivy again. The blog has an article on the apartments but it's somewhat out of date.
Plantation Oaks Center / 1401-1409 Harvey Road
This small strip center was built as a commercial companion to Plantation Oaks Apartments (above). Its current tenants include EZ Stop (1401 Harvey), built as a 7-Eleven, sold to E-Z Mart in the early 1990s with the other local 7-Eleven stores, and separated from the chain in the early 2000s, along with Donald's Donuts (1403 Harvey), HairCuts 4U, Pro Soccer (both sharing 1405 Harvey), and 1409 Harvey (Washateria Coin Laundry and Metro by T-Mobile). There's no 1407 Harvey for some reason.
Post Oak Mall / 1500 Harvey Road


The city's only enclosed mall, built in 1982, though has largely fallen out of favor. Check out the Brazos Buildings & Businesses post, where I've been working on adding a full tenant history.
The Grand 1501 / 1501 Harvey Road
See "The Ivy" above.
Chuy's Tex-Mex / 1512 Harvey Road
Opened sometime in January 2010, this popular chain restaurant opened in underused parking space in the mall facing the freeway.
BJ's Restaurant & Brewhouse / 1520 Harvey Road
In July 2011, a second full-service restaurant opened in front of the mall, but these two were the only ones rather than the whole frontage. In retrospect, the lots were probably sold by Sears, which commanded that part of the parking lot and part of the slow dismantling of the chain.

---
EARL RUDDER FREEWAY to BOONVILLE ROAD (FM 159) / TEXAS STATE HIGHWAY 30 SOUTH
---
Earl Rudder Freeway can be accessed through
this page
. Harvey Road goes to two lanes at this point.
Shell / 2601 Harvey Road
Built as a Chevron in 1996, this was converted to a Shell sometime around the mid-2000s. Plans are in the works to demolish and rebuild this as a larger gas station with an "Aurora" convenience store.
Baymont Inn & Suites / 2611 Harvey Road
Hotel built in 2015, their site can be seen here.
Carter Creek Condos / 1451 Associates Avenue
Associates Avenue has long been a truck route and back way out of the movie theater (and Sam's Club, but mostly the theater), but these condominiums were built around 2018-2019.
Oakwood Crossing / 3210 Harvey Road
Built around 2018-2019, this apartment complex (266 units) was originally called "Ariza" (part of a "chain" of apartment complexes).
Koppe Bridge Bar & Grill / 3940 Harvey Road
This restaurant opened in August 2002 at the long-defunct site of Jose's (which moved to Bryan in the early 1990s after their building at 4004 Harvey burned down).
C&J Barbeque / 4304 Harvey Road
C&J Grocery opened in 1981 as a small store and gas station, but later focused on barbecue entirely. The old gas brand isn't known at this time. Just east of here Harvey Road becomes Elmo Weedon Road, which peters out in a series of roads that all turn back on themselves. State Highway 30 itself continues to the south beyond Boonville Road. Return to the Main Page | Email
---
Copyright 2020 Carbon-izer.com, this site is not affiliated with any businesses listed here.