---
FM 60 in College Station has three main identities: Raymond Stotzer Parkway, as it goes out of TAMU toward the airport (and beyond), University Drive in the Northgate district, and University Drive East toward the highway and the eastern suburbs of town. Version 5.2 of this page adds back 301 University Drive (formerly the Citgo/Chevron), adds Mo's Irish Pub (representing Century Square), and updates Toku 12 (formerly titled as "Z Bar & Bistro"), Aspire College Station, Subway, and Casa Mangiare (formerly titled as "840 University Drive East").
---
UNIVERSITY DRIVE to TEXAS AVENUE SOUTH
This is the "main drag" of the area. Stoplights currently include Boyett Street (added around 2012 with the opening of Hullabaloo Hall), College Main (pedestrian crossing), Asbury/Tauber, Ireland/Nagle, and Church Avenue (which replaced the Spence Street light).
---
Chimy's / 203 University Drive
The first address on University Drive proper, Chimy's opened in 2012. The restaurant, originally built as Handy Burger and later The Deluxe Diner before a substantial rebuild/renovation in 2011, can be read more about here at Brazos Buildings & Businesses. The neon sign still says Chimy's Cerveceria, though officially that's been dropped.
Good Bull Icehouse / 205 University Drive
This building has had a rotating cast of bars and restaurants. For a long while it was the "flagship" of DoubleDave's PizzaWorks, then became "Schotzi's & Skyybar", then became 4.0 & Go. For more information on this building, please visit Brazos Buildings & Businesses.
12 Roof Top Bar & Lounge / 209 University Drive
Currently the home of 12 Roof Top Bar & Lounge, this was the home of Aggieland Flowers for many years. This building's corresponding post on Brazos Buildings & Businesses can be see here.
The Draconian Lounge / 211 University Drive
This building previously served as DoubleDave's first Northgate location, and later, Zapatos Cantina. Please visit Brazos Buildings & Businesses for more information.
Commanders Cove / 215 University Drive
This bar evolved out of a bar-within-a-bar at the previous tenant here, Northgate Juice Joint, a raw juice bar and smoothie shop opened in late 2014. During the 1980s and 1990s, it was a barbershop and later served as an expansion to Zapatos Cantina next door. The blog post for this building can be seen here.
Shiner Park / 217 University Drive
From 1940 to 1985, this was the Campus Theater. In the mid-1990s, the closed theater was reopened as the Shadow Canyon nightclub, unfortunately covering the Art Deco facade with wood paneling. After Shadow Canyon closed about a decade later, it was a variety of other dance clubs, changing every three or four years on average.
301 University Drive
This now-defunct gas station and convenience store was originally built as a Citgo/7-Eleven back in the mid-1980s, though the 7-Eleven would soon become E-Z Mart less than a decade later when 7-Eleven divested its holdings here, and ultimately became a run-down Citgo with a no-name convenience store. Recent (2016-2017) renovations cleaned up the site by turning it into a new Chevron station with "Gig'Em Food Mart". In 2022 the station was permanently closed for new development. (See the Brazos Buildings & Businesses blog post).
The Backyard / 303 University Drive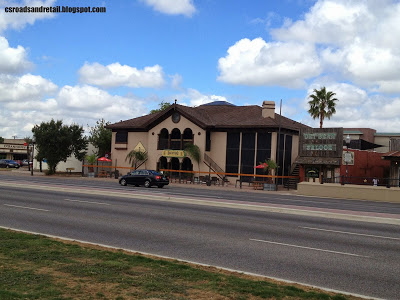 For most of my life, 303 University Drive was a restaurant named Fitzwilly's, a two-story bar and restaurant with decent burgers and wings. It closed mid-way through my college career, and I was saddened by the loss, not only because it was on my regular rotation but because it had been such a staple on Northgate, in an era where a decade might as well be eternity.

It actually began as a six-unit apartment building back in 1930, and started restaurant use around the very late 1970s. The current tenant is here is The Backyard, which opened in August 2013 after Fitzwilly's closed in May.

For further reading, check out Brazos Buildings & Businesses.
Dry Bean / 305 University Drive
Also known as Dry Bean Saloon. This building has been previously covered on Brazos Buildings & Businesses.
Dixie Chicken / 307 University Drive
This famous Northgate watering hole has been previously covered at Brazos Buildings & Businesses.
ICON Nightclub and Lounge / 329 University Drive
Opened in 2016 and the latest of tenants over the last fifty years. Originally, the building was home to a clothing store on the ground level, but became a bar within a few years and has pretty much stayed that way. Read more here.
Toku 12 / 335 University Drive
This was Loupot's for years until it closed in 2012. In fall of 2020, a bar and restaurant ("Z Bar & Bistro") opened in the spot after a very long construction process but only lasted a few years before giving way to the next tenant.
A&M United Methodist Church / 417 University Drive
This has been here since at least 1972 (as A&M Methodist Church), likely longer. It is a sprawling campus including additional buildings off of Cross Street, the Wesley Foundation, and another at College Main and Church Avenue.
Aggieland Credit Union / 501 University Drive
Aggieland Credit Union has been here since the mid-1990s, taking over a bank building built in 1950, but had most recently served as a Pizza Hut. More here on Brazos Buildings & Businesses.
Subway / 601 University Drive
This large Subway restaurant opened in the late 1980s and was originally three different restaurants (Little Caesars, Subway, and Baskin Robbins), though over time they (and their respective replacements) all eventually closed, as this building also had Papa John's, Rusty Taco, and Smoothie King over the years, with Subway expanding throughout the whole building. Before COVID, this was open 24 hours, but is now regular hours (closing late, after midnight), and also has downsized its space.
Shell / 609 University Drive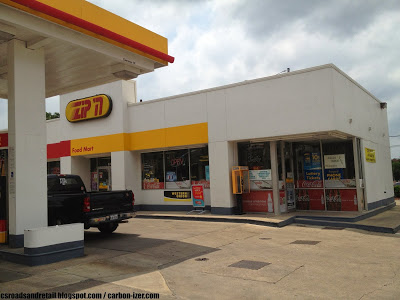 This Shell station has been a Shell since the early 1970s, but gained the Zip'N name later (and its selection of Indian food imports, even later).
Aspire College Station / 711 University Drive
From 1962 to 2016 this was the home of a bank, ending as a BB&T (ending over 50 years of acquisitions and sales). Today, this large residential tower (16 stories, including parking levels and 800 beds) has several ground-floor tenants. These include Truist, Which Wich, and All Phone Toys. More information, particularly on the pre-tower incarnation, can be read about at on Brazos Buildings & Businesses.
The Rise at Northgate / 717 University Drive
A large student residential tower with several retail tenants at ground level, most notably a CVS/pharmacy, which opened in 2013. It replaced a bank building. (view blog page)
Taco Bell / 731 University Drive
Built as a James Coney Island in 1992 but changed hands to Taco Bell a few years later, this was built on the site of a Texaco station.
McDonald's / 801 University Drive
The second McDonald's to occupy this site (the original was built in December 1973) was rebuilt in the early 2000s and has been remodeled twice since.
Chipotle / 815 University Drive
This Chipotle was built in 2003 at the site of an old Mobil gas station.
Mo's Irish Pub / 1025 University Drive
Mo's Irish Pub at 1025 University Dr #101 is part of 1025 University Drive, one of the buildings of the Century Square shopping center. Almost all of the center's tenants are visible from University Drive or have University Drive addresses...including Piada Italian Street Food, Tiff's Treats, Star Cinema Grill, Hopdoddy Burger Bar, Lululemon, MESS Waffles Etc., Pokéworks, and more. More details can be seen on Brazos Buildings & Businesses, where it also talks about University Apartments, which Century Square replaced.

Beyond Century Square is another large-scale redevelopment, Northpoint Crossing, a student apartment complex where the Plaza Hotel and other buildings were.
---
TEXAS AVENUE SOUTH to EARL RUDDER FREEWAY
University Drive East is what Texas FM 60 is known from east of Texas Avenue. Built in the early 1970s originally out to Boonville Road and serving as an extension of University Drive, the corridor basically serves as the city's "hospitality corridor", featuring an array of hotels and restaurants.
---
102 University Drive East
For years (1974 to 2017) this was a Pizza Hut restaurant, which I photographed in 2014. After it closed, the roof was altered again (not that the roof was original, the metal roof was definitely not original) and the Pizza Hut sign was replaced with a sign advertising additional Fuego Tortilla Grill parking. I'm not sure if the inside is used for anything.
Brake Check / 104 University Drive East
The earliest reference I can find for Brake Check's predecessor tenant, a Sonic Drive-In, is 1973. My blog entry notes Sonic closed around 2003-2004 and the new Brake Check (entirely new building, entirely new lot) opened in 2007.

Jimmy John's / 200 University Drive East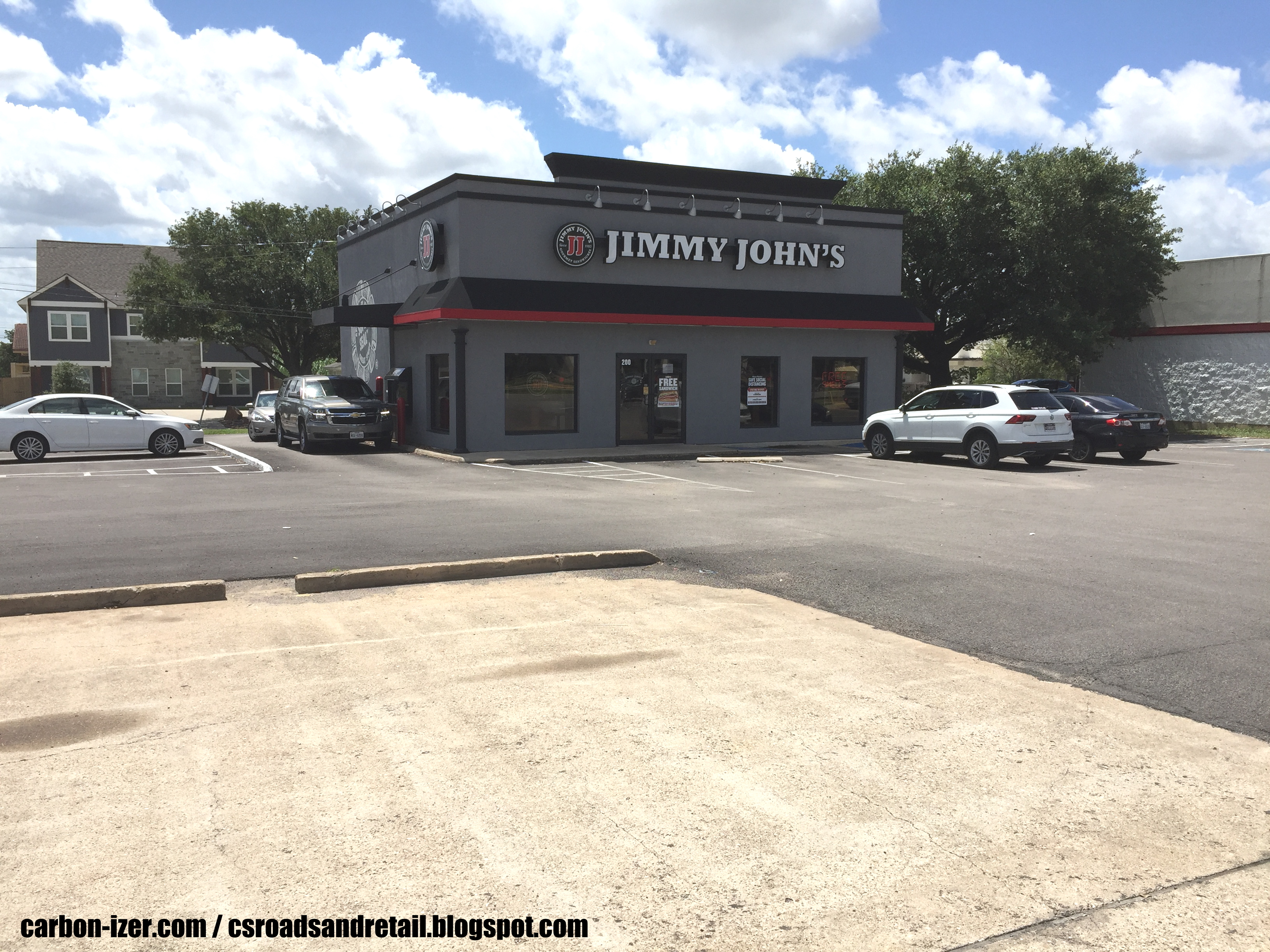 In February 1976, Taco Torch opened a location at 200 University Drive East, part of a small chain of fast-food Mexican chains in central Texas, but the College Station didn't last too long and by 1980 it was operating as Egg Roll House. It closed sometime in the very late 1990s and sat abandoned for several years before it was gutted and rebuilt as Jimmy John's in the late 2000s. The blog post, which expands on this, can be seen here.
Embassy Suites / 201 University Drive East
Hotel opened October 2017 (part of the Hilton group) and built on site of rental homes and a former Black-Eyed Pea restaurant, which for most of a decade following its 2006 closure was a a string of bad Chinese buffets. My article and photos (of the hotel) can be seen here.
Burger Mojo / 209 University Drive East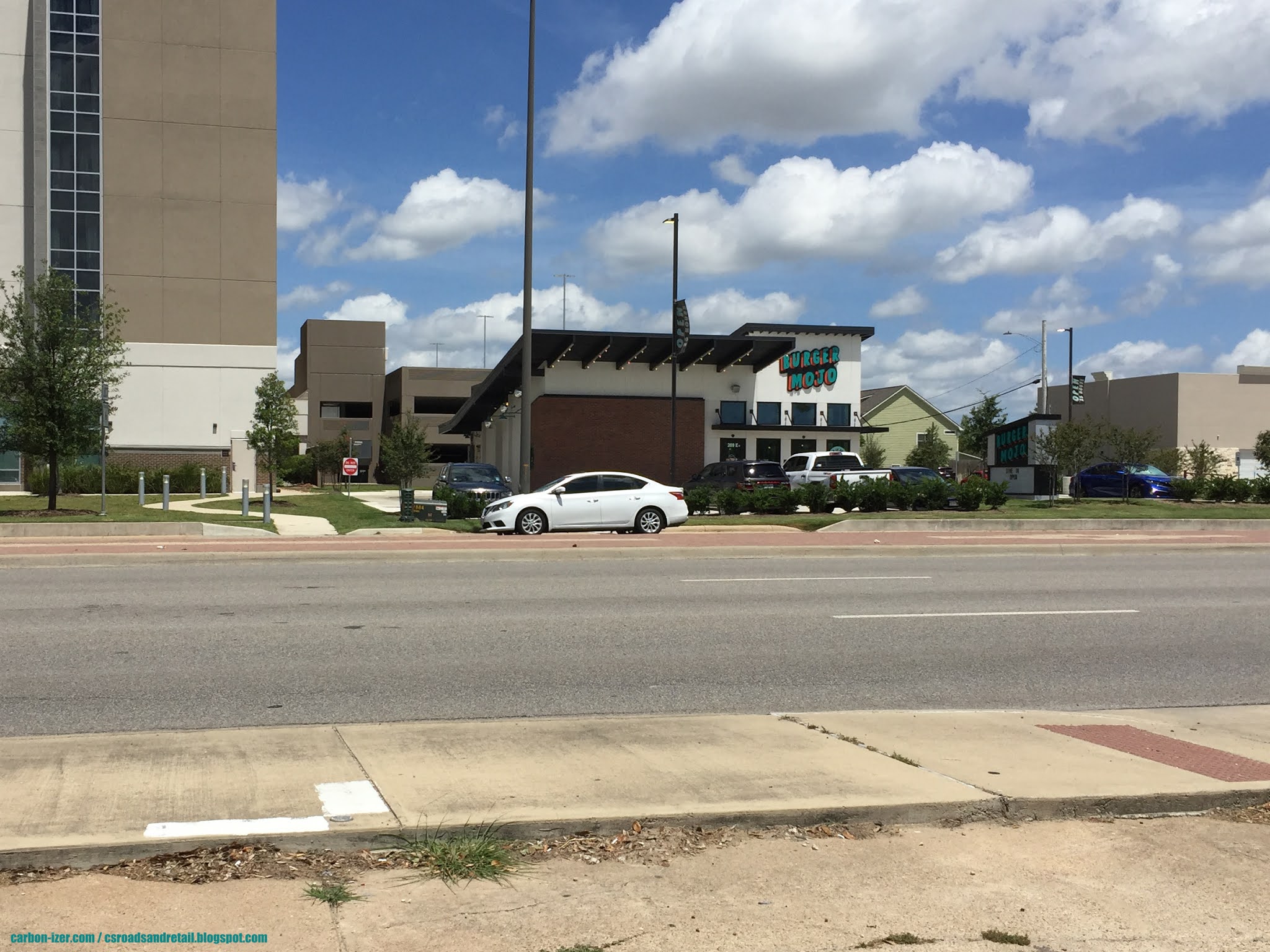 Replacing an old 1970s retail building (somewhat interesting octagon-shaped buildings), Burger Mojo opened in December 2019. The corresponding blog post is here.
O'Reilly Auto Parts / 210 University Drive East
This auto parts store dates back to 1972 (as per BCAD) as Hi-Lo Auto Parts (later branded as Hi/LO Auto Parts) and was definitely operating under that name by 1974.

In 1998, the chain was taken over by O'Reilly Auto Parts (when exactly the rebranding happened, I'm not sure). O'Reilly's website includes a picture of a typical Hi/LO store, of which College Station's looked similar (with O'Reilly's logo and paint scheme, of course). In 2016, O'Reilly modified the facade to remove the large mansard awning.
Dutch Bros Coffee / 300 University Drive East
The fifth Dutch Bros Coffee shop in the Bryan-College Station area opened November 30, 2022. It replaced a small single-tenant office building housing a State Farm office. The office, run by Bruce Boyd, had been in operation since the late 1970s, presumably closing around the early 2020s and never being replaced (likely retirement).
Aggieland Outfitters / 303 University Drive East
Originally, there were two buildings here, and Aggieland Outfitters opened in 303A University Drive East in 2010 (there were two other locations; one at George Bush Drive, the other at Post Oak Mall). A few years later (2013), both buildings were torn down for a new Aggieland Outfitters store. New parking was soon added after that, but it was reconfigured to build a new office building to replace the parent company location (Kalcorp Enterprises) at Graham Road.
Montelongo's Fine Jewelry / 401 University Drive East
A high-end jewelry store (at least for College Station standards, anyway), which moved in around August 2006 (building built 2004-2005).
505 University Drive East
This shopping center, formerly anchored by the Fox & Hound bar, was added to the blog in early March 2020, featuring a photo from 2014.

615 University Drive East
In 1991, this store opened as a Randall's supermarket (based out of Houston), one of the large, upscale "New Generation" stores with all sorts of features. In 1997, it was closed and sold (along with two other stores in Texas) to Albertsons, which renovated and reopened the store (as Albertsons #2758). Within a decade of its opening, the Albertsons was one of only four stores (the other College Station store, New Braunfels, and Kerrville) that remained open in Texas south of Dallas (the stores in West Texas and El Paso continued to operate), and in 2011, the lease was finally sold to H-E-B, which held onto the lease and kept the store dark while the building itself was flipped to the owner of a nearby tutoring business. In 2022, the building was sold again, with H-E-B's lease expected to end in 2023 and opening up the building for redevelopment or new tenants.

Note: "Early Bird Cleaners" also maintained a facade here, accessible through both Albertsons and the outside. It was here since at least 1998 and remained nearly up to the closure of Albertsons. In 1994, this was the home of Crown Cleaners.
College Station Fire Department Station #6 / 610 University Drive East
For years, a large water tank was here, but it was later removed, leaving a small hill where it used to be. Later on, the city built a fire station here. It opened in December 2012, did not replace any previous fire station, and is one of the largest and fanciest fire stations in town.

[This appears after the former Albertsons just because it's actually after it on the right side]
700 University Drive East
This strip center covers several buildings, including a three-tenant building that used to be a Blockbuster (now hosting The Toasted Yolk and Naq's Halal), as well as a strip center, three additional buildings behind it, and a Golden Corral buffet restaurant. More information can be seen at Brazos Buildings & Businesses.
The Republic / 701 University Drive East
In November 1973, a large FedMart store opened at this location, and following the closure of most of the Texas FedMart stores in 1981, was renovated into the Chimney Hill Shopping Center. In the mid-2010s the building cleared out for redevelopment, and was eventually demolished. After the last section, holding the upscale restaurant The Republic, a new building was built at the corner of Tarrow Road and University Drive East, keeping the address. My article showcases the history of FedMart and other historic tenants here.
Starbucks Coffee / 709 University Drive East
Starbucks Coffee #9931 moved from 1501 University Drive East Ste. 600, its home since 2005, to this stand-alone location in March 2020.
TARROW STREET EAST to LINCOLN STREET / SPRING LOOP
College Station Hilton / 801 University Drive East
I wrote a blog post for this building, which discusses its restaurant and nightclub. From what I've read it opened in May 1985 (as a Hilton, never reflagged).
800 University Drive East
First of three buildings that encircle a large pond and fountain, part of a 2006 project. Blue Baker (ste. 100) opened in May 2007. Atami Steak & Sushi (ste. 200) opened a few months later.
809 University Drive East
Across the street from this is complex. 809 University Drive consists of a number of smaller office suites, the building in the front (and the only one with a silver-colored roof as opposed to copper) has been restaurants. The most recent one is Paolo's Italian Kitchen, operating from September 2014 to August 2022. Visit the corresponding blogpost for this building right here!
Razzoo's Cajun Cafe / 820 University Drive East
The "flagship" restaurant that encircles the fountain (see 800 University Drive East) is this chain Cajun restaurant that opened in August 2015. It replaced a sports bar restaurant called "Boston's The Gourmet Pizza", the export version of a Canadian restaurant, which served hamburgers, pizza, and other dishes. The original restaurant opened with the rest of the strip in August 2006 and closed abruptly in summer 2014.
Sôlt / 830 University Drive East
Sôlt only occupies half of this building and is still suite 400. It opened as Veritas Wine & Bistro in 2006 and adopted its current name in 2020 after a closure and menu revamp (same ownership). The other half of the building is vacant. This last operated as Boneheads, a restaurant that specialized in grilled fish, Piri-Piri Chicken, and rice. It was good but never seemed busy and operated from November 2013 to summer 2016. They had other locations in Georgia, but the last one closed in January 2019. Boneheads itself occupied two older sites, a Ben & Jerry's (suite 200) that operated from January 2007 to November 2011, and It's a Grind (ste. 100), a coffeeshop at suite 100 that operated during the same timeframe.
Casa Mangiare / 840 University Drive East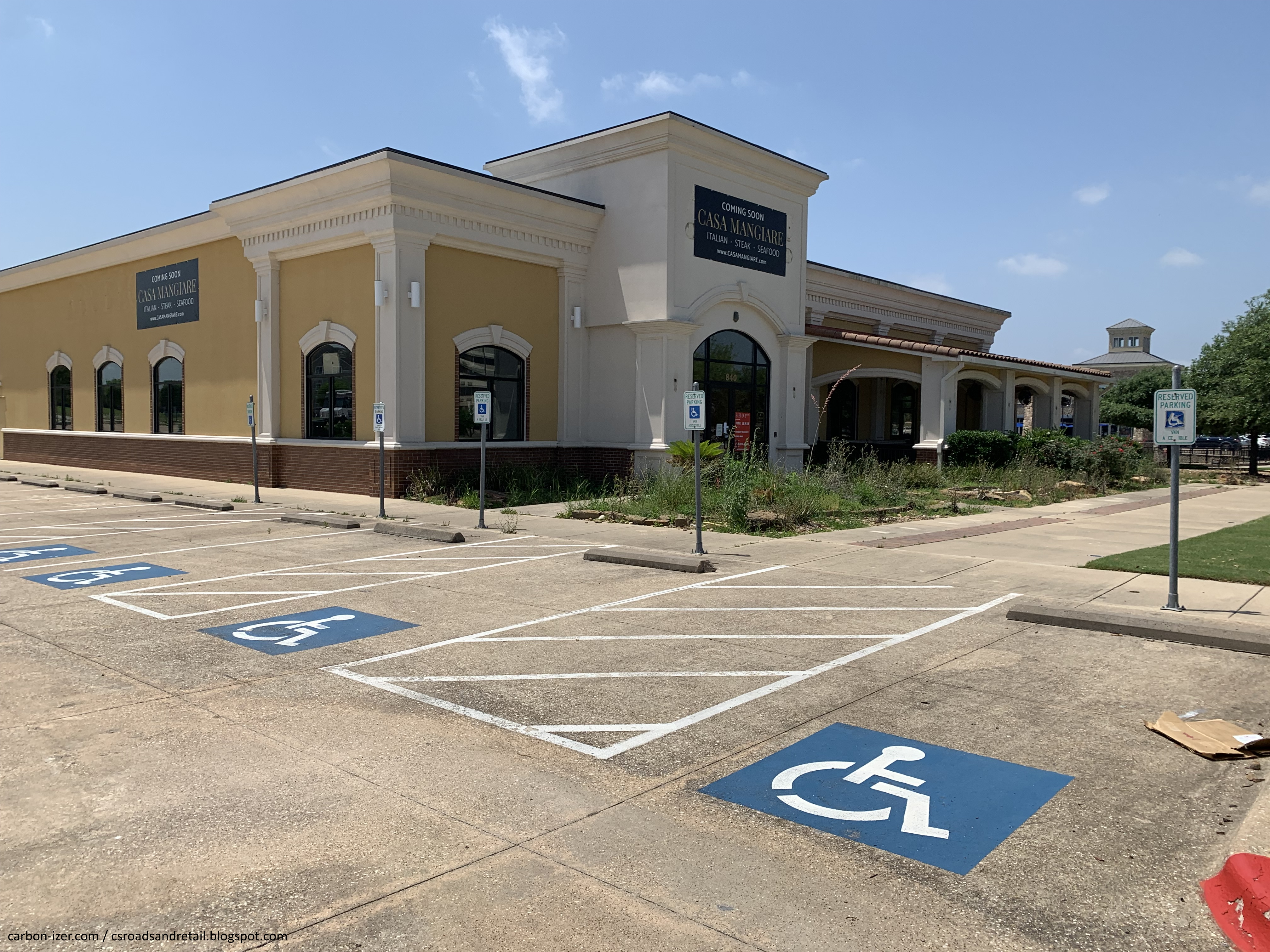 Casa Mangiare opened in May 2023. (The picture is from about a year prior when it was under construction). It opened in a former former Abuelo's Mexican Restaurant that operated from 2006 to 2020.
Days Inn / 901 University Drive East
This hotel was originally (or at least for a long time) the Best Western Inn Chimney Hill (The Inn at Chimney Hill was established in 1983, and it may have been a Best Western since day one), later Econo Lodge (briefly; around 2012). and finally "Executive Inn & Suites". In December 2016, it became a Days Inn (Days Inn by Wyndham College Station University Drive).
Buffalo Wild Wings / 903 University Drive East
This chain restaurant was opened in early 2005.
Comfort Suites / 907 University Drive East
This Comfort Suites hotel was opened in 2006. It is located a good ways back from the road, with Buffalo Wild Wings and others in front of it.
Willie's Grill & Icehouse / 940 University Drive East
Several years ago, I had put this in as an entry for Wikimapia: "This was originally built as a branch of T.G.I. Friday's. Opening in late 2005, it shut down permanently after May 24th 2013 for an unknown, corporate-related reason. In March 2014, it reopened as a Willie's Icehouse." (I ate at Willie's once, pretty mediocre and not worth returning to).
980 University Drive East
This 2005 building has four tenants. The Cookshack (which has the address of 980A, instead of suite 100, opened late 2021) replaced Pei Wei Asian Diner, which operated from late 2005 to August 2019. SportClips (ste. 200) opened its first location here in 2005, and Jamba Juice (ste. 300) also opened in late 2005, returning to the market after two local stores closed around 2001.

Suite 400 hasn't been nearly as stable. From my old notes, there were three concepts that were tried in the space before Grub Burger Bar opened in spring 2012, all of them by Eccell Group before they gave up the lease. There was Eccell Steakhouse (about 2007 to May 2010, basically a more upscale steakhouse version of Cafe Eccell), then reopened as Bodega Coast Fresh Fish Bar & Grill (May 2010-January 2011, I guess basically like La Bodega off of Northgate), then Knockout Sports Grill (closed before the end of 2011). Grub on the contrary was a success and ended up opening additional locations in other cities.
University Title Co. / 1021 University Dr. E.
The College Station branch (possibly the original location) to University Title Company. It was built in the mid-1980s.
Hyatt Place / 1100 University Drive East
Tax records show this hotel opening in 2007.
Aloft / 1150 University Drive East
Marriott-owned hotel, opened late 2015 (four floors, 105 rooms). It features no dining services but there is a hotel bar on the first floor.
Holiday Inn Express Hotel & Suites / 1203 University Drive East
Opened since around 2000, this Holiday Inn Express is one of two on University Drive East (a second one to the east of the freeway opened more recently). It features 77 rooms and 34 suites.
1200 University Drive East
The last in the inter-connected hotel and restaurant jumble, Red Lobster opened here in 2008 and closed in spring 2020 for rent non-payment during the height of COVID mania. It never reopened and is currently scheduled to reopen as Austin-based Trudy's.

[This appears after Holiday Inn Express just because it's actually after it on the right side]
ANB / 1221 University Drive East
In 2020, the bank was renamed as ANB following Amarillo National Bank's takeover of Commerce National Bank's parent company and subsequent rebranding.
LINCOLN STREET / SPRING LOOP to EARL RUDDER FREEWAY
TownePlace Suites by Marriott / 1300 University Drive East
Opened by 1999, this hotel has about 94 rooms spread across two three-story buildings.
Avinext / 1400 University Drive East
MicroAge moved here in 1999 to this then-new building, but the franchisee disconnected in 2014, renaming to "Avinext".
Panera Bread / 1407 University Drive East
In August 2012, Panera Bread opened, after over a year of a troubled building schedule (it opened four months late with the foundation being poured almost a year earlier), though despite some mediocre reviews, has been quite successful.
Staybridge Suites / 1405 University Drive East
In fall 2014, Staybridge Suites opened behind Panera Bread and CityBank Texas, an all-suites hotel by InterContinental Hotel Group. Holiday Inn Express is just a stone's throw away, and another HIE is further down on University in the opposite direction.
CityBank Texas / 1409 University Drive East
Opened sometime around 2009 or even possibly late 2008. It is the first business at the northwest corner of the stoplight. (Panera Bread to the west and Staybridge behind it were built later).
1501 University Drive East
On the other side of the Forest Drive stoplight, this small U-shaped strip mall, built as part of the Gateway Center development, was opened sometime in early 2005 and had typical "lifestyle center" tenants including Coldwater Creek and Chico's, which both co-tenanted many of the developments in this era (though Coldwater Creek was not a charter tenant). From the upper left going counter clockwise, there's Jos. A Bank Clothiers (though I believe that closed in 2020), Minuti Coffee (#2 on the map; Starbucks relocated down the street to the former Chimney Hill site, while Minuti opened in December 2020 after struggling to make it and "temporarily" closing at Northpoint Crossing), SKECHERS Factory Outlet (formerly Coldwater Creek before their bankruptcy, and I believe originally Kirkland's before it moved to a larger location within the center), Chico's, Talbots, Chrome ("A Salon Experience"—this may have been something else originally and is #6 on the map), Heartworks (7), and Douglas Jewelers (8). Douglas Jewelers I believe was a charter tenant at the center, went out of business around the end of 2012 due to the owners retiring, reopened soon after with new ownership, which then pulled the plug several years later and is now in Conroe. See the map of the complex (sourced from here) with the layout of the complex. The picture is unchanged (the blank space north of Chicken Express missing a number was an error on their end, not mine).
1505 University Drive East
Similar to the building above, this sprawling strip was built in two phases. Please see the map linked in the previous entry. Unusually, this entry will contain a table to show the tenants here.

| Suite # | Current Tenant | Notes |
| --- | --- | --- |
| 100 | Chipotle | Opened 2010 (they already had a location on Northgate). |
| 110 | vacant | Portrait Innovations opened in 2010 had already come and gone by December 2018 before the chain suddenly closed in January 2020. |
| 120 | Rio Nails | Originally, this was home to The Texas Store (opened 2008), which moved from Post Oak Mall, but closed in 2011. |
| 130 | Learning Express Toys | Former home to Willa Boutique (operated from 2008-2016) |
| 200 | Carter's | Children's store co-signed with Oshkosh B'Gosh. Katie's, a women's clothing store, was located here from 2014 to 2016. |
| 250 | Ulta Beauty | Ulta Beauty has been here since this part of the center was built (opened 2007). |
| 300 | Michaels | Michaels arts and crafts store, and opened in 2007. At some point they changed their logo from the old version. |
| 410 | vacant | Motherhood Maternity closed in early 2020. |
| 420 | Amazing Lash Studio | 420 used to be Edible Arrangements (moved out). |
| 450 | America's Best Contacts & Eyeglasses | Store #5021. Catherine's Plus Sizes moved here in 2007 from Post Oak Village but closed in 2020. |
| 490 | Lane Bryant | Lane Bryant has a "store-within-a-store" with its own door (Cacique). It opened in 2007 but kept the older Post Oak Mall location open for almost another decade. |
| 500 | Kirklands | Originally, Circuit City was here, with the new "circle" logo (and the "Horizon" format, looking almost identical to this Denton location. They moved here in January 2007 from the old store on Harvey Road. After Circuit City's closure (March 2009, when the last of the stores finalized clearances), it was redeveloped as Kirkland's and Half Price Books (Ste. 550). |
| 550 | Half Price Books | The new Half Price Books opened in January 2011, and that had moved from Parkway Square, though the warehouse ceilings made the store far less inviting than its previous incarnation. |
| 600 | PetSmart | PetSmart opened in spring 2006 with Linens 'n Things, and has been here ever since. |
| 700 | Spec's Wines, Spirits & Finer Foods | Linens 'n Things opened in April 2006 and closed a little more than two years later (fall 2008 with the chain). It initially maintained its red facade, but that eventually disappeared, and most of the time it was empty save for a seasonal Halloween store that cropped up every fall. In 2013, it was finally announced that there would be a Sprouts Farmers Market taking its place, though in the end they pulled out and did not open a store there. It wasn't until August 2017 when a Spec's Wine, Spirits, & Finer Foods store opened, but only about half of it is used for retail, the other is wholesale (relocated from the former J.J's store) |
Wings 'N More / 1511 University Drive East
Wings 'N More (22) opened in January 2003, moving from the Texas Avenue location. It is located just east of the 1501 Univertsity Drive East building.
Texas Roadhouse / 1601 University Drive
Texas Roadhouse was operational by summer 2000 as one of the first restaurants in the strip.
Newk's Eatery / 1613 University Drive East
Newk's Eatery (opened as "Newk's Express Café" with a different logo, possibly changing due to a complaint from Houston's Cafe Express) opened in 2010 or 2011 in an undeveloped section between the restaurants that fronted University Drive East and the parking lot of the stores behind it. I've only personally eaten there once (during the summertime), and I greatly enjoyed the pickled watermelon rinds (likely seasonal) and garlic cloves they've had as side options.

This is placed ahead of Fish Daddy's as it is west of it, despite a "later" address.
Fish Daddy's Grill House / 1611 University Drive East
Rockfish Seafood Grill opened in late 2001. On July 31, 2005, however, Rockfish Seafood Grill closed permanently, and was announced to be the home of Fish Daddy's Grill House, a new concept by Cheddar's (similar menu but more focused on seafood), and the first franchise location (the only other locations were Austin and Tulsa, while Tulsa seems to be still open, Austin's is now "FD's Grillhouse"--see the I-35 in Austin page). During renovations into Fish Daddy's, the building caught fire, and was rebuilt as an entirely new building, opening later in 2006. As Cheddar's was bought by Darden Restaurants and incorporated into its brands, Fish Daddy's remains open, with no mention of it on Darden's website. By all sources, it still appears to be owned by Darden, but with no intention of Darden to expand the brand, it might end up getting the axe soon enough. I've heard that Fish Daddy's (along with Cheddar's) fell into Darden's ownership (from the franchisee) and while Fish Daddy's got rid of popular menu items, Darden still appears to be keeping it open.
Cheddar's Scratch Kitchen / 1701 University Drive East
Cheddar's Casual Cafe opened in 2000, as one of the strip's first entries. Cheddar's kept the "Casual Cafe" branding several years (it finally changed by early 2020) after the rest of the chain switched to the new branding of Cheddar's Scratch Kitchen.
1721-1741 University Drive East
This little shopping center has a vacancy on the left side (1721, originally LazerSmooth, body hair removal), David's Bridal (1731, large central tenant), and Papa John's (1741, right side tenant). I forgot when it opened, but the space was originally WineStyles, a wine shop.
Drew's Car Wash / 1751 University Dr. E.
Originally Gateway Express Car Wash (adjacent to the Exxon gas station, see the Earl Ruder Freeway page), this facility (Drew's Car Wash) offers tunnels and auto detailing. It opened in 2009.
The Home Depot / 1615 University Drive East
The first major store to be built in the Gateway Center, complex, The Home Depot, opened in spring 2003. It's actually a bit on the smaller scale of things, but that's okay. So, from the top, here are some of the stores that opened over the years (and closed). I scanned it a number of years ago at my old blog. This is numbered below the other addresses because it is behind them.
Baylor Scott & White Clinic - College Station University Drive / 1700 University Drive East
Located at the southeast corner of Glenhaven and University Drive East and sprawling toward the freeway, despite always being a 1700 address, originally this medical clinic ("Scott & White Clinic - University Drive") acted as an expansion to 1600 University Drive East across the street. The original clinic was demolished in spring 2016 (it closed in December 2014) and a Pappadeaux Seafood Kitchen was announced to be built there, but it later fell through after years of delays. This clinic was built in the mid-1990s.

This concludes our tour of University Drive East. The road continues to go all the way past Boonville Road, ending at Oakmont Boulevard. That won't be covered...at least for now. Check out Earl Rudder Freeway here.
---
Return to the Main Page | Email
---
Copyright 2020 Carbon-izer.com, this site is not affiliated with any businesses listed here.