---
University Drive East is what Texas FM 60 is known from east of Texas Avenue. Built in the early 1970s originally out to Boonville Road and serving as an extension of University Drive, the corridor basically serves as the city's "hospitality corridor", featuring an array of hotels and restaurants. Version 2.0 of this page redoes some formatting and adds a few new entries, including Gateway Center (a whole new page), Burger Mojo, and Jimmy John's (Egg Roll House) for a total of 18.
---
TEXAS AVENUE SOUTH
---
102 University Drive East
For years (1974 to 2017) this was a Pizza Hut restaurant, which I photographed in 2014. After it closed, the roof was altered again (not that the roof was original, the metal roof was definitely not original) and the Pizza Hut sign was replaced with a sign advertising additional Fuego Tortilla Grill parking. I'm not sure if the inside is used for anything.
Brake Check / 104 University Drive East
The earliest reference I can find for Brake Check's predecessor tenant, a Sonic Drive-In, is 1973. My blog entry notes Sonic closed around 2003-2004 and the new Brake Check (entirely new building, entirely new lot) opened in 2007.

Jimmy John's / 200 University Drive East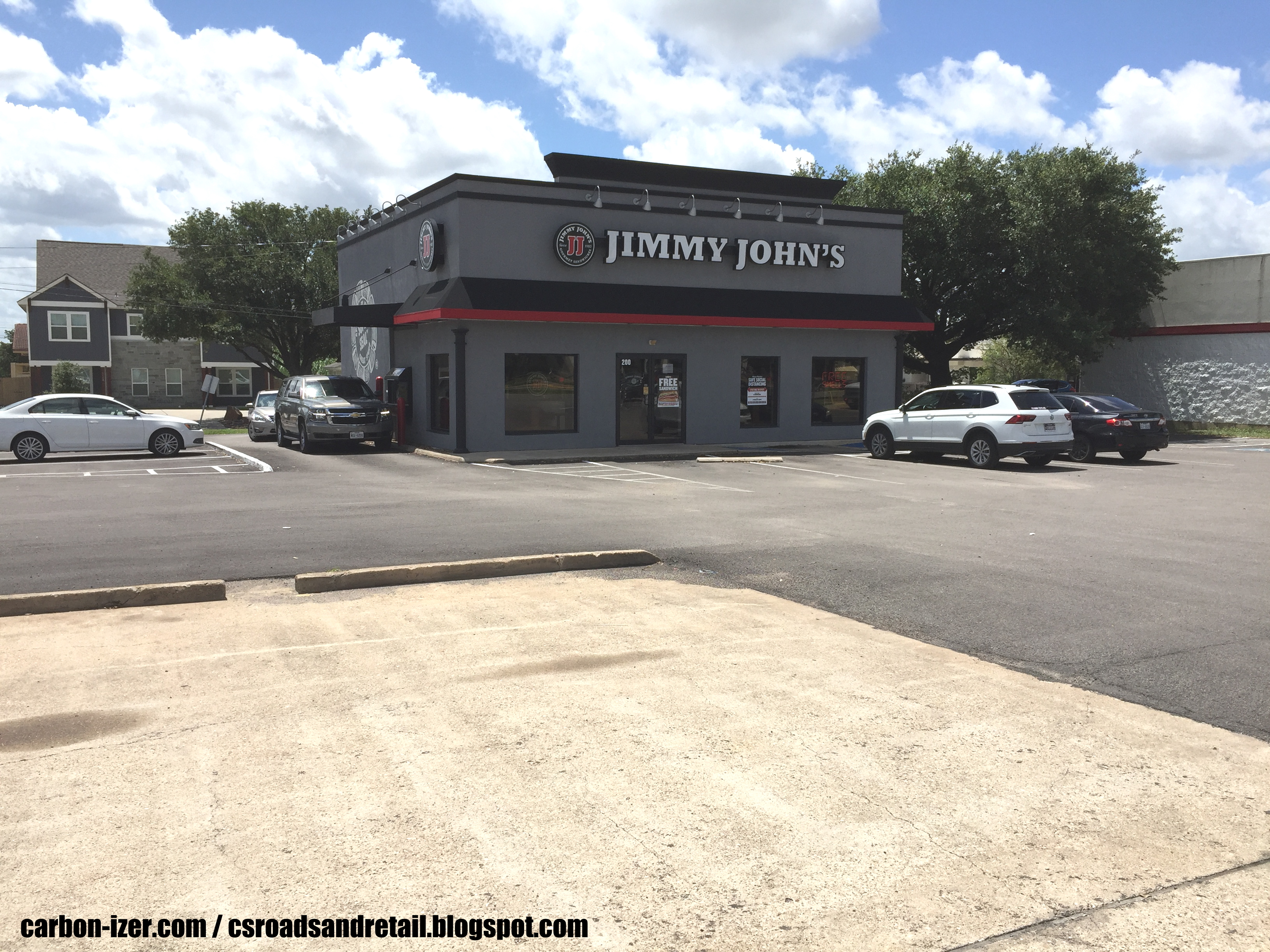 In February 1976, Taco Torch opened a location at 200 University Drive East, part of a small chain of fast-food Mexican chains in central Texas, but the College Station didn't last too long and by 1980 it was operating as Egg Roll House. It closed sometime in the very late 1990s and sat abandoned for several years before it was gutted and rebuilt as Jimmy John's in the late 2000s.
Embassy Suites / 201 University Drive East
Hotel opened October 2017 (part of the Hilton group) and built on site of rental homes and a former Black-Eyed Pea restaurant, which for most of a decade following its 2006 closure was a a string of bad Chinese buffets. My article and photos (of the hotel) can be seen here.
Burger Mojo / 209 University Drive East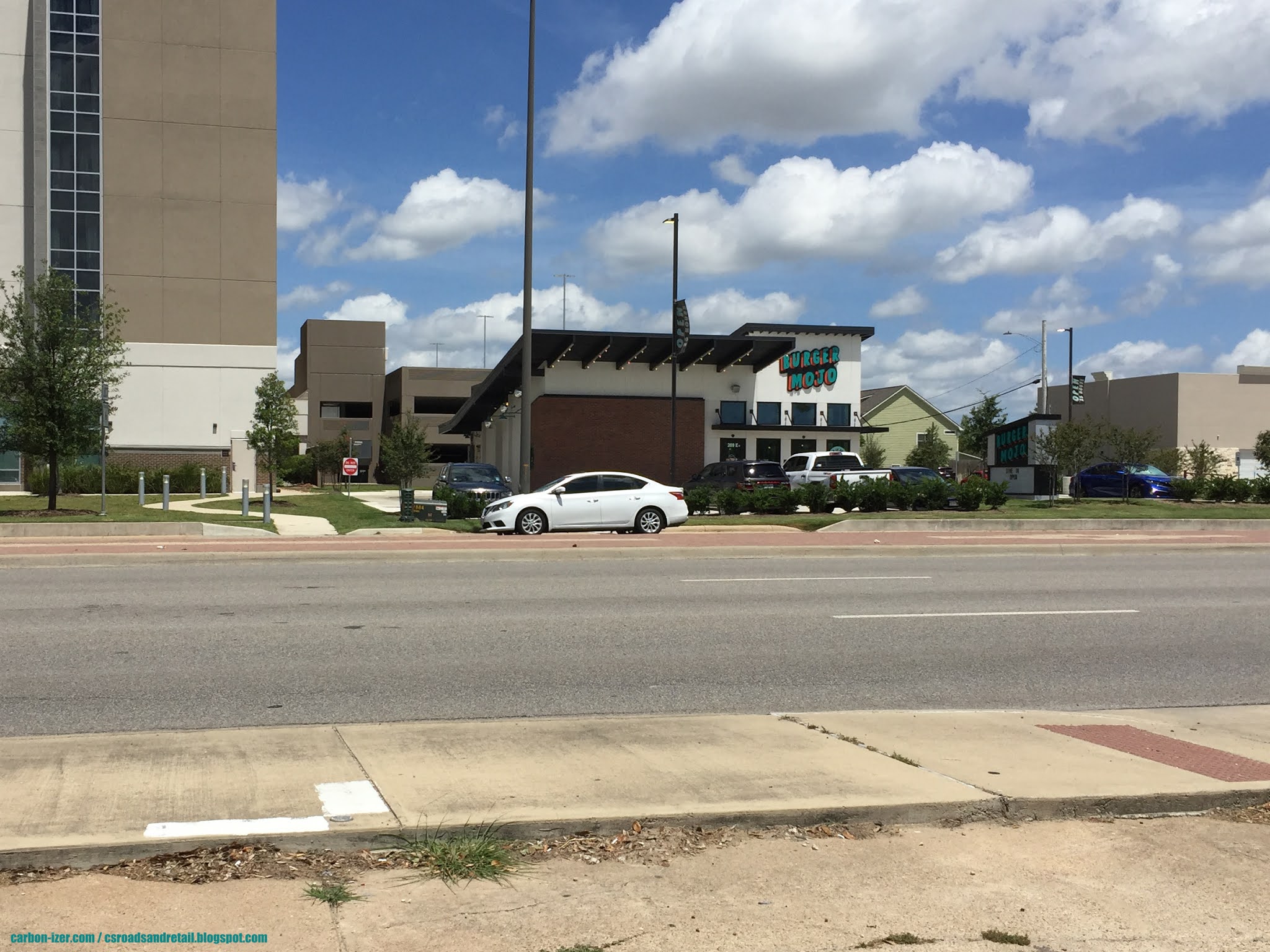 Replacing an old 1970s retail building (somewhat interesting octagon-shaped buildings), Burger Mojo opened in December 2019. The corresponding blog post is here.
O'Reilly Auto Parts / 210 University Drive East
This auto parts store dates back to 1972 (as per BCAD) as Hi-Lo Auto Parts (later branded as Hi/LO Auto Parts) and was definitely operating under that name by 1974.

In 1998, the chain was taken over by O'Reilly Auto Parts (when exactly the rebranding happened, I'm not sure). O'Reilly's website includes a picture of a typical Hi/LO store, of which College Station's looked similar (with O'Reilly's logo and paint scheme, of course). In 2016, O'Reilly modified the facade to remove the large mansard awning.
505 University Drive East
This shopping center, formerly anchored by the Fox & Hound bar, was added to the blog in early March 2020, featuring a photo from 2014.

615 University Drive East
In 1991, this store opened as a Randall's supermarket (based out of Houston), one of the large, upscale "New Generation" stores with all sorts of features. In 1997, it was closed and sold (along with two other stores in Texas) to Albertsons, which renovated and reopened the store (as Albertsons #2758). Within a decade of its opening, the Albertsons was one of only four stores (the other College Station store, New Braunfels, and Kerrville) that remained open in Texas south of Dallas (the stores in West Texas and El Paso continued to operate), and in 2011, the lease was finally sold to H-E-B, which held onto the lease and kept the store dark while the building itself was flipped to the owner of a nearby tutoring business.

Note: "Early Bird Cleaners" also maintained a facade here, accessible through both Albertsons and the outside. It was here since at least 1998 and remained nearly up to the closure of Albertsons. In 1994, this was the home of Crown Cleaners.
---
TARROW STREET
At some point, Tarrow Street was converted to one-way southbound, but only the side north of University Drive East.
---
The Republic / 701 University Drive East
In November 1973, a large FedMart store opened at this location, and following the closure of most of the Texas FedMart stores in 1981, was renovated into the Chimney Hill Shopping Center. In the mid-2010s the building cleared out for redevelopment, and was eventually demolished. After the last section, holding the upscale restaurant The Republic, a new building was built at the corner of Tarrow Road and University Drive East, keeping the address. My article showcases the history of FedMart and other historic tenants here.
---
TARROW STREET EAST
---
College Station Hilton / 801 University Drive East
I wrote a blog post for this building, which discusses its restaurant and nightclub. From what I've read it opened in May 1985 (as a Hilton, never reflagged).
Razzoo's Cajun Cafe / 820 University Drive East
The "flagship" restaurant that encircles the fountain is this chain Cajun restaurant that opened in August 2015. It replaced a sports bar restaurant called "Boston's The Gourmet Pizza", the export version of a Canadian restaurant, which served hamburgers, pizza, and other dishes. The original restaurant opened with the rest of the strip around 2006 and closed abruptly in summer 2014.
Willie's Grill & Icehouse / 940 University Drive East
Several years ago, I had put this in as an entry for Wikimapia: "This was originally built as a branch of T.G.I. Friday's. Opening in 2005, it shut down permanently after May 24th 2013 for an unknown, corporate-related reason. In March 2014, it reopened as a Willie's Icehouse." (I ate at Willie's once, pretty mediocre and not worth returning to).
Aloft / 1150 University Drive East
Marriott-owned hotel, opened late 2015 (four floors, 105 rooms). It features no dining services but there is a hotel bar on the first floor.
Red Lobster / 1200 University Drive East
The last in the inter-connected hotel and restaurant jumble, Red Lobster opened here in 2008 and closed in spring 2020 for rent non-payment during the height of COVID mania. Will it ever reopen? Probably not. (See the blog entry here).
Holiday Inn Express Hotel & Suites / 1203 University Drive East
Opened since around 2000, this Holiday Inn Express is one of two on University Drive East (a second one to the east of the freeway opened more recently). It features 77 rooms and 34 suites.
---
LINCOLN STREET / SPRING LOOP
---
TownePlace Suites by Marriott / 1300 University Drive East
Opened by 1999, this hotel has about 94 rooms spread across two three-story buildings.
---
FOREST DRIVE / GATEWAY CENTER 1
The stoplight was installed for the shopping center but also provides controlled access for some condominiums built in the mid-1970s.
---
Gateway Center / 1501-1615 University Drive East
Large shopping center anchored by Home Depot and several smaller stores and restaurants. Check it out here on this site. This link also covers Panera Bread, Staybridge Suites, and CityBank Texas to the west of the Forest Drive stoplight.
---
GLENHAVEN DRIVE / GATEWAY CENTER 2
Glenhaven is a residential street but tends to collect traffic on account of its two Texas Avenue-connected roads, Francis Drive and Dominik Drive, which intersect it but don't connect to the freeway.
---
Baylor Scott & White Clinic - College Station University Drive / 1700 University Drive East
Despite always being a 1700 address, originally the clinic ("Scott & White Clinic - University Drive") acted as an expansion to 1600 University Drive East across the street. The original clinic was demolished in spring 2016 (it closed in December 2014) and a Pappadeaux Seafood Kitchen was announced to be built there, but it later fell through after years of delays. This clinic was built in the mid-1990s.
---
EARL RUDDER FREEWAY
University Drive East DOES go beyond the freeway and as of this writing ends at Oakmont Boulevard, northeast of Boonville Road. However, that section won't be covered...at least for now.
---
Return to the Main Page
|
Email
---
Copyright 2020 Carbon-izer.com, this site is not affiliated with any businesses listed here.