UNIVERSITY DRIVE (SULPHUR SPRINGS ROAD PRIOR TO EARLY 1970s)
203:
1972: Handy Burger
1980: The Onion Ring: Business in place by 1980, former location of the Handy Burger
1983: The Deluxe (same listing appears in 1984)
1989: The Deluxe Burger Bar (same listing appears in 1993)
1998: The Deluxe Diner
2005: The Deluxe Diner (I believed this closed in 2006)
2013-: Chimy's Cerveceria (Opened that year, after nearly demolishing entire building)
205:
1993: vacant (at least no listing appears here)
2012: Schotzi's (bar)
2014: Schotzi's
2015-: 4.0 and Go (tutoring)
Note: At some point, Schotzi's had a rooftop lounge named "Skyybar" (later "Sky Bar") which later became a part of "12" next door. Also, no listing found for 1980 or 1993. Additionally, up until when they repainted it in 2012, you could see a DoubleDave's "ghost sign" on the building.

209:
1972: Aggieland Flowers
1980: Aggieland Flower Shop
1993: Aggieland Flowers & Gifts (likely "Aggieland Flowers & Gift Shoppe", see below)
2005: Aggieland Flowers & Gift Shoppe
2012: The Ranch (bar)
2015-: 12 Roof Top Bar & Lounge
211:
1972: Don's Barber Shop
1980: Pyramid Audio (listed in phone book, directory for that year says vacant)
1993: DoubleDave's PizzaWorks (development filing for this appears in 1991)
2011: Zapatos Cantina (bar)
2014-: vacant (I'm pretty sure it closed in 2013, around the time Chimy's opened)
Note: The 1993 directory lists a vacant for 213. Did 211 absorb 213 at some point? As of 2017 it is apartment leasing offices.
215
1972: Andrea's Bicycle Shop
1993: Bill's Barber & Roffler Style Shop (barbershop)
1998: Bill's Barber & Roffler Style Shop
2011: Part of Zapatos Cantina
2013: Wobbly Monkey (bar)
2014-: Northgate Juice Joint (raw juice bar and smoothie shop)
217
1940-1985: Campus Theater (opened May 1940 with "Son of the Navy", 1985 is reported closing date)
1993: vacant (though the Campus signage was still up at the time)
1998: Shadow Canyon (nightclub, open 1995?)
2005: Shadow Canyon (last year in business?)
2007: Midnight Rodeo (closed 2008?)
2011: Daisy Dukes (since 2009? No apostrophe)
2013: Duke's (rename)
2014: Boulevard 217 (initially "No Name Saloon", though this was never advertised on the facade)
2015: Boulevard 217 (closed after fall 2015, though the signs remained including being lit up as January 2016)
2016-: Shiner Park
[VIEW BLOG PAGE]
==Boyett stoplight (installed c. 2013)==
301
1972: Crockett Sixty Six Serv Sta (Philips 66 gas station)
1980: The Thirsty Turtle (converted gas station)
1985: 7-Eleven (with Citgo, rebuild)
1989: 7-Eleven (store #23984)
1993: The phone book says E-Z Mart but the 1993 directory says 7-Eleven. This is the year that 7-Eleven sold its local stores to E-Z Mart.
2003: E-Z Mart
2011: Aggie Food Mart (renamed mid-2000s?)
2013: Citgo (still Citgo as always; no longer unique food mart name, "Aggie" removed)
2016-: Gig'Em Food Mart (Chevron)
Note: It spent a good part of 2015 open but completely unbranded. Wi-fi hotspots mentioned an "Aggie Quick Stop".
[VIEW BLOG PAGE]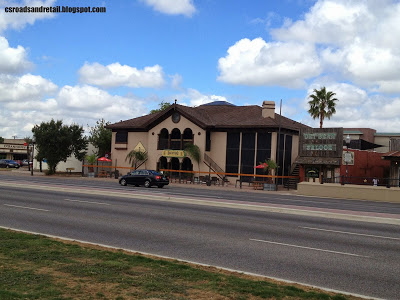 303
1930: The Varsity Apts. (accepted build date)
1972: Boyette's Apartments: Six tenants are listed in 1972: vacant (1), Frank Eller (2), C.W. Wright (3, only one with a phone number), Parba Olona (4), Cal Newman (5), and Jerry Fisher (6). Richard Burke is listed but unnumbered.
1980: Alamo Bar & Grill (first restaurant tenant?, also listed as "The Alamo")
1983: Bogie's
1989: Flying Tomato Pizza
1993: Two Pesos Mexican Restaurant (similar to Taco Cabana)
1994-2013: Fitzwilly's (1994 was first year in business: hamburgers, wings, beer)
2013-: The Backyard (restaurant and bar, Fitzwilly's closed earlier that year)
[VIEW BLOG PAGE]
305
1972: Hobby World of Texas Inc.
1989: Sticky Chin's Ice Cream Parlor
1993-: Dry Bean Saloon
Note: As of 2018, Dry Bean Saloon appears to have changed its name to simply "Dry Bean".
307
1972: The Aggie Den
1974-: Dixie Chicken (open date)

309
1972: vacant
1980: Miranda's
Note: Absorbed into Dixie Chicken in 1982

311
1974: Pizza Gallery
1980-: Duddley's Draw (listed as "Dudley's Draw" in 1980 directory, probably erroneously)

313
1972: vacant
1974: vacant
Note: renumbered or absorbed into 311 at some point in time, not listed in 1980 directory

315
1972: The Sound Shop (record shop)
1974: Budget Tapes & Records (record shop)
1980: Budget Tapes & Records
1993: Cow Hop Subs & Salads (the Cow Hop "annex")
1995: The Alley
1999: Coupe De Ville (bar, involved in lawsuit a young man died after a drinking binge)
2005: The Reef
2012: Bar 315 (closed that year and remains vacant)
Note: This was absorbed into the Cow Hop for a while in the early 1990s, and then both became The Bullseye.

317
1963: Lew-Ann's Restaurant
1970: Lew-Ann's Restaurant
1972: Burger Hut
1974: Burger Hut
1980: The Cow Hop
1989: The Cow Hop
1993: The Cow Hop
1995: King of the Roadhouse
1998: The Cow Hop Restaurant
2005: Mad Hatters (bar)
2008-: Mad Hatters
Note: Cow Hop closed for a period in the 1990s (starting ~1993), becoming King of the Roadhouse and The Bullseye. By the 1999 phonebook, the "new" Cow Hop had closed.

319
1972: Godfrey's Restaurant
1974: Henrici's Restaurant
1977: Haus Edelweiss (German restaurant per 1977 newspaper)
1980: Backstage Restaurant & Coffeehouse
1984: Billy Jack's
1991-: Freebirds World Burrito (first Freebirds in Texas)
Note: May or may not have been formerly part of Charlie's.
321
1972: Charlie's Grocery
1974: Charlie's Grocery
1980: Charlie's Grocery
2005-: Wells Fargo (not sure when it opened, I want to say since the late 1990s, though it wasn't in the '98 phonebook)
Note: Nothing listed in 1993. This was because Charlie's Grocery had since closed and became part of what was once a larger Texas Aggieland Bookstore
323
1972: Varsity Barber Shop
1974: Varsity Barber Shop
Note: No listing in 1980 directory, or 1993 directory.
325
1972: Jeans'n Things
1974: Heroes (clothing)
Note: No listing in 1980 directory, or 1993 directory. Appears to be absorbed into different spaces.
327
1972-: Texas Aggie Bookstore
Note: Still here today, though changed names to Texas AggieLand Bookstore at some point in time
329
1972: The Tavern
1974: Kesame Sandwich Shoppe
1977: Farmers Market Sandwich Shop
1980: Farmers Market Sandwich Shop
1989: Farmers Market Sandwich Shop
1993: Equinox
1999: Crooked Path Ale House
2005: The Library (phone book search proved futile, though 2005 article mentions it)
2009: BMO's
2010: Basil Whippet's Pub & Apothecary Lounge (opened that year, closed in 2016)
2016: Icon Night Club & Lounge (opened August but closed six months later)

331
1972: Divided into three tenants, a vacancy, Guinn & Co. (insurance brokers) and Kentucky Life Insurance Co.
1974: Directory only lists 331c (Kentucky Life Insurance Co.)
1984: On the Double (copying)
Note: located above 329 and absorbed into it at some point

333
1972: The Adult Library (not listed in 1974, but there was an adult bookstore here until the early '80s)
1980: The Sun Theatre (another adult bookstore establishment)
Note: absorbed into 335 eventually, not listed in 1993

335
1972: Loupot's Trading Post
1974: Loupot's Trading Post
1993: Loupot's Trading Post (name per directory, it might've changed names by this point)
1995: Loupot's Bookstore (by this time, it had changed names)
2012: Loupot's Bookstore (closed as of 2012)
2015: vacant

==College Main Pedestrian Pathway (formerly College Main / Houston Street) stoplight==
401 (inside Sparks Building)
1972: Campus Photo Center
1993: Campus Photo Center
2005: The Corner and Pita Pit
2015: Above remained the same until Pita Pit was forced out for The Corner's expansion. The Corner's arrangement takes the first floor and a staircase/elevator directly up to the rooftop.
401a (inside Sparks Building)
1989: Right Angle Calculators
Note: This probably was where Pita Pit was located. No listing for 401a in the 1993 directory, though it lists two vacancies for 403b. Either way, it appears to have been gone by 403.
403 (inside Sparks Building)
1972: Aggieland Barber Shop (only tenant listed)
1989: Aggieland Barber Shop and City Surplus (military surplus)
1993: Aggieland Barber Shop (listed as 403a), Haight-Ashbury Co. (403c), Star of the Sea Catholic Bookstore (403d), L-T L & Associates (403e, tax filing), directory notes that "403b-403b" were vacant (2 businesses), suggesting there were two even smaller businesses inside, Mario & Son's Pizzeria (405a)
1995: Aggieland Barber Shop and Quantum Cow (tutoring)
2012: Aggieland Barber Shop and Northgate Vintage
Both of these tenants are upper level. Northgate Vintage has you enter from the street and take a steep spiral staircase up to the second level, while Aggieland Barber Shop has a staircase on the east side (with a landing outside the barbershop, the rest continues to the rooftop of The Corner). Not sure about the others. Also, Quantum Cow had the address of 403-C.
404 (inside Sparks Building)
1989: Starships & Dragons (comic book store, though not in phone book)

405 (inside Sparks Building)
1972: Barker Photography
1989: Mario & Son's Pizzeria
1993: Mario & Son's Pizzeria (listed as 405a)
1998: Nipa Hot (Thai restaurant, I think was on an upper level?)

405a (inside Sparks Building)
2011: Potato Shack
Note: Closed as of 2015. It had an exterior exit next to Pita Pit (facing University)

407
1972: A.M. Waldrop & Company (clothing)
1974: A.M. Waldrop & Company (clothing)
1995: University Bookstore

409
1993: University Bookstore
2013: Starbucks Coffee, Potbelly Sandwich Works, Domino's Pizza (that's east to west)
Note: Renamed 407 later, but apparently reverted to 409 later on. Around 2015 or 2016 Domino's Pizza just became Domino's as part of a corporate rebrand f
411
1972: National Farm Life
1980: National Farm Life
Note: By the 1990s, this had been absorbed into 407, and despite being divided up later, today.

415
1972: Varner's Jewelry Store
1980: Cowart's Jewelry
Note: By the 1990s, this had been absorbed into 407, and despite being divided up later, is still 409 today.

417
1972: A&M Methodist Church
1993-: A&M United Methodist Church
Note: The 1970s directory lists it as Methodist, it's unknown when they switched to UMC, if not before the original 1970s directory

==Tauber Street / Asbury Street stoplight==
501
1972: The Answer (no idea what this was, but also in '74 listings)
1989: Pizza Hut
1999-: Aggieland Credit Union

505
1972: Wyatt's Sporting Goods
1974: Wyatt's Sporting Goods
1995: Cycle Spectrum
1998: Cycles Etc.
2012: Cycles Etc.
2014: The Domain at Northgate Leasing Office (Cycles Etc. moved out that year)
2015: vacant
Note: As of 2016, this is now home to another apartment leasing office. Name escapes me, though.
509
1972: Cooley's Conoco Service Station
1974: vacant
1980: University Tire & Service Center
1998: Kinko's Copies
2005: Kinko's (as listed in phone book)
2007: FedEx Kinko's
2014-: FedEx Office
Note: This used to be a large nightclub after Conoco was torn down but before Kinko's opened, a large concrete patio existed and that can still be seen today.
601
1972: Jensen Arco Service (also '74)
1980: Arco
1989: Little Caesars, Baskin-Robbins, and Subway (new building)
1999: Papa John's and Subway
2011: Rusty Taco and Subway (Rusty Taco opened in September 2011 and closed around a year later)
2013-: Subway (remodeled to absorb all space)
Note: Somewhere, though I can't find it right now, Smoothie King did occupy the spot where Baskin-Robbins was, at some point in the 1990s.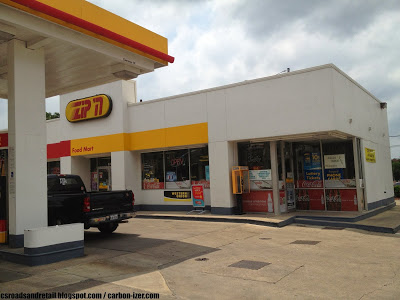 609
1972: North Gate Shell Service Station (also '74)
1989-: Zip'N Food Stores (No. 103, still a Shell, and has been since)
Note: Picture is from 2013.
==Nagle Street / Ireland Street stoplight==
701
1972: Exxon ("Dean David L Exxon Service") (also in '74 directory)
1989: Exxon (still listed as Dean's Exxon)
1993: Notes-n-Quotes (opened here this year, I think their website used to mention this--it was listed as "vacant" in the 1993 directory)
1999: Notes-n-Quotes
2015: Notes-n-Quotes (last year)
Note: NnQ closed in 2015, later an apartments leasing office. Their old website mentioned that Spring 2016 notes (come and gone) can be found at Textbook Solutions.
707
1974: Provident Mutual Life Ins. Co. of Philadelphia
1980: Recruiters for USMC and USAF (Marines and Air Force) as well as Texas Hat Co. and Lawrence M. Parker (building contractor)
1988-1991: The Personal Computer Store (1989 advertisement mentions it was there since '84, though according to Avinext's history page, it moved in around 1988)
1991-1998: MicroAge College Station (name change to MicroAge as part of franchise, also confirmed staying until end of 1998)
Note: Physically part of the University National Bank, likely originally bank offices at one point, appeared to be vacant until 2016 demolition. The 1993 directory seems to suggest as such with overflow offices for First American under 707 (suites 201 and 202), as well as listing "Technological Software Development Inc.", which may or may not have been part of MicroAge.
711
1962-1963: College Station Bank (moved to this location in January 1962)
1963-1990: University National Bank (name change in 1963, officially acquired in 1990, possibly rebranded in 1991)
1990-2005: First American Bank (rebranded to Citibank in 2005)
2005-2014: Citibank (converted around April or May 2014 as part of a sale)
2014-2016: BB&T(demolished around August 2016 for redevelopment)
2018-: Aspire College Station (BB&T moved back in shortly thereafter as a ground floor tenant) Note: 1993 directory lists suites (203-209), all offices for FAB, including the "Coffee Break Room" in 207 and additional space for "Technological Software Development" in ste. 209. [VIEW BLOG PAGE]
717
1972: Community Savings & Loan Association (up to at least 1980)
1993: Guaranty Federal Bank
2012: vacant
2013: The Rise at Northgate apartment building (first year opened, demolished previous structure) and CVS/pharmacy (Suite 101) on the ground floor
2014: 2013 tenants plus a Great Wraps, which lasted less than a year (Suite 171)
2015: YAKU Japanese Eatery replaced Great Wraps, all 2013 tenants remain
2016: The Rise at Northgate with YAKU Japanese Eatery, CVS/pharmacy, and BB&T (Ste. 181) joining in August, filling out space
2017: YAKU Japanese Eatery closed late this year but was replaced by Shun De Mom. CVS/pharmacy and BB&T remain
2018: BB&T moved back out to its old location. [VIEW BLOG PAGE]
731
1972: Walding Texaco (same listing appears in 1974, but mentioning Firestone tires as well)
1980: Walding Texaco
1993: James Coney Island (rebuild, closed within a few years)
1998-: Taco Bell (Taco Bell extensively renovated summer 2014)
[VIEW BLOG PAGE]
725
1980: Mo-Peds To Go (suite A) and Music Express (suite B)
1984: Tommy's (suite A) and Music Express Inc (suite B)
1989: Fat Burger (not related to the Fatburger chain) was located in Suite A. Unknown about Suite B.
1993?-2012: Fat Burger (suite A) and A+ Tutoring (suite B)
Note: Located directly behind the Texaco/JCI/Taco Bell, building vacated and torn down mid-2012

==Spence Street stoplight==
801
1973-: McDonald's
Note: Has been demolished and rebuilt since opening in December 1973 (circa 2003?). The rebuilt one was renovated a few years later. [VIEW BLOG PAGE]
727
1995: Hebert's Cajun Food
Note: It was a small shack behind McDonald's, closed and torn down 2012.
729
1980: Film & Photos No. 2248
1993: Nachos to Go
1995: Java Jitters (coffee)
Note: Java Jitters was small shack behind McDonald's, closed and torn down 2012. The wooden shack of Java Jitters was almost certainly not the photo booth. However, Java Jitters and Nachos to Go were likely the same building.
815
1972: University Mobil Service Station
1980: University Mobil Service Station
1993: Mike's University Mobil
2003: Chipotle (rebuild, unknown opening)

817
1963: The Rao Drive Inn
1972: Rao Drive In (vacant by 1974 and still vacant by 1980)

927
1989: Mt. Aggie Snow Cones
Note: I have no idea where exactly this was. I don't think its the drive through ATM (the old "Pizzamat" building). It was listed as "vacant" in 1993.
==Bizzell Street / College Avenue stoplight==
==Polo Road / University Apartments stoplight==
1289
2016-2017: Neighbors Emergency Center (it closed in August 2017, staying for less than a year)
1403
1972: Mrs. Ola M Brown (private house)
1980: Kettle (No. 86 but does not appear in that year's directory, it also took up a house that was presumably at 1401)
1998: Kettle (advertised as late as that year, closed soon after and was eventually demolished in 2012)
Note: Redeveloped into Northpoint Crossing development. It was just to the east of the short-lived Neighbors.
1405
1972?-1984: U-Tote-M Of Central Texas (No. 811, also alternatively referred to as UtoteM...at least since 1972)
1984: Circle K (No. 3311)
1993: vacant
2007: Ink Dreams (tattoos)
2012: Oasis Pipes & Tobacco
(last tenant before demolition that year) Note: Redeveloped into Northpoint Crossing development. It was approximately where Minuti Coffee is now.
1501
1972: vacant (so says the directory, same listing in '74)

1503
1972: Bryan Auto Supply #2 (so says the directory, same listing in '74)
1980: One Hundred Thousand Auto Parts (No. 7)
==Texas Avenue stoplight==
---
---
Back | Leave comments at Brazos Buildings & Businesses