UNIVERSITY DRIVE
Version 2.0 of this page makes numerous improvements to make it more like the other College Station-Bryan pages. Additions include: Whisper Sister Shots, Aspire College Station, and Zachry Engineering Center. Updates include: Commanders Cove (former Northgate Juice Joint), Z Bar & Bistro (335 University). Duddley's Draw was removed temporarily.
WELLBORN ROAD to TEXAS AVENUE
A page on Wellborn Road can be seen
here
and where our section officially starts. Access roads branch off from University Drive to connect to Wellborn Road, avoiding the railroad, which University goes under. However, just after the railroad underpass, it becomes Raymond Stotzer Parkway. Addresses start from this intersection, going east.
Chimy's Cerveceria / 203 University Drive
The first address on University Drive proper, Chimy's opened in 2012. The restaurant, originally built as Handy Burger and later The Deluxe Diner before a substantial rebuild/renovation in 2011, can be read more about here at Brazos Buildings & Businesses.
205 University Drive
This building is currently vacant. For a while it was the "flagship" of DoubleDave's PizzaWorks, then became "Schotzi's & Skyybar", then became 4.0 & Go. For more information on this building, please visit Brazos Buildings & Businesses.
12 Roof Top Bar & Lounge / 209 University Drive
Currently the home of 12 Roof Top Bar & Lounge, this was the home of Aggieland Flowers for many years. This building's corresponding post on Brazos Buildings & Businesses can be see here.
The Draconian Lounge / 211 University Drive
This building previously served as DoubleDave's first Northgate location, and later, Zapatos Cantina.

Please visit Brazos Buildings & Businesses for more information.
Commanders Cove / 215 University Drive
This bar evolved out of a bar-within-a-bar at the previous tenant here, Northgate Juice Joint, a raw juice bar and smoothie shop opened in late 2014. During the 1980s and 1990s, it was a barbershop and later served as an expansion to Zapatos Cantina next door. The blog post for this building can be seen here.
Shiner Park / 217 University Drive
From 1940 to 1985, this was the Campus Theater. In the mid-1990s, the closed theater was reopened as the Shadow Canyon nightclub, unfortunately covering the Art Deco facade with wood paneling. After Shadow Canyon closed about a decade later, it was a variety of other dance clubs, changing every three or four years on average.
Chevron / 301 University Drive
This gas station and convenience store was originally built as a Citgo/7-Eleven back in the mid-1980s, though the 7-Eleven would soon become E-Z Mart less than a decade later when 7-Eleven divested its holdings here, and ultimately became a run-down Citgo with a no-name convenience store. Recent (2016-2017) renovations cleaned up the site by turning it into a new Chevron station with "Gig'Em Food Mart".
Hullabaloo Hall / 306 University Drive
The first new dorm on campus after two decades opened in 2013 with Starbucks (licensed operation, not a "real" Starbucks) and a Rattlers (briefly, before the contract expired) and replaced three older dorms.

Just west of here on this side of the road was the Dulie Bell Building, which was flattened for a parking lot.
The Backyard / 303 University Drive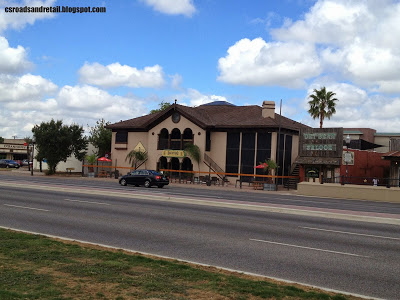 For most of my life, 303 University Drive was a restaurant named Fitzwilly's, a two-story bar and restaurant with decent burgers and wings. It closed mid-way through my college career, and I was saddened by the loss, not only because it was on my regular rotation but because it had been such a staple on Northgate, in an era where a decade might as well be eternity.

It actually began as a six-unit apartment building back in 1930, and started restaurant use around the very late 1970s. The current tenant is here is The Backyard, which opened in August 2013 after Fitzwilly's closed in May.

For further reading, check out Brazos Buildings & Businesses.
Dry Bean / 305 University Drive
Also known as Dry Bean Saloon. This building has been previously covered on Brazos Buildings & Businesses.
Dixie Chicken / 307 University Drive
This famous Northgate watering hole has been previously covered at Brazos Buildings & Businesses.
Whisper Sister Shots / 315 University Drive
This has been a bar since the mid-1990s but the building is believed to go back to the 1940s. The blog post is here; the current tenant opened in May 2017.
ICON Nightclub and Lounge /329 University Drive

Opened in 2016 and the latest of tenants over the last fifty years. Originally, the building was home to a clothing store on the ground level, but became a bar within a few years and has pretty much stayed that way. Read more here.
Z Bar & Bistro / 335 University Drive
This was Loupot's for years until it closed in 2012, and since then work for a bar has been underway, but progress was slow and after more than half a decade, it finally opened in fall of 2020. The blog post is here.
A&M United Methodist Church / 417 University Drive
This has been here since at least 1972 (as A&M Methodist Church), likely longer. It is a sprawling campus including additional buildings off of Cross Street, the Wesley Foundation, and another at College Main and Church Avenue.

---
TAUBER STREET / ASBURY STREET
Tauber is one way heading out of campus.
---
Aggieland Credit Union / 501 University Drive
Aggieland Credit Union has been here since the mid-1990s, taking over a bank building built in 1950, but had most recently served as a Pizza Hut. More here after the jump.
Subway / 601 University Drive
This large Subway restaurant opened in the late 1980s is (normally) open 24 hours and was originally three different restaurants (Little Caesars, Subway, and Baskin Robbins), though over time they (and their respective replacements) all eventually closed, as this building also had Papa John's, Rusty Taco, and Smoothie King over the years, with Subway expanding throughout the whole building.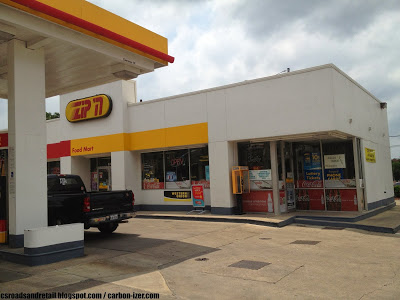 Shell / 609 University Drive
This Shell station has been a Shell since the early 1970s, but gained the Zip'N name later (and its selection of Indian food imports, even later).
---
NAGLE STREET / IRELAND STREET
Ireland Street is one way INTO campus.
---
Carport Coffee / 701 University Drive
Also known as Carport: A Coffee Shop, this used to be Notes-N-Quotes through the 1990s and into the late 2010s (though closed in 2015), and located in an older gas station, operating as an Exxon until around 1989.
Aspire College Station / 711 University Drive
From 1962 to 2016 this was a bank, ending as a BB&T (ending over 50 years of acquistions and sales). Today, this large residential tower (16 stories, including parking levels and 800 beds) has several ground-floor tenants. These include Fajita Pete's, Which Wich, BB&T, and All Phone Toys. More information, particularly on the pre-tower incarnation, can be read about at on Brazos Buildings & Businesses.
The Rise at Northgate / 717 University Drive
A large student residential tower with several retail tenants at ground level, most notably a CVS/pharmacy, which opened in 2013. It replaced a bank building. (view blog page)
Taco Bell / 731 University Drive
Built as a James Coney Island in 1992 but changed hands to Taco Bell a few years later, this was built on the site of a Texaco station.
McDonald's / 801 University Drive
The second McDonald's to occupy this site (the original was built in December 1973) was rebuilt in the early 2000s and has been remodeled twice since.
Zachry Engineering Education Complex / 125 Spence Street
Home to Texas A&M University's Engineering department. H.B. Zachry Engineering Building was here since 1971, but in 2015 the building was closed and practically rebuilt to be the modern Zachry Engineering Education Complex. This was opened in 2018. The blog post, on the original 1971 building, can be read here and links to even more pictures.
Chipotle / 815 University Drive
This Chipotle was built in 2003 at the site of an old Mobil gas station.
Century Square / 175 Century Square Drive
Large redevelopment where the University Apartments used to be, lots of shops and restaurants are here.
Northpoint Crossing / 1501 Northpoint Lane
Large redevelopment where the Plaza Hotel and other buildings were. Primarily student residences, some ground level tenants exist, including World of Beer.
---
TEXAS AVENUE SOUTH to EARL RUDDER FREEWAY
The road continues (and the addresses reset) as
University Drive East
, which is covered in the linked page.
For Texas Avenue South itself, please visit
this link
.
---
---
Back to College Station-Bryan page
|
Email