CYPRESS GARDENS '94
Florida has dozens of theme parks and other attractions, many of which I've seen and visited over the years (including, of course, Walt Disney World). But Walt Disney World was not even the first "real" theme park in Florida, that honor would go to Cypress Gardens. Cypress Gardens did not have any "real" theme park rides, relying mostly on shows and displays (in addition to requisite shops and cafes). It allowed, in some aspects, a more relaxing environment than hectic rides throughout. Probably why my parents went with young children.
This map comes from 1994, during the brief time when Anheuser-Busch owned the park (with the better-known Busch Gardens--they sold the park in 1995). Cypress Gardens was also the first theme park I've heard of to shut down entirely (AstroWorld would go later), as it did in spring 2003 following a downturn in the tourism economy. I still remember about a year later (which is a long time for a kid) that it was to reopen in 2004 as "Cypress Gardens Adventure Park" with actual theme park rides, a waterpark, and a zoo. That's the spirit! Continuity is important, but if something is gone for a while, make sure it returns bigger and better than ever before.
Unfortunately, things rarely turn out that way. After a delayed opening due to hurricane damage, Cypress Gardens Adventure Park filed for bankruptcy just two years after it opened, with its new (since 2004) sister park Wild Adventures sold. Cypress Gardens would then go through a period of protracted decline until closure in 2009. The park reopened once more as Legoland Florida in 2011 with the botanical gardens remaining (it's technically owned by the government anyway) and the remaining rides re-themed.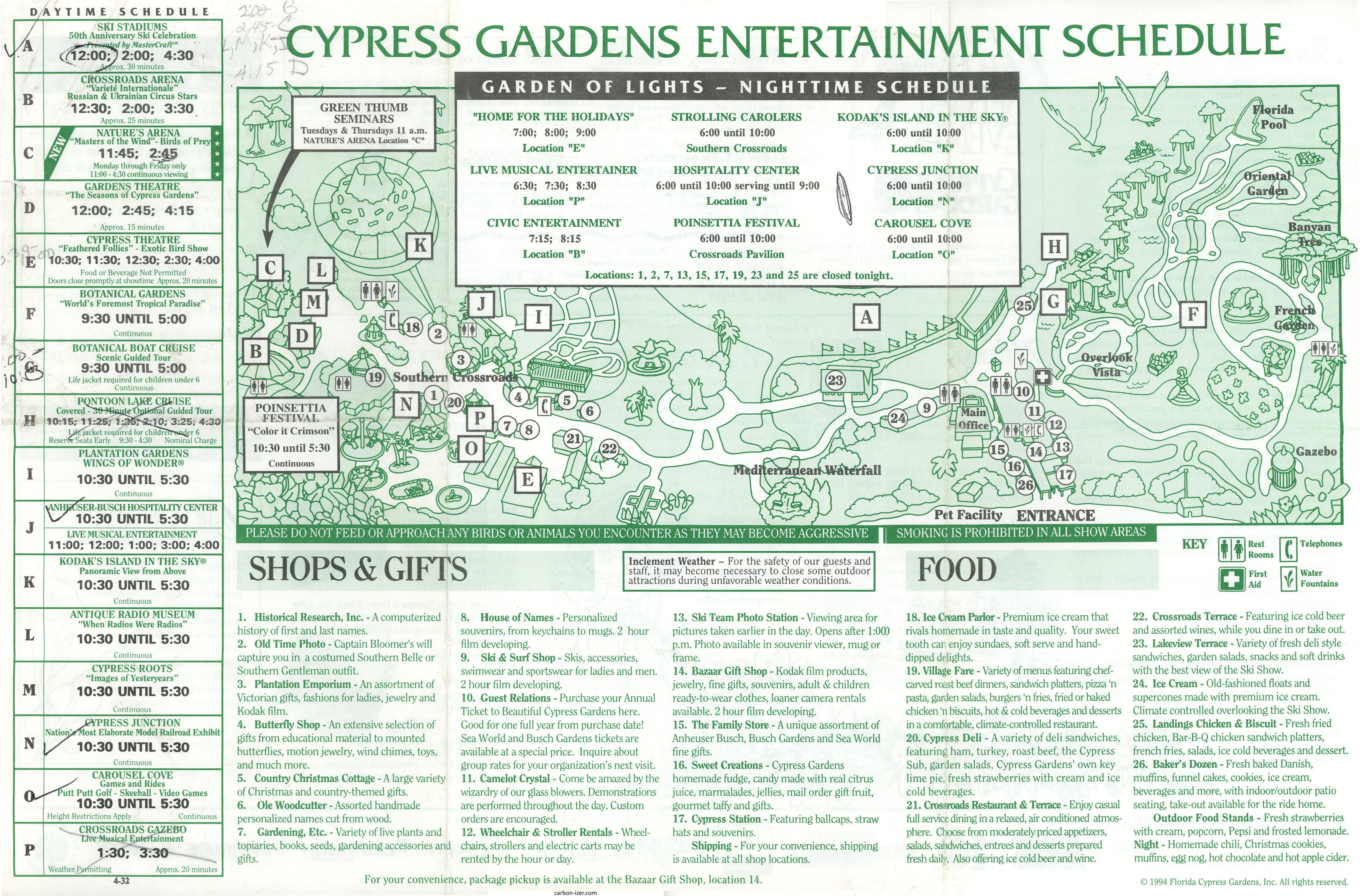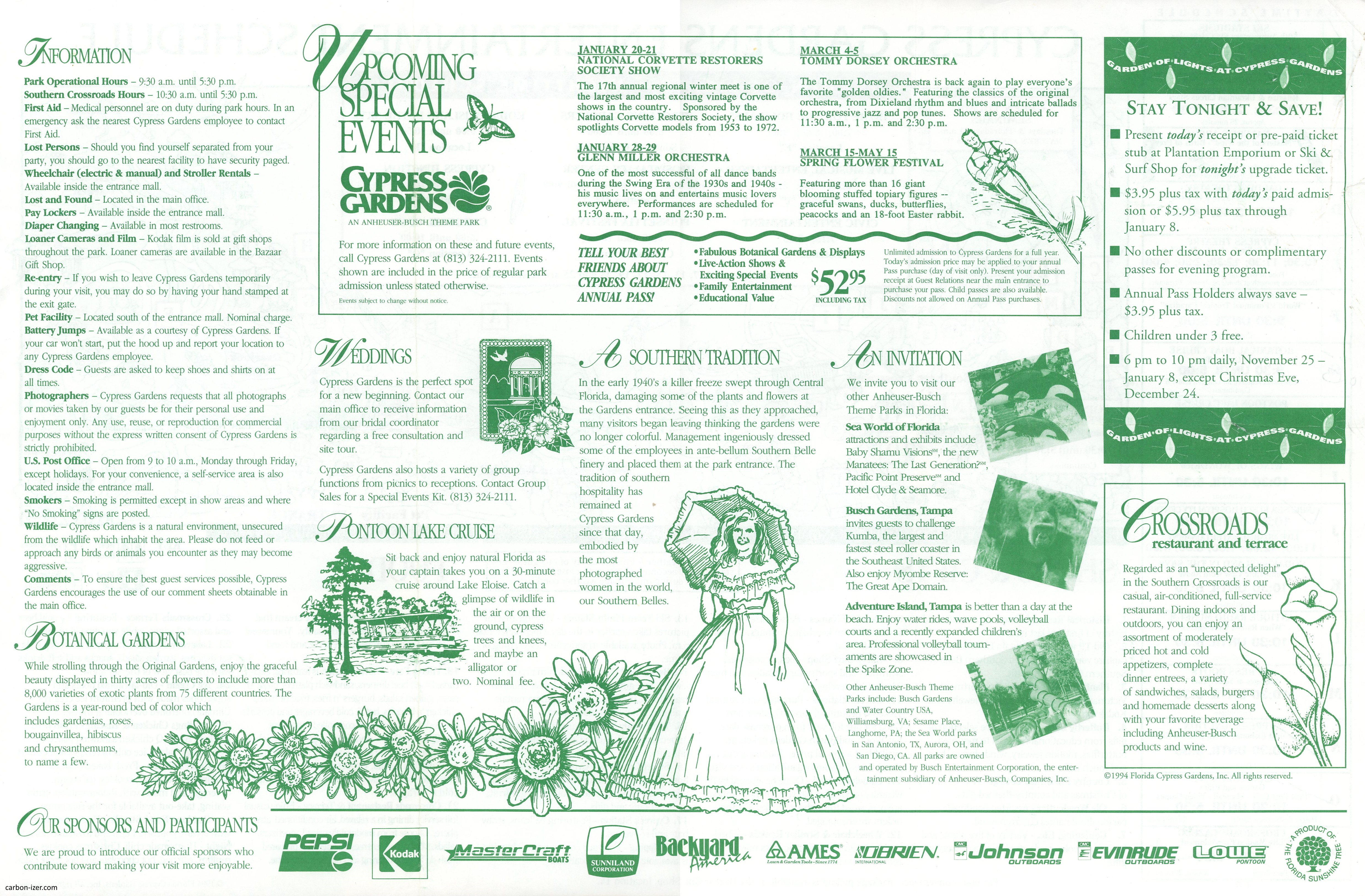 Some things to notice on the map:
- Yes, there are a lot of pen and pencil marks, and yes they are annoying. I decided to leave them in not only because it's hard to remove them but it also gives it a built-in watermark (in case this shows up on Pinterest or something).
- "Varieté Internationale" features Russian and Ukrainian circus performers. This was after the recent breakup of the USSR but before Russia and Ukraine couldn't be friends anymore. (If early 1990s media is anything to go off of, "Ukrainian" and "Russian" were practically interchangeable to westerners in those days).
- Smoking is permitted everywhere except specific no-smoking areas. The tolerance for smoking decreased in the 1990s and 2000s, by the 2010s (for an example), smoking was all but banned at the Disney theme parks (with specific nooks for smoking), and it went away entirely in 2019.
- I have not been to Legoland Florida but if you have, there are some things from Cypress Gardens that still exist in the modern Legoland Florida. The Village Fare restaurant was later the Market restaurant in Legoland, though apparently it is currently closed. Nearby, "The Big Shop" takes the place of Plantation Emporium.
- There's a mention of SeaWorld in Aurora, Ohio. The Cleveland area sounds like a weird choice for SeaWorld but it was actually the first SeaWorld park until it was sold in 2000 to focus on their more profitable properties in San Diego and San Antonio.
---
Return to Main Page
|
Return to Scans & Ephemera
|
Contact Me
---
2022 Carbon-izer.com