Woodway Drive
Woodway Drive is the name of U.S. Highway 84 west of Loop 340/Highway 6, and for the most part is a divided, limited-access avenue with frontage roads. I wouldn't call it a "freeway" per se because of its relatively low speed limit and antiquated exit/entrance geometry, but it is what it is.
In the past, I have stated that I used Wikimapia for the descriptions of some of the objects here, but it applies especially to this page. The Wikimapia descriptions I wrote back in 2011-2014 when I was visiting Woodway Drive fairly frequently serve as the backbone for this article, which was established from the objects as derived from March 2022 (things may have since changed). It's only fair, after all. Most of this was written around 2011-2014 originally, but has been upgraded and expanded for this page, including fixing any mistakes (and there were definitely a few, like stating a Motel 6 was demolished for medical offices). Hat Creek Burger Company was also added in this version. As a result, the "Version 1.0" of this page was absolutely massive with about 50 entries.
Version 2.0 updates Walgreens, adds sections, and removes H-E-B Plus (moved to Hewitt's page).
LOOP 340 to HEWITT DRIVE
Fairfield Inn & Suites / 5805 Woodway Drive
This says "Fairfield Inn by Marriott" on the side of the hotel. I stayed at this hotel back sometime in 2005. According to later research, the hotel (website here) was opened in 1995.
American Bank / 5901 Woodway Drive
This bank building was built in 1982 originally and rebuilt in 2019. It has been American Bank for years (possibly even dating back to the 1980s).
Extended StayAmerica / 5903 Woodway Drive
Home of "Classic Tint USA" from 1989 to 1994. Since 2001, it has been an Extended StayAmerica.
Heat Wave Custom Window Tinting / 5925 Woodway Drive
This business opened in late 2013 and was previously abandoned for years. Below the current signage says "Custom Costumes Rental Shop" (with an arrow), this was at 6618 Old McGregor Road (though appears to have since closed) Search Hotels
6612 Woodway Drive
This vacant building was once the home of C&M Outdoor Power Equipment (legally C & M Air Cooled Engine Inc.), which operated from 1995 to late 2018. It sold lawnmowers and other equipment.
Hornet Signs / 5999 Woodway Drive
This was Discount Floors Superstore from 2006 up until sometime in 2012. In December 2012, Hornet Signs opened and within a year (September 2013) caused a number of ruffled feathers on social medias with a decal for truck hatches that appeared to be, at first glance, a kidnapped woman in the back of a truck. It wasn't quite the publicity they were hoping for, but they lived through the ordeal.

Meanwhile, Discount Floors along with a few sister businesses (The Top Shoppe, Goldstone Marble & Granite) were replaced by Design Superstore on Franklin Avenue, now known as DesignCo.
Super 8 / 6624 Woodway Drive
This was built in 1995 as a Best Western according to records. It has been a Super 8 since at least 2008.
La Quinta Inn & Suites / 6003 Woodway Drive
This hotel was constructed in 2009.
Luigi's Italian Restaurant / 6025 Woodway Drive
Formerly located in McGregor, Luigi's built anew here and opened in August 2021. Prior this, it was a vacant lot previously occupied by Kendrick Tire & Auto Repair Center. While it was closed and torn down in 2015, the last two years of its life had updated road signage indicating that it was a "NAPA AutoCare Center" franchise, and that signage remained several years after its demolition.
Woodway Medical Plaza / 6101 Woodway Drive
Two story office building designed for medical tenants, part of the Providence Healthcare network (later Ascension after a merger). It was all ready to go by early 2013 (though some sources say 2014). It features (as of 3/22) Ascension Medical Group Providence at Woodway (#200) and Plaza Pharmacy (#100). This replaced a veterinarian office (simply called "Animal Clinic" at 6201 Woodway (1991-2011) and Wales Industrial Service (6101). WIS had been operational since 1978.
Best Western Plus / 6808 Woodway Drive
This hotel was built in 2004 as a Holiday Inn Express. In 2015, the hotel changed brands to Best Western Plus.
Waco Winnelson / 6801 Woodway Drive
Until the mid-2010s, this long-running plumbing supply business (a Winnelson dealership) had a nasty decades-old sign (it has been in business since 1992 though the structure indicated far longer) that read "WINNELSON PLUMBING SUPPLY" (or "WINNELSON PLUMB INGSUPPLY", from the east) but it received a repaint and new signage, with the lower section now advertising the "Bath & Kitchen Idea Center".
The Gilded Lily / 6803 Woodway Drive
Since late 2016, this antique store has operated in a space that was, in the early 2010s the home to "Window World" (which has since moved across to the other side of the highway).
Advanced Carpet / 6805 Woodway Drive
Advanced Carpet (flooring shop, more than just carpet) has been here since 1989. Around 2015, it replaced its large green awning with bold lettering for a more modern but less noticeable facade.
6807 Woodway Drive
According to records, this small office building (from the mid-1980s) has leased to Texas Document Solutions.
Lockbox Self Storage / 6809 Woodway Drive
This self-storage center has been here for over three decades.
Darr Equipment Co. / 6917 Woodway Drive
Heavy machinery (inc. CAT) rentals. In the late 1980s to the mid-2000s it was Texas Kenworth but at some point changed hands to CAT. Officially, this was around 2012, but the Darr name has been on the building at least since 2008.
6931 Woodway Dr
From 2005 to at least through 2019, the front half of this building was occupied by Med-Equip, a medical equipment store. Med-Equip moved to a new location later (and had moved from a smaller location before), and Google indicates that the front section is now "Walker Sleep Waco".
Londonderry Plaza / 7003 Woodway Drive
This medical office center (along with its sister building 7005 Woodway) were converted warehouses.
Hillcrest Dental Care / This dental clinic looks like a restaurant, because it was. It opened in 2006 as a RibCrib (Rib Crib) but closed two years later. The building was purchased in 2010 and converted into a dental practice. A bit more on RibCrib (including a picture of it when it was still a RibCrib) can be seen here on a page I wrote previously about it.
Regal Jewel & ScreenX / 7200 Woodway Drive
Maddeningly little is known about this 16-screen movie theater owned by Regal Entertainment. The theater was built in 1997 per MCAD and also known as Regal Jewel Stadium 16. It appears to have been built as Hollywood Theaters (as the facade still is), which was bought by Wallace Theater in 1999 and subsequently bought by Regal Entertainment in 2013. It may or may not have been officially known as "Wallace Hollywood Jewel Theater" at one time.
Hat Creek Burger Company / 101 Archway Drive
One of the few restaurants in the stretch, this Austin-based hamburger chain faces Woodway but its driveway is only off of Archway Drive behind the restaurant. Hillcrest Dental Care/RibCrib never had a direct entrance to Woodway Drive either, but it did face the road.
Motel 6 / 7007 Woodway Drive
Tax records indicate this was a Ramada Inn originally (2000 to no later than 2007), then it was a Travelodge from c. 2007 to around 2011-2012. In 2019, it became "Woodway Inn" but it has since reverted to Motel 6. Interestingly, I seem to remember one of the hotels on the south side, either 6624 Woodway (or possibly even 6908 Woodway) being known as "Woodway Inn & Suites" briefly.
Sunbelt Rentals / 7011 Woodway Drive
In 1999, NationsRent of Texas built here, and in 2006 it was acquired by Sunbelt Rentals, which rebranded it by fall 2007 with its distinctive green-colored building and construction equipment rentals.
Chevron / 7325 Woodway Drive
This was a Texaco in the mid-1990s to around 2003 when it was converted to Shell. The Shell mysteriously closed up for a few years in 2013 and re-opened again for a few more years until becoming a Chevron in 2015. The actual station dates back to 1973.
Interim HealthCare of Waco / 7401 Woodway Drive
This house-like office building replaced a 1950s-era gas station (1956), living most of its life as Mobil (though briefly received BP brands as late as 2007), but in its sunset years had become "A & JEH Food Mart", a convenience store that no longer sold gas. A & JEH was completely demolished sometime in late 2013, with a new foundation poured by October 2014. The A & JEH branding (on a sign distinctly shaped like a Mobil sign) remained up even into late 2014, and its current tenant, a hospice/home health agency, uses the very same sign.

In the late 1990s and early 2000s, the convenience store here was TETCO, a brand that by the early 2010s would be acquired by 7-Eleven.
7407 Woodway Drive
Advertised as "Furniture Center and Casual Shop", and two distinct buildings and shops, "Furniture Center" legally has the address of 7405 Woodway, but both stores have been operating together as one entity since at least 1990.
BancorpSouth Bank / 101 Santa Fe Drive
This bank was built in 2001 at the northeast corner of Santa Fe Drive and Woodway Drive as "Texas First State Bank" (with the "Texas First" is emphasized as the brand name). In late 2019, Texas First State Bank was merged with BancorpSouth and eventually rebranded.
7608 Woodway Drive
This used to be Davis Coffee Company, a local Waco wholesale coffee company that has been around since at least the 1950s (probably not at this location). Around the mid-to-late 2010s it quietly closed, and in 2019, the building was renovated to include Slow Rise Slice House (a pizza restaurant), Common Grounds (a branch of a coffeehouse near Baylor), and Native Sons Coffee Roasters (local coffee roasting company).
Regent Care Center of Woodway / 7801 Woodway Drive
This is part of a chain of (as of this writing) eight nursing homes, and was built in 2001. On a personal note I am probably more aware of this establishment than any other in the stretch between Loop 340 and Hewitt Drive.
Colony Apartments / 8014 Woodway Drive
These apartments were originally built in the mid-1980s and have 224 units.
8100 Woodway Drive
As of 2012, this was "Tri-Supply Showroom" and by 2015 it had become "The Backyard & Patio Store". This has since closed.
Central National Bank / 8320 Woodway Drive
This building was built in 1976. It is currently unknown if Central National Bank was the original bank here.
KWKT-TV / 8803 Woodway Drive
This is the home to a local news station and FOX affiliate. According to Wikipedia, KWKT has been operational since 1988, but MCAD indicates the television studio dates back to 1979. What was here originally? Has KWKT been here since 1988, or did it move later?
Midway Shopping Center / 100 Midway Center
Small shopping center with two buildings. There's a Marco's Pizza here as well as a few others. The parking lot is directly connected with Mustang Drive behind it.
Wells Fargo / 8900 Woodway Drive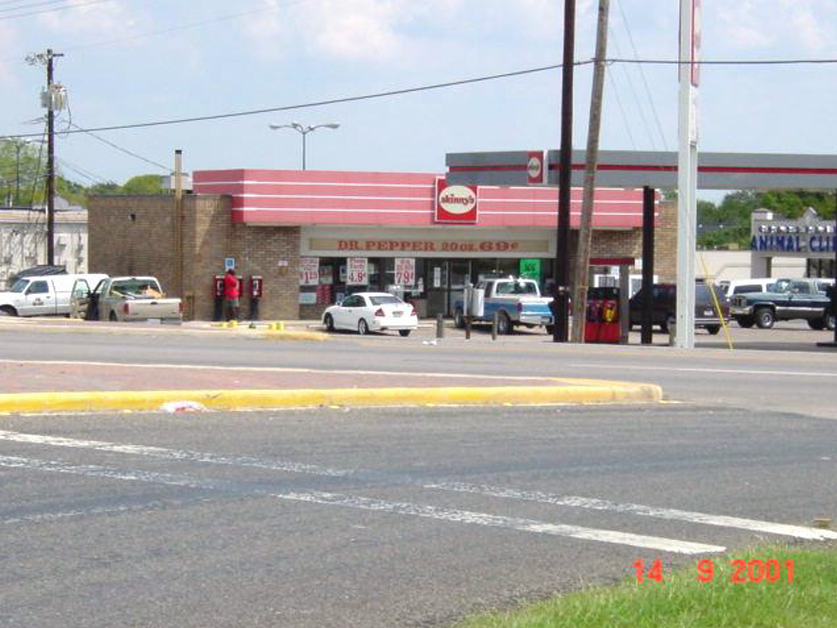 Many years ago, this was a 7-Eleven and followed the fate of other the stores in the area, sold to Circle K in 1988 and around 1999 sold to Skinny's. While the Skinny's gained a Fina affiliation in the 2000s, it was, as of 2001, self-branded. (Picture courtesy MCAD).
BEYOND HEWITT DRIVE
Check out the Hewitt Drive page
here
.
CVS/pharmacy / 9001 Woodway Drive
This ubiquitous drugstore chain store was built in 1998 as an Eckerd drug store, which relocated here in July 1998 from a location in Meadowlake Center (see Loop 340 page). It converted to CVS in summer 2004 when most of its stores were sold to CVS.
Walgreens / 9101 Woodway Drive
The entire block stretching from Woodway to Bryce Drive and from Walgreens to 9110 Jordan was where Midway High School was prior to fall 2003 and was demolished soon after. The old high school predated 1970, and the Walgreens here was first in the redeveloped space (still about 60% empty, though this is still changing—a Dutch Bros Coffee stand will be opening behind the Walgreens soon) and opened in August 2005.
PNC Bank / 9103 Woodway Drive
As of late 2019, this was still branded as "BBVA Compass" (despite by that time, BBVA dropping the Compass name). Who knows, maybe it still is. Either way, legally it is PNC Bank (which rebranded other locations as of October 2021). This small but modern bank with drive-through was completed sometime around 2006-2007, not long after Walgreens was built.
9110 Jordan Lane
A privately owned 24 hour emergency room (Premier ER & Urgent Care) and a leasable space, which was originally the third location of Fuego Tortilla Grill, a Mexican-inspired eatery serving a menu of almost exclusively tacos, all with varied ingredients. The restaurant opened in January 2015 but closed in August 2016 so the owners could focus on the other restaurant in Waco that opened a year prior. In September 2017, Fuego's vacant space was replaced with Brown House Cafe.
Westview Nursery & Landscape / 10000 Woodway Drive
This garden center has a long-standing location on Valley Mills Road but this particular location opened in 1985.
First Woodway Baptist Church / 101 Ritchie Road
First Woodway Baptist Church has been at the southeast corner of Ritchie Road and Highway 84 since 1990, and has been expanded, including a new building across Ritchie Road that was formerly owned by Curves.
The Summit at Bosque Ridge / 100 Ritchie Road
This used to be the corporate headquarters of Curves International, the women's fitness company, and at one time, hosted 160 employees at the location. In 2016, the building was sold and by 2019, the offices had downscaled significantly to only occupy a portion of "The Summit at Bosque Ridge". This was denoted on the sign as "Curves/Jenny Craig", with the companies officially combined since 2013, shortly after Curves parent acquired Jenny Craig from Nestlé. Curves eventually moved to 400 Schroeder Road in Waco.

To the immediate south of this building is another building Curves owned and later sold to First Woodway Baptist Church.
Lone Star Ag Credit / 13525 Sandalwood Drive
This attractive building was built in the early 2002 and is a branch of Lone Star Ag Credit.
Midway Independent School District / 13885 Woodway Drive
Midway ISD made its new home offices here around 2011. A long driveway connects it back to Ritchie Road.
Woodway United Methodist Church / 21000 Woodway Drive
This church has been here since 2006. Just east of here is the first outlet directly onto Woodway Drive, Wickson Road and Hannah Hill Road (Wickson originally could go across the road, but this has been cut sometime since the late 1990s or early 2000s). To the west is where Woodway Drive goes over Cloice Creek, and a turnaround road goes for the frontage roads, with two-way frontage roads going beyond it, and the westbound frontage road ending by essentially merging with westbound Woodway (and the other lane being an exit from Woodway). These two way frontage roads west of Cloice Creek were in place since the early 1960s all the way until the late 2010s when construction on extending the freeway and building an overpass for Speegleville Road was done.

West of Cloice Creek, the Woodway name is dropped.
Valero / 25930 West Hwy. 84
This Valero (initially a large Corner Store, by 2019 it was a Circle K) opened around March 2015. It includes a Subway, a car wash, and even a large diesel area designed for trucks. It also sells E-85 gas.
To the west is McGregor, which will we hopefully cover someday in an all-new format. Highway 84 continues to Gatesville and eventually all the way to Early, near Brownwood.
Back
|
Return to the Main Page
|
Email
---
Copyright 2022 Carbon-izer.com, this site is not affiliated with any businesses listed here.