and working around clockwise until it exits Waco heading west as Highway 6. This page covers Loop 340 (and Highway 6) clockwise from I-35 (where Valley Mills/Lake Shore Drive/Industrial Boulevard ends to Lake Waco. It reverses the order the previous page was in and adds several new items and bits of information.
Version 7.0 makes several fixes to existing entries, the additions of Wendy's (near the former Wal-Mart), Texas Car Title and Payday Loan, Skate Country, Saltgrass Steak House, and Richard Karr Buick GMC. 7-Eleven has been removed (will be re-added to Woodway Drive at a later date).
Beyond the cluster of businesses near the Interstate, this section is mostly light on businesses and goes through Bellmead (where the highway goes over US-84, heading out toward Corsicana) and La Vega.
At this intersection, Highway 6, which continues to the southeast toward College Station, switches to being on Loop 340. You can continue down Highway 6 under
. There used to be a railroad crossing (a spur of I&GN) until around 2016 when it was officially abandoned, and stoplights were added at the intersection a few years later. Prior to the stoplights, only the left lane of Loop 340 continued clockwise, the right lane was a right-only yield lane. This was likely because when Loop 340 was originally built in the late 1970s, it dead-ended at the highway, with Highway 6 continuing into Waco.
This section was largely four-laned starting in the mid-2000s (with frontage roads also added), the overpass over Old Robinson Road began work in 2017. One autumn day I drove through the stoplight on the last evening the road had before traffic shifted to the frontage roads. The section west of Robinson Road predated 1970.
Conoco / 3601 Marlin Hwy.
A Conoco sits at the northwest corner just before where Highway 6 heads southeast towards College Station (and ultimately, Hempstead). Some records say this was "Tommy's" (Tommy's #18) as the convenience store but it doesn't seem to be on the facade.
M. Lipsitz & Co. / 4205 Texas 340 Loop
This local metal recycler opened this facility sometime around 2004 or 2005, and I remember when I spied it and its brand-new rail spur (though this "brand-new rail spur" didn't last long before it became more disused, and thus rustier, than the main line). This replaced their spur in east Waco, which had more crossings (including a crossing at West Waco Drive and Dallas Street that practically went right through the intersection, though this was almost never used and I'm not even sure was actually connected).
Lindsey Contractors / 701 S. Loop 340
The headquarters of this roadway building company have been here since the mid-1990s, but it was bought by a larger company in 2011.
Loop 340 Overhead Door Co. / 817 S. Loop 340
Overhead doors for the garage or commercial uses.
T&W Tire / 945 S. Loop 340
This business was finished in 2017, several years after its neighbors were.
Built Wright Construction / 963 S. Loop 340
Contracting construction company
Red Oak Apartments / 4510 S. 3rd Street
One of the outcroppings of the Baylor-area apartment boom. This was built in 2005, right before 3rd Street was cut off by the widening of 340.
Area Wide Protective / 1800 S. Loop 340
In 2016, AWP acquired (and later rebranded) the predecessor business here, N-Line Traffic Maintenance, a supplier of barricades, barriers, and other road construction signage.
Phil's Trailer Sales / 3100 S. Loop 340
Moving from their old 1711 Circle Road location around 2015, Phil's Trailer Sales occupies this spot just off Loop 340 and Robinson Road. It has a back entrance into a residential subdivision, something that's great for access reasons but the neighbors must not be happy about.
Encompass Health Rehabilitation Hospital of Waco / 3600 S. Loop 340
This rehab hospital opened in July 2021.
---
INTERSTATE 35 to U.S. HIGHWAY 84
Here, Loop 340 crosses Interstate 35 once more. The Interstate 35/Loop 340 interchange was rebuilt in the mid to late 2000s. It's a bit hard to describe but it made the interchange more direct without the numerous yield spots and tight curves that plagued the old ramp. For whatever reason, though, you can't go from westbound 340 to northbound I-35 without being funneled through the New Road stoplight. Check out the I-35 page here.
---
Central Texas Marketplace / 2400 W. Loop 340
This power center began construction in 2003, opened its first phase by 2005, and still hasn't still built out everything yet. This PDF from 2016 doesn't even begin to cover half of it (literally). A later phase was built facing Interstate 35 (see that page).

I don't have a full chronology of every tenant, but I can cover a few things.
- 29 and 29a used to be Sports Authority (closed in December 2014, before the rest of the chain kicked it—turns out it was one of the worst-performing stores in the chain). Later half of it became F21 Red, which replaced the Forever 21 at Richland Mall, but this store was closed in 2019 (Richland Mall dodged a bullet!)
- Dressbarn and Pier 1 Imports died with the bankruptcy of their respective chains.
- Belk was one of the first big tenants in the center, and one of the first Texas Belk stores that was in what could be considered a major market. This Belk is still open for now, who knows what will happen with Belk's future.
- In 2020, a Wendy's (2724 West Loop 340) opened next to the Newk's.


Walk-On's / 5601 Crosslake Pkwy.
Walk-On's Bistreaux & Bar (as it was formally known back then) opened their Waco location in July 2018. It's one of the restaurants in the "Legends Crossing" development, anchored by the Baylor Scott & White hospital.
Los Cucos Mexican Cafe / 2805 W. Loop 340
Similar to what I've done to other pages, I'm going to borrow what I previously wrote for Wikimapia regarding this place: this restaurant opened in May 2018. From May 2015 to December 2017 this was Heitmiller Steakhouse, and from 2012 to June 2014 it was a Quaker Steak & Lube. The former closed because of the owner's decision that a second location in Waco proper wasn't working out, and the latter had sparse lunchtime crowds and a motorcyclist hangout hangout. (After Quaker State closed, the bikers migrated to a Twin Peaks up the road, would soon lead to disastrous ends).
Saltgrass Steak House / 5600 Legend Lake Pkwy.
This Landry's chain restaurant opened here in 2015.
Chuy's Tex-Mex / 5501 Legend Lake Pkwy.
Chuy's entered Waco in late 2009 to great financial success. It was one of the first restaurants in the Legends Crossing area.
CEFCO / 5601 Bagby Avenue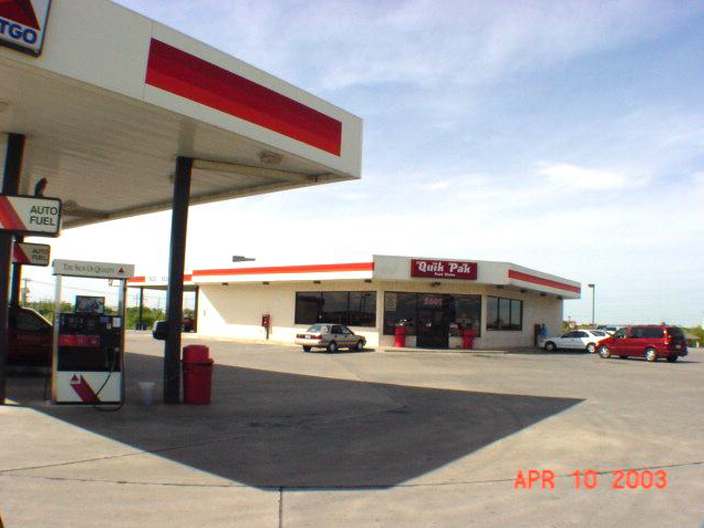 This is currently a CEFCO and opened sometime in 1997-1998. To me, however, it does have a bit of a special history. As I mentioned in my original blog post regarding Church of the Open Door, my grandfather (who lived in Waco at the time) was looking for a new place to live, and eventually settled in Hewitt rather than the more central Waco area. As a result, starting in 2002, the route to Waco was significantly different—instead of taking the LaSalle exit off of the highway and working through Baylor University, we exited much earlier at Loop 340 south of town, and exited Bagby Avenue, but it felt very different from the Bagby I grew up with off of Valley Mills Drive, and was very empty. It was before the major developments Central Texas Marketplace or Legends Crossing, so there was just an isolated Citgo station with Quik Pak as the convenience store, as illustrated above by the picture provided by McLennan County Appraisal District. By 2007 it was a Chevron/CEFCO (CEFCO replaced Quik Pak in 2007, though the Chevron change might've come earlier). Sometime between October 2017 and June 2018 it dropped the Chevron name and became a full CEFCO.
Bird Kultgen Ford / 1701 W. Loop 340
County records indicate Bird Kultgen Ford has been here since 1986, with an expansion done in 1999.
Jeff Hunter Toyota / 1440 W. Loop 340
Jeff Hunter Toyota relocated here in 2001 from 4501 West Waco Drive. An expansion was done in 2009.
Richard Karr Buick GMC / 900 West Loop 340
This car dealership was opened around 2013.
CEFCO / 6201 Imperial Avenue
CEFCO #41 has been a CEFCO since around 2000 and converted to the in-house CEFCO name (from Shell) for gas sales around early 2017 (or December 2016). It's likely it was Texaco prior to 2003 but the gas station's early history—it was built in 1971—is still largely unknown. Archived newspaper searches indicate that it was ALWAYS a Texaco.
College HUNKS Hauling Junk & Moving / 120 West Loop 340
Former long-time home to DuPuy Oxygen (hence the names of the nearby road, Oxygen and Du Puy). It moved around 2011 and later leased its former space to Diamond Athletics before it too moved moved in 2018. By 2022 it had become College H.U.N.K.S. Hauling Junk & Moving.
Whataburger / 100 W. Loop 340
Whataburger (#357) has been here since 1983 though was originally numbered as 1100 S. Loop 340 (possibly accidentally).
---
U.S. HIGHWAY 84 to Lake Waco
This where Loop 340 crosses Highway 84 (again), Woodway Drive to the west and Waco Drive to the east. The split to Franklin Avenue is just east of the interchange as well. Frontage roads of both highways meet but there's no additional ramps.

Check out
going out toward McGregor.
Beyond Lake Waco, eventually Highway 6 rejoins Valley Mills proper. Northwest of Hico, Highway 6 (now with the US-281 shield) splits, officially ending this long road.
Copyright 2021-22 Carbon-izer.com, this site is not affiliated with any businesses listed here.