Valley Mills Road in Waco
The wide Valley Mills Road in Waco is a bit of a misnomer. Originally, this was the highway that connected to Valley Mills, Texas, until an expansion of Lake Waco moved the highway south. However, due to new connections, Valley Mills Road does continue into Loop 340 eventually as it goes clockwise, and
does
in fact connect to Valley Mills after all.
Version 5.0 adds 1717 S. Valley Mills Drive, Spec's, Little Caesars, Popeyes, Glide Xpress (former Pizza Hut), Taco Bell, Spiciness Mexican Grill (former Taco Bell), removes 301 South Valley Mills Drive (demolished Ryan's, merged into the movie theater entry), updates Sunoco (overpass note), AMC Classic Galaxy 16 (Ryan's merge and new photo), and Express ER (new date for PoFolks).
---
WACO CIRCLE to JACK KULTGEN EXPY.
This small section is where the road starts.
Magnolia Table / 2132 South Valley Mills Drive
This restaurant was built and opened as the Elite Cafe in 1941 (as its second location, the original was in downtown Waco and closed sometime by the late 1950s) and operated (though not continuously) until around 1999 when it was closed for renovations.

It reopened as the Elite Circle Grille in 2003 (which I seem to remember opening before 2003, but I'm going off of Waco History's version), which I remember also giving it a new tannish-red exterior from the pale blue color it used to be painted. Also gone was a mural on the outside depicting diners on the inside eating dinner.

Before closing permanently in February 2016, it had one more name change to "The Elite". In February 2018, it renovated and reopened as Magnolia Table, owned by Chip and Joanna Gaines of "Fixer Upper" fame, and was so crowded in better days (pre-2020), patrons had to use the newly-built auxiliary parking off of Circle Road.
JACK KULTGEN EXPY. to SPEIGHT AVENUE
A large ramp causes Valley Mills going westbound to go from two lanes to four lanes. Eastbound, Valley Mills loses its fourth lane when it splits off as a yield ramp to a southbound frontage road, and its third lane when it becomes a left hand turn lane to the northbound frontage road. Check out
our I-35 page
!
---
H-E-B Plus! / 1821 S. Valley Mills Dr.
This modern H-E-B Plus! store opened August 24, 2013 at 120,000 square feet. The store and its auxiliary features (a small strip center and the H-E-B gas station) replaces a few other buildings, including the old University Middle School site (closed in 2010 and demolished in 2011, 1820 Irving Lee Street) and the Mardi Gras Motel at 1901 S. Valley Mills, as well as Morgan Buildings and Spas (2825 Jack Kultgen Expy.)
Zoës Kitchen / 1810 S. Valley Mills Drive
One of the first restuarants in the University High School redevelopment and opened in September 2015.
Chili's / 1800 South Valley Mills Drive
Chili's Grill & Bar opened in April 2016 at the northeast corner of Bagby and Valley Mills, moving from a location at Bosque.
Jack in the Box / 1724 S. Valley Mills Drive
Located on the northwest corner of Bagby and Valley Mills Road, I vaguely recall when this Jack in the Box was brand new (1999) but I don't remember anything before it. It's worth noting that I never actually purchased anything from here until nearly 20 years after it was built. The Valley Mills stoplight is the last major junction of Bagby. An eastern section exists near Baylor, but it is separated by I-35. However, this section goes all the way to Hewitt and beyond.
1717 S. Valley Mills Drive
In March 2016, a Pizza Patrón opened, which replaced a Pizza Patrón in the nearby shopping center. This store closed less than two years later. The Papa John's before it at this address operated from 1995 to the mid-2010s. A daiquiri shop operates in the space today; however, little can be found about it.
---
SPEIGHT AVENUE to MEMORIAL DRIVE / DUTTON AVENUE
CVS/pharmacy / 1513 S. Valley Mills Drive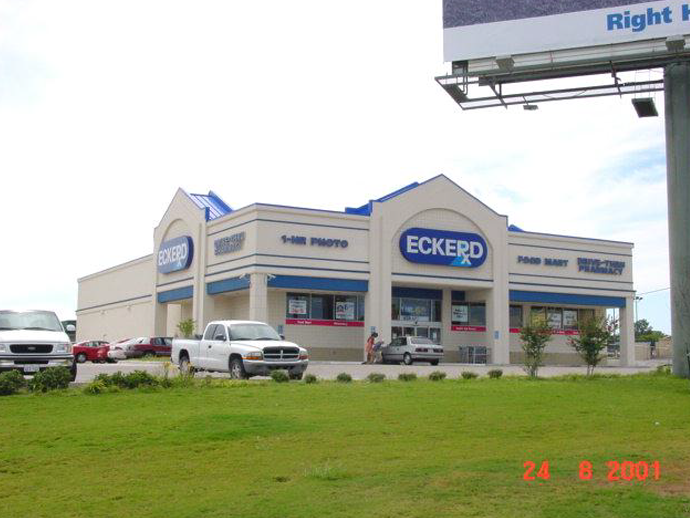 This CVS started life in 1999 as an Eckerd, and was originally located at 1511 Southgate Center (the plaza behind it) instead. It converted to CVS in 2004 (with some new red trim). Picture courtesy McLennan County Appraisal District.

Eckerd replaced a few other buildings at the strip center and a gas station.
Eskimo Hut / 1500 S. Valley Mills Drive
A gas station has been on this site since 1960. The oldest Google Maps Street View shows it as "StarUSA" (don't know where the "Jack's" came in). GasSigns.org shows a StarUSA in an unknown Waco location and mentions StarUSA locations used to be Fina, and tax records do show Fina at this spot around 2000-2001.

Eskimo Hut came inline by the early 2010s, maintaining the gas station, but sometime around late 2016 Eskimo Hut repainted and removed the gas pumps.
Spec's Wines, Spirits & Finer Foods / 1434 S. Valley Mills Dr.
This was Frank Dicorte's Bad Bear Liquor from its opening in 2004 to spring 2014.
Little Caesars / 1320 S. Valley Mills Drive
Opened December 2005 and replaced the long-running Jack 'n' Jill Donuts, which had been here since 1979 and closed in 2005.
Catfish King / 1201 South Valley Mills Drive
This was covered at a separate page previously, in which I explained my childhood intrigue with it and the disappointing reality.
Exxon / 1101 South Valley Mills Drive
Growing up, this Valero was a Diamond Shamrock gas station (though I can't remember if "Corner Store" was used in the DS days). It switched to Valero after 2005 when the Diamond Shamrock name was phased out, but as of November 2019, the station still had the Corner Store branding, an interesting anamoly since the other Valeros by summer had switched to Circle K. By January '21, it had become Exxon, but STILL with the Corner Store branding. Is it supposed to be a Circle K or is it a zombie store? Good question...
Harmony School of Innovation / 1110 S. Valley Mills Drive
Charter school that opened in a former H-E-B. See the Carbon-izer page: H-E-B on Valley Mills Drive
---
MEMORIAL DRIVE / DUTTON AVENUE to FRANKLIN AVENUE
---
EZPAWN / 1000 S. Valley Mills Drive
The building was much smaller back then, but back in 1989 this was Circle K (before they sold out and years before Circle K reappeared in a new form catty-corner...sort of). Today this is EZPawn with a much larger building.
AutoZone / 905 S. Valley Mills Drive
An old AutoZone location, here longer since I've been alive. It replaced a Piggly Wiggly, which had relocated from this building (from an older building in the center of the lot). Piggly Wiggly's address was 3407 Memorial, and the modern MCAD entry for AutoZone still has it. The earliest reference I can find for Piggly Wiggly is 1953 (it was Piggly Wiggly No. 3 locally) and the store was rebuilt in 1978. I'm not sure when Piggly Wiggly went away in favor of AutoZone, but the Pig was still here in 1983. McLennan CAD indicates that the AutoZone opened as Auto Shack (former name), and Wikipedia says that Auto Shack became AutoZone in 1987, indicating that sometime in the 1980s Piggly Wiggly closed for the modern AutoZone.
Katie's Frozen Custard / 602 S. Valley Mills Drive
The previous gas station last operated as "Gasman" and personally padlocked by the State Comptroller herself, following the owner's tax evasion.

In June 2002 (according to their website), Katie's Frozen Custard opened. It has no interior seating (seating was available under the old gas canopy, but is currently closed).

According to a late 1980s directory, this was a Bell gas station.
Sunoco / 603 South Valley Mills Drive
The Stripes (#2427) here connects to the stoplight. When the Stripes originally opened here in 2013 it was a self-branded store (gas canopy being Stripes) but after Sunoco took over the chain, it switched to a Sunoco brand. It has a Laredo Taco Company inside. As of this writing, I'm not sure if it is still a Stripes or has converted over to a 7-Eleven (it does, however, have a 7-Eleven store number now, #40533).

West of Clay Avenue, the westbound fourth lane of Valley Mills merges in with the other three before the overpass, while the eastbound fourth lane is created from the entrance ramp from the Franklin Avenue overpass. It also goes over two railroad tracks.
AMC Classic Galaxy 16 / 333 South Valley Mills Drive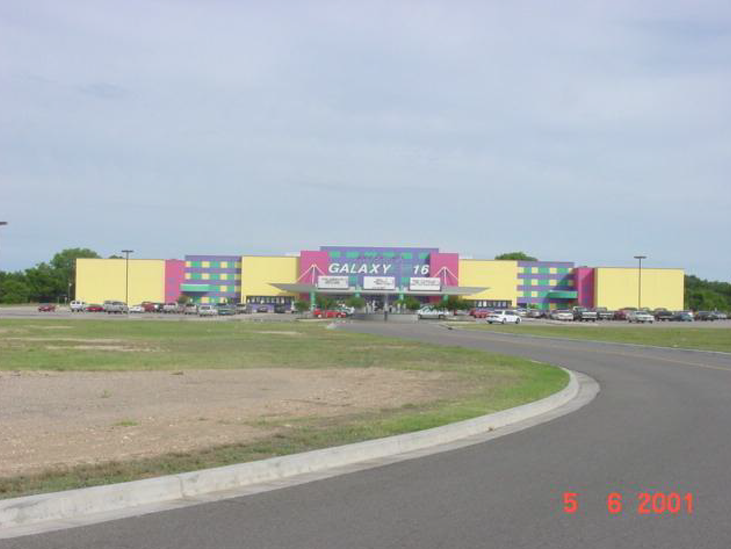 Formerly the Starplex Galaxy 16 (until Jan. 2016), this movie theater has 16 screens and was built in 1998.This lives on in the form of Precision Drive to the southwest of the theater (which Precision had access to) but the theater has no access to Precision Drive.

In front of the theater was Ryan's Family Steakhouse at 301 S. Valley Mills Drive (see picture here). It was accessed from Franklin Drive and off of Precision Drive and operated from 1992 until November 2008, when it closed due to the poor economy. The economy has had ups and downs since then, but Ryan's (as a chain) never recovered...in 2006, when it was acquired by Buffets, Inc., it had about 260 restaurants, but by November 2019 (before the pandemic took hold), the entire chain was down to 67 restaurants, with Ryan's composing about 16 locations.

In the meantime, the former Ryan's soon reopened as A-1 Buffet & Grill (a Chinese buffet) and later renamed/reopened as Ace Buffet & Grill, but it closed in fall 2016 and never reopened. This wasn't helped by construction of Franklin around 2005 that made it much more difficult to access Ryan's from the roadway (you had to go back around from Cheddar's Drive).

In early 2021, with Ryan's and its sister chains now collapsing in total failure, the empty building was torn down.

From 1960 to around 1997 this was the home of Precision International Co. (plating), which was demolished in the mid to late 1990s prior to construction, and lent its name to the road that Ryan's connected to.
---
FRANKLIN AVENUE to NORTH NEW ROAD
Franklin serves as the "dividing line" between North and South Valley Mills Road. It is the only interchange on Valley Mills where Valley Mills goes over Franklin like a highway overpass.
---
Knights Inn / 3829 Franklin Avenue
I don't intend on a Franklin Avenue page anytime soon, but I did write about this one previously, and it is on one of the corners.
300 North Valley Mills Drive
This building was originally a Wal-Mart and today is divided into three spaces, Planet Fitness, Dirt Cheap, and Tractor Supply Company. Tractor Supply looks like it's been there since not long after Wal-Mart moved out in the early 2000s to its location at New Road and Franklin, while Planet Fitness (occupying the main entrance) moved in by January 2014, replacing nothing. The east end of the store was originally Frugal's Outlet, which operated in the early 2010s before closing by late 2014. Though planned to be "Supermercado Guanajuato" according to a late 2015 announcement, it would reopen as deep discounter Dirt Cheap in July 2016. I actually ventured into Dirt Cheap in 2019, and while it was interesting from a retail establishment, I don't think I've ever seen anything as dirty or disorganized. I agree with what Mike from Houston Historic Retail has said, more "dirt" than "cheap"...
Popeyes Louisiana Kitchen / 420 N. Valley Mills Drive
This store building is actually owned by Carl's Jr., and was the restaurant from 1984 to 1987 when it was closed and leased to Whataburger. Whataburger later moved in 2015 to a new location at 1101 North Valley Mills, and Popeyes has been here since August 2017.
Westview Village / 501-581 North Valley Mills Drive
I need to dig up my Westview Village photos and make a dedicated page for it sometime, but this shopping center has been around since the late 1950s. If you're into old retail, it's a real treat, with the semi-enclosed arcade being the best feature.
---
NORTH NEW ROAD to LAKE AIR DRIVE
---
Golden Corral / 618 N. Valley Mills Drive
Chain buffet restaurant opened in late 1992 at this location. A bar called "Misty's" operated here from 1988 to 1991 in a different building (demolished for the Golden Corral).
Schlotzsky's / 621 North Valley Mills Drive
This was built as a Krispy Kreme donut shop that opened in February 2004 but unfortunately closed down less than two years later (September 2005) and later became Dickey's Barbecue Pit (closed 2008) before becoming a Schlotzsky's, which opened in 2009. A bit of trivia is that it opened as the very first "lotz better" prototype store before the "Austin Eatery" theme started to sweep the chain around a decade later.
Glide Xpress Car Wash / 626 N. Valley Mills Drive
Pizza Hut was here from 1991 to 2018. Sometime around 2019 the closed store was torn down for a car wash.
Arby's / 723 N. Valley Mills Drive
This Arby's (#300) is a very old store, complete with a huge "Arby's Roast Beef Sandwich Is Delicious" sign at last check, built in 1967, and perhaps one of the first Arby's stores in Texas. The earliest ad I can find of this location is from 1971 advertising an eggnog milkshake.
Taco Bueno / 815 N. Valley Mills Drive
The oldest and now only remaining Taco Bueno in Waco, here since around 1987 but has seen little changes other than a newer menu (and corresponding increasing prices!)
Valle's Mexican Food / 900 North Valley Mills Drive
This location has bounced between sandwiches and Mexican. In 1968, this opened as Saxons Sandwich Shoppe but by 1973 was fast-food Mexican food, Taco Torch (one of the first "Mexican fast food" stores of Waco) and actually Store #17 of the chain (which predominantly was in Central Texas). The last reference I can currently find for it is 1989. In 1992, it became Kenny Rogers Roasters, then became Schlotzsky's Deli in 1994. Taqueria Jardin de Jalisco occupied the space between 2011 and 2017, and it is now Valle's Mexican Food.
LAKE AIR DRIVE to COBBS DRIVE
Dunkin' / 1200 N. Valley Mills Drive
In 1971, this was Monterey House, a Mexican restaurant chain. By 1990, it was Vito's Italian Trattoria, and by 2007 it was Mi Tequila. By fall 2015, it was closed, and was torn down for a new Dunkin' Donuts, which opened in October 2016 (it has "Dunkin' Donuts" signage...the "Dunkin'" name was a corporate change after it opened). Unfortunately, at last check, it closes at noon these days, no way to get afternoon coffee anymore.
Burger King / 1210 N. Valley Mills Drive
Burger King has been here since 1978, and rebuilt in 1999 with a large enclosed playscape. In 2017, however, this was dismantled and turned into new dining space during a renovation that also altered the exterior. You can see both versions (except the 1978-1999 version) on Google Maps Street View.
McDonald's / 1225 N. Valley Mills Dr.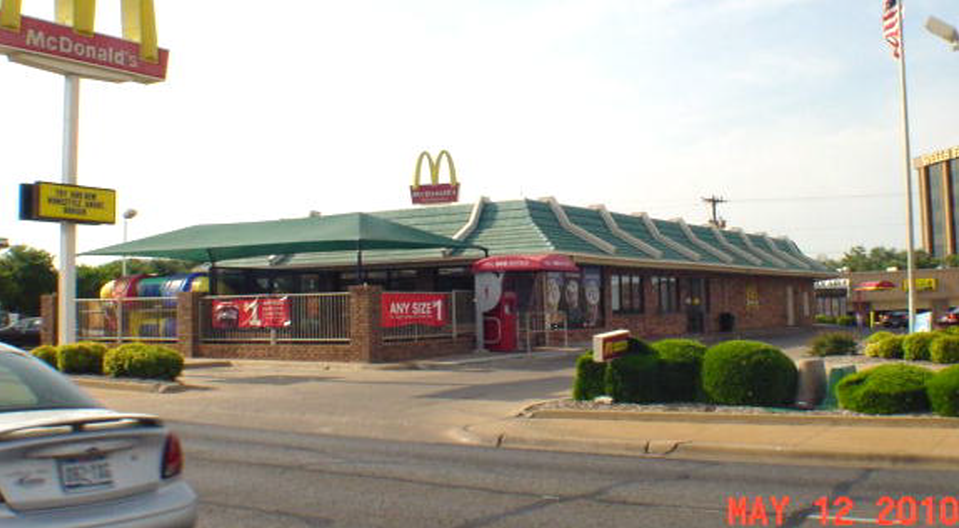 Waco's first McDonald's restaurant opened back in 1972 with a basement and no drive-through (it was added in later), and looked very much like how McDonald's stores used to look before the mid-2000s when many of the restaurants changed to red roofs and white buildings (before they were renovated on the outside or torn down). In May 2013, this store also met its end when it was torn down and rebuilt as a modern prototype. Based on the picture in the article it looks like the interior was upgraded in the last 10 years as McDonald's had wanted (before they were wrecked entirely).
ALDI / 1220 N. Valley Mills Dr.
My first trip to an Aldi (solo visit, at least) in October 2016 was a few months shy of an opening of a store locally, but this store opened in February 2013. My 2016 visit included a jar of pumpkin butter, which was used on toast before it was eventually depleted. Since then, most of my Aldi visits have been to the local store (the layouts are almost completely identical).
Express ER / 1411 N. Valley Mills Drive
The only building in the 1411 N. Valley Mills area without a suite number, this 24 hour emergency room (privately owned, of course) emergency room opened June 2017. This was Johnny Carino's (Carino's Italian Grill) from 1997 to July 2016, and PoFolks restaurant from about 1987 to 1994. (If it was anything in the interim, I'm not sure what it was).
Taco Bell / 1515 N. Valley Mills Drive
In early 2008 this opened as a Taco Bell, relocated from 1725 (see below). The building's prior history goes back to 2003 when it was a Back Yard Burgers (closed after around four years), but no information can be further found, with the exception of a 1987 newspaper indicating that this was an AT&T Phone Center, and mid-1970s listings as Don's Package Store (liquor).
Slim Chickens / 5804 Bosque Blvd.
Chili's opened in 1992 following remediation of the site from a Gulf station (hat tip to Sicem365) and closed in April 2016 after a new location opened at the University High School site. After that, it briefly became Bella Luna Italian Bistro (from 2018 to 2019) before becoming Slim Chickens in June 2021 after a delay.
Spiciness Mexican Grill / 1725 North Valley Mills Drive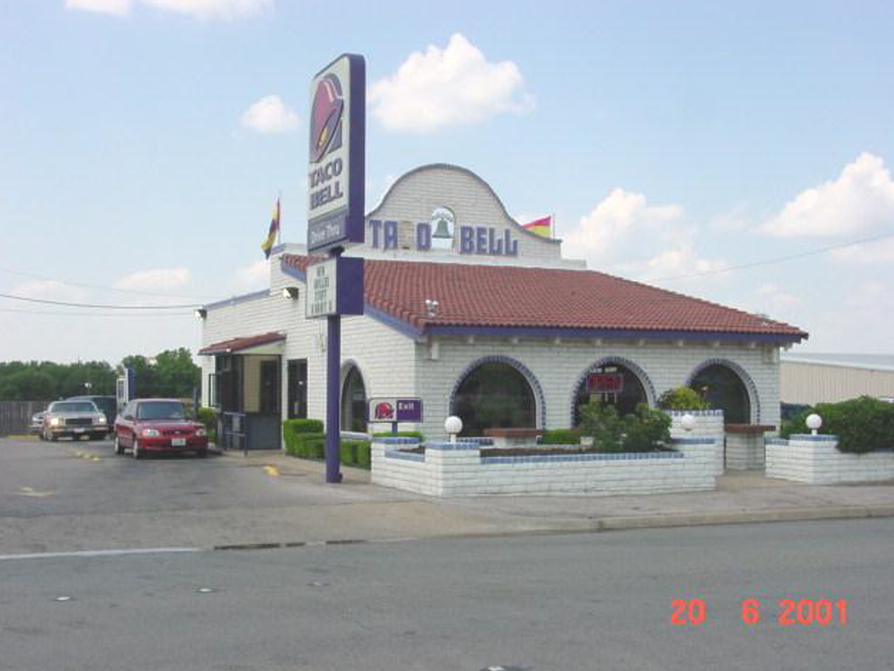 The picture above shows the Taco Bell here as it appeared in 2001, as a Taco Bell operated from 1977 to December 2007 (possibly into very early 2008). After it moved to 1515 (see above), it became Mi Casita Express (summer 2011 to 2014), which had chopped off the top of the building, and immediately following Mi Casita Express, became Spiciness Mexican Grill (2015-present).
Harmony Science Academy / 1900 N. Valley Mills Drive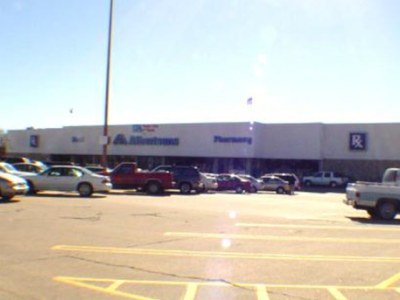 This used to be an Albertsons supermarket. In the late 1990s and early 2000s, Albertsons had stores all over Texas (and indeed, much of the southern United States, stretching from California to Florida). However, Albertsons never had a good time in Waco nor made much headway against H-E-B. Their second store on the northern part of town (they only had two) bombed hard and never expanded further. The first Albertsons in town wasn't even theirs: the the store opened as Skaggs Supercenter in 1978, a brand used by Skaggs Companies after their split from Albertsons, which they opened "Skaggs Albertsons" with. By the early 1980s it was renamed to Skaggs Alpha Beta (the name based out of a chain out of California), and in 1991, Jewel-Osco (with the rest of their stores, this time the chain out of Chicago). In 1992, Albertsons bought the southern Jewel-Osco stores (including some Florida stores opened under the name) from Skaggs Cos. (by now American Stores) and reopened them as Albertsons.

In any case, Albertsons closed their lone Waco store (and with it, officially exiting the Waco-Temple-Killeen area) in mid-2006 shortly after the company was divided up between the SuperValu-led Albertsons ("New Albertsons") and the investor-led company ("Albertsons LLC"). In 2007, the closed supermarket was renovated and reopened as Harmony Science Academy, a charter school chain with pre-K through 5th grade. From Cobbs Drive on (where Valley Mills loses/gains its third lane), there's not much more of Valley Mills as commercial goes, and around Koehne Park, ceases being Valley Mills entirely (the highway no longer goes to Valley Mills, as it was flooded out for the Lake Waco expansion). Well, technically, Valley Mills Drive does go to Valley Mills, if you took Lake Shore Drive (as N. Valley Mills Drive is known north of the park) clockwise around Waco, you'd end up at Loop 340, and then you can go on to Valley Mills that way.
---
Return to the Main Page
|
Email
---
Copyright 2020-2021 Carbon-izer.com, this site is not affiliated with any businesses listed here.