Valley Mills Road in Waco
The wide Valley Mills Road in Waco is a bit of a misnomer. Originally, this was the highway that connected to Valley Mills, Texas, until an expansion of Lake Waco moved the highway south. However, due to new connections, Valley Mills Road does continue into Loop 340 eventually as it goes clockwise, and
does
in fact connect to Valley Mills after all.
Version 9.0 adds Vamos Auto (formerly Marstaller Motors), Dollar Tree (featuring YES!Less), Advance Auto Parts, Take 5 Oil Change, Taco Bell (120 N. Valley Mills), 410 N. Valley Mills (former dollar theater), La Familia Auto Insurance, CEFCO (736 N. Valley Mills), Waco Jewelers (former 7-Eleven/Circle K/TCBY), Wendy's, KFC, Whataburger, Camp Fimfo Waco, and 2500-2510 East Lake Shore Drive (poultry processing). Updated entries include Magnolia Table (adding El Chico), Daiquiri Fusion & Boozy Beans, Church's Chicken (removing part about the center behind it), EZPAWN, Katie's Frozen Custard, AMC Classic Galaxy 16 (cleanup), 300 N. Valley Mills (new link, picture), Chevron (minor), and Huggy Bear Food Mart (minor). It removes Slim Chickens and Knights Inn for "Other Waco Roads".
---
WACO CIRCLE to JACK KULTGEN EXPY.
This small section is where the road starts.
Magnolia Table / 2132 South Valley Mills Drive
This restaurant was built and opened as the Elite Cafe in 1941 (as its second location, the original was in downtown Waco and closed sometime by the late 1950s) and operated (though not continuously) until around 1999 when it was closed for renovations.

It reopened as the Elite Circle Grille in 2003 (which I seem to remember opening before 2003, but I'm going off from Waco History's version), which I remember also giving it a new tannish-red exterior from the pale blue color it used to be painted. Also gone was a mural on the outside depicting diners on the inside eating dinner.

Before closing permanently in February 2016, it had one more name change to "The Elite". In February 2018, it renovated and reopened as Magnolia Table, owned by Chip and Joanna Gaines of "Fixer Upper" fame, and today is a popular restaurant with patrons having to use the newly-built auxiliary parking off of Circle Road and enduring 45-60 minute wait times.

On the south side of Valley Mills was El Chico (2111 N. Valley Mills), which opened in 1963 and finally closed around late August 2017/early September 2017 or late August 2017 for the widening of Interstate 35 and ending over 50 years in business.
JACK KULTGEN EXPY. to SPEIGHT AVENUE
A large ramp causes Valley Mills going westbound to go from two lanes to four lanes. Eastbound, Valley Mills loses its fourth lane when it splits off as a yield ramp to a southbound frontage road, and its third lane when it becomes a left hand turn lane to the northbound frontage road. Check out
our I-35 page
!
---
H-E-B plus! / 1821 S. Valley Mills Dr.
This modern H-E-B Plus store opened August 24, 2013 at 120,000 square feet. The store and its auxiliary features (a small strip center and the H-E-B gas station) replaces a few other buildings, including the old University Middle School site (closed in 2010 and demolished in 2011, 1820 Irving Lee Street) and the Mardi Gras Motel at 1901 S. Valley Mills, as well as Morgan Buildings and Spas (2825 Jack Kultgen Expy.)
1810 S. Valley Mills Drive
Zoës Kitchen opened as one of the first restaurants in the University High School redevelopment (see I-35 page) and opened in September 2015. Sometime in 2022 it closed as parent company Cava began to convert most of the restaurants, but it seems the Waco location was closed entirely in the crossfire.
Chili's / 1800 South Valley Mills Drive
Chili's Grill & Bar opened in April 2016 at the northeast corner of Bagby and Valley Mills, moving from a location at Bosque.
Jack in the Box / 1724 S. Valley Mills Drive
Located on the northwest corner of Bagby and Valley Mills Road, I vaguely recall when this Jack in the Box was brand new (1999) but I don't remember anything before it. It's worth noting that I never actually purchased anything from here until nearly 20 years after it was built. The Valley Mills stoplight is the last major junction of Bagby. An eastern section exists near Baylor, but it is separated by I-35. However, this section goes all the way to Hewitt and beyond.
Daiquiri Fusion & Boozy Beans / 1717 S. Valley Mills Drive
This restaurant holds both "Boozy Beans Coffery" and "Daiquiri Fusion", operating as a single business. Originally, this was a Papa John's that operated from 1995 to the mid-2010s. In March 2016, a Pizza Patrón opened, which replaced a Pizza Patrón in the nearby shopping center. This store closed less than two years later.
RaceWay / 1708 S. Valley Mills Drive
This opened as RaceTrac in 1996 and converted to RaceWay in 2004. My memories of this place were less of the convenience store but more of the comparatively large billboard-style sign where the prices were.
Watershed Car Wash / 1700 S. Valley Mills Drive
This opened in 2020 and replaced the closed Tracy's Auto Sales.
SPEIGHT AVENUE to MEMORIAL DRIVE / DUTTON AVENUE
Vamos Auto / 1601 S. Valley Mills Dr.
From 1950 to its closure in 2020, this was Marstaller Motors which at its peak sold a variety of different cars, though for the end and the beginning of the dealership it was exclusively Lincoln vehicles. After its closure, it was leased to Vamos Auto which remodeled the facility. The dealership (as Marstaller) also had the alternate address of 3000 Speight Avenue.
Walgreens / 1520 South Valley Mills Drive
This Walgreens store opened in 1998. A year later, it would find more intense competition when Eckerd built a modern store across Valley Mills from it (see next entry).
CVS/pharmacy / 1513 S. Valley Mills Drive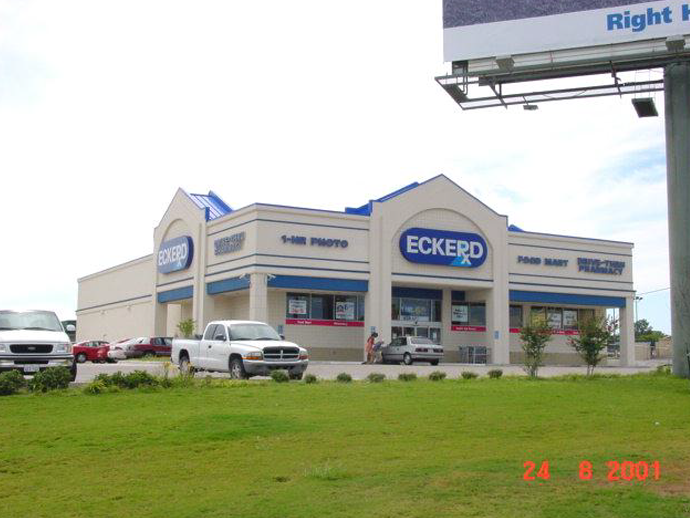 This CVS started life in 1999 as an Eckerd, and was originally located at 1511 Southgate Center (the plaza behind it) instead. It converted to CVS in 2004 (with some new red trim). Picture courtesy McLennan County Appraisal District.

Eckerd replaced a few other buildings at the strip center and a gas station.
Eskimo Hut / 1500 S. Valley Mills Drive
A gas station has been on this site since 1960. The oldest Google Maps Street View shows it as "StarUSA" (don't know where the "Jack's" came in). GasSigns.org shows a StarUSA in an unknown Waco location and mentions StarUSA locations used to be Fina, and tax records do show Fina at this spot around 2000-2001.

Eskimo Hut came inline by the early 2010s, maintaining the gas station, but sometime around late 2016 Eskimo Hut repainted and removed the gas pumps.
Church's Chicken / 1515 S. Valley Mills Dr.
This is placed below Eskimo Hut just due to where it is located relative to Spec's and Eskimo Hut, but this has been operating as a Church's since around 1969.
Dollar Tree / 1417 S. Valley Mills Drive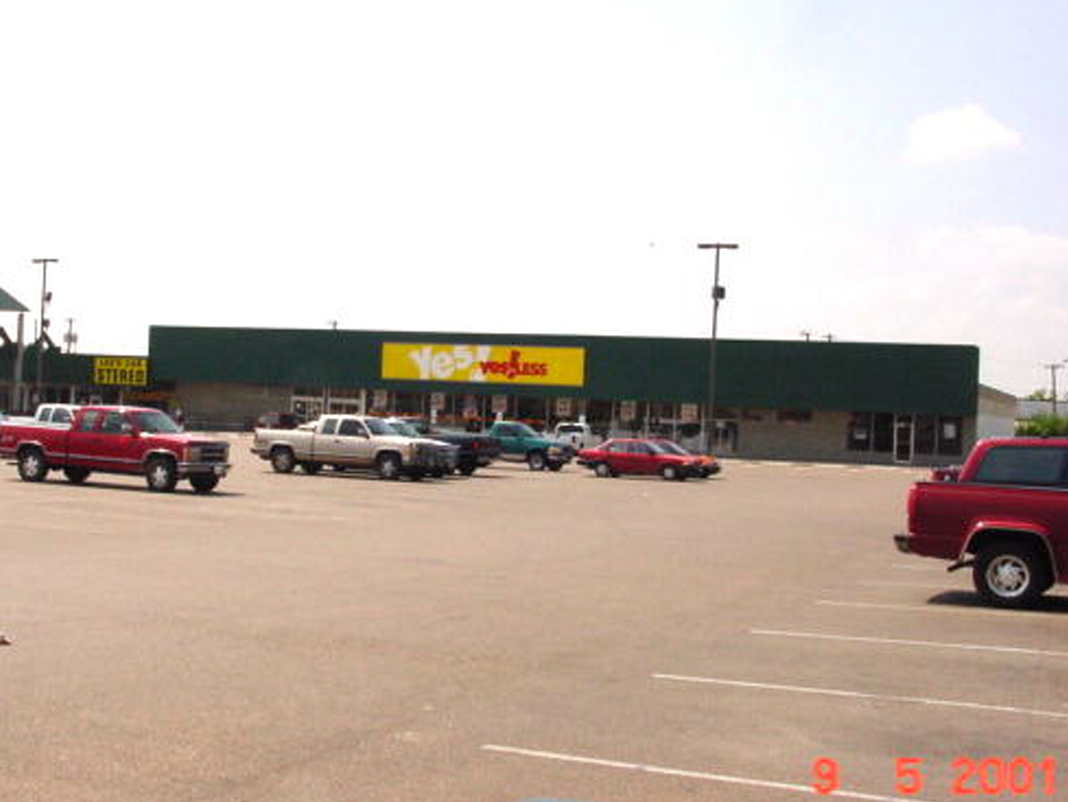 Dollar Tree occupies a portion of what was until 1991 (since the 1960s) an H-E-B store, which had the address of 1409 Southgate (Southgate being the old name of the center, it's University Centre now). Not only is there a Family Dollar next to it (at 1421 S. Valley Mills, despite the parent companies merging), this was also YES!Less from early 2001 to mid-2003, a fairly obscure (and short-lived) discount grocery store chain owned by Fleming Companies. The picture above shows YES!Less in operation and the only picture on the Internet to show a facade. In mid-2003, following the bankruptcy of Fleming, Grocery Outlet out of California bought the stores and reopened them as "Grocery Outlet Bargains Only", which quickly disappeared from this location as they closed everything in early 2004. I briefly discussed the Grocery Outlet/Fleming connection back at Brazos Buildings & Businesses.
Spec's Wines, Spirits & Finer Foods / 1434 S. Valley Mills Dr.
This was Frank Dicorte's Bad Bear Liquor from its opening in 2004 to spring 2014.
Little Caesars / 1320 S. Valley Mills Drive
Opened December 2005 and replaced the long-running Jack 'n' Jill Donuts, which had been here since 1979 and closed in 2005.
Take 5 Car Wash / 1313 S. Valley Mills Drive
A Dairy Queen was here from 1968 all the way up to around 2007. By late 2007 it was gone and Baird Brothers Express Car Wash was under construction in early 2008. By 2021, it briefly became "Car Wash USA Express" before assuming its current name in 2022.
YAKI / 1307 S. Valley Mills Drive
YAKI opened in a former Sonic restaurant in early 2022 though does not use the drive-in stalls. The Sonic here operated from 1996 to 2017.
Catfish King / 1201 South Valley Mills Drive
This was covered at a separate page previously, in which I explained my childhood intrigue with it and the disappointing reality.
Advance Auto Parts / 1118 S. Valley Mills Drive
This was Sound Warehouse when it opened in 1985 (predating the H-E-B next door) and later became Blockbuster Music in the early 1990s (an extension of the Blockbuster Video brand) before closing around 1997. Advance Auto Parts renovated and reopened the building in 2003. The parking lots don't connect despite abutting each other.
Harmony School of Innovation / 1110 S. Valley Mills Drive
Charter school that opened in a former H-E-B. See the Carbon-izer page: H-E-B on Valley Mills Drive.
Take 5 Oil Change / 1103 S. Valley Mills Drive
This was Champion Fast Lube as late as November 2019 but has been Take 5 since around the early 2020s. Champion dates back to at least the late 1980s.
Exxon / 1101 South Valley Mills Drive
Growing up, this Valero was a Diamond Shamrock gas station (though I can't remember if "Corner Store" was used in the DS days). It switched to Valero after 2005 when the Diamond Shamrock name was phased out, but as of November 2019, the station still had the Corner Store branding, an interesting anomaly since the other Valeros by summer had switched to Circle K. By January '21, it had become Exxon, but STILL with the Corner Store branding. While there was some speculation (by me) it was a zombie Corner Store, as of March 2021's Street View, the Corner Store signage is finally gone and Circle K promotional material decorates the outside. However, as of April 2022, the signage is still gone, and the Circle K promotional material is gone.
---
MEMORIAL DRIVE / DUTTON AVENUE to FRANKLIN AVENUE
---
EZPAWN / 1000 S. Valley Mills Drive
The building was much smaller back then, but back in 1989 this was Circle K (before they sold out and years before Circle K reappeared in a new form catty-corner...if briefly, sort of). Today this is EZPawn with a much larger building. Until 2015, there was an "EZLoan Money Services" storefront that has since closed and not re-absorbed into the main building. This was shut down nationally following illegal debt collection tactics.
AutoZone / 905 S. Valley Mills Drive
An old AutoZone location, which has been open longer than I have been alive. It replaced a Piggly Wiggly, which had relocated from this building (from an older building in the center of the lot). Piggly Wiggly's address was 3407 Memorial, and the modern MCAD entry for AutoZone still has it. The earliest reference I can find for Piggly Wiggly is 1953 (it was Piggly Wiggly No. 3 locally) and the store was rebuilt in 1978. I'm not sure when Piggly Wiggly went away in favor of AutoZone, but the Pig was still here in 1983. McLennan CAD indicates that the AutoZone opened as Auto Shack (former name), and Wikipedia says that Auto Shack became AutoZone in 1987, indicating that sometime in the 1980s Piggly Wiggly closed for the modern AutoZone.
Katie's Frozen Custard / 602 S. Valley Mills Drive
Katie's Frozen Custard opened in June 2002 in what is clearly a former gas station. The website mentions that there's only one Katie's but for a while that wasn't true, they had one in Hewitt as well.

The previous gas station last operated as "Gasman" and personally padlocked by the State Comptroller herself, following the owner's tax evasion. According to a late 1980s directory, this was a Bell gas station and might have been a Phillips 66 in the 1990s.
Sunoco / 603 South Valley Mills Drive
When this gas station opened in 2013 it was a self-branded Stripes (#2427) and was connected into the Clay Avenue stoplight (which was rebuilt with new poles and signals). After Sunoco took over the chain it switched to the Sunoco name for the gas brand, and by 2022 Stripes was reflagged as 7-Eleven (#40533). Since the opening and continuing today it has a Laredo Taco Company counter inside.

West of Clay Avenue, the westbound fourth lane of Valley Mills merges in with the other three before the overpass, while the eastbound fourth lane is created from the entrance ramp from the Franklin Avenue overpass. It also goes over two railroad tracks.
300 South Valley Mills Drive
For years this was a Sears facility that was a warehouse and did appliance repair. It's unknown when it ceased being so but it was prior to 2007. Today it has a few tenants including a crossfit studio.
AMC Classic Galaxy 16 / 333 South Valley Mills Drive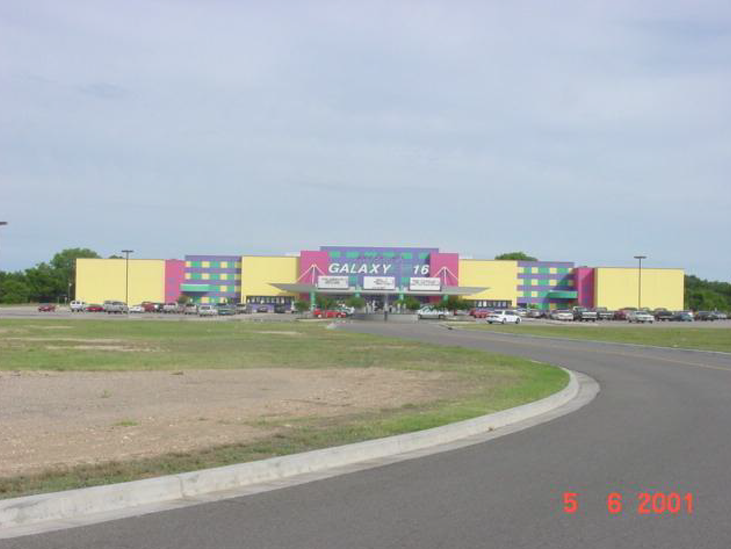 This movie theater sits on the site of Precision International Co. (plating), which was demolished in the mid to late 1990s prior to construction (operating from 1960 to around 1997), and lent its name to a road running along the west side of the property.

The 16-screen cinema opened in 1998 and kept Precision's address but had no connections to Precision Drive. Just past the cinema is a vacant lot (parking lot still exists as well as road signage). This used to be Ryan's Family Steakhouse at 301 S. Valley Mills Drive (see picture here). It was accessed from Franklin Drive and off of Precision Drive and operated from 1992 until November 2008, when it closed due to the poor economy. The economy has had ups and downs since then, but Ryan's (as a chain) never recovered...in 2006, when it was acquired by Buffets, Inc., it had about 260 restaurants, but by November 2019 (before the pandemic took hold), the entire chain was down to 67 restaurants, with Ryan's composing about 16 locations.

In the meantime, the former Ryan's soon reopened as A-1 Buffet & Grill (a Chinese buffet) and later renamed/reopened as Ace Buffet & Grill, but it closed in fall 2016 and never reopened. This wasn't helped by construction of Franklin around 2005 that made it much more difficult to access Ryan's from the roadway (you had to go back around from Cheddar's Drive).

In early 2021, the empty building was torn down as the parent company of Ryan's (by that point as known as VitaNova Brands) shuttered its remaining locations.
---
FRANKLIN AVENUE to NORTH NEW ROAD
Franklin serves as the "dividing line" between North and South Valley Mills Road. It is the only interchange on Valley Mills where Valley Mills goes over Franklin like a highway overpass.
---
Taco Bell / 120 N. Valley Mills Drive
This Taco Bell has been here since 1995. From 1986 to the early 1990s it was a Captain D's, though a mid-1990s listing shows it as "Raging Cajun".
300 North Valley Mills Drive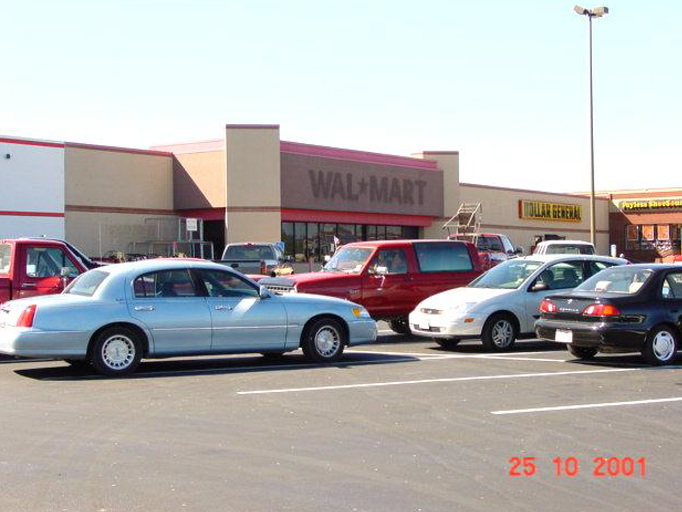 This building was originally a Wal-Mart (#939, operating from 1986 to 1998) and today is divided into three spaces, Planet Fitness, Dirt Cheap, and Tractor Supply Company. Tractor Supply looks like it's been there since not long after Wal-Mart moved out in the early 2000s to its location at New Road and Franklin, while Planet Fitness (occupying the main entrance) moved in by January 2014, replacing nothing. The east end of the store was originally Frugal's Outlet, which operated in the early 2010s before closing by late 2014. Though planned to be "Supermercado Guanajuato" according to a late 2015 announcement, it would reopen as deep discounter Dirt Cheap in July 2016. I actually ventured into Dirt Cheap in 2019, and while it was interesting from a retail establishment perspective, I don't think I've ever seen anything as dirty or disorganized. I agree with what Mike from Houston Historic Retail has said, more "dirt" than "cheap"...
410 N. Valley Mills Drive
410 N. Valley Mills is shared by a few tenants in the same shopping center as the former Wal-Mart but most notably it held a movie theater for years (until 2020). The theater opened as a six-screen Plitt theater in 1986 but had been a dollar theater for many years, with the last operator, Premiere having (50 cents for a Tuesday or Saturday morning screening, even in 2017!
El Mar Seafood Grill & Bar / 414 N. Valley Mills Drive
Casa Olé (#34) opened here back in 1986, but between October 2017 and July 2018, the restaurant closed and the staff was moved to the Bellmead location. In February 2019, a restaurant called "Shaking Seafood & Wings" opened in the spot, but within two years, it was gone. The current restaurant opened in May 2022.
Saffron / 416 North Valley Mills Drive
This Indian/Pakistani restaurant opened in mid-2020. It was formerly the home of Chinese Kitchen, a buffet that operated from 2000 to around 2015, and before that, Mazzio's Pizza (#628) which operated from 1985 to around 2000.
Popeyes Louisiana Kitchen / 420 N. Valley Mills Drive
This store building is actually owned by Carl's Jr. (at least was when the Popeyes lease was signed), and was the restaurant itself from 1984 to 1987 when it was closed and leased to Whataburger. Whataburger later moved in 2015 to a new location at 1101 North Valley Mills, and Popeyes has been here since August 2017.
Westview Village / 501-581 North Valley Mills Drive
I need to dig up my Westview Village photos and make a dedicated page for it sometime, but this shopping center has been around since the late 1950s. If you're into old retail, it's a real treat, with the semi-enclosed arcade being the best feature.
---
NORTH NEW ROAD to LAKE AIR DRIVE
---
CVS/pharmacy / 601 North Valley Mills Drive
This opened as an Eckerd (#852, moving from 1425 New Road) in 2004 but it lasted less than a year before it was sold to CVS.
Applebee's / 614 North Valley Mills Drive
This Applebee's opened in summer 1994 and has been here since.
Golden Corral / 618 N. Valley Mills Drive
Chain buffet restaurant opened in late 1992 at this location. A bar called "Misty's" operated here from 1988 to 1991 in a different building (demolished for the Golden Corral).
Schlotzsky's / 621 North Valley Mills Drive
This was built as a Krispy Kreme donut shop that opened in February 2004 but unfortunately closed down less than two years later (September 2005) and later became Dickey's Barbecue Pit (closed 2008) before becoming a Schlotzsky's, which opened in 2009. A bit of trivia is that it opened as the very first "lotz better" prototype store before the "Austin Eatery" theme started to sweep the chain around a decade later.
WhiteWater Express Car Wash / 626 N. Valley Mills Drive
Pizza Hut was here from 1991 to 2018 (moving from 924 N. Valley Mills and moving to 1230 N. Valley Mills Drive #200). Sometime around 2019 the closed store was torn down for a car wash, originally named Glide Xpress Car Wash but later became WhiteWater Express Car Wash by 2022.
La Familia Auto Insurance / 639 N. Valley Mills Drive
In 1960 this building (now painted orange and green) opened as Toddle House and around 1982 was converted to Steak 'n Egg Kitchen (this is according to one source, Wikipedia contradicts itself as far as Toddle House, Steak 'n Egg, and conversions go) and operated until around 1996. By 2007 it was an Enterprise car rental shop (closed by March 2008) and by 2012 it had reopened as Texas Car Title & Payday Loan. In 2016 it briefly served as Shisha Smoke Shop (closed by 2018). La Familia has been here since at least since spring of 2021.
Poppa Rollo's Pizza / 703 North Valley Mills Drive
This local pizza restaurant has been here since 1979.
Arby's / 723 N. Valley Mills Drive
This Arby's (#300) is a very old store, complete with a huge "Arby's Roast Beef Sandwich Is Delicious" sign at last check, built in 1967, and perhaps one of the first Arby's stores in Texas. The earliest ad I can find of this location is from 1971 advertising an eggnog milkshake.
GENCO Federal Credit Union / 731 N. Valley Mills Drive
Tax records indicate that Chuck E. Cheese's Pizza Time Theatre as it was known back then, operated here from 1983 to 1984. The 1984 closure seems to be when the parent company of Chuck E. Cheese at the time, Pizza Time Theatre, Inc., filed for bankruptcy earlier that year.
CEFCO / 736 N. Valley Mills Drive
CEFCO #52 has been here since 2003 and prior to around 2016 the gas brand was Texaco. Back in the late 1980s this was Payless Gas and later Diamond Shamrock/Corner Store before selling out.
Waco Jewelers / 801 North Valley Mills Drive
This opened as a 7-Eleven around 1971 and sold out to Circle K in 1987, before it closed a few years later. From 1990 to 2008 this was a stand-alone TCBY shop (also with Mrs. Fields Cookies at some point). Waco Jewelers moved in around 2010 and while the large frozen yogurt sign doesn't exist, Waco Jewelers' sign actually spins.
Taco Bueno / 815 N. Valley Mills Drive
The oldest and now only remaining Taco Bueno in Waco, here since around 1987 but has seen little changes other than a newer menu (and corresponding increasing prices!)
Valle's Mexican Food / 900 North Valley Mills Drive
This location has bounced between sandwiches and Mexican. In 1968, this opened as Saxons Sandwich Shoppe but by 1973 was fast-food Mexican food, Taco Torch (one of the first "Mexican fast food" stores of Waco) and actually Store #17 of the chain (which predominantly was in Central Texas). The last reference I can currently find for it is 1989. In 1992, it became Kenny Rogers Roasters, then became Schlotzsky's Deli in 1994. Taqueria Jardin de Jalisco occupied the space between 2011 and 2017, and it is now Valle's Mexican Food.
Baris / 904 N. Valley Mills Drive
Baris, an Italian restaurant, has been here since 1997. Pizza Inn was here from around 1969 to 1989, but it isn't clear what it was in the interim.
Chevron / 903 North Valley Mills Drive
As of early 2008, this gas station was a BP, and spent some time as an unbranded gas station before being branded as a Conoco around 2013. In early 2018 it was renovated into a Chevron. This is listed after Baris due to it being further down the street.
Wendy's / 1015 North Valley Mills Drive
The area near Lake Air Drive and Wooded Acres Drive features several fast food restaurants since the 1970s, and Wendy's has been a part of this since 1977.
KFC / 1030 N. Valley Mills Drive
KFC (Kentucky Fried Chicken, originally) opened a restaurant here in 1974. It was rebuilt about ten years later with a more extensive renovation done in 2005.
LAKE AIR DRIVE to COBBS DRIVE
Whataburger / 1101 N. Valley Mills Drive
Whataburger has been here since 2015 since the lot was redeveloped, and moved from its old location at 420 N. Valley Mills.
Dunkin' / 1200 N. Valley Mills Drive
In 1971, this was Monterey House, a Mexican restaurant chain. By 1990, it was Vito's Italian Trattoria, and by 2007 it was Mi Tequila. By fall 2015, it was closed, and was torn down for a new Dunkin' Donuts, which opened in October 2016 (it has "Dunkin' Donuts" signage...the "Dunkin'" name was a corporate change after it opened).
Burger King / 1210 N. Valley Mills Drive
Burger King has been here since 1978, and rebuilt in 1999 with a large enclosed playscape. In 2017, however, this was dismantled and turned into new dining space during a renovation that also altered the exterior. You can see both versions (except the 1978-1999 version) on Google Maps Street View.
McDonald's / 1225 N. Valley Mills Dr.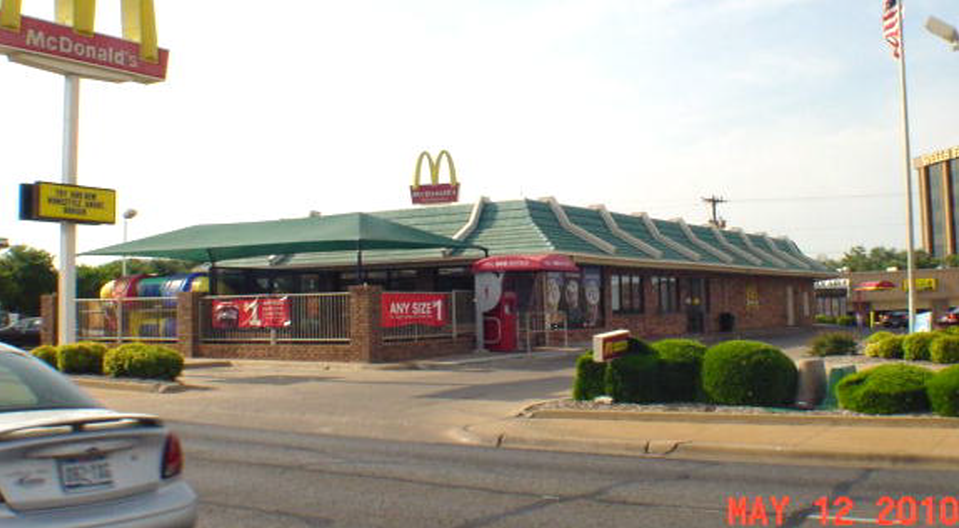 Waco's first McDonald's restaurant opened back in 1972 with a basement and no drive-through (it was added in later), and looked very much like how McDonald's stores used to look before the mid-2000s when many of the restaurants changed to red roofs and white buildings (before they were renovated on the outside or torn down). In May 2013, this store also met its end when it was torn down and rebuilt as a modern prototype. Based on the picture in the article it looks like the interior was upgraded in the last 10 years as McDonald's had wanted (before they were wrecked entirely).
ALDI / 1220 N. Valley Mills Dr.
My first trip to an Aldi (solo visit, at least) in October 2016 was a few months shy of an opening of a store locally, but this store opened in February 2013. My 2016 visit included a jar of pumpkin butter, which was used on toast before it was eventually depleted. Since then, most of my Aldi visits have been to the local store (the layouts are almost completely identical).
Lakewood Center / 1230 N. Valley Mills Drive
This strip mall was built around the same time as Aldi and has seen turnover in its tenants. Mama Fu's Asian House (ste. 100) opened in 2013 but closed in 2020, replaced by "Dr. SmiLee" dental practice. Ste. 200 was originally Smashburger but by 2018 was replaced by Pizza Hut (which moved from aforementioned location). Ste. 300 was originally Fantastic Sam's but replaced by the similar Great Clips a few years later. Palm Beach Tan (Ste. 400) is at least original.

In the second building facing east (built in 2014) Jimmy John's (2-500) is original, as is Zizi PediSpa & Nails next to it. The final tenant (700) was Rowdy Taco for the first year and a half, then The Catch since.

It should be noted that Rowdy Taco was built as Rusty Taco for a month or so before the franchise rebranded as an independent restaurant.
Sonic Drive-In / 1400 N. Valley Mills Drive
Waco's first Sonic was up the road at 815 N. Valley Mills Drive (from 1974 to around 1984) but this restaurant opened in mid-2004.
Express ER / 1411 N. Valley Mills Drive
The only building in the 1411 N. Valley Mills area without a suite number, this 24 hour emergency room (privately owned, of course) emergency room opened June 2017. This was Johnny Carino's (Carino's Italian Grill) from 1997 to July 2016, and PoFolks restaurant from about 1987 to 1994. (It appears it was vacant in the interim).
Taco Bell / 1515 N. Valley Mills Drive
In early 2008 this opened as a Taco Bell, relocated from 1725 (see below). The building's prior history goes back to 2003 when it was a Back Yard Burgers (closed after around four years), but no information can be further found, with the exception of a 1987 newspaper indicating that this was an AT&T Phone Center, and mid-1970s listings as Don's Package Store (liquor).
Summer Palace Chinese Buffet / 1520 N. Valley Mills Drive
This was Luby's Cafeteria from 1974 to 1999 (it moved to New Road but closed about a decade later. Summer Palace has been here since 2001.
Spiciness Mexican Grill / 1725 North Valley Mills Drive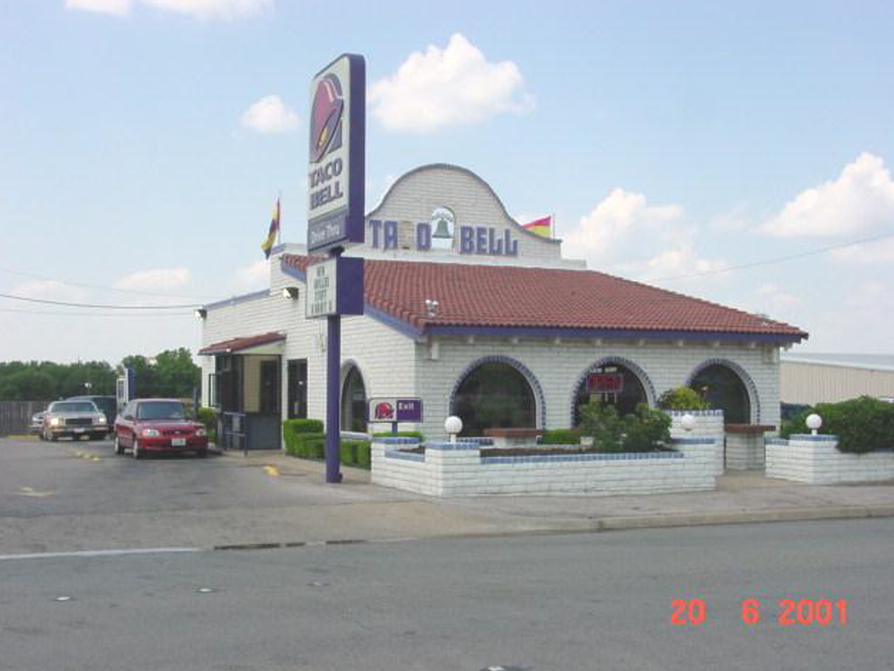 The picture above shows the Taco Bell here as it appeared in 2001, as a Taco Bell operated from 1977 to December 2007 (possibly into very early 2008). After it moved to 1515 (see above), it became Mi Casita Express (summer 2011 to 2014), which had chopped off the top of the building, and immediately following Mi Casita Express, became Spiciness Mexican Grill (2015-present).
1800 N. Valley Mills Drive
This small office building has a large sign that reads out the address. It was a Piccadilly Cafeteria until 2003 when it closed (along with the Richland Mall location).
Long John Silver's / 1801 North Valley Mills Drive
This Long John Silver's restaurant has been operational since 1977.
Harmony Science Academy / 1900 N. Valley Mills Drive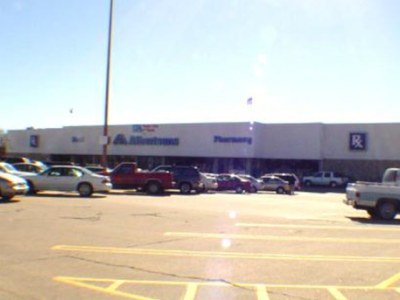 This used to be an Albertsons supermarket. In the late 1990s and early 2000s, Albertsons had stores all over Texas (and indeed, much of the southern United States, stretching from California to Florida). However, Albertsons never had a good time in Waco nor made much headway against H-E-B. Their second store on the northern part of town (they only had two) bombed hard and never expanded further. The first Albertsons in town wasn't even theirs: the the store opened as Skaggs Supercenter in 1978, a brand used by Skaggs Companies after their split from Albertsons, which they opened "Skaggs Albertsons" with. By the early 1980s it was renamed to Skaggs Alpha Beta (the name based out of a chain out of California), and in 1991, Jewel-Osco (with the rest of their stores, this time the chain out of Chicago). In 1992, Albertsons bought the southern Jewel-Osco stores (including some Florida stores opened under the name) from Skaggs Cos. (by now American Stores) and reopened them as Albertsons.

In any case, Albertsons closed their lone Waco store (and with it, officially exiting the Waco-Temple-Killeen area) in mid-2006 shortly after the company was divided up between the SuperValu-led Albertsons ("New Albertsons") and the investor-led company ("Albertsons LLC"). In 2007, the closed supermarket was renovated and reopened as Harmony Science Academy, a charter school chain with pre-K through 5th grade.
COBBS DRIVE to STEINBECK BEND ROAD / N. M.L.K. JR. BLVD
From Cobbs Drive on (where Valley Mills loses/gains its third lane), there's not much more of Valley Mills as commercial goes, and around Koehne Park, ceases being Valley Mills entirely (the highway no longer goes to Valley Mills, as it was flooded out for the Lake Waco expansion), when it becomes Lake Shore Drive. This section won't be covered in much detail in the edition that extends the page back over to 340...where it in fact
does
continue to Valley Mills.
CEFCO / 2000 N. Valley Mills Drive
This gas station has had CEFCO (#40) as a convenience store since 2000. CEFCO is also the gas brand, and was formerly a Shell (at least as of 2007), but has previously flown under the Exxon and Texaco flags. It transitioned to CEFCO (as a gas brand) between fall 2016 and fall 2017.
My Stop Convenience Store / 2508 North Valley Mills Drive
This former Citgo (not a Citgo since at least 2007, but you can see the whitewashed logo on the sign) sells gas, with the convenience store selling a selection of live bait, including the few, if only, places in Waco to buy live minnows. Their website is very rudimentary.
CEFCO / 4439 Lake Shore Drive
CEFCO #10 has been here since 1994, it converted to a CEFCO gas brand (from Shell) in 2016.
Valero / 1824 Lake Shore Drive
This Valero is estimated to have opened in 2013 as a Corner Store.
Camp Fimfo Waco / 1000 Chickadee Lane
This camping resort (campgrounds, technically, but with better amenities) opened in 2022. It includes (like many hotels do) an on-site restaurant and bar, Squirrely's Tavern.
Hawaiian Falls Waco / 900 Lake Shore Drive
Originally the municipal "Waco City Water Park" (built 2002) lost money, but in 2011 it was sold to a private waterpark operator, which reopened it in May 2012 with new theming and features.

It should be noted that while Hawaiian Falls is oriented toward families and children, Surf Waco in Mexia (formerly BSR Cable Park) has a long lazy river, large wave pool, and the high-thrill water slide Royal Flush.
2500-2510 E. Lake Shore Drive
From what I can piece together, these two properties were built as a single development in the mid-1960s for Plantation Foods, a turkey processing facility, and in 1998 Cargill acquired the company, which by this time had close to 2000 employees. In 1999, a "prepared food products" facility developed adjacent to the plant in the 1980s was sold to Pilgrim's Pride, which has since expanded the facility. Today Pilgrim's Pride has the 2500 address and Cargill the 2510 facility.
Huggy Bear Food Mart / 2924 Gholson Road
This was a CEFCO (#11) since 1994 but in 2012, disconnected from the chain (with the new name of "Huggy Bear Food Mart"). At some point in the 2010s, the gas brand (Shell) was lost. It has a Gholson Road address but faces Lake Shore.
---
GHOLSON ROAD to OLD DALLAS HIGHWAY
Gholson Road where the road ceases to be Lake Shore Drive, and picks up at the Gholson Road stoplight, "Industrial Boulevard", which it keeps for just about a third of a mile until Industrial Boulevard turns off northeast. This was where Valley Mills/Lake Shore ended in the late 1960s, just curling upwards toward US-77. But once Interstate 35 was completed in the 1970s, it was at this point where became North Loop 340.
---
CEFCO / 3001 Gholson Road
This was built as a Texaco back in the mid-1970s and changed convenience stores brand, briefly going under Carlie's Drive-Thru (1982-1983), K's Travel Center (1984-1988) and Quik Pak (1989-2007). It became CEFCO #82 in 2007 and by 2013, took over the main brand from Texaco.

Between 2007 and 2013, CEFCO took over the main brand as well. Later on, CEFCO demolished and rebuilt the store, featuring a 24 hour store with "CEFCO Kitchens". The rebuilt CEFCO opened in July 2021. The expanded CEFCO also replaced the space where Ash's Cocktails (at 2716 Industrial Blvd. E.) was.
OLD DALLAS HIGHWAY to INTERSTATE 35
There's a wide median between east and westbound Loop 340, almost as if a full highway interchange for US-77 had been planned.
Texas Beverage / 1210 TX-340 Loop
Also known as "Texas Beverage Beer * Liquor * Wine", this store only dates back to 2010 (despite looking far older); it was a Carquest Auto Parts with an outdated sign prior to this.
1205 N. Loop 340
Like Albertsons (see the Loop 340 page), Kmart (#7220) had a second Waco-area store in the Bellmead/Lacy-Lakeview area. It opened in November 1978 and closed by March 1995, though it wasn't part of the 1995 closures announced in 1994. Since around mid-2018, an Empereon call center has been located here. From 2002 to 2012 it was the home to a call center for Blue Cross/Blue Shield, and in 2013, became home to a call center operated by General Dynamics Information Technology to field questions about the Affordable Care Act. The former garden center has live plants once more; as it had been turned into (under BCBS, almost certainly) a partially shaded outdoor lounge area for employees. It is a nice touch.
Ascension Medical Group - Lacy Lakeview / 1130 N. Loop 340
Opened in May 2017 as the Lacy-Lakeview Medical Plaza, this address was originally known as 110 E. Loop 340 according to old taxpayer records (possibly in error) and was home to a Safeway from 1976 to 1986. In 1986, Safeway relocated to 4501 Interstate 35 North (see Atwoods Ranch & Home in the Interstate 35 page), and in 1990, the vacant Safeway reopened as Schulman 6 Lacy-Lakeview opened (also known as Lacy-Lakeview Cinema 6) with 4501A Interstate 35 North as the address. In 2000, this theater closed and around 2014, the long-vacant building was torn down. Construction on the new plaza (originally Providence, later Ascension) began soon after.

The road continues beyond as Loop 340 at this link.
---
Return to the Main Page
|
Email
---
Copyright 2020-2022 Carbon-izer.com, this site is not affiliated with any businesses listed here.