Interstate 35 in Waco
Welcome to Interstate 35 in Waco! This is arguably the best place to start if you're exploring the "Road Directories" section as it "trickles" south and can be accessed through various links down to Houston. Version 12.1 adds Chick-fil-A (Bellmead), Starbucks (Bellmead), Neel Associates Inc., The Salvation Army Corps Church & Community Center, Starbucks (18th Street), Victorious Life Church, Atwoods Ranch & Home (Hewitt), Fortiline Waterworks, Crestview RV, Fun Town RV, Papa Joe's Texas Saloon, and Lorena ISD. It also cleans up Valero (5th Street), McDonald's (6th Street), and Fazoli's. It makes a minor update to Orscheln Farm & Home and Chevron (at Glenleigh). 220 Jack Kultgen Expy. is now updated and retitled as "Mark and Paula Hurd Welcome Center", with Valero (Gator Truck Stop) updated as well.
---
COUNTY LINE ROAD to TOURS ROAD
This is where West, Texas is, a town thrust into the national spotlight briefly when a fertilizer plant blew up, killing over a dozen people, injuring dozens more, and decimating a third of the town (only a few collapsed or burned down, but most had severe enough damage that they had to be rebuilt).
---
22119 N. Interstate 35
This address has a McDonald's (opened September 2021) and in March 2022, a Starbucks opened right next to it.
JoAnn's Bridal / 700 West Oak Road
Portal to Texas History Online helped out with this one...it begun as a 7-Eleven back in 1977 and sold to Circle K in 1988. Sometime around 1999 (it seems it was still Circle K in the late 1990s) was sold to Skinny's and by 2007 had been operating as a Skinny's/Fina for a number of years. It shut down in the early 2010s after I-35 ate the gas canopy area (and roadside sign), so it never became Alon (and if it did, it was EXTREMELY brief). It was abandoned in 2013 and became JoAnn's Bridal in 2014.
7-Eleven / 21735 N. IH-35
After over 30 years, 7-Eleven returned to West, Texas with a self-branded gas station and convenience store catty-corner to its old store, opening in 2019. The alternate address is 200 Czech Inn Drive.
Sonic Drive-In / 701 West Oak Road
Sonic has been here since July 2009. It replaced a Dairy Queen that was closed around 2004.
Shell / 104 S. George Kacir Drive
The "Czech Stop" convenience store and attached bakery has been here since 1986. It has been a Shell gas station since at least 2007.
Bush's Chicken / 106 S. George Kacir Drive
Bush's Chicken opened its West location in September 2006.
Exxon / 214 Melodie Drive
Around 2007, a restaurant called KD's Smokehouse built a large facility here (with room for live music), but it closed in 2011 (give or take a year). In November 2013, it was renovated and reopened as Slovacek's Travel Center, an Exxon station much like their flagship plant in Snook, but much nicer and featuring sausage, kolaches, and all the convenience store fixings. Here's an advertisement from the August 2009 issue of Waco Today (as KD's) and an article regarding the opening of the gas station (as Slovacek).

In early 2022, "Slovacek's Etc." was built in the south end of the parking lot. It appears to be some sort of store selling outdoor furniture and goods, though I can't find much more on it.
CEFCO / 215 S. George Kacir Drive
This was previously Quik Pak prior to early 2007 and replaced another gas station prior to around 1996. Inside the CEFCO is "The Kolache House Baking Company". On Street View (in 2007), there's a temporary sign built on the frontage road that read "CZECH OUT OUR KOLACHES". Between 2017 and 2019, CEFCO assumed the brand name of the gas station as well (it was formerly a Chevron).
---
TOURS ROAD to INDUSTRIAL BOULEVARD / N. LOOP 340
---
Valero / 16075 N. Interstate 35
As of 2014, "Gator Truck Stop" featured Exxon gas and a Church's Chicken. After Road Ranger sniped Church's from it (see the Road Ranger entry), the space was briefly filled with Krispy Krunchy, and is now Taco Chi. Around the time of Church's departure, it also converted to Valero.

The convenience store facade also featured a dome over the entrance, making it look a bit like a mosque or temple, but that was removed in 2019.
A&G Tire Service / 16076 N. Interstate 35
This should be 16074 since it it slightly south of the Valero, and it actually previously was. This tire service company was built between 2021 and 2022 on the site of Ross Travel Center. This station was a Shell in its last days (it was flattened in 2011 as most of the property was sacrificed to the I-35 ROW) with a Stuckey's store-within-a-store, but during its heyday as "RBD's" (Exxon) in 1997, it had Pizza Inn, TCBY, Subway, and a 24-hour restaurant (about halfway down the page), and all that with a large smiley face overlooking I-35.
Alliance Auto Auction / 15735 N. Interstate 35
The Waco location of Alliance Auto Auction opened in 2004 as Midway Auto Auction and was acquired and rebranded around 2012. Previously, the site was used as a scrapyard, but it's all been paved over.
Exxon / 135 S. McLennan Drive
In Elm Mott, I-35 is called South McLennan Drive. This was built in 2000 (convenience store being Tigermart) on the site of a Dairy Queen originally from 1982, and the only change seen here at this gas station since 2013 was replacing the spelled-out "Dairy Queen" on the restaurant side of the gas station with a newer DQ logo. In 2020, the DQ closed.
Dee's Deelicious Donuts / 104 W. Elm Mott Drive
Dee's has been here since 1997 (alt. address 204 S. McLennan). It also serves some diner food (breakfast and lunch) but is not open after 2pm.
Sunoco / 337 S. McLennan Loop
This Sunoco, with "Cowboy Truck Stop" (no branded restaurant but does serve food) was previously a Shell with "Food Mart" but "Junction Cafe" and had operated since 1972 (officially "Ed's Truck Stop") and closed by November 2016. It reopened a few years later under the new name.
Dollar General / 276 S. Connally Drive
This Dollar General opened around January 2010.
Road Ranger / 6615 N. Interstate 35
Prior to the early 2010s, NDH directly connected to Interstate 35 with direct exit/entrance ramps. The Road Ranger is where NDH could've continued to the east. The large truck stop opened in November 2016 with a Church's Chicken, Dickey's Barbecue Pit, and other counters (in-house "Texas Taco" and a Cinnabon).

Dairy Queen / 6310 N. Interstate 35
This Dairy Queen hasn't seen too many changes (save for a mid-2000s "DQ" sign) since it opened in 1977.
Northwinds Apartments / 5111 N Interstate 35
Cheap, run-down apartments built in 1978. Two stories, 72 units.
Cash America Pawn / 4600 N. Interstate 35
This was Top Dollar Pawn when it opened in fall 2008 but was sold to Cash America in summer 2013.
The Home Depot / 1803 Interstate 35
This Home Depot was built in 2008.
TownePlace Suites by Marriott / 4505 N. Interstate 35
Opened in the tail-end of 2019 (November/December), this hotel (TownePlace Suites by Marriott Waco Northeast) has a bit of a strange access, requiring driving through Heitmiller Steakhouse's parking lot or going through the old Pecan Lane (which had its railroad crossing cut nearly a decade prior). It has four floors and 85 rooms.
7-Eleven / 4511 Interstate 35 North
This modern 7-Eleven gas station and convenience store was built and opened in 2013 around the time the company built several new units in and around the Waco area (and then stopped again).
Taco Bell / 4503 Interstate 35 North
This Taco Bell opened in 2009 next to McDonald's in the former Winn-Dixie parking lot (what was then a former Winn-Dixie, at least--see next entry).
Atwoods Ranch & Home / 4501 Interstate 35 North
From what can currently be determined, this opened in 1986 as a Safeway (moving from the spot next door...see the Valley Mills page) and became an AppleTree three years later.

In 1992, AppleTree closed but the space was soon renovated and reopened as a Winn-Dixie, which lasted until the entire Texas division was closed down in 2002. There it idled for close to a decade until Atwoods finished its own remodel of the store and opened in January 2011. Atwoods (and the grocery stores before it) was 46,000 square feet but in 2021 Atwoods began an expansion that took the store up to 62,000 square feet.
McDonald's / 4503 Interstate 35 North
This McDonald's originally opened in 1990 as part of the same redevelopment that brought the movie theater behind it (see the Valley Mills page linked below).
---
INDUSTRIAL BOULEVARD / N. LOOP 340 to NORTH DALLAS HIGHWAY (BUS-77) - South / SOUTH LOOP DRIVE (BUS-77/LOOP-484)
Here's where the terminus of what starts at
Valley Mills Drive
ends and
Loop 340
begins.
---
American Bank / 1601 N. Interstate 35
The modern bank opened in 2021 but from 1979 to 2020 looked like a giant dome stadium before it was demolished and rebuilt.
Chick-fil-A / 1595 N. Interstate 35
This Chick-fil-A opened June 2023. As of this writing, it does not appear to be open yet, but should be shortly after this goes to press.
Cracker Barrel Old Country Store / 4275 I-35
This restaurant opened in 1994 and hasn't seen too many changes since. It did repave the parking lot at one time as well as probably making minor updates inside and out.
Starbucks / 4273 N. Interstate 35
This strip mall Starbucks opened in 2002 (must have eluded even StarbucksEverywhere, as a date is missing for this one and was not photographed until 2022). From north to south: AT&T (4265), a vacancy that used to be Jimmy John's (4267, closed 2019), Fashion Nails & Spa (4269), Vape Naturegenics CBD & Lacy Lakeview (4271), and Starbucks.
Walmart / 1521 North Interstate Highway 35
The addresses seem to change around here (how the numbering jumps from 4500 to 1500 is likely due to 340's intersection, but both Cracker Barrel across the street and American Bank contradicts this), but this Walmart was built in 1997 as a Wal-Mart Supercenter (relocating from a smaller store across the street). In the mid-2010s, this Walmart briefly had a Burger King inside the store (opened November 2013 per a Facebook post) but it was closed as of summer 2019, otherwise I might've gone up there for a picture (and, potentially, a Whopper). It should be noted there's also a Burger King on the other side of I-35. For those seeking unusual food options at this Walmart, fear not! Charleys Cheesesteaks is coming soon.
Sonic Drive-In / 1515 I-35
This Sonic opened in 1996. The parking lot of Sonic and the nearby strip mall is connected to Walmart's parking lot.
Neel Associates Inc. / 1118 S. Interstate 35
Also known as Neel Fire, this warehouse deals in buying and selling fire rescue vehicles and equipment (with volunteer fire departments).
H-E-B plus! / 801 N. Interstate 35
The original H-E-B here was a modest store just under 50,000 square feet (but still considered a "Superstore", and I'm not sure if the branding was "H-E-B Superstore") opened in February 1984. In the early 2000s, the store was torn down and rebuilt (facing I-35 instead of Waco Drive) as a substantially larger store at 77,000 square feet. Finally, in November 2011, the store celebrated its expansion and rebranding as "H-E-B plus!" at 110,000 square feet. The Interstate 35 address suggests it did change addresses when it was rebuilt.

South of H-E-B and north of Sam's Club described in the next paragraph, US Highway 84 is here. To the east, US-84 exits off as the main road becomes TX-31 and continues to Corsicana, ultimately ending in Jacksonville, Texas (if you were follow to the same road). To the west, it ends in Early (east of Brownwood).
Sam's Club / 2301 East Waco Drive
McLennan CAD says this store was built in 1986, but it doesn't face the Interstate at all (nor has an Interstate address), and for years, the at-grade frontage roads made the store difficult to access from East Waco Drive. It's been renovated a few times since, and I've personally been to this store a few times (my grandfather was a member) in the late 1990s and very early 2000s.
Collin Street Bakery & Café / 701 I-35
A restaurant spin-off of the Corsicana-based bakery (specializing in fruitcakes) opened here in 2009. It was the third of its type to be built, launched in 2005 with a location in Hillsboro (since closed), with a second location in 2007 off of the freeway in Corsicana.
Pollo Regio / 697 Interstate 35 North
This mesquite-grilled chicken restaurant opened in December 2019, building onto Collin Street Bakery's parking lot (see entry above). Just south of this is 2004 Bellmead Drive, a defunct gas station site. Last operated as Philips 66 from the late 2000s to its demise in the mid-2010s (right-of-way victim), it was Fina for many years (though did operate as a Philips 66 in the early 1980s) before becoming Star USA and was de-branded around 2005. The Interstate 35 side of the store can be seen at the top of this page.
Texas Department of Transportation - Waco District / 100 S. Loop Drive
These TxDOT offices have been here since at least the 1960s, but I can't find much information it (when it was built, namely).
---
NORTH DALLAS HIGHWAY (BUS-77) - South / SOUTH LOOP DRIVE (BUS-77/LOOP-484) to UNIVERSITY PARKS DRIVE
Originally, this highway (intersecting with North Dallas Highway) had large highway ramps connecting the Interstate to BUS-77 (likely a remnant of when I-35 did not connect to the east), but this and the overpass of BUS-77 over the I-35 frontage roads were dismantled as part of the I-35 widening project. 484 is a somewhat obsolete highway, even if it connects directly toward Highway 6 heading toward College Station (and ultimately Hempstead).
---
Toliver Chapel Missionary Baptist Church / 1402 Elm Avenue
There isn't much between the south exchange of BUS-77 and the next overpass. A historical marker indicates the church has been at this location since 1948.
615 Forrest Avenue
Mapquest indicates Greenfiber (the current tenant) is a manufacturer of some sort with a plant here, though curiously seems to lack a website. Digging in at newspapers.com indicates this was a facility owned by Swift & Company (now Swift Energy out of Houston) in the 1940s and 1950s but by 1977 was Central Texas Movers & Riggers Inc.
OYO Hotel / 500 N. Interstate 35
OYO Hotel Waco Baylor was part of Scottish Inns until it was flipped around 2018-2019. (It was something prior to Scottish Inns, as well).
Red Roof Inn / 720 South Martin Luther King Jr. Blvd.
This Red Roof Inn was Victorian Inn (sign said "Victorian Inns", closest surviving hotel of the same chain appears to be in Nacogdoches) in the late 2000s. The two-story, 40-room motel seems to have converted to Red Roof Inn in 2013 between Google Maps and this link. Red Roof Inn is at the northwest corner of MLK Blvd., a road that was formerly Lake Brazos Parkway. Lake Brazos Parkway was renamed in 1995 but kept a dual name with the new road until 2014 when the Lake Brazos Parkway name was officially dropped for practical purposes.

Catty-corner to this hotel was a full Holiday Inn at the southeast corner of the intersection. Note the fact that the Holiday Inn did not connect to the frontage road, a gas station did (and had access to the hotel's parking lot) but it was demolished between 1995 and 2003.

The hotel mets its demise in 2011 after it was foreclosed on with Baylor University purchasing it. Best I can tell is the hotel opened as Holiday Inn (Holiday Inn I-35) in 1973 and became "Hotel Waco" sometime around 2008-2009 when a new Holiday Inn opened elsewhere (and the chain was going through an "image upgrade" that involved a new logo). Check out a picture of the hotel here. The hotel featured 170 rooms across 4 floors.
Brazos Landing / 100 Jack Kultgen Expy.
Formerly known as Buzzard Billy's prior to its 2022 rebranding, this restaurant has been here since 2008 when it moved from the other side of the river. The build date of the actual building is 1977, and efforts have been made by this website to find the former tenants. There were references to Pelican's Wharf burning down on this stretch, but this seems to be a mistake--it was not related to the Pelican's Wharf seafood restaurants but rather a conflation of Pelican's (elsewhere on the stretch) and The Wharf (which was here at this site in 1990); although other forum postings do make reference to the fire at Pelican's.
---
UNIVERSITY PARKS DRIVE to SOUTH VALLEY MILLS DRIVE
---
7-Eleven / 701 South University Parks Drive
Accessible from the hotel parking lot is this 7-Eleven convenience store and gas station, though it faces Ross Avenue (it doesn't face I-35 because at the time it was built, the lot to the south was occupied by a Jack in the Box, see next entry). It opened in 2013 and replaced a former Arby's (operating from 1991 to around 2011-2012).
Mark and Paula Hurd Welcome Center / 905 S. University Parks Drive
Since the mid-1970s, this section of I-35 had a variety of businesses that faced I-35 and held the core of Baylor's adjacent commercial district, including Ivy Square, a hybrid strip center/apartment building, several restaurants, and a Best Western motel. Baylor University later acquired and tore the buildings down, with one of the last to go being an IHOP closing in January 2019. More information can be seen here. After being undeveloped for about a decade, Baylor redeveloped the site, with the large Mark and Paula Hurd Welcome Center, an admissions building/visitor center, dedicated in August 2023.
SpringHill Suites by Marriott / 115 S. Jack Kultgen Expy.
Opened around 2020, this hotel replaced a previous, older motel. This was Texian Inn in 1985, and later had several names following, including Lexington Inn in 1990, Americas Best Value Inn in the early 2000s, and finally Executive Inn & Suites before its demolition in the late 2010s. It was a good example of what the Texian Inn chain looked like before any facade re-dos (another former Texian Inn in College Station, now Knights Inn, retains the layout but altered the original facade years ago). Next to it, at 725 S. University Parks Drive, was a Jack in the Box, opened from 1984 to around late 2017. It was later demolished for additional hotel parking.
Twisted Root Burger Co. / 801 South 2nd Street
This large building used to have a Kultgen address before it was remodeled. Read about the Texas Playhouse and Twisted Root in this previously published page.
Premier ER & Urgent Care / 221 S. Jack Kultgen Expy.
For years (building built in '79), this was Tanglewood Farms (a restaurant) and later the home of Magic China, which was here starting in 2001. Magic China closed in 2015 at this location to look for a third new location, but it never did. After that, it was demolished for the current tenant.
In-N-Out Burger / 801 South 4th Street
This address was formerly used by Clarion, which sat on this block along with a defunct Chevron station.
CVS/pharmacy / 820 South 5th Street
This CVS was built and opened in 2015 following the redevelopment of the Chevron and the Clarion. Behind it and the In-N-Out, on the grounds of the Clarion is Bear Grounds Plaza. Pie Five, mentioned in the PDF, opened April 2017 but two years and a month later it was gone. Steel City Pops has also come and gone. Tiff's Treats has since opened in the space closest to 5th Street, however.

Other stores in the plaza include Wei Tasty Asian, Chipotle, and Smoothie King.
Valero / 901 South 5th Street
This was built in 1985 and for years was Diamond Shamrock with a "Corner Store", though at least it was Payless Gas from 1985 to 1991. By late 2007 it was converted to a Valero (the convenience store getting a turquoise-themed facelift as well) and in 2019 converted to a Circle K (the convenience store portion). The Circle K, while not a restaurant (it does have junk food though!) marks the beginning of a cluster of fast food restaurants near Baylor and Interstate 35, packed together on separate lots. See Other Waco Roads for more beyond what is listed here (which is only the ones directly facing I-35).
Exxon / 1020 South 5th Street
This has been here in some form since the early 1970s though the convenience store dates back to 1996. Between 2013 and 2015, this went from "Smart Stop" to "Tiger Mart", reverting to the Tiger Mart brand it had prior to 2002. It has a Subway inside (since 1996) and until 2007, a TCBY as well.
McDonald's / 906 S. 6th St.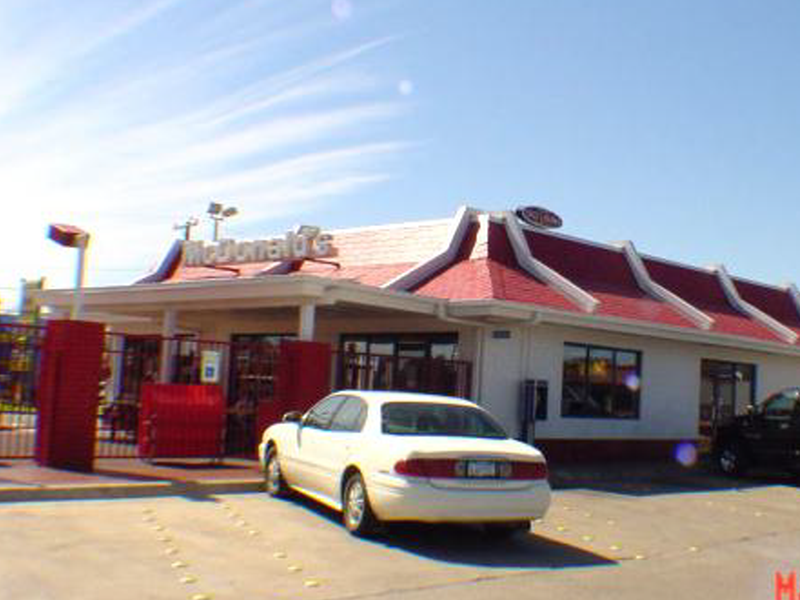 Next to Valero is a McDonald's. This restaurant dates back to 1972 (built shortly after the original Valley Mills store) but it was torn down in 2007 and rebuilt, with the above photo showing the 1972 restaurant. Click the above picture to see the full picture (courtesy McLennan County Appraisal District).
Fazoli's / 919 S. 6th Street
The Fazoli's building was built in 1974 as Pizza Inn, which it still was as of 1991. At some point in the 1990s it closed and became a Fazoli's, complete with a building renovation.
Whataburger / 928 South 7th Street
This Whataburger (#140) opened in October 2016 to replace an older restaurant (from 1975), which it tore down and rebuild. The original lot was smaller, with some older parking north of the restaurant at Cleveland and 7th that was used for Sul Ross Elementary School across the street.
Chick-fil-A / 901 South 7th Street
This Chick-fil-A (opened October 2014) takes the address of Sul Ross Elementary School, which once occupied this entire block (save for a few houses at the southwest corner), but it closed in 2012, and met the wrecking ball a few years later (along with aforementioned houses). Interestingly, this is referred to the Baylor University Chick-fil-A (officially) even though Baylor is across I-35. When the Chick-fil-A was built, a pedestrian walkway existed to connect it to Baylor, though this was torn down in highway widening. (Like the Fuego entry below, this description was originally posted to Wikimapia).
Panera Bread / 1000 South 8th Street
Opened in summer 2016, this Panera Bread takes up additional space in the block where Chick-fil-A is.
Raising Cane's Chicken Fingers / 801 S. Jack Kultgen Expressway
Raising Cane's (third in Waco) opened in September 2016 as part of the redevelopment in this stretch of I-35 where new commercial development has overtaken older residential.
Pizza Hut / 1111 S. 8th Street
Directly across from Raising Cane's on the other side of the freeway is a Pizza Hut from 1975, surviving both cuts by the parent company and the freeway widening.
1100 S. 9th Street
This former Denny's (closed in June 2014) once shared the address and parking lot of a La Quinta Inn (see the Yelp page). Because the hotel was motel-based, it had two buildings and bisected by 9th Street. Additionally, Clay Pot, at 920 Interstate 35 South at S. 10th Street, was also demolished.
La Quinta Inn & Suites / 911 S. 10th Street
New La Quinta ("La Quinta Inn and Suites by Wyndham Waco Downtown - Baylor") built on the north side of the freeway in 2018. By the time it was completed, the old hotel (described above) had been torn down completely.
The Salvation Army Corps Church & Community Center / 1225 Jack Kultgen Expy.
We do not have much information on this church and community center operated by The Salvation Army's Waco Corps. The buildings have been here since at least the 1960s but weren't connected until at some point in the 1970s.
Super 8 / 1320 South Jack Kultgen Expy.
This hotel (Super 8 by Wyndham Waco University Area) opened in 1994. Next to it (across 14th Street) is a vacant lot from highway ROW construction. This was a Popeyes restaurant at 1401 Park Avenue, opened in 2001 but closed in 2017. To the north of the hotel is another vacant lot at 1231 Baylor. A Genie Self Service Car Wash mets its demise in 2017 but indications are it closed as early as 2009.
Studio 6 / 1430 South Jack Kultgen Expy.
This was Econo Lodge as of 2007 and briefly "Magnuson Hotel" before becoming Deluxe Inn by the mid-2010s. It has been Studio 6 since around 2020-2021.
1500 N. Interstate 35
This restaurant was built and opened in 1991 as a Burger King and closed at YE 2019 or early 2020 based on my estimations. After renovations, it re-opened as the Waco original "Hawk's Hot Chicken" in early 2021 but it closed around fall 2022.
Schlotzsky's / 1508 South Jack Kultgen Expy.
Schlotzsky's Deli as the chain was known back then opened here in 1996. Since then, it has has just had updates as corporate policy has dictated (to the "lotz better" prototype in the early 2010s, which dropped the "Deli" name.
Fuego Tortilla Grill / 1524 South Jack Kultgen Expy.
This taco shop was built on the site of Legends Cycle, which moved out in the early 2010s. Prior to that, it was Euro Shop, which was another motorcycle dealership until the partnership disintegrated and the business partners went separate ways (that was 2011), and back in the 1990s was Harley-Davidson of Waco before they moved in 2003 (see further down in this page). It had moved here from 928 North Valley Mills Drive. In late 2013, the building was torn down, and the new Fuego Tortilla Grill opened in August 27th 2015, the fourth location in the chain and second in Waco, though Fuego's dual-location presence in Waco only lasted a year.
1700 S. Jack Kultgen Expy.
This motel and restaurant were both built in 1970; today, the motel operates as Budget Inn (which has had that name since the mid-1990s), with the restaurant operating as Mexican restaurant La Jaivita (which has been here since 1993).
Golden Chick / 1500 South 18th Street
One of my very first experiences with dead chain restaurants was noticing this former Dairy Queen sometime in the early 2000s (2000-2001), with a scratched-up Dairy Queen-shaped logo converted into a fly-by-night taqueria of some sort. Taqueria Arandas picked it up in 2003 and cleaned it up somewhat to not look quite as obviously as a former Dairy Queen, and from 2014 to 2018 it was Taqueria Mexicana. In 2020 it became a Golden Chick, which completely altered the building. The building was around since 1985 but I can only find proof Dairy Queen was operational here since at least 1992.
CEFCO / 1620 S. 18th St.
Between October 2015 and December 2016 this gas station/convenience store was fully rebranded as a CEFCO (gas station canopy). It was a Shell previously, and has been CEFCO since 1994 (though it's not known if it was a Shell at that time).
Starbucks / 1703 S. 18th Street
This stand-alone Starbucks location opened in April 2023.
Tornado & El Expreso Bus Company / 1900 Speight Avenue
This charter bus station was a gas station and convenience store until the late 1990s.
A-MAX Auto Insurance / 1706 S. 19th Street
This was a Chevron until sometime around 2008 or 2009 but the gas station dates back to the 1970s.
Rene's Restaurant / 1912 Speight Avenue
This was originally a Dairy Queen and has been several other restaurants since 1992, when Dairy Queen moved to 1500 South 18th Street. Rene's has been here since 2000.
1715 S. 19th Street
I can't find much on this building (built 2008, and still had its parking lot sliced off). It faces Interstate 35 and has "$30 Unlimited" signage on it (phones, probably) but the only hit for the address (despite the address being on the building) is for "Taqueria Mis Marias", a taco truck that hangs out on the property. "Beverly Hills Plaza Wireless" has been here since 2008 and today uses the address of 1721 for some reason.
Rudy's Country Store and Bar-B-Q / 2510 Circle Road
Opened in April 2003, this restaurant (featuring a gas station as well) has a Circle Road address but faces I-35. It is a chain restaurant and is known for its barbecue with its long indoor picnic tables and rolls of paper towels instead of napkins. It doesn't appear to have replaced anything.
Bubba's 33 / 2601 S. Jack Kultgen Expy.
One of the new commercial establishments to come out of the University High School redevelopment (see next entry), Bubba's 33 is a sports bar style restaurant owned by Texas Roadhouse featuring beer, pizza, and hamburgers, with a flagship hamburger featuring 33% ground bacon. This location opened in June 2015.
2609 S. Jack Kultgen Expy.
This building contains a Starbucks (here since 2015), however, the other co-tenant, Potbelly Sandwich Shop, closed sometime around the end of 2018. (This has been deliberately placed in the list before Orscheln, it's in front of it after all).
Orscheln Farm & Home / 2701 S. Jack Kultgen Expy.
Orscheln (archived store page) and the surrounding retail including the Home2 Suites by Hilton, Ichiban Japanese Steakhouse & Sushi Bar, Bubba's 33, Chili's, and the now-defunct Zoës Kitchen was built on the site of University High School at 2600 Bagby.

It was originally known as "Waco Technical High School" when it opened in 1946 and became University High School in 1954. I had read that the reason it became "University High School" was because of the campus' original spread-out nature (like a university) but I can't find the article anymore. However, topography maps and aerial photographs support the article I had remembered reading, as the school did have more buildings until construction of I-35 wiped all but one out, at which point, newer, more traditional buildings were built closer to Valley Mills.

After serving as a high school for decades, in the 2011-2012 school year, it became University Middle School (which moved from across the street) as University High School moved to a new location at New Road and Old Robinson Road. UMS closed as the school district reorganized, and after inviting former alumni, the old UHS torn down and redeveloped as commercial space, retiring the address. Briefly, during construction, 2600 Bagby was used as the address for the first tenant that was here, Gander Mountain, which opened in fall 2014. Just over two years later (spring 2017), the store closed, and Orscheln opened in November 2018.

I never went to UHS, but I always do remember seeing it from above (on the ramp from Valley Mills to I-35) coming back home from visiting my grandfather, cementing the memories made while I was there.

Going back to the present, due to a merger between Orscheln and Tractor Supply Company, this is scheduled to be divested to a company currently with no stores beyond Kansas, the farm and ranch retailer Bomgaars.
SOUTH VALLEY MILLS DRIVE to LOOP 340 - South
See the Valley Mills page, it's been updated, check it out!
Texas Roadhouse / 2815 La Salle Avenue
Located on the quarter-mile stretch of La Salle between the Circle and where it merges back into the highway, this chain restaurant opened around 1999 (according to county records). See the Valley Mills page on the nearby restaurant (defunct), El Chico.
Days Inn / 3120 Jack Kultgen Expy.
This used to be a Motel 6 (Days Inn since late 2021/early 2022) and for a while there were actually two Motel 6 hotels between Valley Mills and New Road. Somewhere around this point, the highway drops the Jack Kultgen name, but I don't know where officially.
Service King / 3305 N. Interstate 35
Google marks all Service King locations as being "Now Crash Champions" but as of May 2022 this is still branded as Service King (despite the merger with Crash Champions, I have personally yet to see a rebranded store). Wade Auto Body opened here in 2001 and around 2013 was converted to Service King with a repaint of the facilities. From 1990 to 2001 this was Cen-Tex Brake & Spring and before that was Waco Spring & Brake Service Inc. (possibly same company) back to 1980.
Relax Inn / 3824 Interstate 35
This motel has been here since 1957 under some name or another. Work in 2018 demolished the old lobby and built a new one on the south side of the complex (as well as filling in a small central courtyard in the middle of the parking lot). The old logo of the motel, which it had from at least 2007 to the re-do, looked a lot like the old Pepsi logo (the one pre-2008) except with green instead of blue.

It appears that this was the Thunderbird Motel until some point in the 1990s.
Motel 6 / 3912 Interstate 35 South
This Motel 6, from Google searching, was originally Rodeway Inn and converted sometime around 2017.
Hooters / 3921 Jack Kultgen Expy.
This Hooters opened in January 2006 among opposition but proved to be a big hit anyway. The driveway doesn't connect to the development to the south, making access a bit difficult. A new QuikTrip (opened July 2021) connected its driveway to it but it still doesn't connect to the Quality Inn/Dave's Hot Chicken/IHOP parking lot.
Dave's Hot Chicken / 4017 Interstate 35 South
This restaurant opened in June 2022. It was formerly a Carl's Jr. (with a Green Burrito inside), which returned to Waco in January 2011 but closed around late 2019.
IHOP / 4109 Interstate 35 South
This IHOP opened in the mid-2000s. It is open 24 hours.
New Road Inn / 4000 Interstate 35 South
This was initially "Royal Inn" in 1985 but became New Road Inn in 1987. It has been like that since.
Quality Inn & Suites / 2410 S. New Road
"Quality Inn & Suites Near University" was built in 2001. It is attached to aforementioned now-former Carl's Jr.'s parking lot.
Conoco / 4020 Jack Kultgen Expy.
This gas station at the northeast corner of I-35 and New Road has seen several brands over its lifetime, it was Chevron in 2007 and Philips 66 in 2010s (still Philips 66 as of 2018, but Conoco as of 2021).
Flying J Travel Center / 2409 S. New Road
This Flying J Travel Center (sister brand Pilot is down the road) offers Denny's as an on-site option.
Harley-Davidson of Waco / 4201 Jack Kultgen Fwy.
Harley-Davidson of Waco has been around since the late 1960s and this is the fourth location they've been in, moving here in 2003 from 1524 S. Jack Kultgen Expressway (now the site of Fuego Tortilla Grill). The parking lot also connects to Flying J next door.
WCTractor / 4204 I-35 South
Just north of here, 4200 Jack Kultgen Expressway, was a gas station. It was demolished in 2012 after being closed since the late 1990s and served as a Texaco at some point (possibly closing as such).
Cinemark Waco and XD Theatre / 2400 Creekview Drive
This theater opened in October 2021 (it was supposed to open in 2020, but got delayed for obvious reasons). It has a Creekview address but faces I-35.
Central Texas Marketplace / 4633 Jack Kultgen Expy.
The eastern, newer half of Central Texas Marketplace built in the early 2010s, featuring Cabela's Outpost, Office Depot, Best Buy, and others. I can't actually find a leasing map for this one, so you'll have to do with my hacked-up map here. Of note is 4671 Jack Kultgen Expressway, which has already gone through four restaurants over 7 years. The first, Twin Peaks, was operational from August 2014 to May 2015 when it closed following the 2015 Waco shootout. It finally reopened as Scotty's Brewhouse in March 2018, but it closed in December (parent company went bankrupt) where it sat for nearly another year before Louisiana Crab Shack in November 2019. This closed in spring 2021.

In the map I labeled Cabela's as Cabela's Outpost as it says on signage and what it opened as in October 2013. Since Cabela's has gone through change since then, including a merger with Bass Pro Shops, the current page for the store makes no mention of the Outpost name, but as of May 2020 the signage is still up.

Also 4633-109 used to be Charming Charlie with James Avery picking it up in April 2019 (before Charming Charlie closed its remainder of its stores).
---
LOOP 340 - South to SOUTH HEWITT DRIVE / WEST MOONLIGHT DRIVE
The intersection with South Loop 340 (also State Highway 6) was rebuilt in the mid to late 2000s, with several flyovers and new cloverleafs. Central Texas Marketplace, a large shopping center, is here. You can see the Loop 340 page at
this link
.
---
Baylor Scott & White Hillcrest Medical Center / 100 Hillcrest Medical Boulevard
When this large hospital first built in 2009 it was the new location of the Hillcrest Baptist Medical Center, and at the time of its opening, 50% of the hospital was bought by Scott & White Healthcare. In 2014, it was the first hospital to be rebranded as a Baylor Scott & White hospital (Scott & White's merging partner, Baylor Healthcare System, had not been affiliated with Baylor University for decades).
Tractor Supply Company Distribution Center / 2801 Corporation Pkwy.
The facility is currently one of eight distribution centers and the only one in Texas. It supplies Texas and the adjacent states (well, at least until that Arkansas one comes in-line in late 2023). I'm not sure when it opened, did it open in the year 2000? Or was it 2003?
Cracker Barrel Old Country Store / 221 Enterprise Boulevard
Around Spring Valley Road the highway takes on the Enterprise Boulevard name and resets the numbering. Cracker Barrel #766 opened here in early 2018, a complement to the older restaurant on the north side of Waco.
RDO Equipment Co. / 215 Enterprise Blvd.
RDO has been at this location since at least 1996.
Victorious Life Church / 7459 N. I-35
This church has been here since the mid-1990s and had its name since at least 2007. It shares the property with Abundant Fellowship Church which operates out of the gym building in the back. Google assings the 7537 address to AFC but that's not true...7537 belonged to Waco Memorial Funeral Home, which was demolished in 2023 and sat just south of the church, with its geodesic dome structures.
Atwoods Ranch & Home / 701 Alliance Pkwy.
This Atwoods opened in March 2022 and while facing I-35 has no direct access to the highway. Perhaps this will change in the future.
Walmart / 733 Sun Valley Blvd.
This Walmart faces I-35 and opened in September 2016. Store #7156 is a Supercenter but replaced no other store. It has a Subway inside.
McDonald's / 7961 Interstate 35 S.
Opened 2002, an exterior renovation happened sometime in the mid-2010s.
Valero / 720 E. Spring Valley Road
This Valero originally was a Diamond Shamrock/Corner Store (originally Payless Gas before they sold out their Waco stores at some point, gas brand unknown) for years, then converted to Valero in the mid-2000s, then tore down their store in 2012 for rebuilding (reopening in 2013) before a conversion circa 2018 to Circle K. Originally (pre-2010, roughly), the southbound frontage road turned into Spring Valley Road while an intersection near the gas station was where the new southbound frontage road came in. Construction in the widening of I-35 changed this.
Pilot Travel Center / 8055 Interstate 35
This Pilot Travel Center has a Wendy's inside the main convenience store as well as a Subway.
Fortiline Waterworks / 419 Enterprise Blvd.
During this stretch, I-35 is known as Enterprise Boulevard. This was World Lift Truck Inc. until sometime in the mid-to-late 2010s.
Crestview RV / 635 Enterprise Blvd.
This opened as Great Adventure RVs in the early 2010s and became Crestview RV's Waco location a few years later. Previously, the lot had sold portable buildings (sheds, etc.).
Fun Town RV / 777 Enterprise Blvd.
This was originally Walkabout RV when it opened in the mid-2000s, by the early 2010s it was Fun Town RV. Fun Town RV Waco brought a large expansion to the RV lot, and later doubled that to almost 14 acres.
Chevron / 1001 Enterprise Blvd.
This gas station was a Philips 66 in the late 2007 and for a while had a large smiley-faced sign identical to the gas station in West (likely this was its "twin" with an Exxon and other features in the late 1990s). It became a Valero in 2016 after several years of being unbranded (except for the smiley face, which was removed but got a new home), and was a Chevron by 2022.
Steve Palmer's American Classic Homes / 10565 IH-35 South
A good ways is this small establishment. It was rebuilt in road widening but managed to salvage the smiley face from the gas station mentioned above.
---
SOUTH HEWITT DRIVE / WEST MOONLIGHT DRIVE to CALLAN RANCH ROAD
The intersection where South Hewitt Drive becomes Moonlight Drive was originally all Old Temple Road, but the extension of Hewitt Drive (mid-2000s) and reconfiguration of Moonlight Drive (2013) made this no longer the case. You can see the Hewitt page
here
. This section primarily covers the Lorena area.
---
Mitchell Construction Co. Inc. / 139 Mid Tex Road
There's not much in this stretch beyond the Lorena Industrial Complex, a small cluster of warehouses off of I-35, this is one of them. Also, around this area, the I-35 numbering resets back to 100 and counts up again heading south.
Papa Joe's Texas Saloon / 1505 N. Interstate 35
This honky-tonk has been here since at least the 1990s. Notably, in 2007, Billy Joe Shaver shot a man in the face.
Brookshire Brothers / 406 N. Interstate 35
McLennan County is one of the only counties (if not THE only one) where both Brookshire's and Brookshire Brothers grocery stores co-exist...at least before Brookshire Brothers bought David's in 2013.
Lorena Independent School District / 308 N. Interstate 35
The office to the local school district keeps a low profile on the highway.
Bush's Chicken / 100 North I-35
This Bush's Chicken restaurant was rebuilt in 2016 following a fire. It operated as Chicken Express between 1989 and 2006, and switched to Bush's Chicken in 2006 for reasons unclear.
Sonic Drive-In / 302 North I-35
Sonic began operations around December 2007.
15148 S. Interstate 35
The Interstate numbering has hit another reset going south, this time going from south to north (likely part of Temple-Killeen's numbering system). This used to be Encore Custom Fence & Deck, Inc., though has since closed.
---
CALLAN RANCH ROAD to OLD BLEVINS ROAD
This last section covers Bruceville-Eddy to the county line--next stop,
Interstate 35 in Bell County
. Technically, Old Blevins Road is in Falls County, but we'll count it here.
---
Quality Parts Supply / 15844 South Interstate 35
Used truck dealer, but also a scrapyard for truck parts.
Bruceville Eddy RV Park / 18615 N. Interstate 35
This is probably "North" Interstate 35 not because it's north or south of anything, it's on the northbound side.
20102 S. IH 35
This Shell/CEFCO (back in 2012, CEFCO used Shell instead of self-branding) closed September 2012 due to widening, but left the convenience store and the gas canopy. The older gas canopy (the one that wasn't torn out) suggests that it may have been branded as Texaco when it opened, as many Shell stations were prior to 2003. The now-defunct CEFCO #47 was built in 1996, lending credence to the original Texaco branding.
---
Back
|
Return to the Main Page
|
Email
---
Copyright 2020 Carbon-izer.com, this site is not affiliated with any businesses listed here.