OTHER WACO ROADS
Version 2.0 adds Raising Cane's Chicken Fingers, Knights Inn (moved from Valley Mills page), TitleMax Title Loans, Peter Piper Pizza (former Luby's site), 6001 West Waco Road (former Marie Callender's), Red Lobster, Urban Air Trampoline Park, The Home Depot (Waco Drive), Slim Chickens, and a new Sixth Street section with seven entries
6TH STREET
Dutch Bros Coffee / 901 S. 6th Street
This drive-through coffeeshop replaced a Long John SIlver's restaurant that operated in this spot from 1975 to 2018, when it was torn down.
Hawaiian Bros Island Grill / 801 S. 6th Street
This chain restaurant opened in May 2022. From 1994 to January 2020, this was Taco Cabana. By the time it closed it may not have been 24 hours anymore as the chain was originally known for.
Taco Bell / 500 Cleveland Street
This Taco Bell's sign is very visible from I-35 but not directly accessible from it; it sits behind the McDonald's (see the I-35 page) and originally had the address of 824 S. 6th Street when it opened in 1984, as well as an old "Mission" style facade (which has since been expanded/renovated out). Likely it no longer has the 6th Street address due to no longer having accessibility from it, though there's nothing preventing anyone from driving into the parking lot from the parking lot of McAlister's.
McAlister's Deli / 812 S. 6th Street
Directly behind Taco Bell, this has been here since 2002. It is directly behind Taco Bell and to the immediate left of Torchy's Tacos. It was previously Raymond's 6th Street Grill (2000-2001), Wimpy's Hamburgers (1998-2000), Golden Fried Chicken (1995-1997), and Archie's Hamburgers (1985-1995). I did find a commercial for Archie's in its later days, found here.
Sonic Drive-In / 801 S. 6th Street
Behind Hawaiian Bros Island Grill (formerly the spot of Taco Cabana) is this Sonic Drive-In, here since 1993. It's not the oldest Sonic in town, that honor goes to the one in the Robinson area, open since 1985.
Torchy's Tacos / 801 S. 5th Street
Torchy's Tacos opened in February 2014 and was originally a Taco Bueno, operating from 2006 to 2012 after a five year absence from its old location on the other side of I-35 (see this page). It has a 5th Street address but connects back to 6th Street and the parking lot of McAlister's. The only restaurant in this area with no connection to 6th Street is a Wendy's, located between Torchy's and Valero. The Wendy's originally opened in 1978 and has the address of 811 S. 5th Street.
723 S. 6th Street
Finally, one more restaurant sits on 6th Street. It is the newest, physically the largest, with a large parking lot. It's a two level restaurant built as Tres Mexican Restaurant, a two level restaurant, which operated from summer 2011 to summer 2015. The top level was a bar, the bottom part was the main restaurant. It closed in 2015 after being open for about four or five years. In December 2016, Fortune Cookie Express opened in the spot, with the top level now being a milk tea bar, but closed in 2021. (This was adapted/based on from a Wikimapia description I wrote a long time ago).
BOSQUE BOULEVARD
Slim Chickens / 5804 Bosque Blvd.
Chili's opened in 1992 following remediation of the site from a Gulf station (hat tip to Sicem365) and closed in April 2016 after a new location opened at the University High School site. After that, it briefly became Bella Luna Italian Bistro (from 2018 to 2019) before being demolished and reopening as Slim Chickens in June 2021.
FRANKLIN AVENUE
Knights Inn / 3829 Franklin Avenue
This motel was built in 1960 as Villa Capri Motel and renovated in the early 2000s as Knights Inn. I wrote about this one previously.
Raising Cane's Chicken Fingers / 4212 Franklin Avenue
Raising Cane's replaced a short-lived Krystal, rebuilding the restaurant entirely. See the dedicated page.
McDonald's / 4330 Franklin Avenue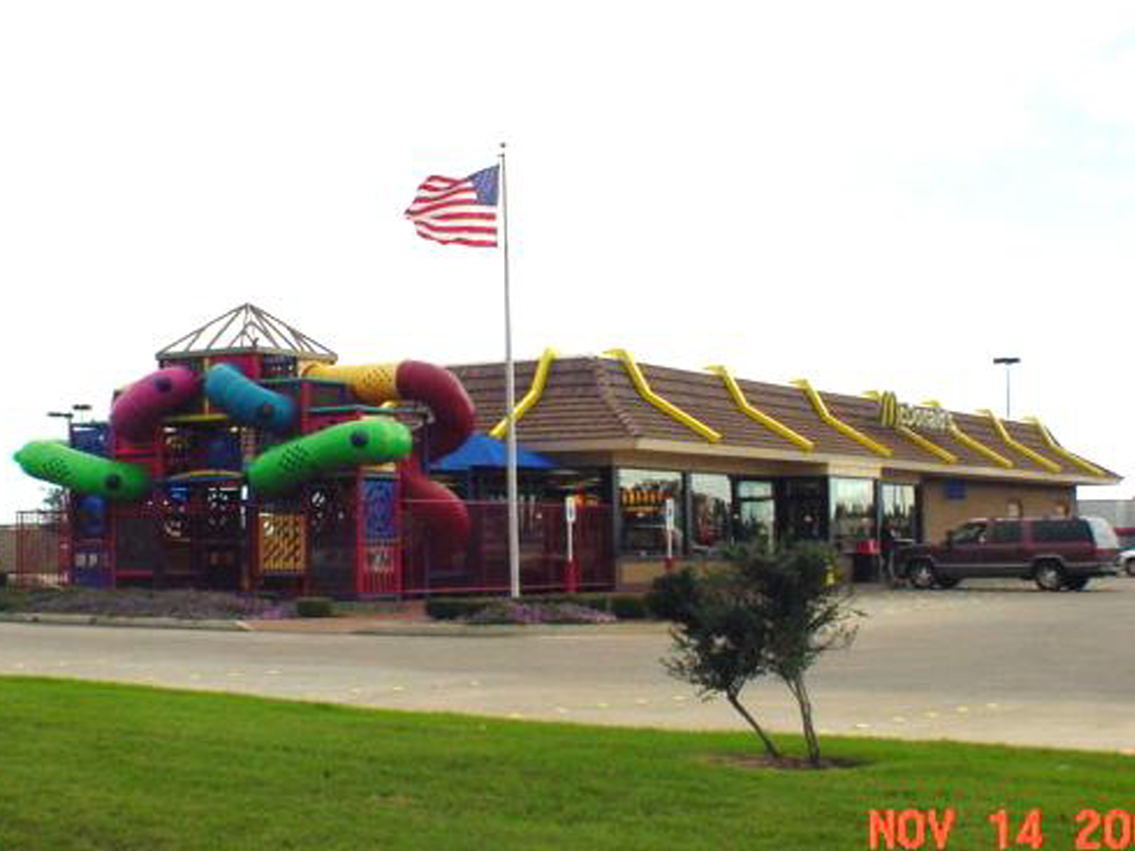 This McDonald's restaurant opened in 1998 and renovated in 2017. This shows the original 1998 exterior, which shows the original restaurant and the outside playscape (demolished with the remodel).
Walmart / 4320 Franklin Avenue
This opened as a Wal-Mart Supercenter in March 1998, replacing a smaller regular Wal-Mart located on North Valley Mills not far away. It helped put the screws to the Super Kmart catty-corner (a full page for the Super Kmart has been previously written).
LongHorn Steakhouse / 4300 Franklin Avenue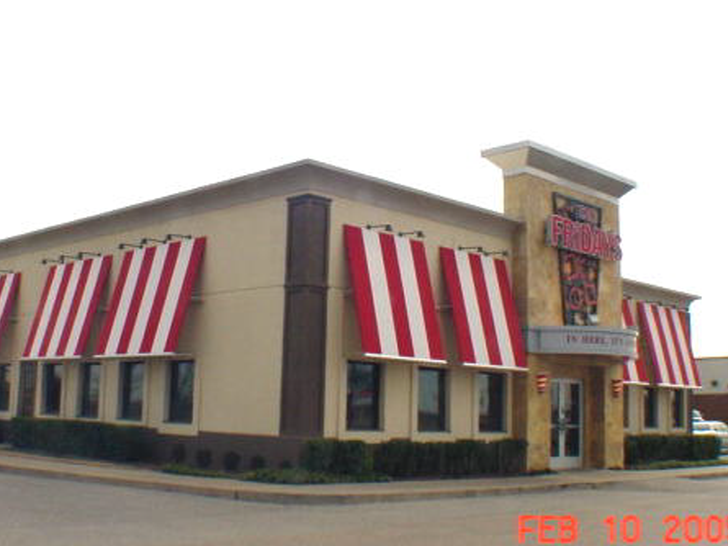 LongHorn Steakhouse opened in early 2014 on the site of (it was a total rebuild) a former TGI Friday's that operated from 1998 to 2009. After TGI Friday's closed it served as another restaurant, Tokyo Japanese Steakhouse & Sushi, which operated from fall 2010 to fall 2013).

The picture depicts TGI Friday's after its circa 2005 remodel, the original 1998 restaurant looked substantially different. Both photos courtesy MCAD.
El Paso Mexican Grill / 4225 Franklin Avenue
This restaurant, built as Tony Roma's and later serving as Buffalo Wild Wings, has a dedicated page here. Just before going to press, El Paso closed in late January 2023.
Cheddar's Scratch Kitchen / 4208 Franklin Avenue
Cheddar's opened around January 2005 with a major reconfiguration of Franklin Avenue that got rid of the frontage roads, added a new lane in each direction, and a new road to access Precision Drive, a signaled road called Cheddar's Drive, named after the restaurant.
Sunoco / 2500 Franklin Avenue
As of March 2013, the block had contained some rough-looking buildings, including Edwards Machine & Tool Company (2504 Franklin), Diamond M Automotive Group (2512 Franklin), and Inmon Motorcycle Sales & Service (2500 Franklin Avenue).

According to a Tweet Stripes had put out, the store opened in January 2014 as a self-branded Stripes. With the purchase of Stripes' parent Susser Stores by Sunoco, the gas brand was changed to Sunoco less than a year after the store's opening. Between 2021 and 2022 Stripes was rebranded as 7-Eleven after Sunoco divested their convenience stores.

Since the store's opening it has had a Laredo Taco Company inside.
NORTH 25TH STREET
Poco Loco Supermercado / 1320 North 25th Street
As of this writing, a dedicated page has been added for the supermarket recently. It has served as Safeway/AppleTree, Winn-Dixie, Fiesta Mart, and Hispanic-oriented independents, in that order.
MARTIN LUTHER KING JR. BLVD.
Enclave at the Stadium / 1600 S. Martin Luther King Jr. Blvd.
In 1970, Pecan Gardens Apartments were built at 1601 Spring Street, though eventually the apartments went Section 8 and by the early 1990s were renamed The Villas of Lake Brazos. It was even shut down at one point in the early 1990s due to crime problems. Around 2007 the apartments were purchased, renovated, and renamed as "Lakewood Villas Apartment Community" but low occupancy and a double murder in 2011 caused the apartments to be foreclosed on, and ended up causing it to be relinquished from its Section 8 status. The apartments were evicted again, renovated and reopened as The Hype in time for fall 2014 at Baylor. By early 2016, the apartments had changed names to The Enclave at the Stadium and assumed its current address.
SOUTH NEW ROAD
TitleMax Title Loans / 100 South New Road
This TitleMax takes up a former Jack in the Box space that was once attached to an adjacent gas station, but the gas station portion is now closed and boarded up. Read more about it (with a picture) here.
Peter Piper Pizza / 120 South New Road
This restaurant moved from Westview Village in 2013 to the site of a former Luby's that was only a decade old. The building was demolished anyway and completely rebuilt. A page had been added for it previously.
QuikTrip / 2350 S. New Road
QuikTrip faces New Road and only has a access road off of Interstate 35 but let's face it--without the Interstate it wouldn't be located there. It opened July 2021.
WEST WACO DRIVE
6001 West Waco Road
This vacant space was built as Marie Callender's but hasn't been such since around 2006, and has not been occupied since 2020.
Red Lobster / 5925 West Waco Drive
This restaurant started out as China Coast in late 1994. Less than a year later the parent company pulled the plug on it and it was renovated and reopened as Red Lobster within a few years.
Urban Air Trampoline Park / 5701 W. Waco Dr.
Alternately/erroneously listed as 5800 W. Waco Drive in the Best Buy days, this was Best Buy from 1993 to 2004 (moved out to the Marketplace shopping center). In 2007 it became GymX (before it moved to the old Linens 'n Things building). It became an indoor trampoline park by fall 2015.
The Home Depot 5605 W. Waco Drive
This Home Depot store opened in 2000. The property was cut out from the industrial property to the north, and access is from Centerpoint Drive, which was signalized around 2000 (also providing better access to what was at the time Mervyn's and Toys R Us).
Ollie's Bargain Outlet / 5200 West Waco Drive
We've covered the former Toys R Us on this website before, but this has been transformed into an Ollie's Bargain Outlet, which opened in February 2020. The rainbow stripes have unfortunately been painted over, but the "Entrance" sign is an homage to the old store.
Burlington / 5050 West Waco Drive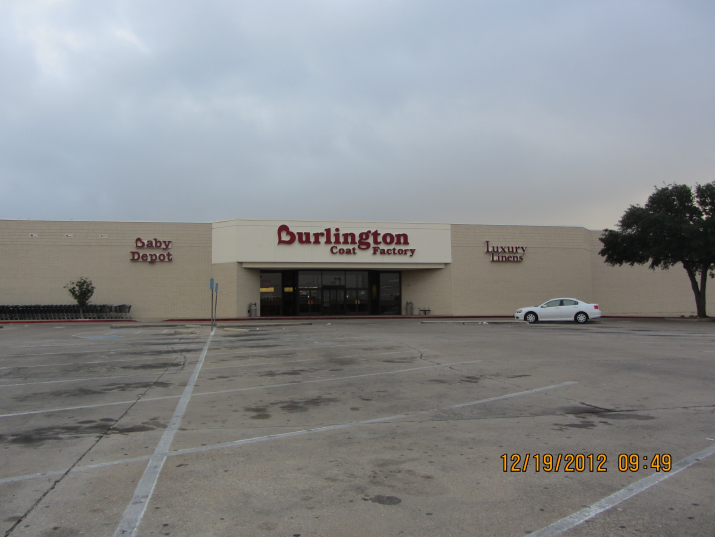 Formerly known as Burlington Coat Factory, Burlington (#532) has been here since fall 2006 when it took over a former Mervyn's that existed from 1987 to January 2006. Picture courtesy MCAD.
Shaan Southern Eatery / 1824 West Waco Drive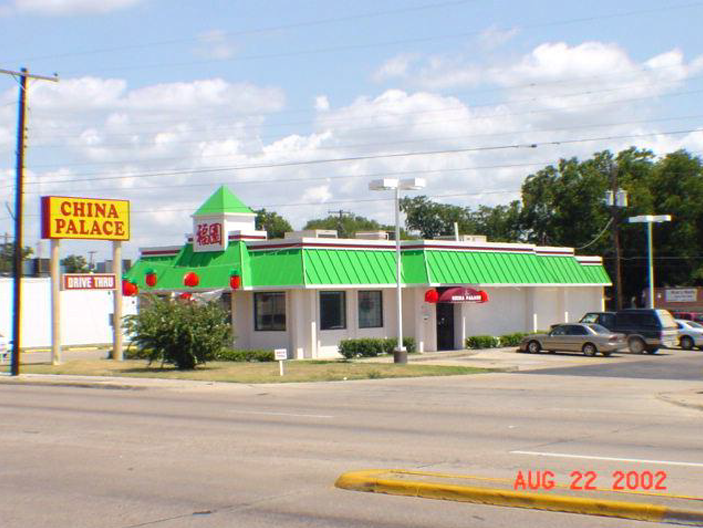 This was a KFC (opened as Kentucky Fried Chicken) from 1982 to 2002, and later China Palace (2002-2005) followed by China Dragon (2005-2006). From 2006 to approx. 2012 this was Adriana & Janette's (also known as Adriana & Jeanette's, but the sign said Janette's) Mexican & American Restaurant. Sam's Southern Eatery opened in January 2014 after another short-lived establishment called Cancun, but at some point prior to 2021 but after 2019 it disconnected from the main Sam's chain and became a similar establishment called Shaan Southern Eatery. The little sombrero and tacos picture where the Colonel used to be (added by A&J's) is still there. The picture above comes courtesy MCAD with the building as China Palace...the first of what would be many repaints. Back | Return to the Main Page | Email
---
Copyright 2022-23 Carbon-izer.com, this site is not affiliated with any businesses listed here.