Hewitt Drive
Hewitt Drive starts at Highway 84 and continues down to I-35 (the northern part beyond 84 is Estates Drive). In any case, this starts at the Woodway Drive interchange. I do have fond memories of this road but it's somewhat dampened in this Version 1.0 without Hewitt Plaza (and United Super), Genie Car Wash, or a few others. Still, there's at least pictures!
H-E-B plus! / 9100 Woodway Drive
Despite the Woodway address here, I've put the H-E-B Plus on this page since it replaced an H-E-B store at 105 Hewitt Drive, dating back to 1991, and the new H-E-B Plus still faces Hewitt.
In 2004, the 1991 store was demolished for the new "H-E-B plus!" format.

The new brand of H-E-B store was one of only three launched in 2004 and in addition to the large 100k+ square feet format featured a rather extensive non-food selection (clothing, albeit limited; electronics; toys). The original smaller H-E-B was turned into parking for the new H-E-B, with the older parking being partially turned into a gas station and car wash.
201 Hewitt Drive
This former Jack in the Box operated from 1991 to no later than January 2021 (though I believe it closed in 2020). There are currently no known plans for the space.
Pet Supplies Plus / 203 Hewitt Road
Check out this page for the history of the building as well as some musings regarding its original tenant. Hollywood Video 203 Hewitt Road Advance Auto Parts formerly Hollywood Video NOTE: Now Pet Supplies Plus. Link to separate page.
Do It Best Retail Service Center / 801 Hewitt Drive
Large distribution center for Do It Best Corporation. Do It Best has been here since at least the mid-2000s. Unfortunately, I can't find much on when they occupied the space or when the building was built.
Walmart / 600 Hewitt Drive
Wal-Mart Supercenter #5389 opened in June 2004 and did not appear to replace any smaller Walmart store. It replaced a warehouse and originally had a McDonald's inside. Later on this got replaced with a Subway (probably about the time it got the "Walmart" re-do in the early 2010s), which I'm not sure is still open or not.
CEFCO / 905 Hewitt Drive
This CEFCO has only been a CEFCO gas brand (formerly Exxon) since November 2016 and November 2017, but the convenience store has portion has been a CEFCO since 1994 when it opened as CEFCO #9.
McDonald's / 913 Hewitt Drive
The exterior and interior of this McDonald's has been upgraded to modern prototypes but the restaurant has been open since 1996.
CEFCO / 1425 Hewitt Drive
This got the CEFCO gas brand at around the same time as the Exxon above (except this one was a Shell prior), with CEFCO operating here since 2000, buying a pre-existing convenience store.
Raising Cane's Chicken Fingers / 1501 Hewitt Drive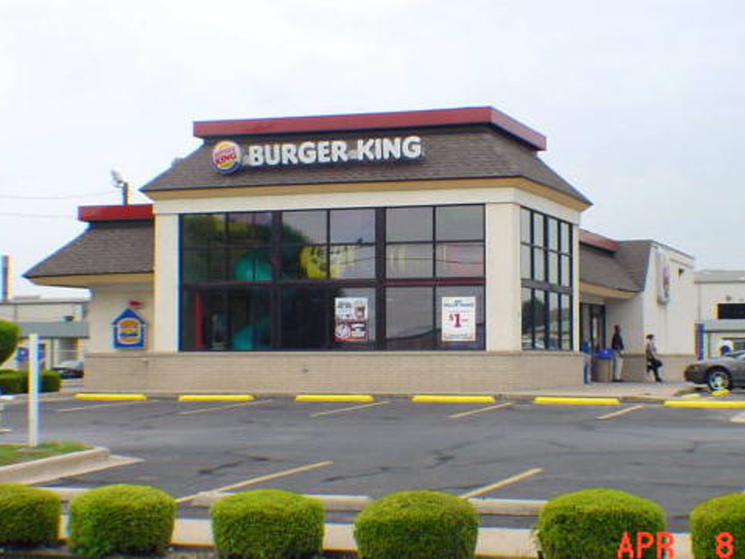 This new-construction Raising Cane's (opened June 2015) replaced a Burger King (pictured above), which operated from 1998 to spring 2014 and featured an indoor playground. The Hewitt Raising Cane's was the 73rd in the state and 225th nationally, as well as the second Raising Cane's in the Waco area.

The picture is from McLennan County Appraisal District, and the cut-off portion shows that it was taken in the year 2008.
Golden Chick / 1524 Hewitt Drive
The Chick came home to roost in Waco once more in January 2016. It's a fried chicken restaurant, of course.
Whataburger / 1528 Hewitt Drive
It appears that this Whataburger opened in January 1999. Even in 2002, it seemed very new and still isolated.
Burger King / 1601 Hewitt Drive
The King re-emerged in January 2020 (just blocks away from its old location) in this former Taco Bueno, which operated from mid-2006 to around December 2018.
Taco Casa / 710 Hewitt Drive
Taco Casa opened here in 2008 shortly after Bush's Chicken (Bush's Golden Crisp Chicken, originally) moved. It had been here since 2001.
109 West Panther Way
Food Lion #1114 was here from August 1992 to November 1994. I can't find much on the post-Food Lion years but it definitely appears it never served as another retail store, much less grocery store, again.

After Food Lion, the building served as an EMSI call center for an indeterminate amount of time. Midway ISD purchased the building in October 2019 to become a "a technology and data center for the district" but it has apparently leased the building (as of March 2021) to a branch of Support Services Group.
Chopsticks / 500 Hewitt Drive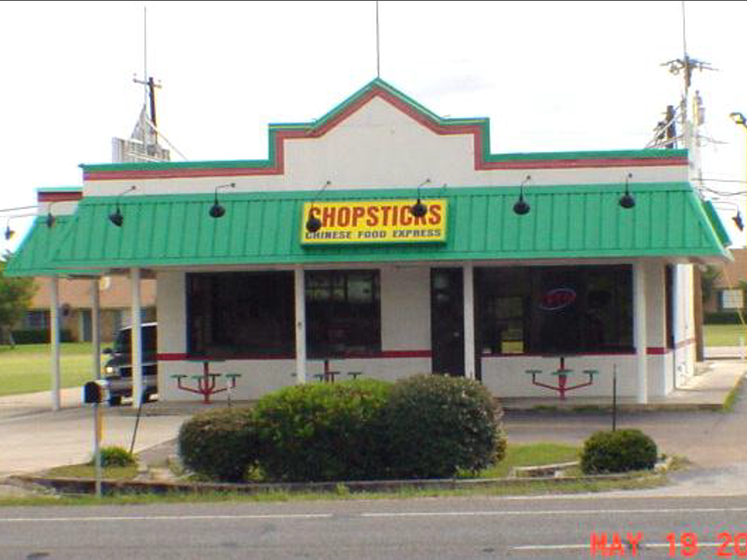 Golden Fried Chicken was here from 1985 to the late 1990s when the franchise split off and renamed it as Bush's Gold-N-Crisp Chicken, the first location of what is now known as Bush's Chicken. For a very brief time in the early 2000s it was Bush's Crispy Taco, a short-lived spin-off of the restaurant, and has been Chopsticks, a local Waco Chinese take-out since 2003. The picture from McLennan County Appraisal District was taken in 2004.
Davis Iron Works Inc. / 224 N. Hewitt Drive
Davis Iron Works has been here since 1974 and later became Davis Steel Services & Iron Works. In the warehouse portion, Metals 2 Go has been here since 2003, but according to tax records are the same company. The warehouse originally had a railroad spur, but in the late 2000s was removed.
Uncle Dan's Bar-B-Que / 231 North Hewitt Drive
According to Waco Today, this restaurant opened in 1990, but according to McLennan County Appraisal District, the building was built in 1984. It was "Pizza Plus" originally from 1984 to 1989, and briefly RDJ's Burgers in a Flash (a second location spun off from the original restaurant in Temple) before becoming Uncle Dan's in 1990.
315-319 S. Hewitt Drive
This former Fina gas station has not been a Fina in years. It wasn't a Fina back in 2002 (my first recollection of it) and I think it stopped selling gas sometime around 2004. Islamic Center of Hewitt is at 317 South Hewitt, and based on some pictures they have done some work inside but it's clear that they operate on the down-low without any signage whatsoever.
CEFCO / 100 Ritchie Road
This CEFCO (gas/c-store combo) opened in December 2017 with a Which Wich inside. There was still a Which Wich at the site two years later, probably got wiped out in the events of 2020.
Conoco / 1702 West Spring Valley Road
As of February 2008 this was a Quik Pak with Texaco, but by 2011 was a Philips 66 with "Hewitt Grocery". (Based on other records, CEFCO bought out Quik Pak, but apparently, not this one!)

By November 2019, Hewitt Grocery had lost its gas brand, though by April 2021 had gained a Conoco. Originally, Hewitt Drive ended here at an intersection with Spring Valley Road. In the late 2000s it was extended with an overpass over Spring Valley and a strange four-way intersection with a railroad cutting through it. It continues onto Interstate 35. It eventually curls back around as South 12th Street and reconnects with Loop 340. Return to the Main Page | Email
---
Copyright 2020-2022 Carbon-izer.com, this site is not affiliated with any businesses listed here.