UPDATES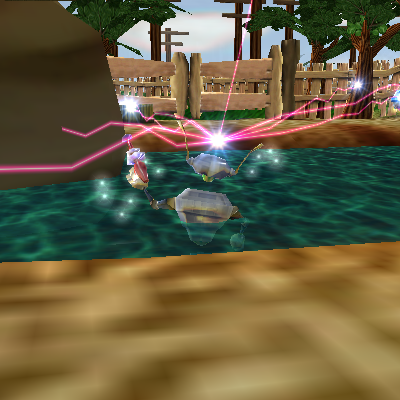 MARCH 31 2023
OK, this isn't *quite* May 31st, but I won't have time on May 30-31st, and I've already paid this month's rent. This is about the time I start getting burned out and then declare the May 31st edition the last one before "vacation", but last year didn't turn out so well, so mostly what I'll be doing is trying different things to diversify the site...small things, but diversity none the less. Let's get the old stuff out of the way first.

Under "Places", one new change is that the big sub-headers for shopping centers won't exist anymore, replaced by "mentions" which has been de facto done in recent updates—for example, the Texas Avenue Bryan update a few months ago merged the adjacent "1601 North Texas Avenue" stores into the "H-E-B" entry. The existing entries won't be touched unless they have to be (but in some cases they were). Let's start out with one that was changed: the Bastrop page. Highway 71 in Bastrop County and the newly-reformatted Bastrop Area - East of the Colorado River got this change when Burleson Crossing Shopping Center got chopped up.

The Houston Roads section also got some major updates concerning the four cardinal directions: West Houston Roads was updated with the stuff that was stripped off of the Katy Freeway's page (which had necessitated that page's temporary removal). North Houston Roads has been reconfigured to add content from Gessner Road, while removing content to go to "Outer Loop Roads". Luckily most of the coolest stuff is still on that page. To complement the North and West Houston pages (and as part of the whole reconfiguration), I'm happy to introduce South Houston Roads (which picks up some Gulf Freeway entries as well as Highway 146) and East Houston Roads, which I had originally had planned as "Baytown" a few months ago (it has a lot of truck stops and gas stations), and that was during a time when I was considering adding stuff all the way to Louisiana. (That is no longer the case). The final result is almost identical to what I had written except it adds mention of an unborn Lowe's (it was built but never opened) north of Baytown closer to Atascocita, removes one gas station outside of Harris County, adds a long-dead Channelview Jack in the Box as well as a short-lived Pollo Tropical on Garth Road. Gessner Road has gotten a new addition to help compensate and then some for its removal, as well as some other minor changes it needed anyway. Montgomery County was updated, which I had been pending for a while. And while I did work on Westheimer, Version 12.0 won't be out until next month. Thanks to the "chop-up" method, I did figure out a way to replace the 17 or so Katy entries that got stripped off and add 12 new ones, so the Katy page now works properly again (and yes, I did have to chop up the strip malls). That being said, it was a bit of a nightmare to do and I hope I don't have to mess with something like that in the future.

For Austin (not counting the Bastrop pages) Other Austin Roads now has over 50 entries. The way things are going it might be split into "North Austin" and "South Austin" pages soon enough, probably as soon as next update. I-35 in Hays County got another update. It breaks up a strip mall but adds some new stuff, including a nice night picture of a Cavender's Boot City sign.

Exor's Dungeon has been updated. Retro City Rampage and SimCity 4 are back on the menu. Otto Matic joins the list for the first time (also the update picture)...while Yoot Tower, Milestones 2000, and The Legend of Zelda: The Wind Waker bow out for the time being. Other very minor changes—some formatting errors with Pokémon Card GB2: Great Rocket-Dan Sanjō!...and Bubble Trouble was placed below Cities: Skylines and Cuphead instead of above.

In more exciting news, there's a new section on magazines. I briefly discussed the role of Nintendo Power in my review for Playing with Super Power, a book that does many things but none of them well. This is the real deal. The premier section will just deal with three magazines, one from 1991 (27), one from 2001 (145), and one from 2005 (190). Future versions will broadly focus on the other eras, and then we'll start working out way from Volume 1. For Volume 145 I posit the question of the fate of some "Pokémaniacs" (the K'NEX page, for instance, briefly discusses a "Where Are They Now?" section) but in Volume 190 we find the answer to what happened to a reader...don't ask questions you don't want to know the answer to! I should note that Exor's Dungeon is fairly SFW but not as much as Carbon-izer, as Volume 27 makes a veiled reference to something very bad, and Volume 190...well, you'll see!

- A minor update was done to Italy in 2014. This fixes a few typos and errors, as well as mentioning the Love's travel center that opened the following year.
- An even more minor update was done to Sears Bakery Deli Cafe (typos and new links).
- I also permanently disabled the StatCounter script which this site has had since August 30, 2015. It never really worked right and it wasn't as helpful as I wanted it to be, plus with script-blockers and security issues it was putting out inaccurate numbers anyway.
---

APRIL 30 2023
As is the case every month, I create this grand plan of what I want to do in a month and then it just gets cut down to almost nothing (so much for "next month I plan to do a major reorganization of the main page"...though I've played around with the page, swapping out "Carbon-izer Labs" for "Random"). But I've been busy with a bunch of other stuff anyway, I have a real excuse! Today's update mostly concerns three things, the continued phase-out of the "Former Chain Restaurants of Texas" page. The link is no longer available from the main page, but the old Pollo Tropical page has been transformed into "Pollo Tropical's Texas Vacation". It is an expanded version of the old Pollo Tropical page with a new scan and every former location in Texas (which previously just had a dozen or so locations). It does not have what they are currently, though a few of these are covered later in their respective "Places" documents...which is a good segue to go into the second part of this update.
Now, despite "Places" being difficult to update (in fact, less than twelve hours after I sent in Other Waco Roads I get word that McAlister's Deli had already closed and another restaurant is lined up to replace it, for instance), I still do enjoy doing it. Houston - Inner Loop got some updates (still no Rice Village stuff, though). More regarding the Outer Loop and beyond is still upcoming, however. I had spent too much time working on it, but enh, it can wait. Basically, I've come up with a more solid plan for what entails the four cardinal directions and everything gets re-sorted. Also as part of this revamp, Katy Freeway's page has gotten temporarily removed, a number of issues prompted this, including somehow missing a few updates I thought I added, such as the former Luby's Cafeteria near Town & Country Mall, and I also found there weren't enough new items to compensate for what I planned to remove, let alone add any new ones. It should return next month. Northwest Freeway (Inner Belt) got a "version 7.0.1" update (not mentioned in the page itself) that fixes a few formatting errors, and while I have been informed of some of the changes (Doubletree taking over Grand Tuscany, for instance) that all will come later. I-35 in Austin was updated to Version 7. It adds sites that once held the likes of Grandy's, Old San Francisco Steak House, and Montgomery Ward, but nothing groundbreaking. Likewise, Interstate 35 in Bell County was updated to Version 8 with over a dozen new entries but again, nothing too big. There's a much larger backlog, but those we'll all get around to eventually.
Under the Exor's Dungeon section, I had initially considered a net gain of +1 to make it 60 items, but that still left too many "unrated" items, and the list got slashed instead down to 50. I managed to complete some updates for Braid, SimTower, and TeenAgent so those stay for the foreseeable future. New additions/returning entries are Final Fantasy VI, Power Pete, Sam & Max Hit the Road (which is this month's update thumbnail), SimCity 2000, and "Pokémon Card GB2: Great Rocket-Dan Sanjō!" (the Japanese-only Pokémon Trading Card Game sequel). The titles being delisted (not permanently): The Adventures of Willy Beamish, Back to the Future: The Game, E.V.O.: Search for Eden, Façade, Five Nights at Freddy's, Grim Fandango, The Legend of Zelda: Oracle of Seasons, The Legend of Zelda: Twilight Princess, Machinarium, Mario Paint, Pokémon Pinball, The Shivah, Strong Bad's Cool Game for Attractive People, and finally SimCity 4, the last one being that the review still is out of date and I'm planning on a more substantial rewrite. For now, it will have to take the backseat to SimCity 2000. That particular page was updated as well with a new addition to "Tips": "Does radiation really go away?" (Short answer: no.) The SimCity 2000 Newspaper Project has been updated once more and integrated with the rest of the SimCity 2000 section.
---

MARCH 31 2023
In the recent months I've been talking about adding more "Places" sections to the website, but that was easier said than done. This has been a problem for a while. At one time it was based directly on trips but I then I thought about Two Way Roads and how the final results were either embarrassing, boring, or a mix between the two, and even hybridized attempts like the original version of Carbon-izer Goes to Austin 2017...Plus Some turned out badly (I still intend to revamp it as exclusively focusing on Uncommon Objects, but that's for another time). At other times it was just going to be a scaled-down version of the "road directories" pages with some other articles to round it out, but I decided against that. Instead, already facing burnout and personal issues, I decided to write six articles with a common theme (which the above article was not) and started to develop them with the hopes that two or three would be ready for prime time.
All but two were focused around North Texas despite the noise I've made about South Texas recently, because when it comes down to it, a lot of what I could add (that is, without extensive scanning and research) has already been added to this site. Of the six planned features, I was able to crank out an article I entitled "Italy in 2014". Nothing to do with Europe, but it is quite interesting, with a single building that featured a Grandy's, McDonald's, a motel, and more. Grandy's has continued to die off since 2014 and while there is nothing yet on this site about it (beyond passing mentions, usually in the form of defunct restaurants) it's something I wish to talk about in more detail at some point, maybe not even necessarily on this site. The thumbnail of the article, which is this month's update picture, refers to a different building mentioned in the article.
There have been updates to the Houston and Waco pages. On the Houston side, we've got FM 1960 West's "Version 9.0". It's nothing too dramatic but goes over the road again and adds over a dozen new entries, including some stuff that West Houston Archives previously took a picture of. Notably it includes "Freshville Foods", a one-off grocery chain in Houston no one talks about and a full history of what is now Volkswagen Cypress. The Northwest Freeway corridor pages have also been updated, with one page fully eliminated (the part between Hempstead and the Grand Parkway) and the creation of a full Hempstead page. Both Northwest Freeway Outer Belt and Northwest Freeway Inner Belt are on Version 7, with the former absorbing entries from the other page and the latter becoming "complete", as in, every building along 290 has been added or discussed and now it's time to make updates as they come, like when the old Luby's gets re-developed or whatever.
Under the Waco-Temple-Killeen pages, the Valley Mills Road in Waco has reached version 9.0 and features a number of new additions including a rare picture of an operational "YES!Less" store. Tied into that is an update to Other Waco Roads and a full update to Interstate 35 in Waco. Finally, in unrelated news, there has been a quick update to Texas Avenue in College Station.
In terms of Exor's Dungeon, I had some stuff written out (guess we'll have to wait until next month) but I did count the games on there and came up with 59 (I hope I didn't miscount), so I decided to add back Space Junkie just to keep at 60. In other video game news, this past month Paradox Interactive announced Cities: Skylines II, due out later this year. But given that there was no gameplay footage and the achievements list only has rewards up to 100,000 people (100k population is not skyscraper territory in the least), I'm not really convinced.
Stay tuned. I can't take down the entire site and rework it (it would NEVER go back up if that was the case) but next month I plan to do a major reorganization of the main page.
---

FEBRUARY 28 2023
For this month I wanted to make Exor's Dungeon less broken as I've tried to make the site a bit more well-rounded in compared to exclusively focusing on the "Places" section, while segregating out the video game stuff as it doesn't really flow with the rest of the site. Last month I had to do some last-minute fixes to a few pages...and it turned out the Games List was broken for quite some time (the "Back" links didn't work).

A lot of what Exor's Dungeon is (and by extension, the rest of the site) is influenced by other websites I've liked, and I'm trying to get a feeling for what I want to do. I really enjoyed what Fantasy Anime did, which built a bunch of "shrines" (unique sites-within-a-site) for individual games.

I liked the idea. After all, I created Yoot Tower Guides for Yoot Tower (it is unfortunately still idling) and had plans to create smaller pages for other Mac games. How I wanted to do it was a different issue. I really couldn't afford to make an extensively themed page for each game I wanted, and I already had some pages that have sub-pages, including The Shivah, Evil Genius, and SimCity 4 just to name a few. (There might be others, but these were the ones off the top of my head). Very few dedicated SimCity 2000 pages exist on the Internet today and pretty much all of them haven't updated in decades, and rarely are there any good ones. The one exception is Pat Coston's ClubOPolis, which goes over a lot of helpful things including version differences, but again, a lot of that is out of date. On the other hand it has some stuff that only could've come from the Maxis devs, like explaining what exactly the Pirate Squid Club is, among other things. The City Collection downloads page appears to be broken though...too bad! Given I'm currently in the Austin area, I would've loved to see what their interpretation of the Mopac Expressway would be.

It is without further ado that the SimCity 2000 page has been officially added to Exor's Dungeon (paired with an update to the SC2K Newspapers page). In other Exor's Dungeon news, a review for Super Mario 64 has been added, with the site's first "GREAT" rating. Yoshi's Island DS got a real review (the old one was combined with the review for Super Mario World 2: Yoshi's Island). As part of these changes, the entry for Super Mario World 2: Yoshi's Island has been temporarily removed. I also swapped The Legend of Zelda: Twilight Princess's review (still not upgraded) with Final Fantasy VI because the FFVI review was in worse shape than I previously thought. Two reviews were upgraded: VVVVVV (the review, from 2015, wasn't touched at all save for an actual link to the "Passion for Exploring" track) and Super Mario RPG, the namesake of the games website. The current count on the Games list is 57 (with net additions of zero), so I'm thinking I might add three all-new ones (or at least start restoring a few) in the future to make it a nice round 60.

Some work on the Albertsons page was done. It removes "Related Links" as both Acme Style Blog and South Texas Retail have nuked themselves from the Internet (yes, I realize there's Archive.org). It also adds a section on Good Day (a house brand of the chain) and updates the history to account for some information on the Osco/Sav-on rebrands, the opening of the first Arizona store, and the dreaded Kroger buyout, though the last part I deliberately did not focus on and decided to choose something a bit brighter to focus, some new efforts in the Southern Division.

The Houston page has gotten significant upgrades. Other than Gessner Road getting a big expansion to focus on the north-of-290 section and North Shepherd getting another update, the big shakeups include the fact that Other Houston Roads is now focused on the Outer Loop with a new Inner Loop page. As a result, updates were made to Loop 610 and Northwest Freeway Inner Belt pages. The Inner Loop page makes reference to Rice Village and the area around it (although the actual stuff on the Village proper was cut, though it does add a few Upper Kirby stuff I wanted to add). "Version 4.0" of the page (both are now on "Version 4.0") adds what was once Wagner Hardware, the Midtown Sears, Tweeter, Houston's first Days Inn, the Heights Albertsons, Herfy's, and the Randalls Flagship store there at Westheimer and Shepherd. It also inadvertantly fixes the link to Holiday Inn Central from that page which due to different directories didn't work, while the Outer Loop page got a massive update to compensate for the missing content, with Gulf Freeway, Hempstead Road, and Mangum Road...and it integrates with the Galveston page (now in Version 2.0!). There's also a new page on The Carlyle (linked to Westheimer Road, now in Version 11.1) that was made among this major upheaval of pages (Loop 610 and nw1.html got minor updates--and yes, I realize that I somehow missed the Loop 610 minor update from last month). North Houston Roads has lots of cool stuff I wanted to add, detailing such things that are gone or changed beyond recognition. Super Kmart, Steamboat House, ScreamWorld, Splashtown, McDonald's with the "lightning script", Jimmy G's, Buyer's Market, Albertsons, and one of Randalls' largest and most shortest-lived stores are all among these. Due to the addition of the page and being highly antiquated, the Splashtown page is no longer accessible from the main pages and will be only linked from this page.

The College Station-Bryan pages also got updates with Earl Rudder Freeway, FM 60 (minor, just fixing a few things), and both Texas Avenue pages (the College Station one is approaching 100% completion), while the Austin's section got two pages added or changed. The first is Other Roads in Austin, which has updated with additional content on the way to Oak Hill (including, but not limited to, the former Tom Thumb-turned-Albertsons) and other parts that are expanded versions of what is currently "Carbon-izer Goes to Austin 2017...Plus Some", so there's Pinthouse Pizza (with its past as Chili's) and 12636 Research Blvd., where Mongolian Grille was. The second one is Other Roads in Hays County. This page goes over memories, odds and ends, and supermarkets. Over the years, Hays County has had (where Kroger AND Randalls both existed on the same road...but not at the same time, and a total absence of Albertsons in the county even before 2002). Waco-Temple-Killeen got a minor update to Luby's New Road (fixing a date) in preparation for the second edition of "Other Waco Roads" and converting the Dodgen Loop page into "Other Temple-Killeen Roads".

That's all for this month. Yes, I've been teasing going beyond the "boundaries" to Louisiana, Dallas, and San Antonio, but those will have to wait.
---

JANUARY 31 2023
I wanted to do a major revamp of the site structure, but I still didn't have a clear idea of how to do it. One idea I had was to reboot the old Blogspot blog to add ephemera scans and other stuff as they came in, but I didn't like the way Blogger formats these sorts of things. Still, Carbon-izer Blog could use some work either way (but that's for another time). I had also wanted to do some more work on the Restaurants page, namely Burger King and Mr. Gatti's. Shortly after I finished these, I found that the Burger King page had no real content, just some personal reflections on the chain, while the Mr. Gatti's page was mostly a rant on how shoddy the pizza was in past and present.

I'll cut Mr. Gatti's some slack and not post what basically amounts to a negative Yelp review, but I'll reproduce what I had wrote for Burger King here:

I grew up in the 1990s, and Burger King during that time was seen as a major competitor of McDonald's, which makes sense on most levels, but while I agreed that Burger King had better food than McDonald's overall (the Whopper was better than the Big Mac and the Crossian'Wich blew the McMuffin out of the water) it was never equal in other ways. They both had kids' meals but I never saw the Burger King Kid's Club gang in commercials. They also had way fewer locations. McDonald's was everywhere--the mall, the Wal-Mart, all around town, and located in the smaller towns as well. Burger King not so much. In 1999, McDonald's had five stand-alone locations in town, plus the mall, plus two inside the local Wal-Mart stores. Burger King? Just one...and unlike McDonald's, Burger King didn't have unique restaurant interiors or unusual regional items as McDonald's did at the time.

Part of this was the local competition. Wendy's had three locations, Whataburger had two, Jack in the Box had two. The other problem was a broader management/franchise problem. By the time I was born, Burger King was a subsidiary of Pillsbury, which in turn was owned by British-based Grand Metropolitan. Grand Metropolitan merged with Guinness Brewery in 1997 to form Diageo and dismantled Pillsbury in 2001, keeping Burger King until it was sold in 2002 to investors, taken public in 2006, taken back private a few years later, and so on. Only in 2014 was it grouped with Tim Horton's under the guidance of 3G Capital and picked up more chains, including Popeyes and Firehouse Subs.

Burger King did get the jump on McDonald's with their Burger King Big Kids Meal (which McDonald's countered with "Mighty Kids"), including a "gooey green apple dipping sauce". I seem to remember this was released in conjunction with the promotion for a Rugrats movie and Nickelodeon's trademark green slime. They changed their logo around this time.

On a December 2001 Christmas trip to Louisiana, we stopped at Burger King where I had my first Crossian'Wich (amazing; the ones today aren't as good) and managed to get the worksheet that was supposed to come with the kids toy. It was a full-color fold-out page with puzzles, trivia, and promotions for the latest toy, in this case, The Lord of the Rings: The Fellowship of the Ring, which had 19 figures (18 figures plus a "One Ring" toy that served as the base) that could all interconnect with each other. I would scan this fold-out page but unfortunately, it's one of the few pieces of ephemera in my collection that was lost--my cat had taken a liking to chewing on it. By that time, the adventures of the classic Burger King characters--KidVid, Jaws, Boomer, and the rest, had disappeared. I'm not sure if they had a worksheet, but I do remember that Burger King had a promotion for DreamWorks' Spirit: Stallion of the Cimarron the next year (that plastic horse is still probably kicking around somewhere in my parents' house...)

In the interim years, I remember for a while they branded their coffee as "BK Joe" (I believe there was even an extra-caffenated version) and the quirkiness of the work of Crispin Porter + Bogusky. They didn't improve the food much but had fascinating marketing with the Subservient Chicken and the hype around King Games (I have fond memories of yet another Louisiana trip in conjunction with that, so the King Games are looked upon nicely in my mind).

Eventually, they parted ways with CP+B. I remember eating at Burger King a lot back in 2016-2018; I had lived nearby and got a lot of coupons. Below is the list of former Burger King restaurants I had written for this site previously.
While the McDonald's page is a future project, I don't have much for the other 60+ pages on that list and I'm still not sure what to do with it.

But nostalgia for trips gone by, particularly Louisiana, are not lost on this update, and the additions to the Houston page both reference some of those old trips while laying the groundwork to add a Southern Louisiana page in the future. Let's go over them.Of course, more is yet to come in the Houston section.

Under the Austin section, I-35 in Hays Co. and I-35 in Austin have been updated, but more are for the "completionist" side of things, and not that interesting. However, the Williamson County page (the most anemic of the three) has been updated with several new entries, including a correction regarding where Power Computing Corporation was. Everything else has been smoothed out. Bryan-College Station didn't get much updates. The University Drive East has been streamlined and updated with the main University Drive page to make the new "FM 60" page. At the Waco-Temple-Killeen section, the Interstate 35 in Waco page got minor updates, as did I-35 in Bell County. Both of them were intended to be "full" updates but instead got cut down. A new page for "Other Waco Roads" was added with some pictures and notes. A last minute change also necessitated an update to the Tony Roma's page as mentioned in the aforementioned page. The Woodway Drive page received a "Version 2.1" update. A more extensive Version 3.0 is in the works, but that will take some time.

Shortly before the last version of Carbon-izer went to press I visited San Antonio and Medina County (for that parisa), and as a result, I ended up being inspired to create a new South Texas page...where everything would be covered from San Antonio to Corpus Christi. This would be different in that it would not have full street directories and focusing on smaller features. I intend to launch it as a prototype of how the Dallas page will look but it was not able to finished on time. However, as a small part of that, there's a new mall page on Rivercenter Mall. The back story of the mall goes back a century before the mall's opening, though sadly Joske's as it had been open since 1887 did not get to see the mall as it was shut down before the mall's opening for renovations.

In other news, Exor's Dungeon was a mess when it was first added and nothing worked right. Some improvements and changes have gone underway. Additionally, as part of the ongoing updates, the reviews for Prison Architect, Retro City Rampage, and Space Junkie have all been temporarily removed. What's there is now? There's Super Tetris 2 + BomBliss (which also provides the update image this month) and a full review for Cities: Skylines (which received the worst rating, the first "Rejected" in the list). Eric the Unready was restored to the list with the first "Meh" rating and a completely rewritten review, and Tadpole Treble (which received the first "Flawed" in the list) stayed on and was upgraded. It will be a while until new games truly start being added and there's not a zero net addition to the list. I also went back and tried to fix the problems with the Books & Strategy Guides section, which was very broken. If it still shows up badly at press time they will be fixed before the next update.

Finally, some errors that were discovered and fixed--Texas Avenue in Bryan was rolled back to Version 3.0 (4.0 was not intended to be added yet), Northwest Freeway (beyond Grand Parkway)'s Version 3.1 was not added properly. I'm still debating how to rework the page or remove it entirely. The PDF for Briarcroft Center, discussed in the Westheimer Road page has been added, though the actual entry hasn't been touched in the new Version 11 update.
---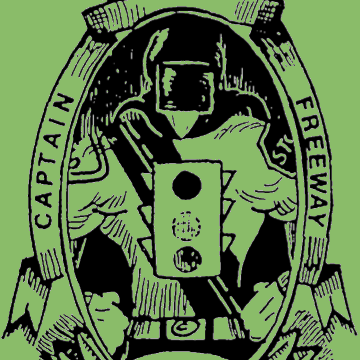 DECEMBER 31 2022

First things first—I've got an apology. For some reason, the stuff on Texas Land & Cattle last month wasn't updated properly...and this wasn't discovered until December 23rd, when I was away from my main computer...so this was fixed on the evening of the 26th.
The Video Games section (sans Yoot Tower Guides) is being revamped into a new site-within-a-site, "Exor's Dungeon". Like what most "Version 1.0" projects of this site are, it's mostly proof of concept above all else...so only (besides the new Games List) there's a few reviews of video game-related books and not full integration with the rest of the video game-related content on the site. As a result of this new section, the Games Index got its first update in a long time. Right now, I'm aiming for a 1:1 update of new material to old material until everything is done. The entries being added are SimFarm (returning to the page after a very long absence), Cuphead, joining the roster with a new page (the old "Games I've Played" link should redirect to the new page if I've wired everything up correctly), and Super Mario Land, another import from the "Games I've Played" List. The titles being removed include The Legend of Zelda: Twilight Princess, Eric the Unready, and Bachman. These were chosen because I felt that they had the most problems as-is. Additionally, Pokémon Trading Card Game was upgraded to the new format as well. Everything else--from The Adventures of Willy Beamish to Yoshi's Island DS is untouched (for now).
Exor's Dungeon is part of a new section to Carbon-izer, "Carbon-izer Labs", which is a section for new projects that I'm not sure if I'll continue to work on or stuff that doesn't have a lot of information. This has a small page on "One Piece Censorship", a small page with some pictures of a show I've been watching as of late. It also has Lone Star Arches, which is still considered a temporary page, and Melted Blue Bell Ice Cream. It's about discontinued (and sometimes rare) Blue Bell ice cream flavors.
Moving onto more familiar ground, I've decided that for the "Places" section, a road section will not get an update (at least a major one) until it amassed at least a dozen new entries and it's been a few months at least since the last update of that page. Starting off, the Waco-Temple-Killeen section has an update to the Hewitt Drive page with some photos of its largest stores, along with information on a few eateries (both living and defunct) that were not mentioned last time around--Rosa's, KFC, Mazzio's, Katie's Frozen Custard, Dunkin'. There's also a page on one of Waco's Winn-Dixie stores, which has gone through several brands at this point--check it out here.
In Austin, the East Ben White Boulevard page (heading out to Bastrop) was updated as well, adding 13 new entries but consolidating one. New for this entry (among over a dozen new entries) includes Catfish Parlour, GhostLine Kitchens, and a short-lived surf park but also provides a link to the new "Other Austin Roads" page. It adds some of the Ben White addresses west of the freeway and beyond (Randalls, At Home) but mostly heads south on 183 toward Lockhart. Two barbecue restaurants in the town are mentioned there.
The Houston section has gotten a few new additions as well, starting off with the coverage of the Downtown Holiday Inn, with a picture of its time as a Days Inn. While its time as a Days Inn wasn't long, that semi-circle would be on the building for years to come (to the present). I should note that this was partially developed as part of a "Former Days Inn" featurette I had been writing up. Another part where I had previously written it comes from where the Beltway 8 page has been rebooted as a page on North Houston picking up with North Freeway and featuring some things that I had wanted to add for a while, including 11211 North Freeway, which I had been meaning to add at some point. It also mentions Fry's Electronics—the stuff I purchased there is still in use, though all candy purchased there has long since been consumed and the aforementioned Spanish guide has been lent to someone else. (The Monte Carlo Inn mention on that page was another part of the Days Inn featurette, in case you're wondering why I decided to list it on Version 1.0). Other pages in the city--North Shepherd, Loop 610 and Gessner Road also got substantial updates (Gessner Road's NEXT update is already practically complete). I'm aiming for a dozen new entries in each "road" entry added, so updates will come slower for everything. Because of this new policy, Northwest Freeway (Outer Belt) had to really scrounge for updates this time around. Strip malls and warehouses show up in this update, though at least the former Randalls distribution center at 10400 Telge Road shows up again.
Back in College Station, FM 1179 got a "v2.1" update...no new entries (that's still on the drawing board--gotta hold to the "dozen new entries" standard) with just a few updates to make the page look a bit less unfinished (and Burger Mojo got axed). We'll take a closer look at the other non-Texas Avenue pages in the near future.
In the Retail section, a few minor fixes were done to Barton Creek Square though the actual content is unchanged. (I will say off the record that Soccer For You is gone, Starbucks is open again, the Toys R Us-knockoff looking store moved, and there's a locally-owned Pokémon store called Pokémaniacs). The other addition is a new section on Greenspoint Mall, acting as a companion to the aforementioned North Houston page. It has a 32-page opening guide to the mall, giving a glimpse of what Greenspoint (and by extension, malls in general) looked like in the golden days, and some other links.
Finally, there has been a new addition to Scans & Ephemera, Chaparral Restaurant & Lounge in Dallas. While the Dallas-Fort Worth addition to this site is still planned, the more impressive stuff with scans and the like is already done. The "Places" section will help link it all together.
The thumbnail this month is from Greenspoint Mall's Funway Freeway advertisement. The actual advertisement isn't green like that. It was just colored that way (because it's imitating money, not anything related to "Greens"point). To a lesser extent, it also references the video game focused update.
---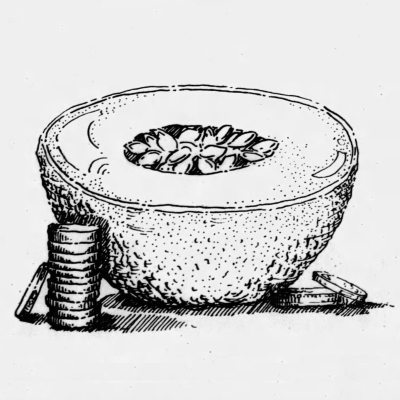 NOVEMBER 30 2022
It is a shame that most of my road trips weren't better documented--there are hotels and abandoned railroads that I can't conclusively find, and of course, there's no Street View prior to 2007 so nothing to document interesting on the roadways, even if fleeting. So I can't show you or even know where I saw interesting things over the years. One such instance had an old Goodwill where someone vandalized the sign by replacing the Goodwill face (actually a stylized "g") with the logo of the Misfits, for instance. That's not even outside the main Dallas/San Antonio/Houston + Louisiana area.
It's one reason why the "Places" feature exists and today is formed of the four core areas I'm most familiar with. Dallas-Fort Worth is coming soon, and possibly even a San Antonio/South Texas page further down the line. The "Places" feature functionally replaces the old "Former Restaurant Lists", which someone asked me about recently. When I first started writing the page I focused on areas I was somewhat familiar with, i.e. most of the Texas Triangle, so that included College Station, Waco, Houston, and a few others. But as that expanded, it became less fun and more of a chore to include the areas beyond it...not realizing how big Texas was especially compared to the list's inspiration, Michigan (the TT is a bit like Michigan in size, really)...and the non-chain restaurants deserved more of a story especially since so many of them were at risk for freeway widening, which is how the 290 page got started. So instead of just trying to make a list of just the chain restaurants I was able to focus more on the Texas Triangle and the places I actually wanted to cover. This led to the more in-depth pages like Galveston page that premiered last month, and not only let me cover many of the restaurants but also living restaurants, other retail, supermarkets, hotels, and the things that meant something to me.
Nevertheless it is not to be fully abandoned and the next page to be revamped has been Texas Land & Cattle (a menu is included!) as well as Luby's. I have plans for some of the big ones like McDonald's (I don't want to oversell it, but I envision that it will be amazing when it's done) and a few others but for most of them I don't have a lot to say on them. I have a page for JoJo's (among others) but I have nothing to say about them; haven't even been to their restaurants. I don't think I even have a picture of one of their stores in operation! Stuff like that is better left up to the experts in Houston chain restaurants.
That being said we have the usual additions. Under the "Places" departments, we have four big sections--Waco-Temple-Killeen, Austin, Bryan-College Station, and Houston.
Starting off with Austin, that page got more updates: additions to the I-35 in Hays County adds more San Marcos places, while the I-35 in Austin page has been updated as well, and while it once started out as a very rudimentary page that skipped basically everything from Highway 183 down to Highway 71, now covers the county evenly (and speaking of Highway 71, the Bastrop page on Highway 71 did see an update).
We round out the trip back to College Station with an update on Highway 21 in Caldwell. Heading south, the Texas Avenue page (College Station side) was updated as well--there's a couple of things that were never filled out on that page that have been added, and Kettle's closing. A bummer! However, it does make reference to a new Brazos Buildings & Businesses post, which based on Facebook activity no one seems to read anymore. Oh well! At least it's being documented. Further down the line, Highway 6 South has been updated, such as French restaurant Le Petit Cochon and some more hotels. and while I didn't do too much with the Navasota page, there's a new page on Arlan's Market and the what it was before.
Going down to Houston, the Northwest Freeway page (Hempstead to Grand Parkway) has been updated slightly, while the part from Beltway 8 to Loop 610 has received an absolutely massive update with 20 all-new entries! There's updates too...the Studio 6 turned into some very expensive (read: overpriced) apartments. Misc. Houston Roads, now known as Other Houston Roads got an update focusing on Richmond Avenue's nightclubs and restaurants, with some additions to Southwest Freeway. (That took focus, there were at least four or five other roads I wanted to add with substantial content but I deliberately cut those for time and further development. Plus Southwest Freeway still has a ways to go already!). Montgomery County has been added as well, featuring most of the remaining stuff cut from "Other Houston Roads". Some more work was done on the 43rd Street/Crosstimbers page, most notably filling in the commercial corridor between Oak Forest and Ella and extending coverage out to North Freeway. FM 1960 West got its first update in a while. There's more than a dozen additions, covering everything from a recently rebuilt Chick-fil-A near Eldridge to the former Carl's Jr. closer to Interstate 45 (and of course the corresponding updates). It is strange that while Kroger, Albertsons, and Randalls have all had at least two locations along FM 1960 at one point or another, H-E-B not so much. While the Beltway 8 page is still in the repair shop, we have finally premiered Hilton Inn Intercontinental Airport.
Why stop at Houston, though? Let's go onto Beaumont, where I went and fixed the Parkdale Mall map. It was cut off on one side. Nobody called me on this. Let's go even further with the introduction of Lafayette's The Real Superstore, a long-planned page for the site. That's where the thumbnail comes from. More context? Well, you'll have to read the page!
Other than that, well, what do we have? The Waco-Temple-Killeen section had some nagging errors were in the Loop 340 section, so the section was updated with the fixes and a few new entries. Nothing to get excited over.
Once again, a lot of the stuff I had in mind to add had the can kicked down the road yet again. The good news is, it's not like I didn't make progress on them; however, because I didn't make progress on them I had to change the thumbnail I was going to use. Next month hopefully we'll finally kick Places to the back burner and get on with original content, especially the stuff that I'd hoped to get done by this point.
Before we forget...an anonymous contributor sent in a picture of the College Station H-E-B Pantry. We thank contributors for their valuable input. This will be featured next month in a much larger page (unable to get it in for this month), but I thought this was a nice preview. See you next month!
---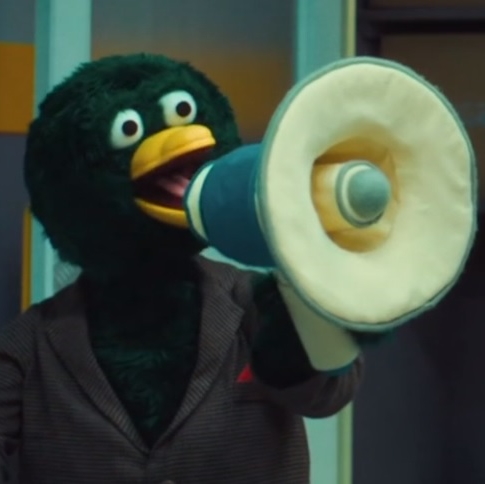 OCTOBER 31 2022
The update this month mostly is maintenance-based with a few new features. There were some real issues this month. A major section of the site was to be totally rebuilt but I lost all confidence in myself and I couldn't do it. The Albertsons page wasn't supposed to be a tragedy either, and who knows how that will go...
I did do some more work on Places, especially seeing how Wikimapia seems to be more getting more broken and unusable.

- Houston's page now has Holiday Inn Central. This was actually uploaded last month but it was maybe 95% done. This fixes it. Additionally, the Misc. Houston Roads was completely redone, and in practice bears little resemblance to the old page, only FM 1960 East Bypass Road and Blalock Road were maintained, the rest of what was on there, like Sawdust Road, was removed (not permanently, all in good time). The page is a mish-mash of pages that never got off the ground, with nearly 50 entries covering about ten roads. There's spinning pianos in the sky, dead Target stores, several Garden Ridge sites, upmarket businesses that have since passed on, and short-lived soccer arenas. I'll probably continue to update it as I see fit--it's not designed to be comprehensive coverage. I'll probably merge the lone Dunvale Road entry into Richmond...but again, it's not necessarily on the to-do list. The Westheimer page has been updated once more. It's a full numbered update but probably not worth writing home about.
- While it is technically in the Houston section, check out the new Galveston page. It was fun to work on. There are a few hotels that I've personally stayed at, a McDonald's that's keeping it real, seaside dining with defunct names, and the only mention of a few names on the Internet (at least the "clearnet" Internet). It isn't meant to be a tourist guide.
- I-35 in Temple was updated with the new dark green color and some updates. Soup-throwing customers, abandoned railroads, lonely pizza restaurants, and possibly dead malls, it's all here on the new page. The other pages that received updates included I-35 in Waco and Valley Mills.
- The SimCity 2000 newspaper page continues to grow.

There were a lot of other projects I had been working on but none of them are really in the right shape to put up on the site yet, or even if I know that they'll do well on the site. There are also a lot of ways I can expand, but those often take resources of time and effort that I don't have, and because I usually don't get feedback, most of everything on the site is a labor of love. I don't bring up this as some subtle "donate you freeloading scum" message, but rather a request to send more emails or other feedback.

That's about it for this update...couldn't find a good image so it's one from the television series (can't tell if it would be Season 1 or Season 2 since "Season 1" was on YouTube) Don't Hug Me I'm Scared, you might recognize it. Also the Irish Spring link from last update was fixed, Texas Avenue Bryan was fixed, a line from the CC's Coffee House was fixed, and there's some new/updated sounds in the Yoot Tower page.
---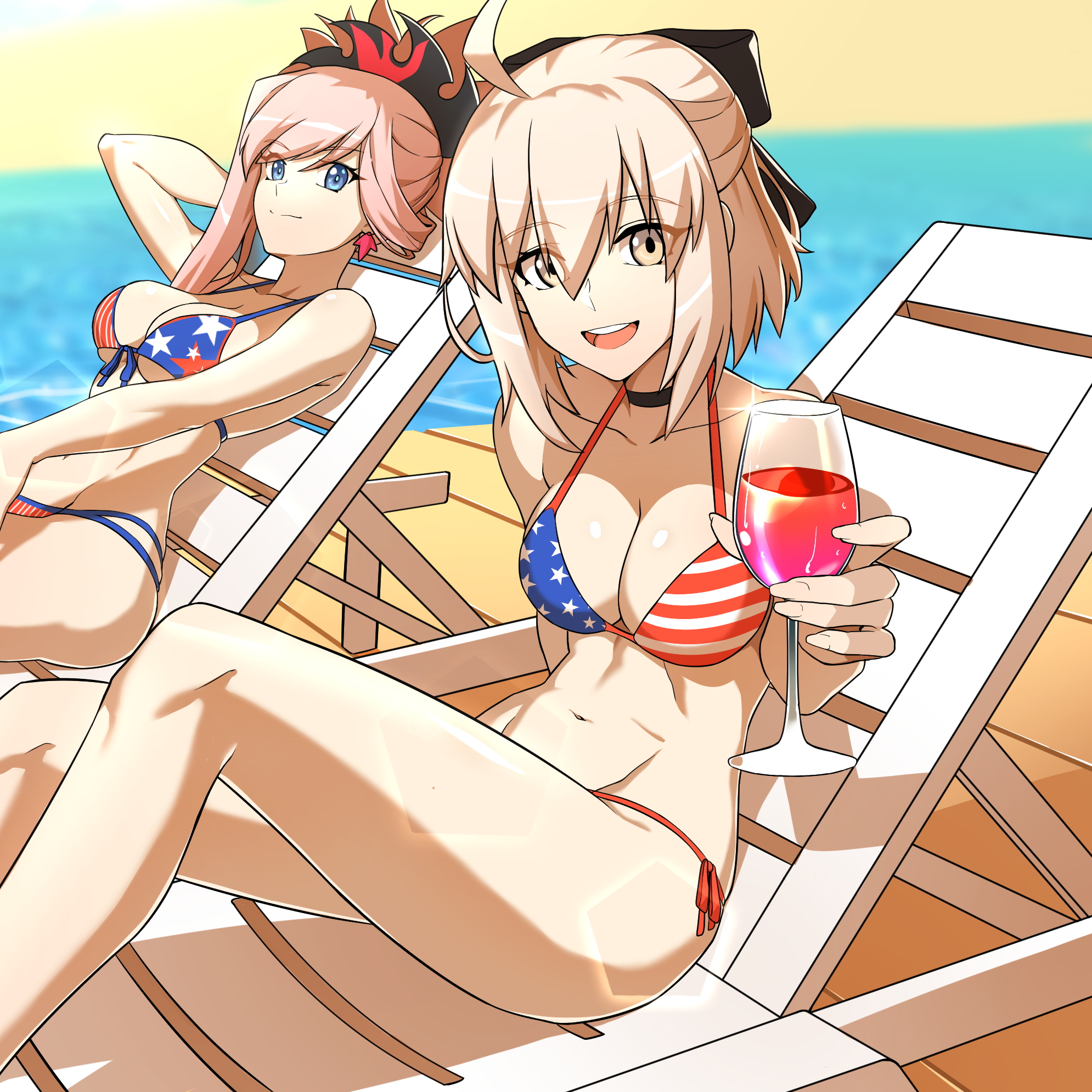 SEPTEMBER 30 2022
One of the ideas that I had in remaking the "Places" section--sometimes you gotta think big before you retract it to just a better version than before, was just trying to chronicle trips that I enjoyed, such as visiting the State Fair in 2016, but I didn't want an extended repeat of my posts from my old blog, Two Way Roads, where I repeated blow by blow everything that happened notable on the road, what I ate, and what movies I watched. I was also extremely unhappy at the way Carbon-izer Goes to Austin 2017...Plus Some turned out as written. It could've turned out a lot worse but it was still a bunch of half-baked ideas slammed together. I might just brush it behind for a while. What I decided to do instead was just to go back to the roots of "Project Aerostar", to just write about the interesting things and not worry about missing minutiae en route. Sort of, I guess like Myrtle Beach Remembered which is still updating despite a rather sprawling page that already looked dated in 2006. At least was updating until relatively recently.

I can't give MBR too much credit, however. It is a huge mess even by my standards and I'm not sure what the current-current status is. He didn't seem to address my submission of some Days Inn directory information. (Guess you shouldn't meet your heroes...)

This month's update does tend to lean more on video games in particular than the "Places" which have received focus but there's enough content for everyone. I scanned soap boxes this month! That's how diverse this site is!

I may discredit TWR as being out of date and frankly embarassing at times but as THIS site continues to develop, it has become what Two Way Roads, was like at its best. It had video games, it had travel pieces, it had random little bits and pieces, it had all that stuff. The only thing that's missing is the aforementioned irrelevant rants, which I won't dig into but I remember one was basically a eulogy for missed opportunities of the late Palm OS...and that was one of the ones that was less embarassing.

In no particular order, here are the updates this month:

- Carbon-izer Goes to the Mall of the Mainland, 2008 has received a minor fix (image centering).
- They Ruined Irish Spring: a rant about soap. With scans, of course!
- Life & Times at 5130 Bellaire has been renamed and rewritten again. Partly because I want to use "Life & Times" somewhere else in the future, I have an idea for this but I want to let it be a bit more developed.
- More SimCity 2000 newspapers!
- I did some improvements to Yoot Tower Guides. More sounds have been added (now in .WAV form to listen from a browser), a new VIP has been added to that page (YOOT SAITO has arrived at your tower!), Tokyo items have been updated to fourth star, a Notes page has been added, and a small page on the Japanese-only guidebook has been added.
- A quick fix to the "Bargain-3" map from the Power Pete Maps. A line designated a locked door had not been drawn in.
- Miscellaenous road updates -- H.K. Dodgen Loop, Interstate 35 in Williamson County, and Texas Avenue in Bryan. Crosstimbers/43rd Street, which did not get added last month for unknown reasons, has been added. Beltway 8 has been removed due to major problems with the page. In fact, Beltway 8 was one of the reasons I started to dislike the Roads format and was planning to re-do the entire page.
- A brand-new page on Cypress Gardens of Winter Haven, Florida.
- Further integration has been done to integrate the "Hinterland" page (Temple-Killeen) into the Waco page. The Interstate 35 in Bell County page still has the pink background but eventually that will change.
- Carbon-izer Features (as well as the main site index) has been updated to account for everything.
- Several sites have been taken off of the External Links for various reasons. One by request, one because I haven't visited it in years, and one because he just stopped updating.
- The 2022 Games list is up! The thumbnail is from Stunt Race FX.
- A Glider PRO walkthrough (Slumberland) is in its first stages. Check it out here.
- A mirror of "Ship of Harkinian" can be found at the site now. You don't have to worry about signing up for Discord! The programs allow you to compile and play a native version of The Legend of Zelda: Ocarina of Time on your computer. The page can be found here.

A lot of this was summer stuff that was never added.

I'd love to update what people find interesting. I could update the Mighty Mike maps to be more print-friendly...I could add a Harry the Handsome Executive page since a skilled programmer made it possible to extract the maps...but I don't have the passion for it, and nobody's even asked. The Glider PRO walkthrough probably won't see any updates at this rate.
---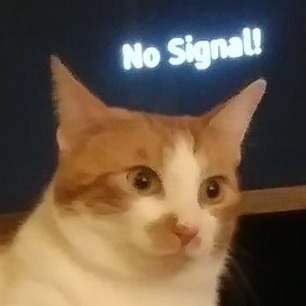 AUGUST 31 2022
Well, here we are again. Some personal issues prevented me from making the site what I wanted to, and ironically, what I wanted to de-emphasize, the city streets directory, now retitled as "Places" takes top precedence. The idea was that I could expand to other cities and buildings without tying them to street listings, which every one becomes a new pain to update. So there's not a lot to update, but I at least have a plan to move forward. Of the four main pages (the "Hinterland" was basically dissolved into Waco-Temple-Killeen), here are the updates:
The Waco page saw updates with two new dedicated pages and updates to four pages within it. The Hewitt page is something I'm almost proud of, it has a picture of the closed Fina I was familiar with for years. Additionally, the Marlin page was transferred to it as part of the greater Waco-Temple-Killeen area.
In College Station, the Texas Avenue, Highway 6 in Robertson Co., FM 1179, Caldwell, Highway 6 South, Highway 21, Earl Rudder Freeway, and Harvey Road pages were all updated. The last one brings almost everything on the street into the fold. Post Oak Village has been added now. Additionally, the Southwest Parkway page saw a small update.
In "Austin", all the pages (Ben White, Highway 71, I-35 in Williamson, Travis, and Hays) got an update. This is mostly text but I did include a shout-out to Power Computing Corporation, which I haven't really discussed much here.
Over in the Houston side, Northwest Freeway's pages (on both sides of the Beltway) got an update, with well over two dozen entries added or changed...and a new page on the Starbucks on Farnham Street has been added.
The good news is that the rest of the stuff I was working on (in various forms of completion) will be seeing the light in future updates, where hopefully the now-Places will be de-emphasized.
In other news, you may remember when I added the "Citipedia". Unfortunately, I seem to have hitched my wagon to the wrong city sim. I had actually been hoping that the Citipedia posted would be hopelessly out of date due to new updates, but unfortunately, the last NewCity update was released before the last version of the site even went to press. Fortunately, there seems to be an attempt at an open-source reverse engineered version of SimCity 4, OpenSC4, which is kind of what I originally wanted anyway. Hopefully that goes better...and SimCity 4 as we know it is better documented.
If things go as planned the "good stuff" will appear next month, or at least some of it...
---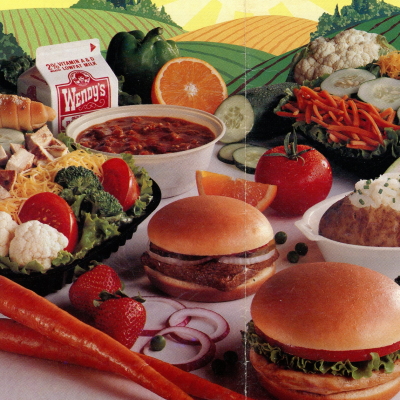 MAY 30 2022
These days, I consider the "City Directories" the meat and potatoes of the site. It helps me connect a lot with my memories and hopefully tell a story, as well as cataloging everything for future generations. But you know, it gets discouraging. For more than half of the month, the new Waco stuff didn't work, the pages never got uploaded...and no one cared. As a result, there's not really motivation to expand the pages further and every new page that gets added means it has to be updated for what's on there. This is going to turn into a maintenance nightmare, and I can't really add all the stuff I've been meaning to, at least not without some outside help.

I find Houston interesting and I had been tinkering with a few projects including linking the West Crosstimbers Road page to Northwest Freeway as a 43rd Street/West Crosstimbers Road page but I'm just not feeling it. I even wanted to work on FM 1960 West a bit as part of upgrading the Willowbrook Mall page into the new Malls format but I couldn't think of anything to do on the page besides merge the Costco and At Home entries into Burlington's entry...and maybe update Kroger's entry (at 12400 FM 1960 West) with the fact that the "Dollar Store" department really did exist as this 2003 newsreel shows. But none of the vacant spots that were covered last time have gotten filled, so there's not really a big point—from the top, Raceway, Sonic, Steak n Shake, Taco Cabana, CapitalOne Bank, Discount Tire, and another Taco Cabana are all still empty, and every one has been sitting for at least a year. What gives?

Speaking of malls, when the Sunrise Mall was added, it presented me with a dilemma...what do I do if things have changed since it was last updated? My answer: nothing. Like DeadMalls.com, there's more information elsewhere, and they provide a time capsule of what it was like when it was written.

While I intend to upgrade that page someday I have bigger fish to fry.

Regarding the "Streets/City Directories" section (it doesn't even have a consistent name), I'll probably discontinue any new additions except aforementioned the 43rd Street section and additional College Station-Bryan pages. What will happen later is I'll just start to add smaller featurettes. The last thing I need or want is some humongous mess that requires constant maintenance like the old restaurant list. What I'd like to do is just make smaller featurettes (under "Photos & More" or "Scans & Ephemera") that explore the rare and the interesting...and sometimes less interesting. I have some plans for it. More later.

On that note, I have to give Roger Barr's i-Mockery some credit as an influence to this site; perhaps it was the "thumbnails as features", but I hope that should some personal tragedy strikes I that I should ever abandon Carbon-izer. i-Mockery had been online since around 1997 and yet when Roger's wife took her own life in late 2017, he basically ceased updating the site and has been moping on Twitter for over four years at this point, only occasionally updating to the site to mope about how hard it is going on without his wife (and this is after a year hiatus from the Internet). Tragedy happens to all of us, but I hope that even in the midst of tragedy is not to give up on life.

To be entirely fair, there was only one update to my site in 2018, a rough year in my life, but that was also with an apology and at least a few new features by year-end. Granted, one of those is now hopelessly obsolete—it once showed AT&T and the WarnerMedia subsidiaries...but that's all dismantled now. WarnerMedia was sold to Discovery Inc. (creating Warner Bros. Discovery), but not before they sold Crunchyroll to Funimation (Sony) and TMZ to Fox Corporation (the Fox News/Fox Sports spin-off of 21st Century Fox before the rest of the company was sold to Disney). At least the AstroWorld page is still timeless.

i-Mockery also reminds a lot of the late X-Entertainment, which I can't link to because the site was removed with a robots.txt blockade, despite being "temporarily down for repairs" for a few years now. X-Entertainment was more unironically informative and had more interesting content, but I digress. (I also would have to cite X-E as an inspiration, which I think I mentioned back in Two Way Roads, my old blog).

Onto the actual updates, which I regret to inform you have had corners cut in ways I didn't intend. Burnout still happens.

We have two mall entries. The first one is Willowbrook Mall featuring some old GGP PDF site plans. There's no PDF copy of either site plans or the main directory from what I can see for Brookfield's stuff, just their garbage mobile directory. I try my best, though. The second one is Prudential Center, mostly trying to fill in for an existing directory.

The Waco pages have been updated. The Waco I-35 page has received a fairly minor update. It links to a gas station in the West/Elm Mott area that was demolished, cleans up the page, and a few other things. Further down, I-35 in Hays County got a few updates.

The Highway 21 page back to Bryan is completed with a new Caldwell page. As part of these updates, FM 2818 and Earl Rudder Freeway updated. I added a FM 1179 page but it's not as well-integrated as I'd like.

In something very different, I've added a text version of Citipedia, the in-game help to early access city simulator NewCity. I've written a bit on it but it's gotten better!

The final two things of note is a new "restaurant page" format. Gone will be the static restaurant closure lists (well, they'll still be there, just not updated), in their place will be new-format informational pages with all sorts of information. The upgraded pages include Wendy's with a 1995 nutrition facts guide (with the SALAD BAR!!!) and CC's Coffee House. The thumbnail is from the guide.

Other things that aren't really worth mentioning: Minor update to Loop 610, minor update to the Mall of the Mainland page, and a landing page for Houston Historic Retail readers.

It would be a miracle if everything I uploaded this month actually worked the first time I uploaded it instead of causing problems with 404 errors. Last month the Waco stuff was actually missing for like two weeks and the mall map page was still completely broken...

Aside from fixing that, that's it for a while. See you August 31st, when I can finally tell you all what I intend to do moving forward.
---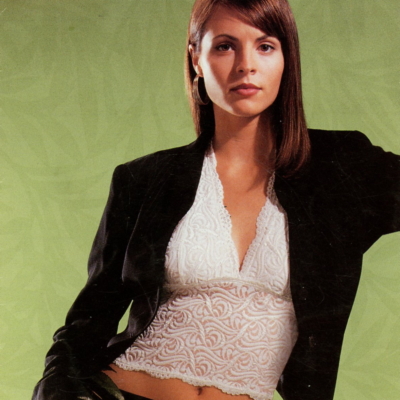 APRIL 30 2022
A few days before the March 31, 2022 update, I had "visited" South Padre Island via Google Maps Street View, specifically the causeway linking it to the mainland. The causeway has a series of emergency lights if there happens to be a collision and a section is damaged ahead, and, in another unusual road feature, a road sign with flashing warning lights to...watch for pelicans.

Perhaps, subconsciously, the images (slightly foggy might I add, from either reality or the poor quality cameras), reminded me of Galveston, which in turn has strong SimCity 4 connotations (personally), and that was what had me thinking of "grand unified theory" of the website. The cornerstone of this would be a section called "NewCity, Old Cities", which was basically a SimCity wish list (but explained mechanics) was supposed to tie everything together, most notably the "real world" from the site (the cities, the restaurants, the malls, etc.) to the virtual (video games). It was inherently a silly concept, but the bigger problem was so many of the things that weren't going to work. Yes, a few of the trips I've taken have had strong video game associations, particularly family trips when I was younger, but I realized I couldn't make that resonate with others.

Furthermore, many of the video games I did really enjoy (in particular, Deus Ex, which I don't believe has been covered yet) had absolutely nothing to do with the "Cities" section; nothing, and some of games I've gone through came during less-than-stellar times of my life. Fond memories of Super Mario RPG and association with trips to Louisiana? Terraria and even Factorio are associated with some rather bleak times. Not to mention all the other features of the site that have nothing to do with either cities or games, such as the K'NEX feature last month.

Overall, I have been working on the new "Cities" pages a lot as of late. There are different updates and new editions alike, all of them integrating with each other, but I realize I don't do much with the individual entries as they are. For example, all the ones in Bryan-College Station usually redirect to something previously written, and the links included are usually all more interesting that what I have. When I was adding Pinballz Kingdom to the Interstate 35 in Hays County section, I included a link to a site talking about its previous tenant, the 221 Dorsett Truck Stop.

Speaking of truck stops, I haven't done much with video games either these days (so much for "grand unifying theory", eh?), partially owing to a full-time job and not able to goof around so much. I am of course intrigued by the Texas DLC (still upcoming) of American Truck Simulator and its lavish environments...the "Driver" and "Heart's" truck stops are very much similar to the real things and I hope that fan-made mods restore the real brands...but as I noted in the 2021 games page, there's nothing in ATS that I actually enjoy in video games, no idea of building up something bigger and better, no memorable soundtrack, no storyline, and no good action sequences. I'd say to qualify you have to have at least two of those. While coming across a Love's, er, Heart's, in a video game may be cool, I'd rather BUILD something like that. WIth the cancellation of "NewCity, Old Cities", I had hoped to add NewCity's "Citipedia" to the site (which I did get permission for) but even that got scrapped for this update.

Instead, the only virtual city content this time around is the SimCity 2000 newspaper page has gotten its first update in about six months. It adds about 10 articles. I had also planned an update to the Yoot Tower Guides focusing on Towerkit but I decided to scrub it, in part because of some missing notes and the desire to put something up more complete.

Moving on, I did some updates to the Albertsons History page. It fixes some typos, expands Sankaran's section, and makes all sorts of other improvements.

The biggest update of course, and the reason why the thumbnail is what it is, is a new page and full directory scan of The Shops at Willow Bend in Plano, Texas! Yes, it also has a DeadMalls entry that has been there for years! It is, however, still open.

Besides the aforementioned I-35 in Hays County, here's some improvements to the pages that actually made the cut:

With that, just one more update set before the break, similar to last year. I hope I can make it "worth it" enough to tide everyone over until August 31st.
---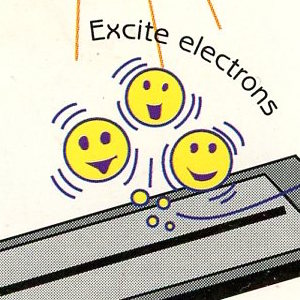 MARCH 31 2022
I don't like to reveal too much about myself, but this month's update has a lot of that. Before going WAY back, let's talk about the Cities section, which started out almost three years as "Project Aerostar" (hence, that's why the /aerostar/ directory is there). It is named after the family minivan and the vacations taken. But as for the actual content of the page itself, that comes a little later. Back when I was in high school, I was a big fan of Wikimapia, a site I discovered during my time there and started to add things to. It allowed you to draw boxes (later polygons) on a Google Maps layer and create a short paragraph (or even add pictures) regarding it. You could link them to other items through common streets (and ALSO give those a description), or common tags, or whatever. After adding most of my city and anywhere I might have traveled recently, I also took to making complete histories of buildings and places wherever I could, specifically retail buildings.

Indeed, a few of my entries in the Cities section refer to the fact that I wrote it up on Wikimapia. In early March, during the Russian-Ukrainian conflict, I found that the site was down. It had never been down before, at least for very long, but the site was Russian-based and conflicts with Ukrainian users in disputed area during peacetime was an ongoing problem. Despite that, I eventually fell out from the program myself. It wasn't JUST the wiki format that let my work easily be copied and manipulated under the very rules I signed up for, it was also fighting vandals and morons non-stop. (Internet moderators do not pay well). The administrators were incredibly incompetent, pushing out a "new" version that no one liked, getting one of the girlfriends to write some blog on Wikimapia (abandoned as quickly as it started), an ill-fated push to link it to social media profiles, and other garbage that no one liked.

The final straw was when they stopped paying Google for their maps and the layer was watermarked and darkened. So when it was offline this earlier month (it still has problems), I initially found it less saddening and rather, and I hate this word, but more empowering. It made me feel that my section and what I do on this site is the right choice to do. It turned out that it was only a DDOS attack and the site did reappear (ironically the superior "old" version and not the broken "new" version was the one that reappeared), but the Google Maps layer is still darkened and watermarked, and it has ads everywhere that are difficult to get rid of. So even though it's technically back, I avoid using it and have been copying down what I put down. It has been fun, really...it brings back memories of the places where I actually went (specifically Dallas) and/or virtually explored, but it's time to export content rather than create it.

There is stuff on there that really can't be elsewhere easily anymore these days, but it only reinforced the idea that Carbon-izer is the superior choice for putting up information on cities I enjoy and I'd like to see others do the same. This was the impetus of updating some of Loop 340 in Waco. The section was bulked up on some of that saved information while also fixing some of its grammatical errors. There was also an update to the page on Marie Callender's was updated to account for the closure of Fuji Steakhouse. While Woodway Drive is a project for another day, I did go ahead and fix and RibCrib's page. When it was added back in 2020, somehow copied the entire Index (as it was at the time, obviously the organization is a bit different) with non-functioning links.

Going south, I-35 in Bell County got an update. A tiny update for sure, only four entries are brand-new (and all but one of them are gas stations today). But Austin area pages got a huge upgrade. First, everything is decked out in a new peach color instead of the harsh orange. Williamson County didn't see a big update in terms of content except for two items, but the I-35 in Austin part saw substantially more, including going past Highway 71 toward Hays County. Between these two pages, you'll see dead discounters, even more 7-Eleven stores, a "Fiestalbertsons", and the last of a chain steakhouse restaurant. The portion of Highway 71 in Travis County again was light, with Bastrop receiving a bit more love. Yes, Bastrop too will be soon been fully incorporated into the Austin section! In a future update, the addition of Loop 150 & Highway 21 will provide a framework for to bring the roads back into College Station-Bryan.

Back in College Station, there's a new page on Southwest Parkway. The Bryan page got its Dairy Queen picture fixed. In many ways, including on Wikimapia, Southwest Parkway is where it all began, and I ruminate a bit on the businesses, apartments, and my old elementary school. I have business with all of them. The Southwest Parkway page, found here, isn't linked with any other page yet. Finally, in Houston, Loop 610 was updated.

Of course, that's not even counting two more big features!

First, the Malls Page welcomes two more BRAND NEW additions...Parkdale Mall and Barton Creek Square! Even Vista Ridge Mall got an update as well, mostly with the new color scheme alluded to in the previous update. It's that dark yellow that City Directories used before the breakup. I intend to add several malls in the future, but I also want to upgrade what I have to the new standards. While I have some big plans for the section, in the immediate future, I'd like to upgrade what I have to the new standards introduced. Neither the Corsicana Outlet Mall nor "A Newer, Safer Sharpstown" will be part of this.

Finally, Carbon-izer's K'NEX Page, has been added to Scans & Ephemera. This is where the source of the month's update thumbnail comes from, specifically, a newsletter from 1997.

Next month will probably be more of the same that builds on this, more backlogged material, and something that I'd like to think is the "grand unified theory" of the website. Well, maybe that's a bit too ambitious. See you next month!

Yes, the Power Pete maps page FINALLY works correctly now.
---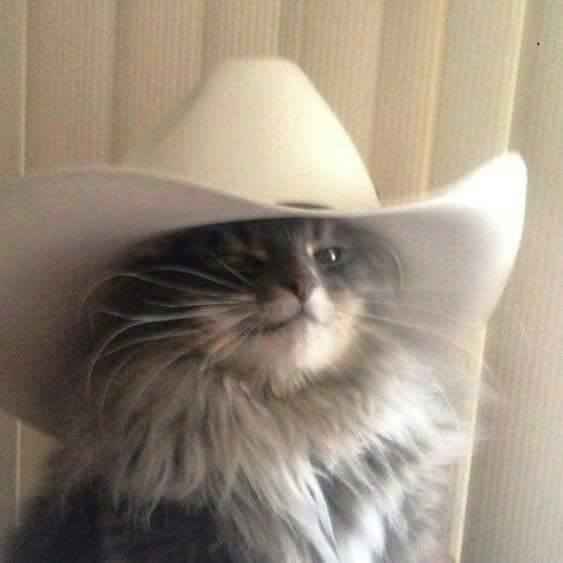 FEBRUARY 28 2022
This is going to be a small update on account of a new job I got and moving and all that, plus it's February, which is cut by a few days anyway. The big change here is the addition of a full mall page for Vista Ridge Mall, as well as two other smaller changes: the removal of "Random" from the page (merging with "Photos & More", and to cut the size of the list, the Sunrise Mall and Mall of the Mainland pages have been removed) and the updating of the Texas Avenue (CS) page. The Bryan one (and I need to fix that broken DQ image) wasn't touched this time, unfortunately.

The removal of the Sunrise Mall and Mall of the Mainland links aren't arbitrary, they will be because what I've written for these malls will factor into a larger section of which these malls will be a part. Basically, the malls get their own page and section, and will be a combination of memories, mall maps, or whatever else I got on it. If I don't have anything to add (which will constitute the vast number of malls out there), it won't be added. Two more pages with directories and/or photos were also drawn up for new malls that have never seen the likes of Carbon-izer yet, but unfortunately they were cut from this update. I should probably make them a bit more visually distinctive somehow. The website's color palette has largely removed white-on-black but even if there weren't still some pages hanging around (pre-2019 games pages), I don't want to mimic DeadMalls' layout too closely.

There were several big changes that I wanted to add this month but couldn't, and some that are going to be done next month. That's the beauty of this site, everything keeps being added! ...but maybe not so much this update.

No, that is not my cat, nor does it have anything particular to do with this update.
---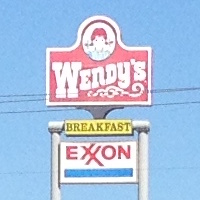 JANUARY 31 2022
Most of the stuff for this month is a lot of minor updates and stuff I didn't get to previously. For City Directories, there's an update to Highway 71 in Bastrop, which might not even have been made if it wasn't for the fact I noticed the Stripes west of town is no longer a Stripes (and will not be a 7-Eleven). There's also updates in the College Station section (Harvey Road and FM 2154) and Houston (Westheimer Road, US-290 Inner Loop, and introducing Beltway 8). New stuff includes a trip to the Corsicana Outlet Mall and a menu from a Washington D.C. museum food court (interesting McDonald's museum items? There's more where that comes from...) and finally, there's a real page for the Bayport Industrial Development, which shows the formatting and expounds a bit on why I thought it was interesting. All in all, it's not a huge update but I hope you'll find it interesting. There's also a tiny fix to Sharpstown Center's page and some updates to China Coast as well. Finally, the Power Pete maps link on the main Index works now. Oops!

The thumbnail is from a picture I took from 2014, covered in the Corsicana Outlet Mall page.
---

DECEMBER 31 2021
With the big Houston mall update behind us, I wanted to mostly focus on video games and other travel features. Video games did get updated...there's a new page dedicated to Power Pete / Mighty Mike maps and the 2021 Games page has been completed with (appropriately) 21 listed.
What ended up getting updated was the Cities section. Austin got added, making it a complete adventure from Waco to Houston, or Waco to Bastrop, which also got a Highway 71 page to complement it. Additionally, although I wanted to make the College Station-Bryan section much bigger, the only one that was added was the Texas Avenue Bryan page. (Also updated, the College Station Texas Avenue page, Highway 6 South, and Earl Rudder Freeway). The City Directories page was removed from the Main Index, and at this point, the only thing that needs to be done in regards to that is to continue dismantling the "Misc. Houston page". The Beltway 8 items were planned at a later point, anyway. Westheimer Road got a minor update (v7.1), though the FM 1960 page got a bigger update. And in the Waco department, the I-35 page in Waco got updated.
Both the "I-35 in Waco" page and the "I-35 in Williamson Co." page feature YouTube commercials that were added by me personally, so they probably won't get removed without notice any time soon. (At least I hope not). Here's my YouTube channel! It updates Monday-Wednesday-Friday!
Finally, STR assisted in updating the China Coast page. One new location, as well as store numbers, were added, as well as some other minor fixes. The Rattlers' page was updated mostly to account for what is and what is not connected with 7-Eleven anymore.
The thumbnail is from Mario Kart 64, one of the nine games added to the 2021 games list.
---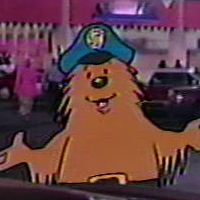 NOVEMBER 30 2021

I wanted to make this a Houston-themed update, talking about my memories of visiting the city on many road trips in the 2000s and very early 2010s. However, the best I could do was writing about Northwest Freeway, and there's really nothing groundbreaking about anything else, they're just fond memories coupled with the right things. Rather, while there's lot of Houston content to go around this update: starting with the furthest part of 290, we've done some pretty big things to the Houston section. Working down from it, a number of updates were made, like updating Hempstead Truck Stop, and then working down Northwest Freeway, including strip malls (and updating them--Corky's is out, Burro & Bull is IN!), giving a proper picture to that defunct swimming pool off of 290, a new look completely AROUND Loop 610, and continuing down Katy Freeway. Many of the shopping centers featured on US-290 and I-10 also got PDFs with tenants. Connecting Katy Freeway and Northwest Freeway is the Gessner page which now has spun off Memorial City Mall as its own page (see next paragraph)...it got an update too. It's not huge, but it does cover Baskin-Robbins (open as long as Memorial City Mall has been), an Asian-styled laundromat, and a few others. The page only covers about 9 miles of Gessner as opposed to the 36 mile juggernaut it follows down to Pearland.
Rather, a concrete thing to this update is about the malls of the Houston area. Basically, every mall in Houston that has been mentioned has received an update in some way. Unfortunately, the Town & Country Mall section in the Katy Freeway page (which itself got an update), everything else did. The Galleria got an update (along with Westheimer Road as a whole, wanna learn about a strip club named after a terrible person?), there's a new map for Northwest Mall (seen on the Northwest Freeway pages), a massive new Memorial City Mall page with a complete history including directories, a trip to Mall of the Mainland from several years back (2008), an oddly telling Sharpstown Center commercial, and a page on Sears in-store restaurants in the late 1980s. Additionally, Willowbrook Mall's page got a small update, as did Pavilion on Post Oak! If you like Houston malls, maybe missing Houston Historic Retail's "Month of Malls", check out the content here, you won't regret it!
Part of this has been incorporated into the Mall Directories page, which has been reformatted to include quick links for The Galleria, Memorial City Mall, and others.
The rest of the site didn't get nearly the same attention. The Waco-Bastrop route, specifically, I-35 in Temple page has been renamed to "I-35 in Bell County" and has been updated to Salado. Next stop: the Austin metro! We already covered a few I-35 sites in an Austin retrospective.
The BCS pages got a minor update. Somehow, the new 4.0 version of Texas Avenue in College Station never got uploaded (the "v3.1" got re-uploaded instead), this was fixed earlier this month. Earl Rudder Freeway got a minor update, as did FM 2818. The Highway 6 in Calvert & Hearne got its color fixed, a change so minor nothing was noted. Elsewhere in that part of the world, a long-broken link in the Zachry page was fixed. The main page of the Bryan-College Station section does not mark these changes.
The "Big List" has been updated to account for the Sharpstown and Mall of the Mainland pages; however, the Sears page isn't there as it will eventually be in a full page under Retail. Likewise, neither is Memorial City Mall (check the Houston page).
The Games page got an update, adding Wave Race 64 and American Truck Simulator to the "2021 Games", and changing the thumbnail to something based on Friday Night Funkin' instead of Power Pete/Mighty Mike based one. This is to eventually give a dedicated page to the Power Pete maps page.
The thumbnail is from the Sharpstown Center commercial page. I have posted other commercials for the Houston area and beyond there, and more will be added!
---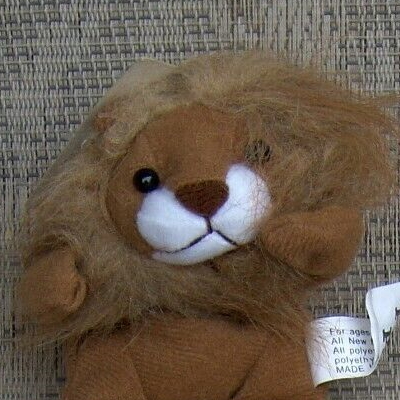 OCTOBER 31 2021
There's no particular "theme" to this month's update, just stuff and other fixes.
What started as a small page to cover the "Pantry Pals" (see thumbnail) evolved into a more robust (slightly) H-E-B page that covers the dated Marlin H-E-B store, which I photographed about a year ago and have been meaning to add.
Additional papers added to the SimCity 2000 Newspaper Project (nearly two dozen).
Nanosaur has been added to the Steam Banners page.
"The Abandoned Hempstead Shell", a new page, has been added.
Major changes have been enacted in the Bryan/College Station section. The blog will still continue in its own style and not compete directly. There is a new color scheme (grey, like the Houston Uptown page used to be). The FM 2818 page has been finally added, and all of the other pages have received updates in some way or another, particularly the Earl Rudder Freeway page, which at one time merely served as a "passageway" post between the more developed Waco and Houston posts, and has finally come into its own. The Gateway Center page was integrated with both, but the FM 2154 page got a new page on Jones Crossing. (Maybe that will turn out to be a mistake in the long run--stay tuned!)
Not to be outdone, there are a few updates in the Houston department also. The changes in the B/CS pages go all the way down to Northwest Freeway and into Houston. Westworld Cinema has a new page, for instance (the first stand-alone Houston page in a while) as well as another on Houston's first Travelodge, but there's been some work on and around the Gessner Road page, including updating the Katy Freeway page to its seventh update incarnation. It's not a huge update, but it does add Marq*E Entertainment Center, and by extension, brings back the Cameron Iron Works section. West Crosstimbers Road was upgraded and "connected" to the North Shepherd Drive page, which also got a new update, albeit a fairly small one.
Waco's Valley Mills page got an update (mostly to account for the Ryan's building being demolished, but it fixes other things, like a broken link in the Catfish King page). Actually that's not the only thing. There's other content--such as a picture of an older Taco Bell restaurant, and Riesel's page got another update too. Further south, the I-35 Temple page updated as well (fixes, additions...continuing to creep toward Austin), even Temple's Dodgen Loop got a small update.
The outside links page needs a major overhaul but I've done what I can. Additionally, the old Features Index got a complete overhaul to reflect everything on the site, alphabetically, except sub-pages. (A new "Scans & Ephemera" list was also added).
Former Chain Restaurants of Texas, a collaboration with STR, has been launched. This is not part of Carbon-izer, but it will replace the old Former Chain Restaurants List hosted here.
---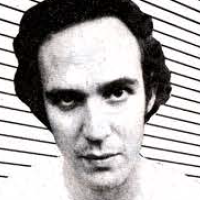 SEPTEMBER 30 2021

Changed a few things retroactively on this site, the guy behind South Texas Retail has asked me to remove his actual name from the site, so all references here have been changed to "South Texas Retail" (where I can find them). There have been a few other changes and updates. FM 1960 and Westheimer Road are now on "Version 6.0" with a dozen new entries and several more updates. This particular month was sort-of supposed to be an Austin themed update but couldn't find enough things to actually make it work, so instead that was worked into "Carbon-izer Goes to Austin 2017...Plus Some", which includes a few other things of note, including a restaurant I ate at in 2004, the unusual fate of an Austin Travelodge, and a solid history of the Austin Truck Terminal truck stop. There's only so much I can do for cities, especially if they have something tied to content. Maybe I should just try to make it more generic, like the "defunct malls" theme a while back. There's also the problem that after a burst of activity when this site officially started back in 2015, it's really not meant for monthly updates. I usually updated when I felt like it.
One more significant update was able to make it in last minute (as I had been working on it); "The Nickelodeon Hotel—when it was just a Holiday Inn". This was supposed to be part of the even larger "Restaurants & Hospitality" theme I had planned on. The mention of the Travelodge, Mongolian Grille, Burba's, and all that were part of that larger, grander scheme. The rest of the stuff is pretty minor.
* "Bertha Bigglesworth" (not "Martha Bigglesworth" as the August 31 2021 update originally reported, before it was fixed) has been added to the Yoot Tower VIPs page.
* Otto Matic has been added to the "2021 Games" page. Like Power Pete/Mighty Mike and Bugdom, it is a Jorio/Pangea port.
* The 1/21 and 2/21 updates still had 2020 listed. This has been fixed retroactively.
* Rusty Scupper's page has been updated with a fixed typo, new color, and additional club in the space.
* Minor fixes to the "former Applebee's page".
The thumbnail is from an advertisement for Omelettery West, the original name of Magnolia Cafe in Austin (the location shown was open until last year). It was sourced from the Austin Chronicle's 1982 Restaurant Issue and supposed to referring to a big feature on defunct Austin restaurants but ultimately this was re-tooled into the page that was actually posted.
---

AUGUST 31 2021

THE WAIT IS OVER!! It's the end of summer so time to get back on updating Carbon-izer, and do we have an update for you! Well, it was supposed to be bigger and cooler, but that got scaled back, unfortunately and several things I had intended to add got cut for time. Still though...almost every section of the Roads section have received substantial updates. In Waco, the I-35 page has a few new updated businesses as well as a full page (with photos) on Ivy Square and all of the businesses around it, from IHOP to Shoney's/Jim's, and there's pictures of everything. Check it out! Of course, the I-35 page got updated to account for Ivy Square, as well as other changes (R.I.P. Waco/Bellmead Luby's). There's also updates of Valley Mills Road and Loop 340, though these are less impressive. Going down to College Station, Calvert and Earl Rudder Freeway have been filled out, as well as every page down to (and including) 610. FM 1960 and other roads coming off Highway 6 likewise got passed over for updates this time around, and we finally end with Westheimer Road, which received some new updates, particularly regarding the history of what is now Molina's Cantina, bumping the total count of what's covered to almost 70 entries. I have been working on FM 1960's "Version 6.0" but alas, that will have to wait until another update! Additionally, some issues with Marlin's page have been fixed.

Outside of the Waco-Houston spectrum, everything else has been largely ignored. There were a few new pictures to Sears on North Shepherd and a minor update to Loop 363 in Temple, but that's it. I had intended to continue working down on I-35 toward Austin (and ultimately toward 21 in Bastrop), but it was one of the cut items. Ah well, enough for an Austin-themed update sometime! (The Houston-themed update will have to wait, also).

Moving on to the Games department, the 2021 games have been updated with several new titles and Yoot Tower Guides received an update in the form of the three-star Hawaii item guide, three-star Tokyo guide, and the VIPs. (It is missing Bertha Bigglesworth). The thumbnail for this month is adapted from one such VIP, King Kamehameha. The original idea was to have enough content for a Bastrop theme, but again, I never got the resources I needed. The SimCity 2000 Newspaper Project has about 18 new entries. There were also some errors with uploading the Power Pete maps last time...these were fixed.

There are some changes in the Index. The Games page has a new picture, replacing Pokémon Gold's thumbnail (from 2019) with one from The Legend of Zelda: Link's Awakening. Former Chain Restaurants got moved back to Restaurants & Retail. Photos & Miscellaenous was split between "Photos & More" and "Random". Lone Star Arches was moved to "Photos & More" (this was to be dismantled). "Random" got a new page on "Gonna Electric Shock O.J." just mostly as a proof of concept to continue to expand that section.

The Former Chain Restaurant list was updated slightly, once again in association with South Texas Retail (basically almost a co-op project at this point that's merely hosted on this site). Applebee's has been added, Arby's was updated (again), and Burger King has been updated. These take a bit longer to do. The Rattlers' page was updated however.

Finally, some new scans have been added! The Treasure Ship has a Hook's Grille & Grog menu added (and the mention of the third restaurant). We'll have to look at the other games in the near future.

I know that it may seem a little bit slim for three months off but I did take some time off of it completely and the issue of side-wide burnout has been largely fixed.
---

MAY 31 2021

About five years back, I made a post on the old Carbon-izer Blog referring to "Exprezit!", a rather eye-catching gas station and convenience store brand, and referring to a particularly memorable Christmas, with so many elements and interests of mine at the time all converging for something great. (I'll spare the details, but I almost want to tell it for my own records).
Well, part of all that was visiting my dad's parents (where notably, Christmas was not held, but we were served deep-fried turkey) in one of their houses in Lakeland (they moved around a lot) and it ended up actually being the last time I saw my grandmother alive. Lakeland I have visited a few times since (not a lot of retail information or information on its corridors), and together with Tampa and Orlando could be a great place to cover, but unfortunately it's out of the scope of this site. Not that it matters much—I know even less about Lakeland itself than Baton Rouge (previously discussed). Anyway, Florida-related content WILL be added in the future but unfortunately not in this update.
Rather than a specific place, one of the many, many things I associate with Lakeland, Florida was an old Macintosh computer my grandmother once had that my cousin later inherited...which had Power Pete installed. It never made it onto my families' computers (contemporarily, anyway) so it was always a treat to play it (though again, the last time I played it THERE was in the early 2000s). While I did play it on other computers including emulators and a real genuine iMac in later years, it's only with the open-source port mentioned last update where it leads the charge in the latest new featurette. The new "2021 Games" page in the site's Games page has five games currently covered: Mighty Mike/Power Pete (the name changed later), Bugdom (fun!), Friday Night Funkin' (meme game), Eversion (wrote about this one some years back but it never got posted), and Bachman (added as part of transition away from "old list")...and there's more to come!
Do check out the section if you're considering it. I've got full labeled maps for Power Pete/Mighty Mike, made 'em myself with the base map rips (except for one). You heard it here first!
The Roads section is now complete from Interstate 35 in Waco to Northwest Freeway. A few other pages have been added to maintain continuity but aren't really done yet, including Earl Rudder Freeway and Highway 6 In & Near Hempstead. Highway 6 in Hearne & Calvert is a little better. It has a picture of a former Shell station turned independent ("Flo-Mart Express"). The Temple-Killeen section was renamed to "The Hinterland" to fit in with the new Highway 6 in Marlin/Reagan page. The last piece of 290 was published here, replacing the old all-purpose page that has largely been retired. (The old version can be seen on Archive.org.)
The following "Roads" pages received updates: Riesel (minor errors, integration with next page), Texas Avenue in College Station (integration with the upcoming FM 2818 page, formatting), FM 2154 (integration with the upcoming FM 2818 page, formatting), and most notably FM 1960, where more has been brought to the table. I wanted to mostly fix an error involving the Whataburger near Jones Road but ended up doing a little bit more. The aforementioned FM 2818 page, however, was cut in this update again; I just wasn't happy with the page and the progress.
A small update was also done to "Sunrise Mall: Director's Cut", Steam Banners got a small update (Power Pete's banner is linked to the new review, Panic Restaurant's is removed), and the Former Restaurants got updated (China Coast is linked in the page, which may have accidentally been removed in a previous update). Former Restaurants got moved to "Photos & Miscellaneous" as part of its unusual, non-standard layout and content...and specifically the following restaurants are new or updated: Kona Ranch (links to Brazos Buildings & Businesses), Einstein Bros., El Pollo Loco, Wendy's (there was one in Georgetown that I couldn't find), and McDonald's.
The last one only added one true entry (50 more new and updated entries for McDonald's alone are in the queue, including a lot of former Walmart locations) but in the end the "one true entry" was just the location at Ben Taub Hospital. I ended up not doing anything for Lone Star Arches like I planned (it was mostly one page on some former locations/locations changed beyond recognition, after quickly scrapping a plan for a full location/opening list...plus some photos that I wanted are buried somewhere), but instead it will be replaced with something even more exciting (and integrate a lot of the content featured here previously, like 2014's In Search of a Mansard Roof McDonald's as well as a number of scans. I don't want to promise anything big, but it will be a big feature when it's done, and almost certainly will cover content outside Texas...or even the USA!
Now for the "bad" news of the update--I'm going to take some off. The update schedule is pretty rough and I'm getting burned out on just about everything now. In the meantime, I can "re-balance" the site by going through what needs to be updated and finished off. I'm not going to say exactly what will be done, but I will say that the next update theme will be "Houston" and feature a more comprehensive Galleria page (at least).
Oh, and regards to that fried turkey...bad first impressions. It was rather dried out.
---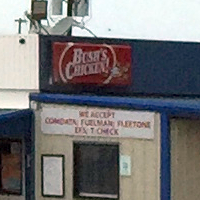 APRIL 30 2021
From the moment I put it up, I knew last month's update would be hard to top. It had everything. It had photos, videos, restaurant lists, scans, video games, everything. From Arby's to Yoot Tower, it was there. The next month's post was supposed to be about food somehow, but despite it being a hobby of mine, I couldn't really make a food subsection of the website.

Should it be reviews of food & drink, recipes, restaurants, unusual finds? Mostly I had wanted it to be some sort of actual resource for people who actually like food. A few months ago on a recent "Updates" page, I disregarded Lileks.com as "hacky". The site's main claim to fame is "The Gallery of Regrettable Food", with snarky commentary on a variety of mid-century (1940s into the 1970s) recipes, each with themed sections (such as one on the terrible creations with vegetables). What annoys me about it, is not that the food looks good (it doesn't) but that without the sources or recipes, the snark is meaningless. This is not just strictly Lileks' problem, it's endemic on Facebook and Buzzfeed as well.

With recipes, even the most ambiguous, icky-looking recipes can turn out to be more decent than they look, though this isn't always the case. Still, at least all those old recipes were run through some sort of quality assurance. We may live in a world where we scoff at 1950s montrosities, but yet we've got people like Jack Scalfani videos where the recipes look abhorrent and you can clearly tell that on some items, the host only pretends to enjoy them, and there are, to quote a former President, "many such cases" of other "recipes" on the Internet that aren't actually designed to be eaten.

One other thing that I had wanted to do in relation to food was a more scientific-based approach that analyzed common food additives and why they were nothing to fear, taking a swipe at fake-news articles about food that still routinely appear on the top of Google searches and attempting to clear the air about something that genuinely ticked me off, and there wasn't anything like what I wanted to do. I don't know why I abandoned that project, but it didn't really fit with what I wanted this site. It was supposed to be fun, and a heavy-handed article why there's absolutely nothing wrong with food-grade Red 40 (or whatever the latest "poison du jour" was) would be a very poor integration to the site.

In the end, even the minor things I wanted to do with the theme ended up being scrapped entirely, with the exception of some details of a cook-your-own-steaks restaurant (more on that later). Rather, the focus on Riesel, Texas, which has been added to our on-going "Cities" section. It expands upon the page that once had only the Exxon station covered, itself a bit of a landmark when I was a teenager still on those road trips, and an actual stop during a few times when I went up to Waco on my own.

If we were talking about food, that was perhaps one of the best food items on the road I've had as an adult. Yeah, you can luck out on take-out hamburgers and fries, but there is something purely magical about properly prepared fried chicken (with the Bush's Chicken inside), something that brings out the poultry taste (it was even better of course with the seasoned salt). People may talk about how food is "better" now, yet we're still hawking the same old white chicken breast cuts, which, even if it's not processed, tastes like whatever you decide to coat it with.

Mostly what got updated this month was a number of roads pages, which I do find fun, at least for now. These include North Shepherd Drive, which adds a picture (sorry, no further updates on the Sears page) and integrates with the new I-610 page, which also chains with Westheimer Road. Westheimer Road "4.0" adds maps of shopping centers, a few restaurants, a few gas stations, and a few hotels. The focus of Westheimer Road's update is U.R. Cooks, which has reviews and ads.

Further out, Northwest Freeway Part 2 was added (NW1 didn't get much to it beyond some new links). A bigger update was applied to FM 1960's page.

Going up to College Station, a page on FM 2818 wasn't going too well so a page on Highway 6 South was slapped together. It was integrated with the Navasota page (which got a small update) and Texas Avenue College Station (which got a small update), but not FM 2154.

The Waco updates include Interstate 35 updates in Waco (and Temple), along with a minor update to Loop 340 (which also connects to the aforementioned Riesel page).

The Steam Banners page has been updated again with one for Power Pete (Mighty Mike), and not wishful thinking either...it's been open sourced (the code at least) and you can find builds here for your system. (Speaking of the Steam Banners section, I really need to re-do that one for Panic Restaurant sometime...or remove it).

Due to the nature of the project, the Former Chain Restaurant List has struggled to get updates (it didn't take long to figure out that Texas was much bigger than Michigan, and thus that much bigger of an undertaking). Unfortunately (and I know some of you will be disappointed), no lists made the cut this time. Part of this problem is I no longer find the lists that fun anymore: if it starts becoming a chore and/or obligation it probably won't see much action. If the Streets section starts becoming a drag, I finish off "Phase I" to the minimum (Waco to Houston complete, Waco to Bastrop complete) and not touch it again for months, if not years.

I like the idea of city-themed updates, and I have in mind something for next month based on a little thing I've been working on these last few days.
---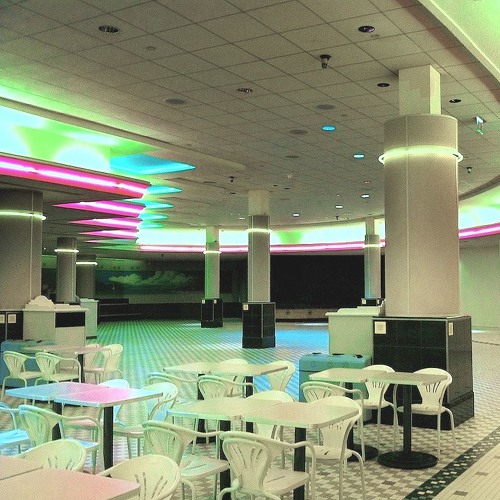 MARCH 31 2021
Today's update theme is "The Great Mall in the Sky", focused on dead and otherwise historical retail. As I noted last month, this was partially prompted by the death of Sears in Texas (full line) and Fry's Electronics.

The thumbnail from this one is from a set I've seen kicking around on other sources before (Pinterest, which Google seems to prefer for image searches, much to my chagrin) but further digging revealed it to be from White Flint Mall in Maryland...which explains the unfamiliarity of it, as it was never on DeadMalls.com or Labelscar. The biggest mainline reference I can find to it (from sites that were around in 2007) is from Sky City in 2014. Must have missed it.

It is said that the reason for the so-called "retail apocalypse" is too much retail space in this country, a sort of natural reckoning for what has been built up and must come down. Online shopping is the future, the only common store that can survive with any sort of six-figure square footage is Walmart...et cetera, et cetera. If you have spent any time around retail forums or articles, this all will sound very familiar to you. (In fact, parts of this diatribe have been copied from some of my own forum posts).

But it's just not true. There's no question that certain areas are over-retailed, especially in areas where traffic and population never panned out (Woodville Mall in Ohio, for instance) or has changed so dramatically in terms of demographics it no longer makes sense to have a middle-to-upper income shopping mall.

It is not, however, to excuse why we can't have 200k+ square foot department stores anymore, or malls in general. The retail world has been heavily hurt by hedge fund investors, which exploit the current financial system to mulch any business that's functioning but a bit down on their luck. On the other hand, I do blame certain stores for not using their large square footage to their advantage. Why, for instance, can I go into the biggest, nicest Macy's in Houston, and find that their men's clothing section is a bizarre mixture of shirts you might wear to a discotheque, $700 ski jackets with designs on the back, or shirts with thin synthetic fabrics that women's clothing are known for?* Why can I not even go into my local J.C. Penney looking for a decent polo shirt in my size (and I am not particularly tall, short, or fat) and walk out empty handed?

I don't see any easy solutions to why things are why they are, but blaming, in essence, a large catalog retailer (which, essentially, is what Amazon is, or Walmart, is not the answer. Even when Sears itself was at the top of its game (also, like Amazon, diversified), other retail survived and thrived.

It should also be noted that even if things turn out okay in the end, the analysts who get paid to write this garbage never suffer blowback, even if they are always wrong. I guess it's one of those things where you know the right people and get an easy job for life. The rest of us have to do this for free, and are usually right. For example, the post-merger Albertsons has been a notable success story, and I can pull up articles where it was genuinely believed that Safeway Inc. would be torn up for real estate. The Texas market was in question, and while United/Albertsons/Tom Thumb has been doing well in north Texas, Houston is a different story. Like Sears, the 1950s-era store at 5130 Bellaire has finally expired. As such, the page, "Life & Times at 5130 Bellaire" was updated to not only account for the closure of the Randalls (with a few other details added) but also touched up to better integrate with the Houston section. It may get a rename and get additional changes later on, but for now, it's fine.

As mentioned, new pages have been added in response to the defunct retail, such as the North Shepherd Sears and Fry's Electronics.

Other retail-related additions are tied in with updates to the "Cities" department. Starting in Waco, we have a new page on Loop 340 which includes a small update on Richland Mall, and a bit on Central Texas Marketplace, an outdoor shopping center that competes with it. Linked to Loop 340 is an updated I-35 page, and that all comes with an update to the page on Twisted Root/Texas Playhouse. This Loop 340 page covers only the parts that are overlapping with Highway 6, but the rest of Loop 340 hasn't been neglected, the former Albertsons in Bellmead had its store number discovered, #4221.

Jumping down to College Station (the rest of the Highway 6 pages still aren't done), we have FM 2154 and to the south, the Navasota page. The pages are left "uncolored" as I haven't decided on a new color scheme yet, but Navasota does have a picture.

Jumping down to Houston, the FM 1960 page was updated, and features a new Willowbrook Mall page (here, but it doesn't have much). The FM 1960 page also introduced a new format to the other pages by breaking it up into distinct "blocks" rather than listing every stoplight (or exit). As part of adding the North Shepherd Sears article, the North Shepherd Drive page got updated.

And what sort of retail-focused update can do without updating the Mall Maps page, a long-neglected section of the site? It includes Grapevine Mills with its GameWorks junior anchor, which despite being from 1998 (and found in 2004) was just in time and place with my Yoot Tower obsession (also from 1998, but new to me), as it turned out that GameWorks was a real thing after all. Well, not exactly as depicted in the game, which is explored in the new page at Yoot Tower Guides shows, the page where it talks about the Japanese changes, found here. Short version: U.S. GameWorks wasn't as cool as depicted in the game (isn't that always the truth?), but it was not actually GameWorks to begin with.

I noticed that in the process of Features to Scans & Ephemera a few months ago, the link to For Whom the Southwestern Bell Tolls got deleted from the main pages. That's okay! I don't intend on updating it (or explaining the reasons why) but I won't delete it either. There are still a few residual links on other pages, and it still stands as a part of the website that tried to be a bit different.

The last item to be updated is the Rattlers' page, which not only includes some updates/additions to other stores like the Victoria store (shout out to South Texas Retail, again) but if it's still part of the 7-Eleven family (most aren't).

Finally, the Former Chain Restaurant list has been updated with new additions/formatting fixes to the following entries:
Arby's: Among other changes, the last "neon hat" location closed in Austin (and the hat was demolished), some confusion in San Antonio cleared up, and an opening for San Marcos location (this one I have personally eaten at, if only take-out). The logo for the page was also replaced with a cleaner uncompressed version.
Bennigan's: Major updates here involve a few more locations, mostly Dallas ones. One update that STR didn't help me out with was one at the DFW Airport. "Didn't I see a Bennigan's at the airport when I went to see my brother sometime in the early 2010s?" I asked myself, turns out there was one at the airport, and it has indeed since closed.
Black-eyed Pea: Mostly updates and additions around north Texas.
Bojangles': It turns out Dallas-Fort Worth got more of these than Houston did!
Taco Cabana: Most of those Taco Cabana restaurants sit vacant still.
...and finally...

Luby's Cafeteria: This was what I wanted to do seeing how Luby's Cafeteria was in many a Texas mall but the company is disappearing at a fast rate. At this rate Luby's will only be found in the "Great Mall in the Sky". Keep in mind that there's still many locations missing from the list, not to mention the ones that are currently open...
In addition to the original picture shared at the Navasota page, the Luby's picture I took (with the cheap, traditional film camera in November 2006) can be seen here. It was a fun trip. I miss Luby's being around (even if it was a bit dowdy, even then), just as I miss other things associated with the past. But perhaps we can make a better future, a future that always improves, just like this website...

* This was previously mentioned at the The Galleria page, which itself has received a minor update
---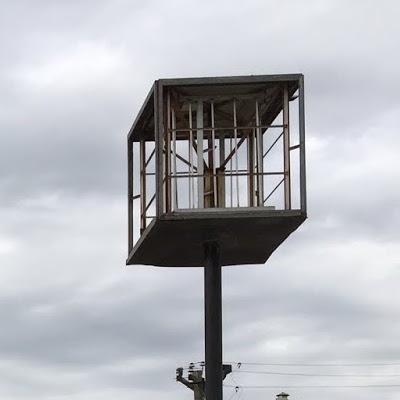 FEBRUARY 28 2021
One of the many, many, scrapped ideas for this site was some sort of essay/article section, written by me as a way to have a bit of a personal mark on the site (with subjects beyond the topics covered here). This was not to be. I don't have a writing career, otherwise the articles I've written might have had some sort of merit. Obviously, politics were a no-go area, based on the fact that it's a good way to alienate people and the chance of not being knowledgeable of the topic on hand would only worsen the issue. Besides—the old Carbon-izer blog on Blogspot (it sort of was designed to be a "companion" to the site, but it didn't really work) has some stuff that has not aged well (and let's not even talk about some of the stuff I've taken off of Two Way Roads). As a result, the compromise is making a bit of a short post of sorts for the updates, all with a bit of a theme.
Originally, this was month was supposed to be just routine updates, and the next month was supposed to be "The Road to Baton Rouge", based on my memories of going there to see family when I was younger. But when I sat down and really started planning it, all that I could really do was write a bit on The Real Superstore (more about that later) and maybe make a few road updates, which I would normally do.
The reason why I was able to gain a foothold with the Waco section is that I had something to work with in terms of old photos and some newspaper archives. What am I supposed to say about Tiger Truck Stop in Grosse Tete, the truck stop that had a live tiger for years (and somehow I missed it when we stopped for gas once), and was only briefly mentioned on Netflix's Tiger King? What am I supposed to say about the late Jay's Donuts at Harrells Ferry and O'Neal, in which I got a donut with red and blue sprinkles (in 2004) that wasn't even that remarkable? What am I supposed to say about H-E-B's lone stand in Lake Charles?
Granted, I do have some photos of the CS/Baton Rouge journey that I took in 2006 (I know it was 2006 based on the gas prices), but most of them aren't great. They were taken from an inexpensive conventional camera (resulting in blurry photos), most were taken at weird angles, and there really wasn't much to see in them. There was a closed Luby's Cafeteria (signed that way) in Orange, Texas and a good shot of Navasota, but that was about it.
Next month, I plan to focus more on retail, with the recent death of Fry's Electronics and the Bellaire Randalls in mind (plus the exit of full line Sears stores in Texas, which we all knew was coming, but Fry's, yikes!). But today, it's just going to be updates. Part of the motivation for this was the fact that "connecting" I-35 from Waco all the way to Temple took up far more time than I anticipate, and I told myself to not to get wrapped up in any big/ambitious projects, which there has been a lot of recently. Yoot Tower Guides did not get an update this time around, but the SimCity 2000 Newspaper Project did.
In the Cities/Houston section, I updated Royal Sonesta's page with the new page color and a floorplan of the hotel...and gave Westheimer Road a "Version 3.0" update with now 50 entries to look up, covering both current tenants and their departed counterparts, like Sakowitz, Sizzler, Texadelphia, Kids R Us, Wolfe Nursery, Golden Chick, Soapsuds Sawdust & Scents (which has a new ad!), Luther's BBQ, and more. There's a Guest Quarters ad there, too! Topping this all off is revamping City Directories' North Shepherd Drive page. This is where the thumbnail is sourced, the former Jack in the Box on North Shepherd. Note that as of this writing, this doesn't really connect with the "patchwork" mentioned last month, but that will soon change. The Temple page got an update...turns out I was a bit too hasty in updating the Dodgen Loop page last time and assumed that the Burger King closed due to franchise issues.
Under the Retail Chains section, the Kroger section has something on the Seabrook location (this was actually uploaded a while back but never finished or linked). Albertsons has a little bit more...there's a new page on their coffee shops, an updated link regarding the San Antonio stores, and a small update to the Great Plains stores.
Finally, two entries were updated on the former Fast Food list: Bennigan's and Arby's. I wanted to do more, and already I've been informed that I need to update those two. A minor update to Wendy's was done (fixing one entry, adding one, and updating one). It still needs a more extensive update (as the rest do...)
Additionally, some minor fixes were made here and there.
---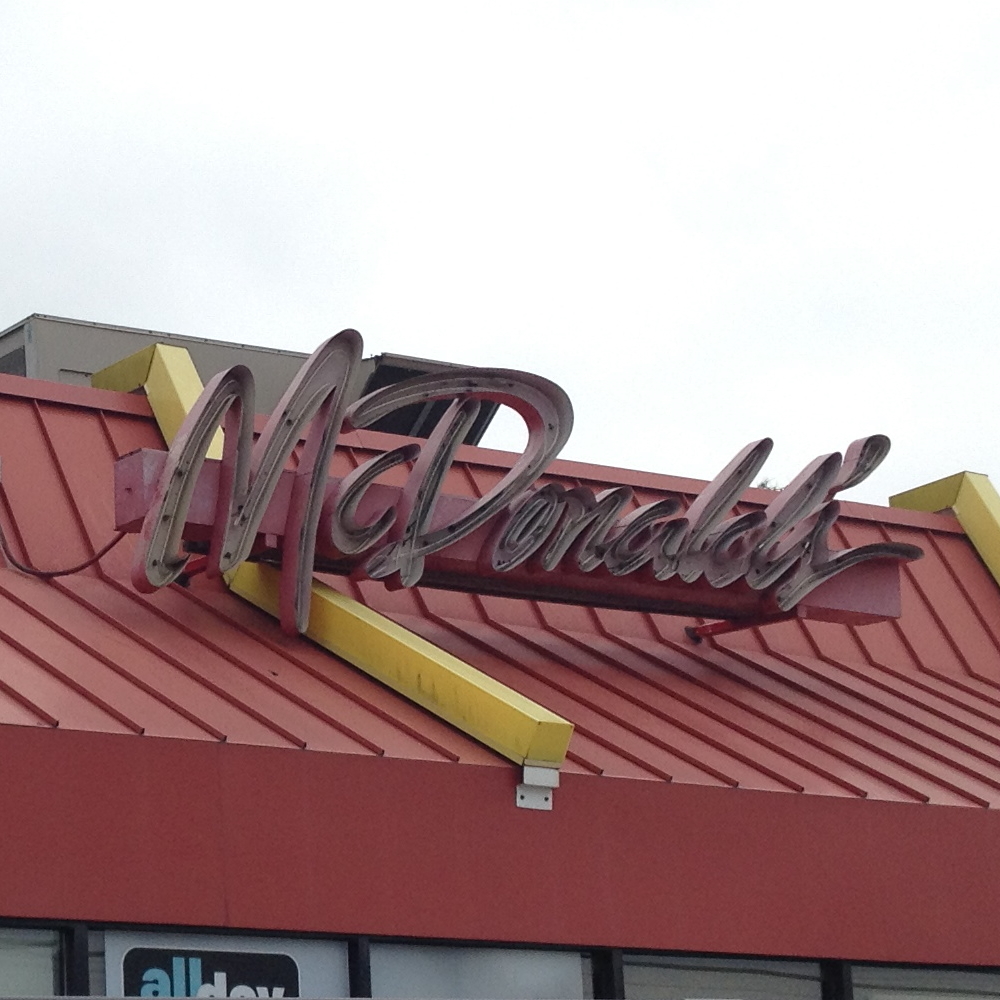 JANUARY 30 2021
Not nearly as much as I wanted, mostly some extra pages and updates, so it basically reflects last month except a lot less new things.

* Updated the Rattlers' page, accounting for the replacement tenant for "my" Rattlers closing.
* Yoot Tower Guides updated with more on the Tokyo scenario and a Sounds page.
* December 2020 games have been added, incorporating actually a game from THIS month along with a bunch of others to bring parity to the old index. I'm not even sure what to do for NEXT month, or if the section will expand at all...but I've got some ideas.
* Lone Star Arches, a McDonald's-centric page with photos, has been added. This has of course the main update's picture.
* More roads to explore! In addition to Valley Mills Road getting an update, you can go all the way down from that to Dodgen Loop on Interstate 35, linked within. Meanwhile, College Station has University Drive, and Houston has a new US-290 page (returning to the site proper!). Additionally, there's some information on Gateway Center and Egg Roll House over on the University Drive East page...stuff that was planned for Brazos Buildings & Businesses. In the future, we'll aim for three roads a month, each adding onto the existing patchwork.
* Minor fixes here and there (notably, Fat Barbie's link not working from the Scans & Ephemera index).
* Yes, I know that the Bellaire Randalls referred to in Life & Times at 5130 Bellaire is currently in its death throes, but that page isn't changed.
---

DECEMBER 30 2020
While the main page doesn't look too different (one of the bigger differences from last month) this time around, a substantial number of things have been added under the hood. Here's the list.

* Updated the Rattlers' page. South Texas Retail informed me of the Corpus Christi Whistle Stop being a Chevron originally, and "my" local Rattlers has closed down for good. (The first paragraph has also been updated to account for new changes within the chain and its slow conversion into 7-Eleven).
* There is a now dedicated page for Yoot Tower Guides, at least version 1.0 of the site I want to make. It includes a full scanned manual of the U.S. Macintosh version. The Yoot Tower page on the website itself has a fixed link on the "Liberty Manual" which apparently no one told me about.
* November 2020 games have been added. Additionally, the October 2020 games page has received a minor update.
* The SimCity 2000 Newspaper Project received a small update.
* Steam Banners is back with a new look and new banners for Glider PRO and Apeiron. Monkey Island 2 got a new banner (old one wasn't very good), as well as Kid Klown in Crazy Chase (it's not a bad box art crop anymore), and the inspiration for this update's thumbnail.
* The Treasure Ship, a new entry to the Scans & Ephemera page has been added.
* As part of upgrades to the new Scans & Ephemera page, the following have been removed (there still needs to be work done on the page) from the Features page as they have been added to their respective sections. Confederate House, Life & Times at 5130 Bellaire, The Galleria, and The Greatest Hypermarket I Never Knew (Auchan) are now all at the unified Houston page that was introduced last month. Rattlers and China Coast are under Restaurants & Retail, those too have been removed from the list as well. The sets on Woodlawn High School (a slight fix to it has been done), Sunrise Mall, and It's a Very Merry Muppet Christmas Movie Review has been taken out from the list as they too has been moved to Photos & Miscellaneous. The result is a much shorter list with a net loss of 7 entries, and Fat Barbie, Fun Maps, and Treasure Ship added.
* The China Coast page is functionally complete!
* Further upgrades on the Waco I-35 page have been made, but the Houston page has been upgraded with new sections on Gessner Road and connecting Westheimer Road with Katy Freeway! In general, the future updates will connect Waco down to Bastrop (through Austin), and Waco will connect to Houston (through College Station).
* Collaborations with South Texas Retail have resulted in another piecemeal upgrade to the chain restaurant list: a fix to Carl's Jr., major upgrades to Fazoli's (how long has that Dairy Queen logo been on that page?!), and a removal of the small RibCrib page in favor of the one in the Waco section. The Kmart list was removed (it's obsolete).
---

NOVEMBER 30 2020
I spent some time going outside of my usual bubble to see how I might be able to improve my site, and while looking for a map of an obscure (defunct) Minneapolis mall, I stumbled across Lileks.com, which I had previously disregarded as a somewhat hacky "nostalgia" site. True as that may be in places (sorry), it got me thinking about redesigning the site, especially as how the previous version (by the time you read this) was based after another website by an author who, despite some common interests, is a real piece of work and has basically stated outright that if you don't 100% agree with his sociopolitical views, he hates you and regards you as an enemy. (Here at Carbon-izer and its related sites, I try not to alienate anyone, and all are welcome).

Back on redesigning, I do feel that Carbon-izer is very similar to Lileks, in the fact that both are just collections of the author's interest in disparate sub-sites across the greater website. However, there was just one problem...the main "Features" of this site are one of the biggest problems of the site as it is. They vary in size and quality, going from more-or-less photo albums to quirky charts that I put a lot of time into to location lists that aren't restaurants (and the restaurant lists are the other big problem).
Instead of dismantling Features, it has gotten a new name & focus--Scans & Ephemera. Some things have gotten completely rearranged. Everything also got new titles to better match the theme of the title. Is it too big? (Yes. That's what happens when you work on deadlines).

In other news...
* To try to expand Scans & Ephemera and taking a page from Lileks, a new page on Downstown (and the "Fat Barbie" storyline) was added.
* The "Games I've Played" page was updated once more to account for September and October. The thumbnail for this update is from a game again, this time from Full Throttle, but I wouldn't say it's the "Featured Update" anymore. It's just an example.
* The Albertsons San Antonio Division page has been de-linked from the site due to an agreement with South Texas Retail. The Kroger page will also be altered to remove the San Antonio/South Texas stores for the same reason (when his Kroger page is done).
* The various Houston pages have been merged into one big page and Westheimer Road has been updated, including with the new color scheme based on the FM 1960 page. I may change it in the future. This also includes a new Galleria page (still on the old color scheme), which includes several nice things, including pictures of the late Borders bookstore, tequila reviews, accidentally ending up on the roof, and some brief musings on what used to be my favorite computer company.
* Waco's pages have been updated, including Valley Mills and I-35. Sadly, this has been truncated somewhat and not as complete as I wanted it to be. There's a mild update on Riesel's Exxon. Also, there's a real entry on RibCrib which will replace the two-item list in the Restaurant list (which was not updated this time...)
* The College Station page has been updated with a new Texas Avenue page and an updated Harvey Road page. I'm not sure if the black-and-green theme will continue in the future. Right now the blog is paused.
* A custom 404 page has been added (but in this update, has not actually been wired correctly). You'll know it when you see it...
---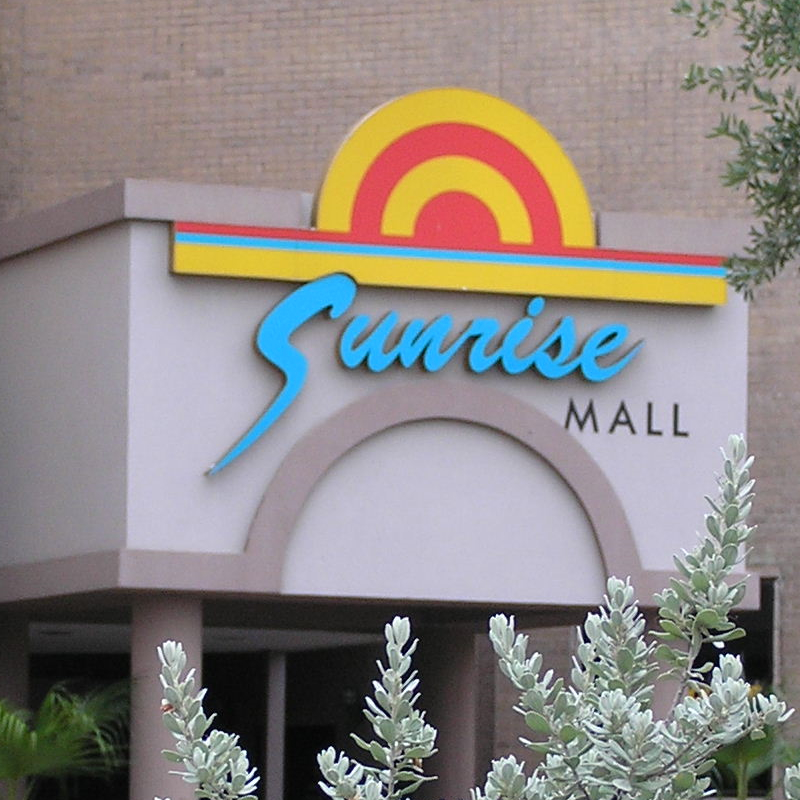 OCTOBER 23 2020
* The featured update is "Sunrise Mall: Director's Cut", but that's not my favorite part...
* ...because what I want the real feature to be is the new City Pages format, featuring the new Temple-Killeen page and with a hybridized directory form from the old City Directory pages. This means the Uptown page has more than two dozen mini-entries, from hotels to strip clubs, all on Westheimer Road. As part of this process, "Houston-Other" has been removed and the College Station-Bryan page got its individual pages removed in favor of University Drive East and Harvey Road (both of which previously were listed on the City Directories page). Waco's is a little different as it doesn't focus on the "current" tenant (this will be smoothed out in future releases) but I envision not only a complete clickable archive so you can go from Houston to the I-35 corridor, but the hope that others will also create their own "worlds" and those all be interconnected, like an old-school webring. The next update will be a bit less janky as more items are added to individual posts and everything begins to get wired together properly.
* The Albertsons page has an updated history, including fixing a picture and adding the acquisition of Kings Food Markets. The closed Kroger list has a few updates and additions.
* In the Video Games department, the "Porting Glider PRO" page has been removed (somewhat already did it) and so has the Steam Banners page (Steam has changed so the banners are more or less obsolete). There's no September games (or October games) page written yet. The number of newspaper articles in the SimCity 2000 newspapers page has been increased just a bit and now at a quarter of what the game offers.
* South Texas Retail has supplied me with more updates than I can reasonably fit on the the Former Chain Restaurant Index. New updates include 59 Diner, Arby's, Bennigan's, Black-eyed Pea, Carl's Jr. (both the "original" restaurants and the recently nearly-extinct "revival" restaurants), Jack in the Box (the Madisonville location closed), Olive Garden (new!), RibCrib (complete!), and Ryan's (also new!). Adding Pelican's Wharf was scrapped for now, maybe it's better for a full page someday.
* The Rattlers page has an update. Wendy's at the local store is gone and one even became a real 7-Eleven!
* The outbound links now has Travis' new blog.
* The China Coast page now covers over half of the chain.

---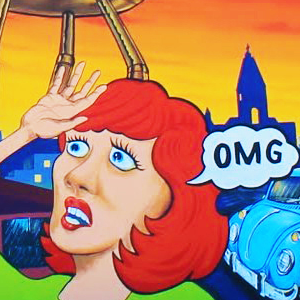 SEPTEMBER 11 2020
"OMG" indeed! This update, from part of a new mural on the former Texas Playhouse, tries to do everything in one (but fails).

* New updates to have been added to all the city sections (except Uptown). To clarify, Waco has updated pages on Franklin TitleMax and Clarion Hotel, with new articles on Catfish King, H-E-B on Valley Mills Drive, and Texas Playhouse. The FM 1960 page still doesn't have Willowbrook Mall. In the future, the "City sections" will be merged into City Directories (coming next update!) while the Uptown section just hasn't had anything added yet. In the meantime, a "Houston - Other" page was added. Ultimately, this may just turn out to be temporary.
* The Bryan-College Station page has been founded with articles taken from the blog (Military Depot on, plus the Randalls/Albertsons page). This is being created in preparation of Blogger changes, which as of this writing, haven't happened yet. It's a young page and not all the pages are up to snuff.
* The number of newspaper articles in the SimCity 2000 newspapers page has almost doubled.
* Thanks to South Texas Retail, many of the Former Restaurants have gotten updated, including Arby's, Bennigan's, Burger King, and McDonald's. More to come in the next update!
* The closed Kroger list received a mild update (also thanks to South Texas Retail).
* The Games section got a minor update. I added NewCity earlier ("impressions" page only) for Reddit, but I just haven't played games much in the last few months. Still, it covers a lot of the good heavy hitters, including Super Mario 64, Hotline Miami, and Riven: The Sequel to Myst. I've also gotten a couple of more stars since writing the Mario 64 review.
* Updated the Albertsons history section, including some minor fixes and expanding the section on Vivek Sankaran.
* China Coast's section also has been updated...Texas City's location confirmed.
* Woodlawn High School Demolition, 2004. Check it out!

---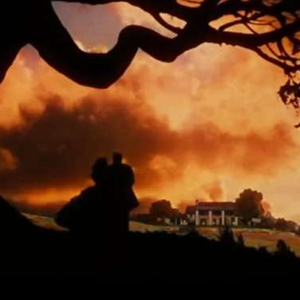 MAY 31 2020
I know it's not technically May 31st and several days late but whatever.

* There's a new section on the SimCity 2000 newspapers, which is all-new original content.
* I tear apart Cities: Skylines in this month's games section (covering April and March, but not May).
* The Kroger section has been updated, not only with a new page on Seabrook's Kroger but also (thanks to South Texas Retail) the Kroger stores in south Texas and San Antonio as well! (and on that note, some minor updates to an Albertsons list as well)
* This update page got a new font as well as a few more retroactive "image updates". These only go as far back as they do (the earliest ones never got thumbnails).
* Some very minor updates to the Restaurant Index, including adding back Pizza Hut to the list (for some reason, the link got deleted).
* Finally, the featured update concerns the Confederate House restaurant in Houston, with a thumbnail based on Gone with the Wind.
In the future, as a month is fairly tight, I'll probably "focus" on a particular section of the site, and I have an idea of what to do for next month.
---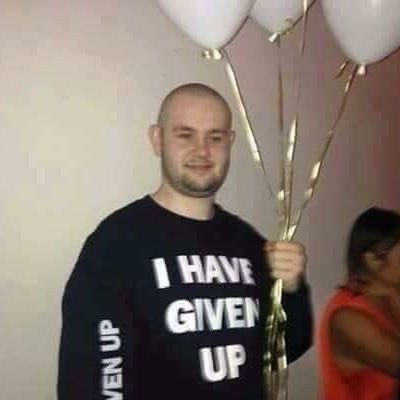 APRIL 18 2020
There's no way I can finish April's update the way I want to, so I basically skipped this one. The Auchan section has been expanded, slightly. Brazos Buildings & Businesses, which I consider to be part of the site, has been updated with four entirely new entries. While not part of the site and rather an independent, affiliated site that I've transcribed articles to and from, The Houston Files has updated with more info on Quality Inn on Southwest Freeway and the many name changes (not just one or two, but NINE!) the motel went through before demolition in 2006. Maybe there'll finally be a new post after nearly a year! Stay tuned to that.

Also, more pictures have been added to the updates page, and in the main page, the Old Games link has a main page direct link.
---

MARCH 31 2020
* Big update to the Albertsons history section, as well as doing some work to the San Antonio stores.
* Surprise update to the Rattlers page. The missing stores have been found...but I don't know which is which!
* Featured update is Marie Callender's, a feature to the Houston, Waco, and Former Restaurants list.
* Kroger section has been added.
* Additional "retroactive" update pictures have been added.

---

FEBRUARY 28 2020
* The "Retail Index" has returned as has a new mall directory page (with Grand Avenue Mall maps!). This is all part of splitting "Miscellaneous Stuff" into "Restaurants & Retail" and "Photos & Miscellaneous". Still, a lot of things had to be cut to make the update.
* Some new additions to the former McDonald's list and more importantly, the former Taco Cabana list (given all the closings last month).
* "Life & Times at 5130 Bellaire" is the latest Feature.
* The Katy Freeway section got updated with the 2003 PDF of Memorial City Mall (for real) and a bit on Georgia's Farm to Market.
* FM 1960 has gotten a new page.
* The Games list got another update, which is the "featured" update this time around (The Sims).
* Pictures are being retroactively added to the old update list.
---

JANUARY 30 2020
* The Richland Mall entry in the Waco section SHOULD be fixed for real this time. Additionally, a new entry was added on a gas station in Riesel.
* The former fast food list got Monterey House added to it and its successor restaurants. Pollo Tropical's list got updated (and a few others including Long John Silver's and the Kettle), but I haven't gotten around to Taco Cabana, which closed a bunch of restaurants earlier this month.
* The "featured update" is a movie review just because I felt like doing it last month.
* The Katy Freeway section got updated with minor updates, Topgolf, and a 2003 PDF of Memorial City Mall.
* Moved the Rad Project under Games to prepare for the splitting of "Miscellaenous" into three new sections, but that part will have to wait until next month.
* The Games Section got a new update...it's on Cuphead.

---

DECEMBER 26 2019
I really goofed last time and didn't actually update the Former Fast Food entries! So here they should be with Rally's and Red Line! (It's the Featured Update this time around). Other stuff includes...
* An update to the Katy Freeway section. Specifically...Salt Grass Steakhouse, All-Quip Rental Center, Houston's First Baptist Church, T.J. Maxx, 9430 Old Katy Road, PDQ, Village Plaza at Bunker Hill, Block 10 West Office Park (aka The Great Indoors), rewriting the "Wirt Restaurant Row" section, expanding the Memorial City Mall section, Kirkwood (Mac Haik Chevrolet), Dairy Ashford (Kmart), Roomstore, Courtyard by Marriott, and North Eldridge Parkway (Omni Hotel)...but still no logo for the page!
* A new December update to the Games section as well as fixing the formatting of the recent ones.
* One new Houston - Uptown entry: Rusty Scupper on the Richmond strip.
---

NOVEMBER 29 2019 (v26)
The entire main page received a new update to eliminate some of the sub-pages and bring things like the Fast Food list back to the top. New features include...
* Pictures of a dead McDonald's restaurant in Schulenburg, Texas.
* "Fun maps" of College Station. (The Featured Update)
* A list of Bayport Industrial Development companies from a 1976 publication, re-copied as text.
* New Houston - Uptown entries: Sakowitz, 7979 Westheimer, Water Mill Apartments, Adam's Mark.
* New Waco entries: Richland Mall, Hollywood Video. (TitleMax was fixed)
* New Former Fast Food entries: new additions to McDonald's and TGI Friday's, adding Red Line Burgers and Rally's
* New Katy Freeway section, including ads for the opening of STØR, Price Club, and Sears (Memorial City Mall).
* New "Games I've Played" sections updated to November. The games now have "ratings".
* Added horizontal line breaks in this section.
---

SEPTEMBER 16 2019
A few changes in revitalizing the Games page with a new format and some new entries. Project Aerostar has been renamed to "Cities" with some pages on Houston and, finally, Waco. A page on China Coast was added...requisite updates to the Fast Food page...and a page on porting Glider PRO was added (featured update). City Directories was abandoned for the time being.
---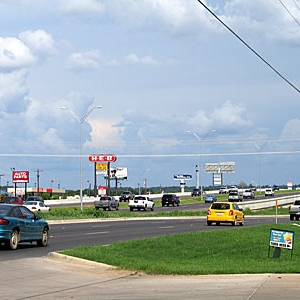 APRIL 13 2019
* Most of the groundwork for this update was last done last time around, so only a few relatively few things have been done, like making little fixes and changes all around. For example, in the External Links page I fixed a few titles and linked and ended up removing the Farscape World link since ultimately I had no real connection to them and it was a flavor of the month interest anyway (in its place is a link to Broken Chains). There was supposed to be a File Archive, but that was scrapped due to concerns over bandwidth cost.
* I created a new section of the site called Project Aerostar. While it technically is a "beta", it is a coalescence of several scrapped ideas for Carbon-izer 24 and the idea of a future for the site. Two of these scrapped ideas specifically were "Less-Old Waco", which would have focused on Waco, Texas on the 1990s until I realized I had no real information on it besides some disparate memories, and "Carbon-izer Snapshots" which would've been a section dedicated to random photos. To promote Project Aerostar as a real new direction for the site and not just a new way of organizing material, a brand-new section on Bastrop, Texas has been added to it (which is the featured thumbnail). Eventually, the Houston Files and the 290 blog will be integrated, but I don't know HOW exactly.
* A minor update to City Directories by adding North Shepherd Drive and removing "Roads of Others", which dealt mostly with the Waco area. This was supposed to be related to "Less-Old Waco" but we've put a stop on that until we can get more of it.
---

DECEMBER 5 2018
I'll never be able to make up for the long, long time between the last update pattern, so let's go over exactly what has changed.

* One of the things I wanted to do the site was a total restructuring that I had been toying with since 2017. This will materialize in the fact that the "Games List" is being killed, with whatever leftover writing I had to be integrated into Features at a later time. There were problems with it, I had to not only create thumbnails, fill out the info boxes, and collect pictures, but there was a serious divide between games that I had just merely played and the games I had a strong emotional connection to, and everything in between. For this reason, I felt I would never be able to accurately write a good review on things like Final Fantasy VII, The Legend of Zelda: Majora's Mask (and to a lesser extent Oracle of Ages), SimCity 2000, or any of the mainstream Pokémon games, because of those connections that can never be accurately transmitted to simple HTML. At other times I felt like I was scripting an unproduced YouTube series (where they might have performed better, but that's still a crapshoot, given that I don't like the way my voice sounds), they were no longer satisfying to write, the backlog was growing too big to reasonably create entries on everything (it was started in a time when I had neither the resources or the time to play actual video games) and I also felt wary that what games I played might reflect negatively on me. For example, I considered writing a Hotline Miami review, seeing how much time I put into it, but when it came to writing anything all I could think of was a pun involving the song "Rooster" by Alice in Chains, and didn't want to describe the violence, which I couldn't describe with enough good taste to be on this website. The Games List was not going to work in the long run, but that being said, a few of the problem entries were fixed, including Glider PRO. Note that it laments about the lack of a Universal binary and is unplayable on modern machines, though since writing the original back in 2014 Glider PRO has gone open source so perhaps a Glider PRO without mucking around in Mac OS emulators is perhaps a possibility (although the House Editor unfortunately never made it to the Mac OS X version, which appears to be the version that is up). Additionally, Yoot Tower's page was updated somewhat to allow for the promised "Liberty Manual", and WingNuts: Temporal Navigator had its screenshot fixed. I wanted to find another screenshot to use, but there are no full-resolution screenshots of that game on the Internet! The other remaining entries that hadn't gotten CSS entries, like Portal, Spectre, Pac-Man 2, and SimFarm all had their links removed, officially clearing the list of the non-CSS entries, and preparing for the discontinuation of the Games Index in Carbon-izer 24.
* There have been two new features, neither of which I was originally planning to put up. I had actually wanted to do something on H-E-B Pantry Foods, but I instead contributed to what I would've done to Houston Historic Retail which had more resources on it. So two new (very vaguely connected) features were created, one on AstroWorld and the other just how big the former Southwestern Bell (now AT&T) is. Additionally, the page on Rattlers' has been updated slightly to account for other changes. The thumbnail for "New Updates" is from the AstroWorld page. Both pages can be seen in the Features section.
* The City Directory page has been updated again, with every page (except "University Drive East") getting updates, and the Crosstimbers page being all-new.
* Unfortunately, the World of Albertsons has been discontinued for the time being. A lot of that was due to the heavy overlap with other websites. We'll be working closely with those "other websites" instead. Next update, it and the Games Index will appear in an "Old Stuff" list.
* Speaking of future entries to "Old Stuff", the Steam Banners page has two new entries, Monkey Island 2: LeChuck's Revenge and Eric's Ultimate Solitaire. Neither will get a review (well, maybe Eric's Ultimate Solitaire will in a little feature I have planned in the future) in the Games Index.
* The Former Fast Food List has been renamed to Former Chain Restaurants. Little has gone on here except some new entries, updates to formatting, and four new additions entirely: Bojangles', Pollo Tropical, Two Pesos, and Texas Land & Cattle Company. I regret having to add Pollo Tropical to the list, especially considering that they closed ALL LOCATIONS IN TEXAS. The link is here, as always.
* The External Links has been renamed as "Inside & Outside Carbon-izer", serving as an "About Me" page.
---

NOVEMBER 26 2017
Apologies for taking a stupidly long amount of time to fix the website. Part of the problem is my laziness and wanting to do other things (forums, streaming, games!), part of the problem is/was my job, part of the problem was all the disparate projects that I have, and I did move during this time. There was also an attempt to create a full "file archive" that unfortunately never got off the ground. These "disparate projects" are why the updates tend to drag on. Let's look at them.

* There are two brand-new Features that have been added. The first is on Rattlers, a partially-defunct local convenience store chain, and one on the Galleria in Houston. Additionally, the Auchan page was updated as well.
* The Retail Index was officially removed as part of a planned revamp that will integrate most of it with Features. This also means that the slightly-modified Kmart page I had planned to do is off the table as well. The old page can be found here. As a replacement, The World of Albertsons gets top billing in the main page, though it hasn't been moved yet from its old page. There are minor fixes involving the Albertsons San Antonio page. If you saw the old page you'd know what I mean. The Albertsons Houston also received an update involving Gulf Coast stores (Mississippi added, more details on stores in Louisiana) and the stores Kroger purchased, as well as referring to the merger of the division. Great Plains was also added. Like with the original San Antonio page, the page is very incomplete. The Randalls page was also updated as part of this.
* A number of changes were made to the City Directories. One of these was Circle K NOT closing in December 1990 in West, Texas, I don't know where I got the idea for that but I think I misread something in the newspapers. Other additions were made across all sections and errors fixed.
* Steam Banners has been updated, and the new thumbnail is not the only thing that's different. There are FOUR new entries, but the others have changed, namely Déjà Vu (hated it, so it was gone), Iron Snout (not necessary anymore so it's gone), and The Fool's Errand (the old one was wrong by one row of pixels).
* Speaking of featured updates, the thumbnail is now fixed. It used to be a Dropbox file literally called "changingupdate.png" that I swapped out with a new 100x100 png every update and just changed the name of. Most of the new updates were the same thumbnail seen on the site, including (most recently) Retro City Rampage but included Strong Bad's Cool Game for Attractive People, SimTower, Lemmings, and even the special feature for the Lexington (starring a crawfish) but there were a few others. The end of Dropbox Public Folder means I'll have to physically update the Index every time even there's no changes, but that's okay. The thumbnail for this round is Tadpole Treble, which was in the index. I know The Galleria is probably more interesting, but I liked the thumbnail so I chose it.
* Besides fixing Pokémon Pinball, it's Carbon-izer 22 so in the Games Index there's 2 nostalgic classics, 2 more recent games, and 2 CSS upgrades. That leaves 2 and (1 divided by) 2 sets of 2 games to be CSS'd. So, in normal terms, we'll be inducting Yoot Tower, WingNuts: Temporal Navigator, Prison Architect, and Tadpole Treble to the reviews, AND upgrading Super Metroid and Mario Paint. Note that the Prison Architect page does not mention the Psych Ward DLC at all, it was released after I had already written it, and besides, it has yet to be released on PC (if ever?!). I also made a minor fix to Retro City Rampage which is embarrassing considering it was the featured update last time. Additionally, Batman: Arkham Asylum has box art added, and Mario Paint has a new thumbnail.
* Finally, some updates to the fast food list were made (as usual).
---

MARCH 6 2017
Wow, has it been five months? Incredible. So sorry that I've been neglecting the site! OK, here's some of the stuff that's new for "Carbon-izer 21":
* The "Features" section is now moved front and center, to what it was. That being said, nothing has been added to it yet. The 290 page, like the actual highway, can be seen under reconstruction at Blogspot. The next update coming hopefully VERY soon (like hopefully next month) will include some old Dropbox Public items that will be locked out when Dropbox drops support for the Public folder (grr).
* The San Antonio Division Albertsons list has been updated to what I can find, and it looks much nicer now instead of some slap-dash job where I copied the Houston page. In fact, if I did even upload the original San Antonio page, it wasn't even linked in the Albertsons page. That's how bad it was. Speaking of which, this and other areas were improved from the relatively slap-dash appearance of the last update. Additionally, the Houston Division page was updated. The Randalls page similarly received an update (more substantial than previous).
* The Final Fantasy VI review has been updated to the current standards, becoming the first "CSS remaster" in a long time (only seven remain, not including two reviews I disabled until I can rewrite them). The review is updated slightly to account for the Steam version and fixing an unfixed error where it was originally conceived as a "triple feature" with EarthBound and Chrono Trigger. This means the old "Real Review" page has been removed, so existing links won't work. Additionally, a few of the lingering errors in the existing pages were fixed, including Grim Fandango's incorrect release date (it was copied from another template, I know it wasn't released in 2000). Finally, three new entries were added: Home, Batman Arkham Asylum and Retro City Rampage (this is the "featured update"). Pokémon Pinball turned out to have been incorrectly translated to CSS, it will be fixed in the next update, and was dummied out from the list.
* The City Directories page has been updated again with new information on all pages as well as new photos and fixed errors. This is still my favorite part of the site, I think it's way cool! Unfortunately, on the Texas Avenue page, Bryan was cut out, though I intend to bring it back in the future as its own page.
* I've added a new little feature, "Steam Banners". This is separate from the main Games page. Check it out on the main page!
* The former fast foods page has been updated again with a few new entries and I believe even a few logos!
* The External Links got that thumbnail update I promised, though there's still so much I want to do, open the "Building Gallery", repair the Post Oak Mall page, add more related scans, and all that.
---

OCTOBER 6 2016
I was actually set to update this about a month ago, but then my MacBook appeared to die permanently and I just didn't feel like it. It's not like I wasn't already struggling with symptons of depression.

Basically, what I've done is try to slap together stuff I've already done that's just sitting there and not worry about it anymore. A few of the things I didn't was update the external links thread in the same 100x100 thumbnail design the rest of the site has. Or open the "Building Gallery" like I said I was or add any new Features. I did at least update the blog with a few new entries. Alright, so what do we got? Well, we have a new page on Albertsons that includes not only the 2700 index but also a link to the new Randalls store list, an update to the Former Restaurants List, that's always fun, City Directories has been updated with Houston entries (and some updated Bryan-College Station ones!).

The Games Index has been updated too. The new entries include SimTower, Grim Fandango, and Five Nights at Freddy's. I removed the "Stats" page from the page itself because it was hard to maintain, and doing calculations showed it wouldn't go far from the 1990s anyway based on predictions.
---

JUNE 7 2016
* It's been a really long time since I updated the website, but I'm not dead, I'm just really busy. So I updated the Northwest Freeway page (the update page doesn't line up with today's date due to me not putting it up) but I never got it to the full "update" I promised, especially since new things are being added or changed and I can't get on the highway enough to document everything. So it still feels very half-baked, and I plan to do something ELSE to it to change that. There's at least two new hotels and a Rooms to Go, and yet I can't do everything. 290 just doesn't mean the same thing to me like it used to, and it's just harder and harder to write about it, especially trying to integrate addresses and addresses from old directories (like a tennis center I have no idea where it went). I had other ideas for the site as well, like a Northwest Freeway-like look at the Katy Freeway, the Building Gallery, and several new Games articles, but those were canned to a lack of time or interest. Right now my housing and job situations are not going well. Worse is I need to get my credit card changed regarding this very website or this website will CEASE TO EXIST.
* Two new Games articles have been added, including Hammerfall and Back to the Future: The Game. The latter is the Featured Update.
* A few tiny updates to the Fast Food list were made.
* Finally, the "Albertsons in Houston" page has gotten an overhaul. It's still not 100% complete as far as zip codes, dates, and shopping centers go but I've made some corrections and additions. One of these is #2737 where I had incorrectly reported the Albertsons became a former Rainbow. That was actually a Kroger turned Rainbow. The former (now vacant) Albertsons was right next to it; it was an old Kmart.
* The Index page has been updated to say that updates will no longer be monthly, which is a shame since I do like this site. No, donations aren't the solution since this site doesn't nearly pull in the volume to make that at all a worthwhile venture.


---

MARCH 7 2016
* Sorry for less updates overall. The new stuff in the games list (not including fixes for some existing games) includes Braid and Plants vs. Zombies. The "non-CSS list" is getting smaller and smaller, with the only "fixed" title being The Legend of Zelda: The Wind Waker, if only to explain the unusually coarse writing. Part of the problem was that in the race to convert things to CSS, mistakes were often made, which is why I had fix Blobbo and SimAnt AGAIN. Additionally, there were updates done to SimCity 4 and Strong Bad's Cool Game for Attractive People.
* The Northwest Freeway page is still undergoing an overhaul, so I decided to revert it to the January version with some corrections made (but no updates/additions).
* Tiny updates and/or fixes to the former fast food list, the City Directory page, and a few other pages. The Albertsons 2700 page did get a new addition with a new find.
* Finally, the featured update is The Greatest Hypermarket I Never Knew. Yes, I know I posted this all on Sunday but usually I make corrections on Monday.


---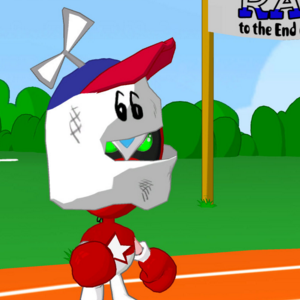 FEBRUARY 7 2016
* The Games List is back to its original appearance with many games listed. Everything is returned to its original status, because I thought removing all of them not yet "CSS'd" was a bit much (with two exceptions). New CSS entries include SimAnt (the original entry was very "buggy" before), Eric the Unready, Blobbo, The Legend of Zelda: Phantom Hourglass and new titles include Strong Bad's Cool Game for Attractive People, which is the new featured update (I planned to add SimTower, but ran out of time/inspiration).
* Northwest Freeway's page got updated with new photos and ANOTHER format upgrade (partially). Here we solve a mystery that's been bugging me for a while. As usual, these updates may be not fully complete and may get slight updates by Monday. Finally, I am officially changing updates to be every month instead of every two weeks. This should allow me to get a bunch of content in (in theory, no guarantees) instead of scrambling for artificial deadlines. In the meantime, I plan to make more blog updates. Take care!
---

JANUARY 24 2016
* Our "Featured Update" is, of course, THIS WEBSITE! Because almost everything was updated! First with the Games List...I decided to remove the non-CSS pages (except Blobbo) but added some new ones. SimCity 4 got its new links, and Pokémon Pinball and The Shivah got CSS upgrades. New titles include Bubble Trouble, Space Junkie, and Super Mario RPG: Legend of the Seven Stars all were added. I know, the list is smaller, but that will make it more interesting when I add more, eh? Plus, the list isn't gone and is quite easy to find and read your favorite temporarily removed reviews. You just have to know where to look.
* The Rad Project got a minor fix. Interestingly, trying to access the archived site now turns up a robots.txt.
* The Directory got updates both minor and historic under University Drive (mainly) plus University Drive East and Texas. Additionally, it got a new title!
* The Fast Food List was updated. I added everything I could find in Temple plus a few more things here and there (also, the Chili's page is up).
* Northwest Freeway's page got updated with new photos and a format upgrade. There were a few more things I wanted to add at the last minute but ultimately decided against it.
* Extensive update on the 2700-series Albertsons stores.
* Zachry is now just one step closer to being complete with the addition of a few new photos and a "video pack". Check it out here.
* I wanted to add something else, the Katy Freeway Demolitions page, but...I don't know. It was supposed to be a list with some pictures like Northwest Freeway's was, but it just wasn't very fun as I was building it. It might be more fun to make it similar to Northwest Freeway page but I lack the last 2-3 years of information AND all the memories before it, so even then it won't be nearly as interesting (I think) to me. The Building Gallery was cut at the last minute but I needed something to fill out the rest so I added an old PDF I had to the mall directories page as well as giving that page a slight facelift.
* I made this Update page green.
---

DECEMBER 13 2015
* So sorry skipping the last update. I doubt anyone cared. Like in recent updates, restaurant list is updated, the Kmart list is updated, and the new Featured Update is going to be VVVVVV's addition to the Games List.
* Additionally, the "City Directory" page was updated.
* It's not just VVVVVV that's new, there's also DOOM that's new, and FOUR games have been CSS'd: The Legend of Zelda: Ocarina of Time, Pokémon Trading Card Game, Milestones 2000, and New Super Mario Bros., once the oldest unupdated file in the archives.
* Mirrored "The Rad Project", seen at Carbon-izer.com here. NEVER AGAIN, I TELLS YOU! Part of the reason why content has been limited/delayed is a variety of factors, including work (part time), Netflix, and some failed additions.
---

NOVEMBER 15 2015
* FINALLY! Northwest Freeway's page receives a pretty big update WITH PHOTOS! This, of course, is the Featured Update.
* The Commons Companion has been updated with the photos I've been meaning to add.
* As usual, small updates were made to the restaurant list, adding Houston's first new Krispy Kreme (yay) and other things. Otherwise, not much has been added. Blame Netflix, and a few other projects I started but aborted.

---

NOVEMBER 1 2015
* CSS updates include Donkey Kong Country 2 and Beneath a Steel Sky, as well as an all-new entry: Lemmings (the featured update).
* Fixed a long-broken link to the Shops at Prudential Center map. See the the Mall Directories page for more information.
* Added some locations to the Kmart list, involving new entries with the new tables.
* As usual, small updates were made to the restaurant list, adding Captain D's and making other some additions/corrections.
* Finally pushed myself to make an update to the continuing growth of the Post Oak Mall page. Because of a rather unfortunate incident in the mall a few months ago involving a rather aggressive security guard and the overall depth of this project, I succumbed to burnout in this section, one of the reasons I haven't touched this section in months.
---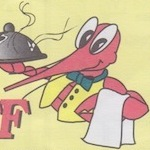 OCTOBER 18 2015
* CSS updates include Façade, Super Mario World 2: Yoshi's Island, as well as The Legend of Zelda: A Link to the Past which was STILL broken (I also made a quick fix to Quarterstaff, too). A dedicated page was made for Yoshi's Island DS as well, though the real content is in the Yoshi's Island review.
* Big update made in the addition of a new features page, the U.S.S. Lexington (the featured update).
* Added some locations to the Kmart list, but new entries with the new tables. Additionally, changes were made to the AppleTree list (however slight).
* Updates to the Northwest Freeway page. Sorry, no new photos.
* Once again, small updates were made to the restaurant list, adding Gallagher's Restaurant & Pub and making other some additions/corrections. Apologies for not adding more, there were numerous other projects in the works, including long-awaited updates to Commons Companion, Zachry, Post Oak Mall, and a few others.

---

OCTOBER 4 2015
* Small updates include a CSS upgrade to EarthBound, minor updates/corrections to the Former Fast Food List, and the same to Roads of Bryan-College Station. Nothing else has been added, unfortunately. EarthBound is the featured update.
* Well, all that and a change of thumbnails for the SimCity 4 entry. I just didn't like how the old one turned out.
---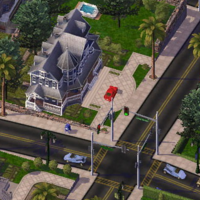 SEPTEMBER 20 2015
* Added Machinarium and for the first time, SimCity 4. The latter is the longest, most-image filled review I've written yet. However, it will also mark a temporary end to new reviews to focus on bringing older reviews to code or focusing on other parts of the site. SimCity 4 is the featured update.
* Updated The Legend of Zelda: Spirit Tracks and Bachman. The former had been commented out since late July.
* Updates to the Northwest Freeway page again.
* Created, officially, the Mall Directories section with two completely new additions.
* A small update to the Roads of Bryan-College Station. I plan to integrate the "Roads of the Brazos Valley" section into this eventually.

---

SEPTEMBER 6 2015
* The city directory page has received a revamp, with back pages, some photos, and a Texas Avenue page with a representative from every block in College Station.
* The genesis of what I hope what will be a great section in the future, Mall Directories, was added. Unfortunately, all it is a link to an old blog of mine and a promise of more.
* A small update to the Northwest Freeway page.
* Upgraded the The Legend of Zelda: A Link to the Past page to CSS, as well as making minor edits and long overdue fixes. It is the featured update.
* Tiny updates to the restaurant list, like as in adding a few backlinks and an update to a Dairy Queen.
---

AUGUST 30 2015
* The most exciting thing is an all-new section to Carbon-izer, the Roads of Bryan-College Station section!
* Added The Adventures of Willy Beamish and updated TeenAgent, this time the theme being "lesser graphic adventure games".
* Additionally, Donkey Kong Country received a CSS update.
* Continued work at the Former Fast Food List, which includes more of KFC, a few other entries here and there, and the addition of a list for Schlotzsky's Deli.
* Added an external links page for the first time.
* Added a page on the 2700-series Albertsons stores, which is the featured update.
* Added a counter to the site for the first time.

---

AUGUST 19 2015
* Added Quarterstaff: The Tomb of Setmoth and The Legend of Zelda: Oracle of Seasons. OOS is the featured update.
* Updated E.V.O.: Search for Eden again, and upgraded Osmos to CSS. Future CSS "upgrades" will appear in conjunction with a similar-themed new title. For example, I'll update Portal when I add The Lost Vikings because they're both puzzle platformers. Of the 28 un-CSS'd pages, 13 have planned "companions" that will be all new.
* Began to update AppleTree list, which is being transformed into the "Safeway Houston Division" list.
* Some work in the Former Fast Food List, which includes more of Arby's, a few other entries here and there, and the addition of a list for Schlotzsky's Deli.
* The Kmart list at the Retail section has been updated slightly.
* Added this update page officially to the site. Note that emergency updates following big updates will not be covered. Old updates as posted on the blog will be retroactively added.

---
JULY 29 2015
* New thumb for DKC3 and fixed HTML for index_games.html

---
JULY 27 2015
* Added Donkey Kong Country 3: Dixie Kong's Double Trouble!
* Removed The Legend of Zelda: Spirit Tracks for repairs
* Small updates and Game Info tag to Donkey Kong Country 3
* Re-did E.V.O.: Search for Eden in CSS.
* Fixed the picture link to The Legend of Zelda: Twilight Princess

---
JULY 24 2015
* Updated the Games List with just one new entry, but it's in a new CSS format that will replace the rest of the entries. (Yes, the new entry is another Zelda game, I'm sorry). Other changes have been made as well.
* Updated the Fast Food List, with updates for McDonald's, plus new pages for Del Taco and Outback Steakhouse. Minor updates have been made for others.
* The Northwest Freeway page has received minor updates.
* The Galleria page (under "Retail") has a new page, previously published on this blog.

---
JULY 1 2015
* Updated Pokémon Pinball with new link colors and other internal files, plus added four new titles, all of them Zelda games starring "Toon Link" (Spirit Tracks, The Wind Waker, Phantom Hourglass), plus SimAnt. With the myriad of slight format updates, however, and an ever-increasing list of titles, next update will roll out a CSS page.
* The growing Retail page includes the start of the new Galleria page and continuing growth of the Post Oak Mall page.
* I have added Golden Corral for the first time to the former restaurants list, which meant I had to read at least half a dozen pages of stomach-churning reviews. Also added was a Texadelphia page and the starter TCBY page (there's a lot more former ones hiding out there). Additionally, the McDonald's page has received new entries (a TON of them, including starting Dallas...all in all, about 18 all-new entries). Other minor issues with formatting and minor updates were fixed. I've started to add "Back" buttons, which they've sorely needed. Not all of the entries do, however.
* The Zachry page and Roads of the Brazos Valley, found in the Features page, have received minor updates.

---
JUNE 14 2015
Carbon-izer.com has updated again, this time WITHOUT a major update to the Northwest Freeway page. Not even the Games got a significant update.
- The biggest new change is an updated framework with new retail page and content page. Frontlining that is a new page on Post Oak Mall.
- The fast food list has been updated. To differentiate from the Michigan list it was inspired off of, the Index of said page has received a new font. A few emergency formatting changes were made (particularly in Long John Silver's), with some new additions (Godfather's Pizza, Mr. Gatti's, Krispy Kreme). Of course, formatting issues still plague the list.
- The Games List has been updated with one new game (Osmos, a short review, and yes, I had it written for a while, just was meant to be combined with others, and no, I'm not phoning it in) with some minor fixes done to Zelda III, Blobbo, EVO, and Milestones 2000. All five plus the Index have been updated with a new visited link color (orange is going away), plus I've started to make the thumbnails clickable to the reviews. There's about 20-odd titles with orange links and non-clickable thumbnails, but expect that to change soon. There's also one early review with the old purple text I got from |tsr's nes archive. Can you guess which one it is?
- The Zachry page has been updated again, though no new videos. To note, there was an error in the previous version where in an effort to add several photos, I forgot the links. Sure, the photos were are there, and you could've just altered the URLs to see the images, but I don't want you to do that, see?

Future updates will focus on the Games list again plus some other stuff that wasn't part of this round (and no, this time, the Northwest Freeway page will not steal the show).
---
MAY 28 2015
This mostly concerns the Former Fast Food index, but also includes a new title for the Games Index, an obscure Apple IIGS title called Milestones 2000.
---
MAY 22 2015
Carbon-izer.com has been updated for the first "true" time since its induction. Here's what's new in this round:

- The AppleTree list has been updated with new store numbers (and a few new entries!) courtesy of an old phone book. Further updates to this are coming soon.
- The Games Index has been revised with a new index format and four new entries: Mario Kart 64, Blobbo, E.V.O.: Search for Eden, and EarthBound. To make this entry in a timely manner, corners were cut, and thus, not all of the entries have thumbnails (the newest entries do have thumbnails). In addition, a few broken links and other errors within that section of the site have been fixed.
- The Zachry page has been updated. Part of the reason was a lot of photos and videos were messed up in uploading. Good thing they were still on the iPhone.
- The Former Fast Foods list has received minimal updates in certain entries to fix HTML errors.
- The Northwest Freeway page has been updated. See that page specifically for what's new.
- Because the Blobbo FAQ has been inducted into a new entry of its own, it no longer has a main page link.
- Kmart link fixed.

I know I didn't hit everything I wanted to do in this update, which is why next update I'll take a break from Northwest Freeway and focus more on the other pages. Games will still be added, but only maybe two or three this time.
---
APRIL 20 2015
Carbon-izer.com officially opens as proclaimed by a post (now removed) on the blog. This follows struggle trying to get everything working and a slap-dash creation of content. By this point, Northwest Freeway, the Games List, the AppleTree list, Former Fast Foods, Kmart, and a few others had been added by this point.